Kaidan-in Nara
Kaidan-in, in Nara, in the grounds of Todaiji Temple, was the original ordination hall for priests in Japan established by Ganjin in 754.
Kaidan-in, Nara 戒壇院, 奈良
Kaidan-in (戒壇院) in Nara, is part of the Todaiji Temple complex and located in the west of the temple's grounds.
Kaidan-in in Nara was the first of Japan's three ordination halls built for Buddhist priests in the Nara Period. The others being a Kaidan-in as part of Kanzeonji Temple in Dazaifu in western Japan in Kyushu and an ordination hall at Yakushiji (now gone) in Tochigi in eastern Japan.
The ordination halls or Kaidan-in were founded by the Chinese monk Ganjin (688-763), aka Jianzhen, who made several attempts to visit Japan, becoming blind due to an infection during one of them, before he was finally successful on his sixth attempt. Ganjin set up a temporary ordination hall in front of Todaiji's Daibutsu-den and ordained over 440 monks and nuns including the retired Emperor Shomu, Empress Koken and Komyo, the Dowager Empress. He subsequently established a permanent Kaidan to the west of the main temple with an Ordination Hall, Lecture Hall and monks' quarters.
Over the succeeding centuries, thousands of monks would have been ordained here.
In the 9th century, at the urging of the priest Saicho, another ordination hall was opened at Enryakuji Temple on Mt. Hiei in Kyoto.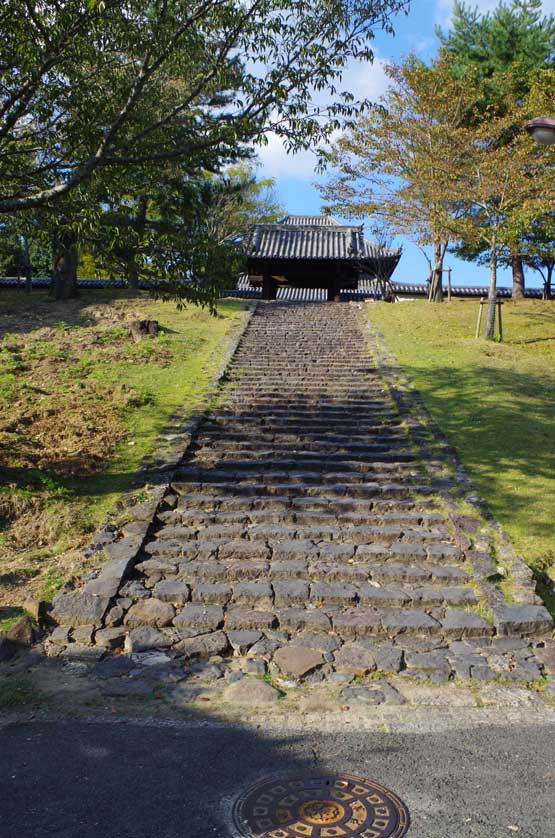 Kaidan-in Temple, steps leading up to the entrance gate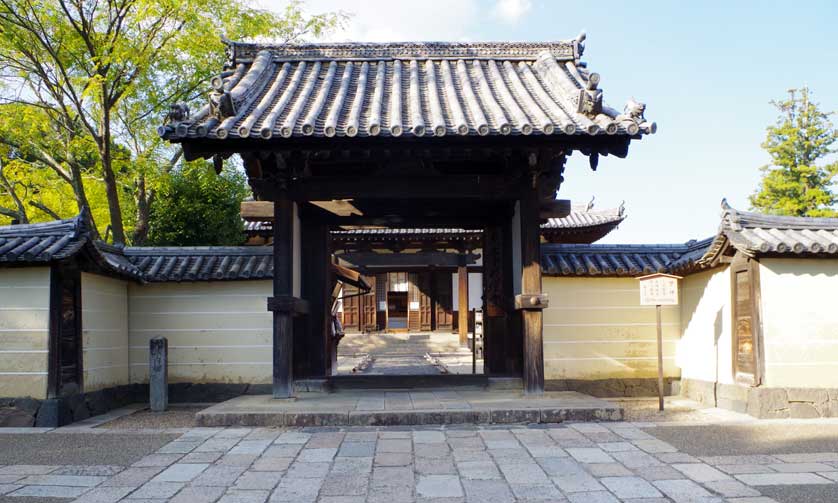 Kaidan-in Temple, Nara

History of Kaidan-in, Nara
Kaidan-in was first built in 754 but has been burnt down three times in its history in 1180, 1446 and 1567. The present buildings date from the Edo Period and consist of the Senju-do (1603), the Jukai-do (1732) and the Kuri or priests' living quarters.
Four clay statues of the Shitenno or "Heavenly Kings" remain from the original temple are are designated National Treasures. The statues (Jikokuten, Zochoten, Komokuten & Tamonten) guard images of the historical Buddha and the Taho Nyorai (Prabhutaratna), a Buddha that appears in the Threefold Lotus Sutra.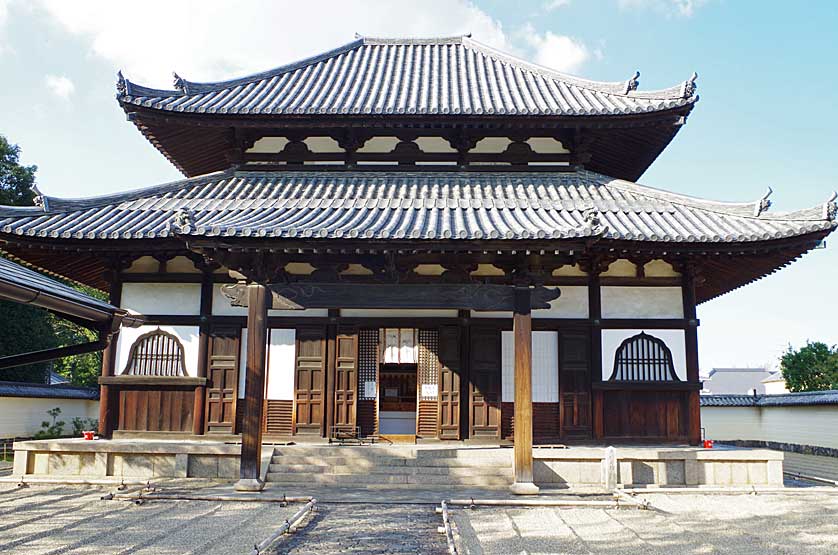 Kaidan-in Temple, Todaiji, Nara, Nara Prefecture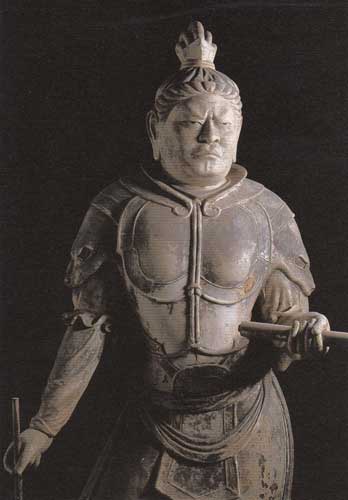 Komokuten, One of the Four Heavenly Kings at Kaidan-in; Komokuten guards the west

Access
Todaiji Kaidan-in406-1 ZoshichoNara, Nara Prefecture 630-8211Tel: 0742 26 7520Admission: 500 yenHours: Nov-Feb 8 am-4.30 pm; March 8 am-5 pm; April-Sept 7.30 am-5.30 pm; October 7.30 am-5 pm
Todaiji Kaidan-in is north of the Yoshikien Garden, Isuien Garden and Neiraku Museum. The nearest Nara bus stop to Todaiji Kaidan-in is Kencho Higashi. Todaiji is a 30 minute walk from Kintetsu Nara Station or a 45 minute walk from JR Nara Station. Buses run to the temple from both stations including the yellow Nara City Loop Line Bus #2, the #70, #72, #97 and the #160.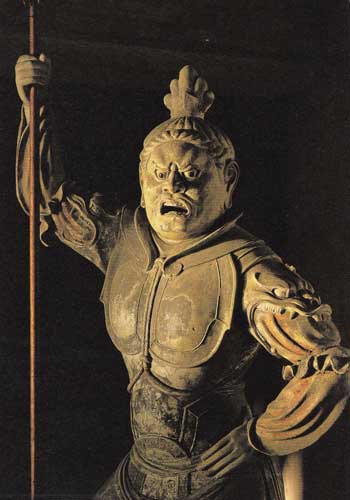 Zochoten, One of the Four Heavenly Kings at Kaidan-in; Zochoten guards the southern direction

Nara Accommodation
All the themes of the city