Kairyuoji Temple
Kairyuoji Temple in Nara dates from 731 and served as a guardian temple of the north east where evil was thought to originate.
Kairyuoji Temple, Nara 海龍王寺
Kairyuoji Temple ("Sea Dragon King"), is located to the east of Heijo Palace Site (Nara Palace Site) in Nara, very close to Hokkeji Temple in an almost semi-rural part of the city.
Kairyuoji Temple is dedicated to Bishamonten, the god of warriors and the temple served to guard the north east approach to Heijo Palace. In ancient times, the north east was regarded as the direction from which evil approached - "devil's gate." As such Kairyuoji served as a guardian temple in much the same way as Enryakuji Temple on Mt. Hiei in Kyoto was to do later.
An ardent follower of Buddhism, the Empress Komyo had been responsible for the building of the five-storied pagoda at Kofukuji.
When first completed, Kairyuoji was much larger with two pagodas, many halls and two gates.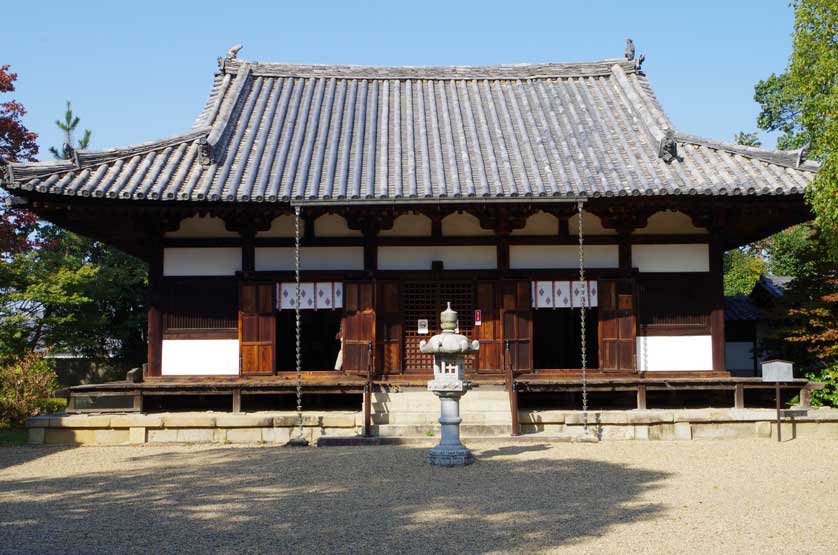 Main Hall, Kairyuoji Temple, Nara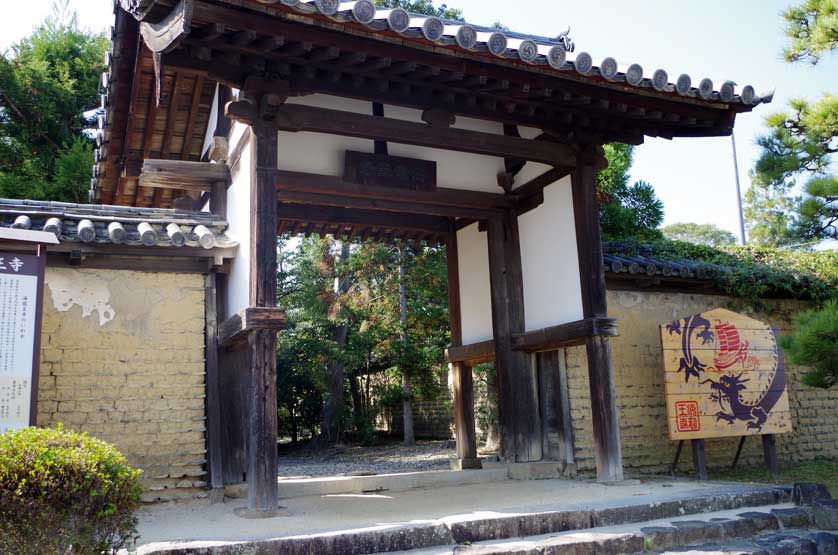 Muromachi Period Main Gate, Kairyuoji Temple, Nara
History of Kairyuoji Temple
A previous temple existed on the site when a residence was built here by the powerful court noble Fujiwara no Fuhito (659-720). The Empress Komyo rebuilt the temple in 731 and it was renamed Kairyuoji or Sumidera Temple.
One purpose of Kairyuoji Temple was to serve as the expression of a prayer that the priest Genbo return safely from his perilous overseas mission to Tang dynasty China to bring back precious Buddhist scriptures and sutras.
In 734 when Genbo was returning from China to Japan, his small fleet of four ships were struck by a violent storm and only Genbo's ship was able to reach safety in Tanegashima.
It is said that during the storm Genbo had chanted the "Kairyou Sutra" unceasingly. As a reward for bringing back 5,000 scrolls of scriptures from China, Genbo was promoted to the highest rank of the priesthood and made head priest of Kairyuoji Temple.
Genbo continued to chant the "Kairyou Sutra" for the safety of subsequent envoys to China and the Emperor Shomu sent a wooden tablet inscribed with the name of the tablet in his own calligraphy.
Following Genbo's return with his hoard of Buddhist scriptures they were carefully copied at the temple. The Empress Komyo is said to have made a 1,000 copies of the Hannya-shin Sutra and later legend has it that Kukai (774-835) spent 1,000 days at the temple to make 1,000 copies of the same sutra.
During the Kamakura Period, new monks' quarters and a storehouse for the sutras were built and a sharito or relic container was dedicated in 1288. This is now kept at the Nara National Museum along with a Heian Period image of Bishamonten and original Nara Period copies of the Sumidera-shin and Jizaiobosatsu sutras.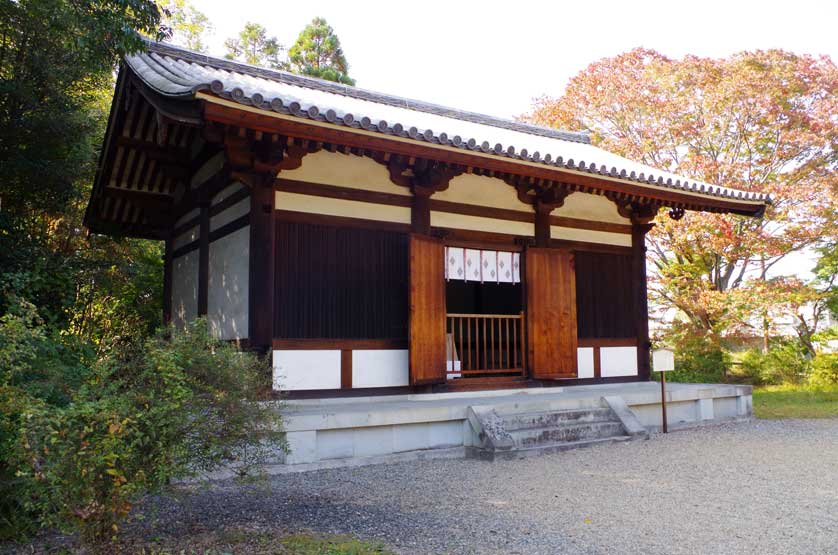 Western Hall, Kairyuoji Temple, Nara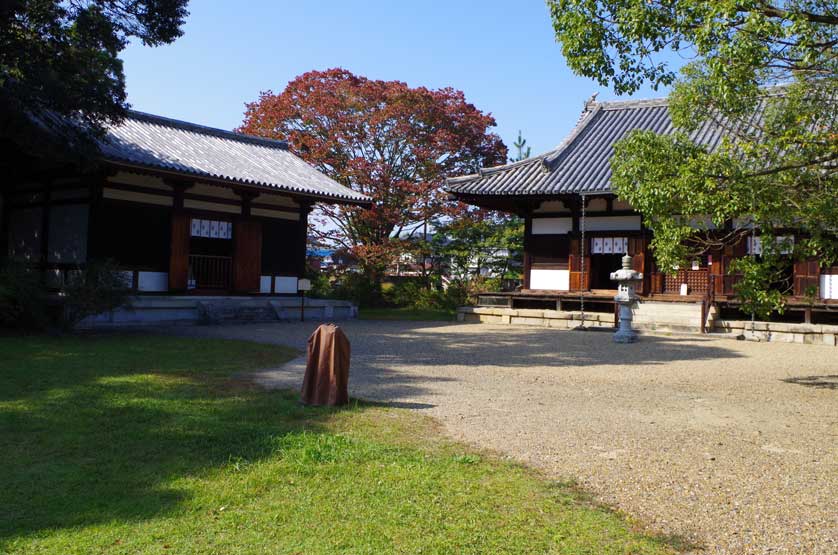 Kairyuoji Temple, Nara

Kairyuoji Temple Buildings
Kairyuoji Temple at first prospered as a Shingon sect temple and was initially much larger than it is today.
However disaster was around the corner and the temple was partially destroyed during the conflict of the Onin War (1467-1477) and again in the Keicho Earthquake of 1614.
A 100-koku stipend was provided by the Tokugawa shogunate during the Edo Period to restore Kairyuoji. The Main Hall (Hondo) was dismantled and repaired and Buddhist paintings restored.
However in the anti-Buddhist fervor of the early Meiji Period the Eastern Hall was destroyed and many ritual utensils lost. In the 1960's the Western Hall and sutra storehouse were again restored along with the temple grounds.
Important treasures to be seen at Kairyuoji Temple now include the Main Gate and its tablet, a Nara Period five-story model pagoda, an eleven-headed Kanzeon statue and a statue of the Bodhisattva Monju.
Kairyuoji (kairyuouji.jp)897 HokkejichoNara, Nara Prefecture 630-8001Tel: 0742 33 5765Hours: 9 am-5 pm
Admission: 400 yen.
Kairyuoji is west of JR Nara Station and Kintetsu Nara Station and the easiest way to reach the temple is to take a number #12 or #14 Nara bus from either station. These buses leave from bus stop number 13 at Kintetsu Nara Station and bus stop number 15 at the west exit of JR Nara Station. Yamato-Saidaiji Station is about two kilometers to the west also on the #12 or #14 bus route.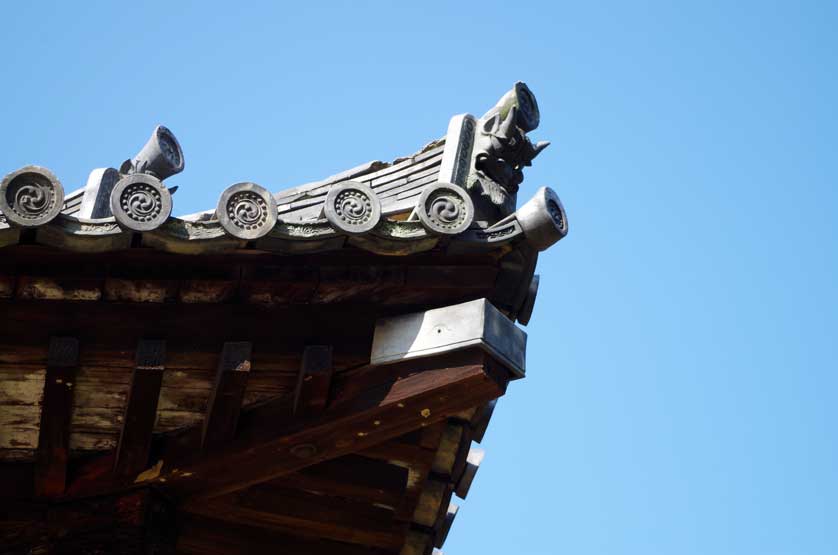 Onigawara Roof Tile, Kairyuoji Temple, Nara
Access - how to get to Nara
Air
Airport limousine services to Kansai International Airport and Itami Airport or JR train and change at Tennoji Station in Osaka.
Rail
Access to Osaka on JR West (about 45 minutes on the express) or Kintetsu Line from Namba and Tsuruhashi. Access to Kyoto on either Kintetsu Railways (35 minutes on the Super Express Tokyu) or JR West (40 minutes on the Miyakojima Express).
Bus
There are overnight bus services to and from Shinjuku Station in Tokyo and day time Meitetsu buses to the Meitetsu Bus Center at Nagoya Station in Nagoya.
Tourist Information Center
Nara City Tourist Information OfficeTel: 0742 24 4858Kintetsu Nara Station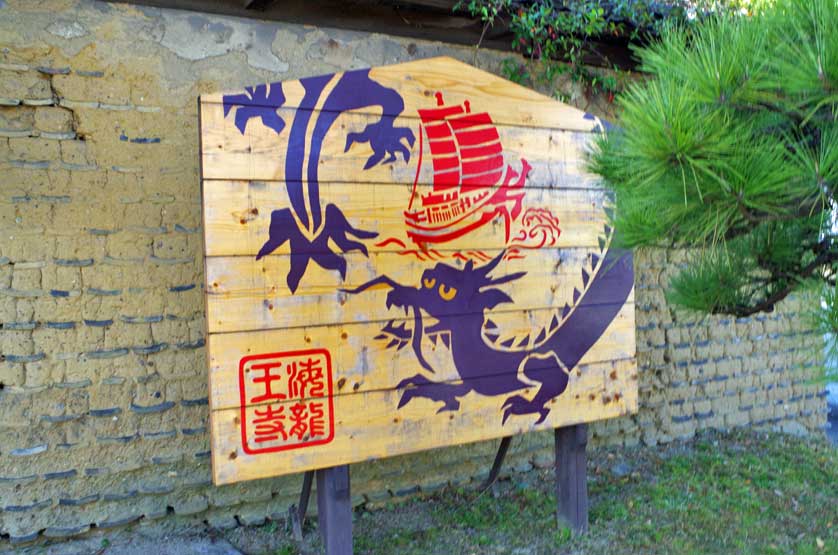 Kairyuoji Temple, Nara
Book Hotel Accommodation in Nara
All the themes of the city