Muroji Temple Nara
Muroji Temple. Read about the history of Muroji Temple in Nara Prefecture, a treasure trove of religious and political tradition.
A Dragon Runs Through It: Muroji Temple 室生寺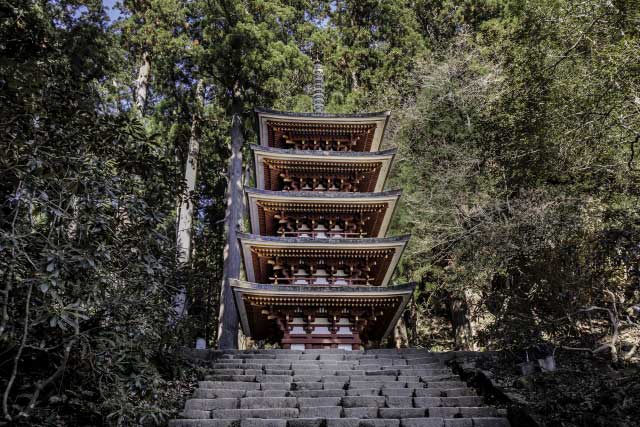 Muroji Temple, Nara
by Alan Wiren
Some have said Muro River, which winds through a little mountain village in Nara prefecture, is the serpentine form of a dragon that changed itself from creature to living water.
Others, that the cave mouth among the volcanic rock formations on Mount Muro is the doorway to the dragon's lair.
Aside from the myths, there can be said to be a very real dragon spirit that has manifested itself here from earliest times to the present day.
By the end of the eight century CE Mount Muro already had a reputation as a seat of mystical power. So it is unsurprising that, when Japan's crown prince fell ill, five Buddhist priests chose this place to gather and conduct a ritual of prayer to restore his health.
The ultimate result may well have surprised them; a dragon can turn on you!
After the Prince recovered, Priest Kenkyo, one of the five, who was from the temple Kofukuji in Nara, was ordered to build a temple in the magical domain. This order was one of the earliest heralds of the future in times that were about to change.
Temples in the Nara period were sprawling affairs, laid out on grid patterns over the flat plains. They were as integral to the cities as the priests were to the government. It was common for emperors to retire into priesthood and for priests to wield political influence.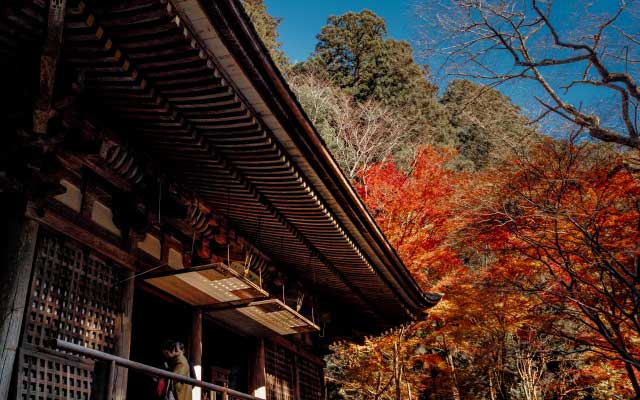 Fall leaves at Muroji Temple, Nara
But the Nara period was ending. The crown prince, whose life had been spared by the dragon spirit, would soon become Emperor Kammu, and would move his capital city to Heian (modern day Kyoto) in order to break the back of the Nara priesthood.
He would ban temples from the new capital. He would patronize new sects of Esoteric Buddhism that drew their followers away from the secular world, and established headquarters at remote mountain sites: one on Mount Hiei, the other on Mount Koya.
This new kind of mountain temple posed new challenges for Japanese architects, and the temple Muroji is deemed one of the finest solutions.
Perhaps the most obvious difference in Heian temples is that they had to be built on a smaller scale. Muroji's five storied pagoda, is a stunning example. A little over sixteen meters (52 feet), and a national treasure, it has found somewhat unusual renown in being the smallest of its kind in Japan.
There is a legend that attributes the building of the pagoda to Kobo Daishi, a priest who returned from his studies in China, "toward the end of Emperor Kammu's reign", to found the Shingon sect of Buddhism and establish the Shingon Buddhist headquarters at Mount Koya.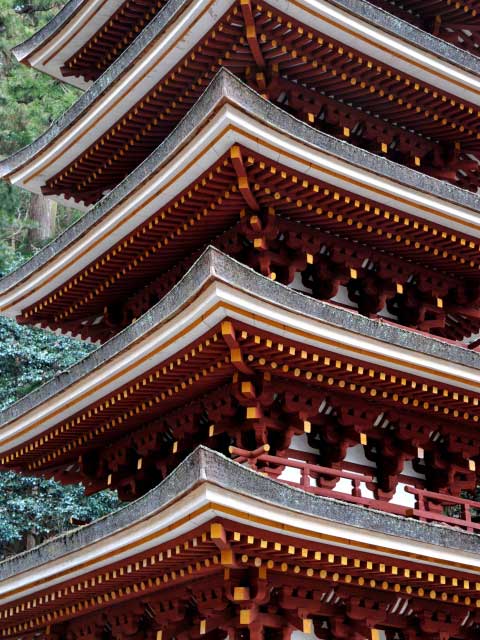 Pagoda of Muroji Temple, Nara
The legend lacks credibility, and not only because it says Kobo Daishi built the pagoda in a single night. During its restoration, after being damaged in a typhoon in 1998, researchers were able to determine that the pagoda was built around 780, the time when Kammu first assumed the throne.
The other surviving buildings are not as immediately striking as the diminutive pagoda, but they are well preserved examples of different styles of Heian temple architecture, and two are national treasures. There are more treasures within.
Esoteric Buddhism turned away from representations of Buddha made with metals, favoring carved, wooden images instead. Muroji's halls preserve some notable examples, including a Buddha with eleven faces, also known as Kannon, the goddess of mercy. She was carved from a single block of wood in the ninth century, and is also a national treasure.
The temple grounds are well forested, mainly with ancient cedar trees. Here and there their roots grip like talons the black rocks that crop out of the mountain. Muroji is renowned for seasonal displays of plum and cherry blossoms in the spring, hydrangeas in summer, reddened Japanese maples in the fall, and snowscapes in winter.
A visit to Muro on any particular day of the year will show you a scenic treasure of a different kind.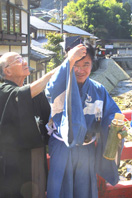 On the afternoon of every October 15th, for example, people of the village gather on the red, arched bridge that spans the river directly in front of the temple. They are in traditional dress and carry with them flags and festive ornaments.
One man, in a blue kimono and tall peaked hat, holds a hefty section of green bamboo with a small, plugged hole in one end. Jovial as any harvest god, he pours out sake into a cup made from a much smaller bamboo stalk and proffers it to all passersby, to share the spirit of this special day.
At the end of the bridge are two men in long, blue robes decorated with white moons and stars. Each holds a huge animal head mask. Just beyond, in front of the temple gate, a portable shrine with golden inlays and intricate decoration has been placed.
A crowd of restless, excited children in happi coats grows around it. They all wait for Muroji Festival to begin. Before it can, the head priest of the temple must give his permission. His is a proud office and he must be asked seven and a half times, while the children play, the men with the masks begin to sweat, and the river flows under the bridge.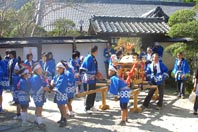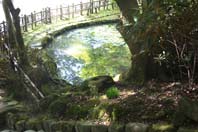 When, finally he gives his assent, the masks are donned and a procession begins. It passes through the main gate and around the tiny Vamji Pond, dotted with lily pads.
It turns and climbs the first of the steep, stone stairways that snake their way up the mountain side like a dragon's backbone, connecting halls, chapels, and shrines.
They stop in front of the Main Hall while prayers are offered at a tiny shrine. The men in masks step forward, and we can see that their robes flow back behind them to cover another man with a tail-like peak, transforming the two into a single, four-legged beast. Together, they dance a short but fearsome dance.
The procession then returns to its point of departure, in front of the temple. This is where the festivities take an unusual turn. The shrine is hoisted onto the strongest shoulders and carried, not through the village, but away from the center to a neighboring Shinto shrine. There, after more prayers are offered, the robed and masked creatures take the field in earnest, for a long and complex dance.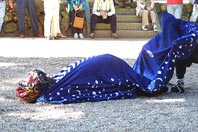 It is a . . . well, it's basically a Lion Dance, originally imported from China. These, however, are no ordinary lions. They may well have a little dragon blood in their veins, for they take up genuine Japanese swords and appear to slit their own throats.
They suffer long, jaw clattering death throes that end in a dramatic resurrection where the creatures stretch themselves upward to incredible heights.
Then they take up their swords again, and lay about in the way of vanquishing all enemies. Muro's version of the dance has been handed down unchanged through many generations.
Muroji is an interesting and aesthetic place to visit at any time of year, and if you have the opportunity, Muroji Festival is a chance to witness how a small Japanese community and a dragon spirit have kept each other alive and well for centuries.
Getting to Muroji Temple
Muroji Temple is in Uda City, Nara Prefecture, 25km SE of Nara City as the crow flies.
The quickest and cheapest way to get there from JR Nara Station is to:
take the JR Sakurai line 8 stations to Sakurai Station (about 28 minutes), then
change to the Kintetsu Osaka line and take the kyuko (express) one station (about 16 minutes) to Muroguchi-ono Station.
Then take a Nara Kotsu bus the 4km (about 15 minutes) to the temple.
Being on the Kintetsu Osaka line means that Muroji Temple is easily accessible from Osaka from Uehonmachi in Tennoji ward, Osaka, where the line starts from, or subsequent stations such as Tsuruhashi, or Imazato.
Muroji Temple charges 500 yen admission.
Other Japan articles by Alan Wiren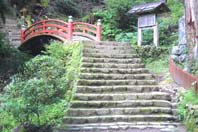 All the themes of the city