Okinawa World & Gyokusendo Cave
Okinawa World: read a guide to Okinawa World south of Naha which features Kingdom Village, Gyokusendo Cave and the Habu Center.
Okinawa World & Gyokusendo おきなわワールド
Jake Davies
Okinawa World is a big theme park at the southern end of the main island that focuses on traditional Okinawan culture. Actually it is three separate sites, Kingdom Village, Gyokusendo Cave & Habu Center, each with its own entry fee or, 2 of the 3, or all 3 as a combined ticket. On the whole it is very touristy and commercial - you are given plenty of opportunities to part with your cash.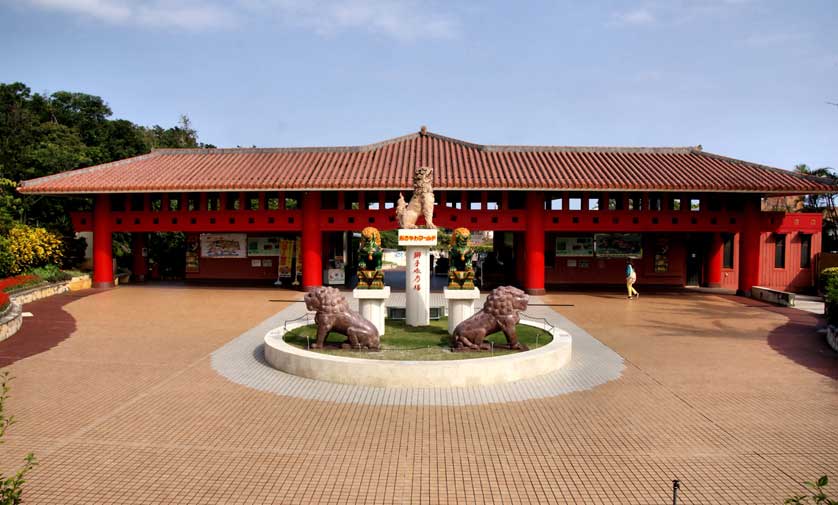 Okinawa World, Okinawa
Kingdom Village
The main part of Okinawa World, Kingdom Village, purports to be a reconstruction of a traditional Okinawan village, and most of the buildings are shops or workshops selling and making a variety of craft-works.
You can watch artisans doing traditional weaving, paper making, pottery, processing cane sugar, glass blowing, and musical instrument making. For most of these you can try your hand at the craft, including the glass blowing.
There is, of course, plenty of opportunities to eat and drink with a buffet restaurant serving a wide variety of Okinawan style foods like Soki Soba, swordfish sushi, sugarcane rice, pork curry etc, a variety of flavored ice creams and Okinawan beers, but probably the most unusual beverage, produced on site, is habushu, a drink based on awamori, an Okinawan version of shochu, distilled from rice.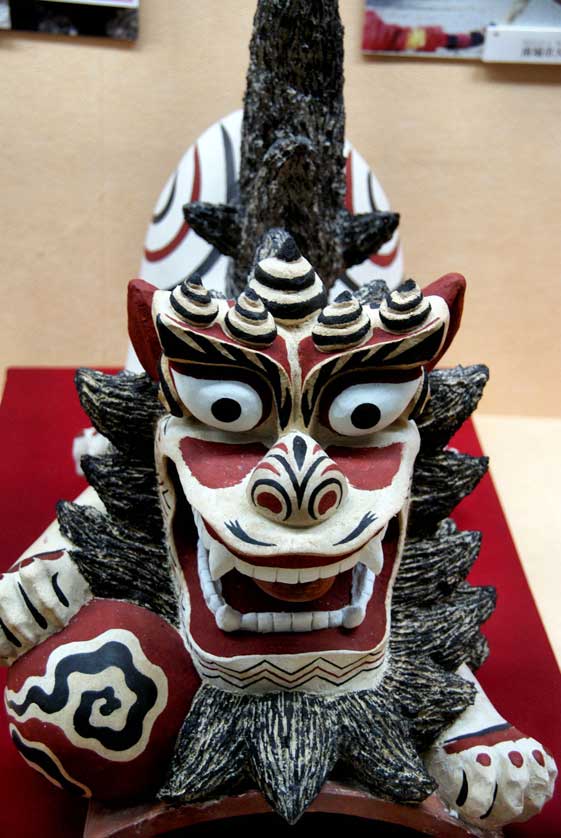 Kingdom Village, Okinawa World, Okinawa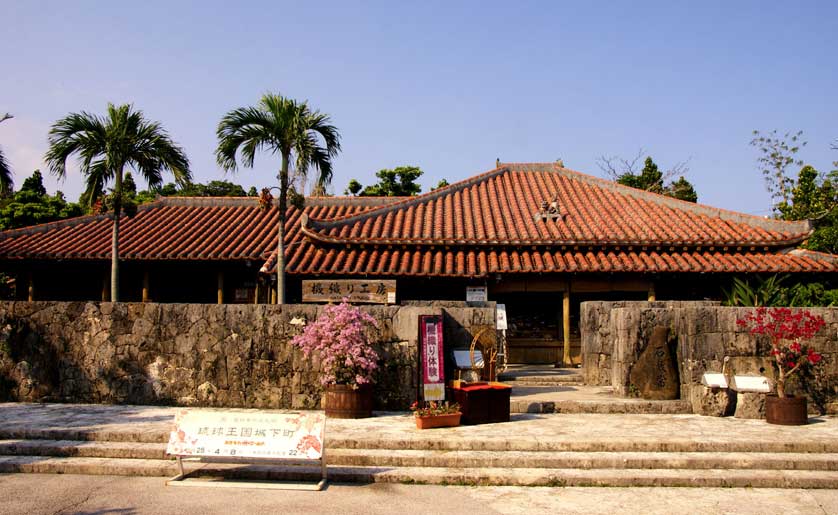 Kingdom Village, Okinawa World, Okinawa
Like its mainland cousin, mamushi sake, the drink has a reputation for producing sexual "vitality", a traditional form of viagra! If after having tried Okinawan crafts, eaten Okinawan food, and drank Okinawan alcohol, you are still not feeling Okinawan enough you can dress up in the costumes of Okinawan royalty for some souvenir photos.
There is one building in the Kingdom Village where you can't spend any money, a small museum with some nice exhibits that feels genuinely authentic. Several of the vendors around the village will be playing sanshin, the three stringed instrument that the Japanese developed into the shamisen, and traditional Okinawan music is piped into some of the establishments, but the main focus for music and dance is a covered outdoor stage that puts on performances of Eisa-style music and dance. The 25 minute show is performed at 10.30am, 12.30pm, 2.30pm, and 4pm.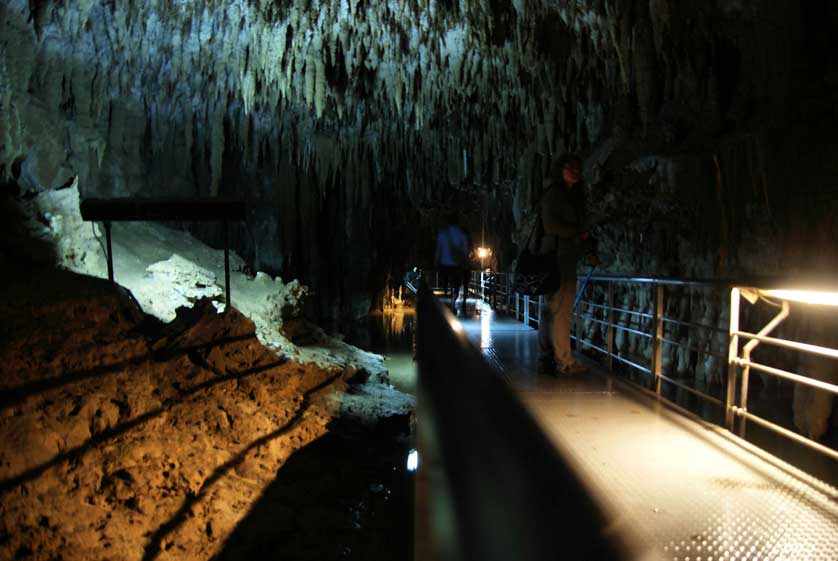 Gyokusendo Cave, Okinawa World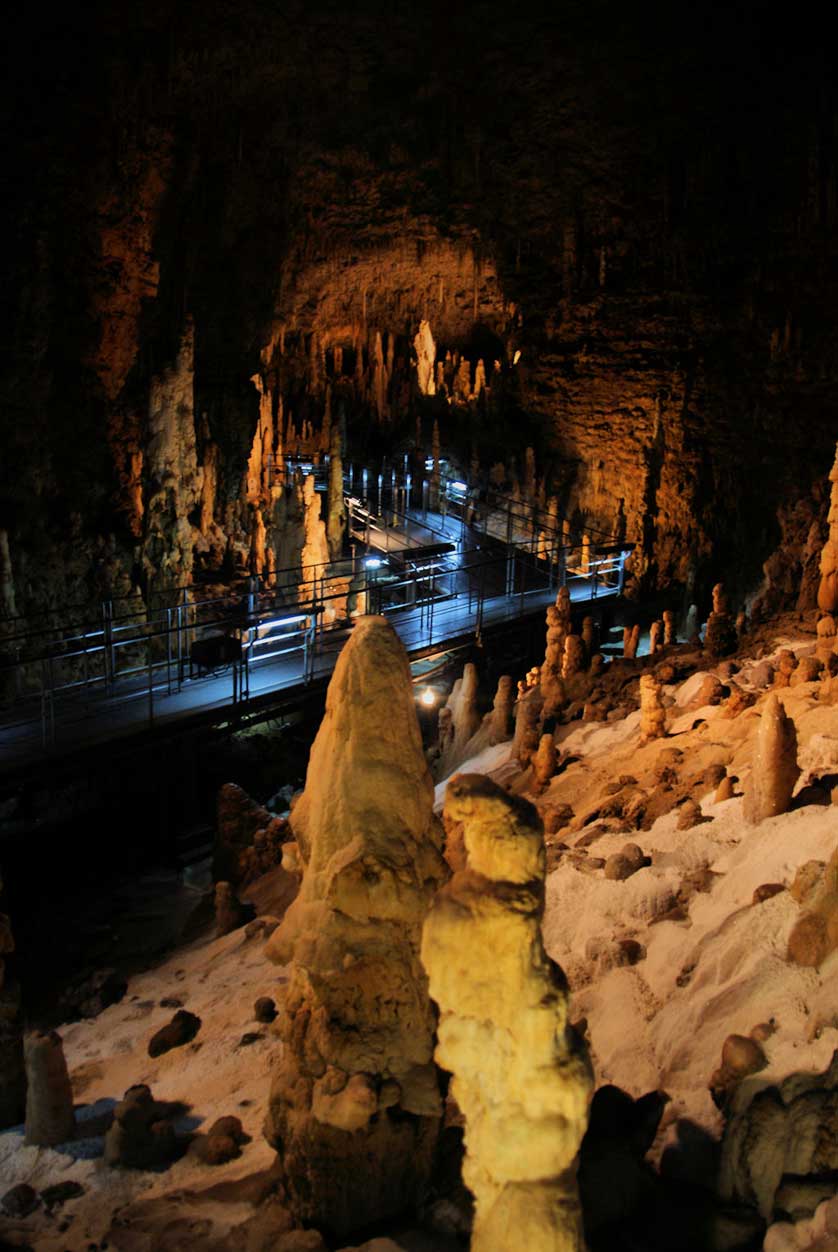 Gyokusendo Cave, Okinawa World

Gyokusendo
Gyokusendo is the biggest of the many caves on Okinawa, its also the second biggest cave system in Japan after Akiyoshido. Formed over 300,000 years, the cave systems total length is about 5 kilometers, but just less than 1 kilometer is open to the public.
The route is along a metal walkway with guardrails and is easy and safe, though with the high humidity and moisture sections can be a little slippy. In the narrowest sections the ceiling of stalactites have been cut off to allow the headroom for people to walk through. Colored lights are used for effect to illuminate the impressive displays of thousands of stalactites and stalagmites as well as the small waterfalls and pools of water.
Habu Center
Unless you happen to have a fascination with venomous snakes, this is probably the least interesting of the three sites. The Habu is the common, poisonous snake in Okinawa, similar to rattlesnakes, though without the rattle. Its venom can kill, but usually just causes sickness. There is a small museum on the Habu, a "park" where they can be seen in their natural habitat, and four times a day a show where the habu are handled by the presenters.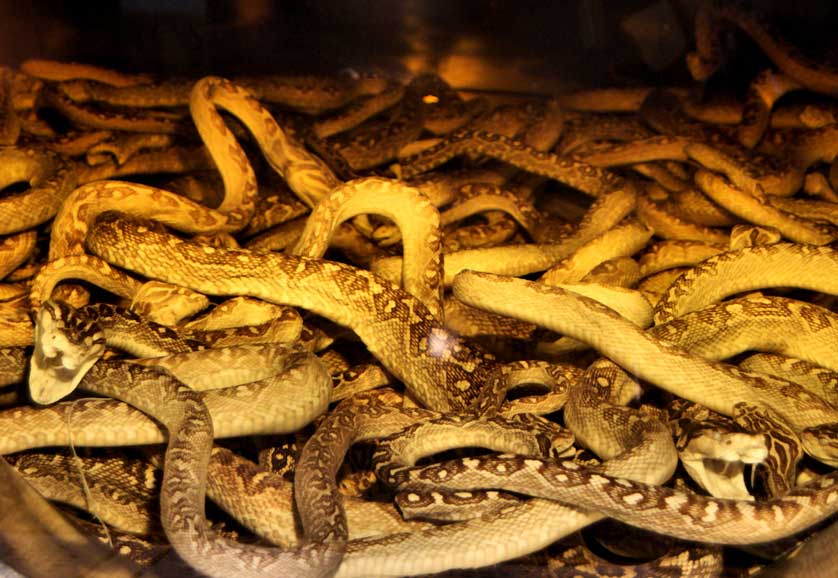 Habu snakes (pit vipers) at a habushu brewery, Okinawa
Okinawa World Access
Okinawa World (www.gyokusendo.co.jp) is open 9 am-6 pm everyday.1336 Tamagusuku, Maekawa, Nanjo City, Okinawa 901-0616Tel: 098 949 7421
Entry for all 3 attractions: 1,600 yen adults, 800 yen children.Gyokusendo & Kingdom Village: 1,200 yen adults, 600 yen childrenHabu Center & Kingdom Village: 1,100 yen adults, 550 yen children
From the Naha Bus Center bus#83 takes about an hour and costs 560 yen each way. With car hire, a visit to Okinawa World is easy to combine with seeing Sefa Utaki and the Peace Memorial Park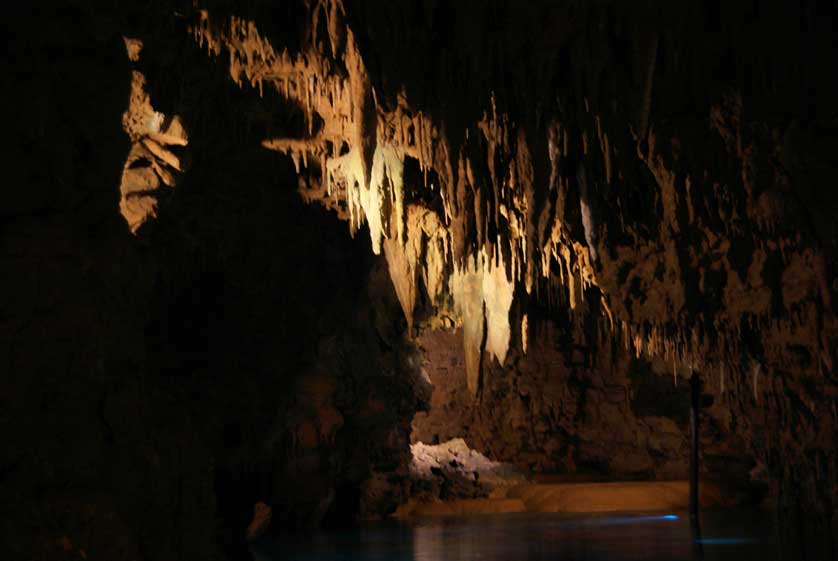 Gyokusendo Cave, Okinawa World
Gangala Valley
Just across the road from Okinawa World is the Gangala Valley. Entry is through a large cave that houses a cafe. Entry to the cafe is free so if you need to wait for a bus you can sit in the shade and drink beverages under a roof of stalactites.
The cafe also hosts exhibitions and concerts. Out through the other side of the cave is the Gangala Valley, but can only be entered as part of a guided tour. The tour costs 2,000 yen per person and that includes a free drink to take along and an electronic bug repellent.
The tour guide only speaks Japanese, but an information sheet in English is available. The tour takes an hour and passes through the exotically forested valley past rock formations and into a couple of smaller caves that were in earlier times inhabited. One cave has a huge stalactite shaped like a phallus and so has acquired the reputation for ensuring fertility if rubbed!
There are 4 tours a day at 10 am, 12 pm, 2 pm, & 4 pm.For reservation Tel: 098 948 4192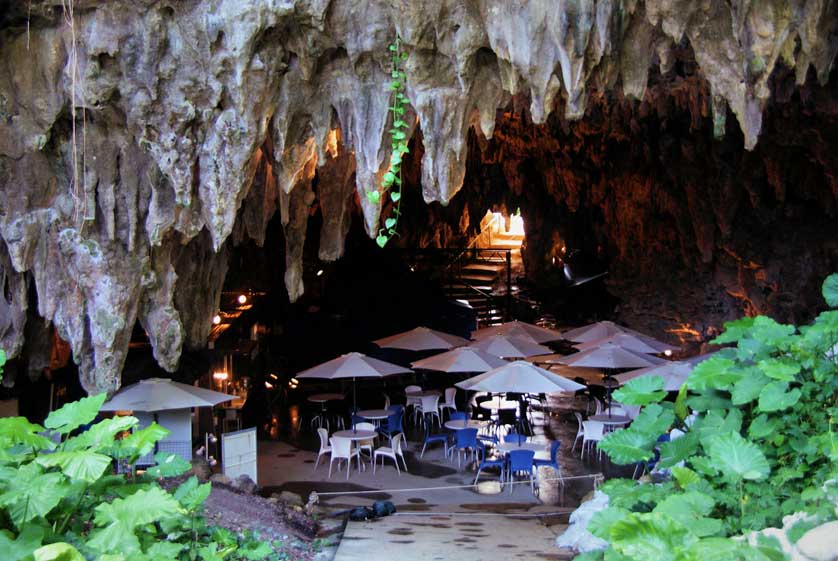 Gangala Valley, Okinawa

Book Discount Hotel Accommodation in Okinawa
All the themes of the city