John Lennon Museum
John Lennon Museum: read a guide to the world's first ever John Lennon Museum - now closed - in Saitama near Tokyo, which took the visitor through Lennon's life from Liverpool with the Beatles to Yoko Ono - Now Closed.
John Lennon Museum ジョン・レノン・ミュージアム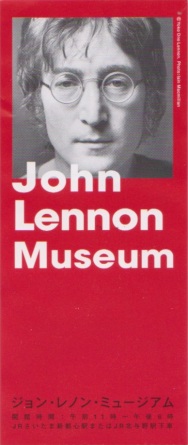 The John Lennon Museum was opened in Saitama Prefecture (about 45 minutes by train from central Tokyo) on what would have been Lennon's 60th birthday, in October 2000. The museum was the first devoted to Lennon anywhere in the world. The John Lennon Museum closed its doors on September 30, 2010.
The visitor followed John Lennon's life through 9 museum zones, from "Childhood Memories," via such zones as "The Beatles" and "Love and Peace" through to, finally, "Household Husband".
Beatles and Yoko Ono
The John Lennon Museum was a treasure trove of Lennon and Beatles realia and memorabilia: over 130 pieces from Yoko Ono's collection.
The Museum was created with the close cooperation of Yoko Ono, a fact which was strongly reflected in the collection. For example, the first attraction, a 7-minute movie of John Lennon's life, made no mention at all of his first marriage to Cynthia Powell. John's relationship with Paul McCartney also got minimal exposure. On the other hand, Yoko Ono's life and works - even pre-Lennon - got very extensive coverage, and she was more or less portrayed as his savior. Perhaps the most interesting Ono exhibit was a retro-looking telephone which, the caption stated, she occasionally made a random call to, to be answered by whichever lucky visitor happened to be beside it.
In Saitama Super Arena
The John Lennon Museum was housed in the avant garde Saitama Super Arena, and its two floors shared the Arena's architectural good looks. Interestingly - because seemingly incongruously - it was a project of the Taisei Corporation, a construction and engineering firm.(Continued below...)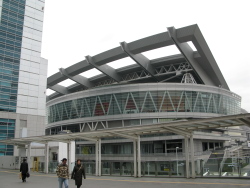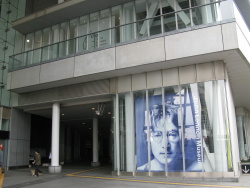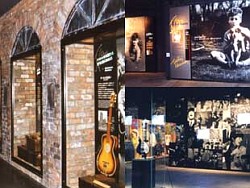 John Lennon Museum Access & Map
Saitama Shin-toshin Station on the
-JR Keihin Tohoku line-JR Utsunomiya line-JR Takasaki lineTake the pedestrian walkway from the West Exit (Nishi Guchi) of Saitama Shin-toshin Station, traverse Keyaki Hiroba Square, and cross the bridge. The Museum was on your right. 3 minute walk from the station. Kita-yono Station on the JR Saikyo line. Walk one block north to Hachiman Dori Intersection and turn right. Walk 300 meters and its on your left. 7 minute walk from the station.
John Lennon Museum Address
John Lennon Museum, 4th and 5th floors, Saitama Super Arena, 8 Shintoshin, Chuo-ku, Saitama City, Saitama Prefecture, 330-9109, Japan. Tel. 048-601-0009, Fax 048-601-0010
Book Hotel Accommodation in Saitama Japan Here
All the themes of the city