Niseko Guide
Niseko ニセコ
Population - 5,000 full-time.
World-class ski resort
Niseko is wildly popular among Australians, Chinese, and Japanese skiers
Easy access from Sapporo
Famous for its powder snow
A total of seven ski resorts in the Annapurni Range
More than 2,000 acres of skiing
Sapporo Snow Festival in nearby Sapporo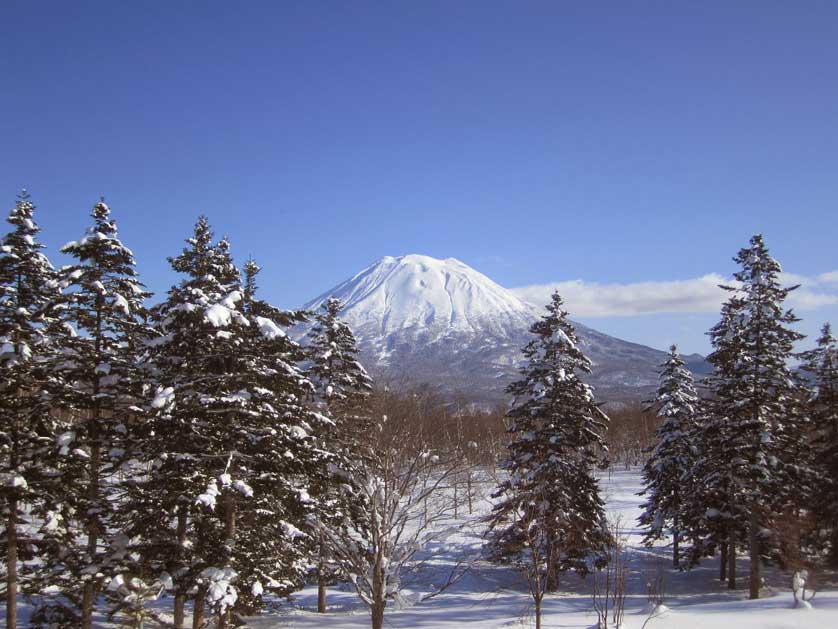 Mount Yotei, Niseko, Hokkaido
Niseko is a top-class ski resort in Hokkaido, the northernmost island in Japan. Because of its easy access from Sapporo, and direct flights from Australia, it has become very, very popular as a summer/winter destination for Aussies, as well as visitors from Korea, Taiwan, Singapore, Hong Kong and more recently China.
Niseko offers powder snow in abundance, fantastic back country skiing and a growing apres ski scene which is very foreigner-friendly.
Niseko (nisekoan) is originally an Ainu word meaning "river which runs around the bottom of a sheer cliff." The Ainu are the indigenous people in Hokkaido.
Niseko is framed by Mt. Yotei - a dormant volcano that looks quite similar to Mt. Fuji - which is pictured above right.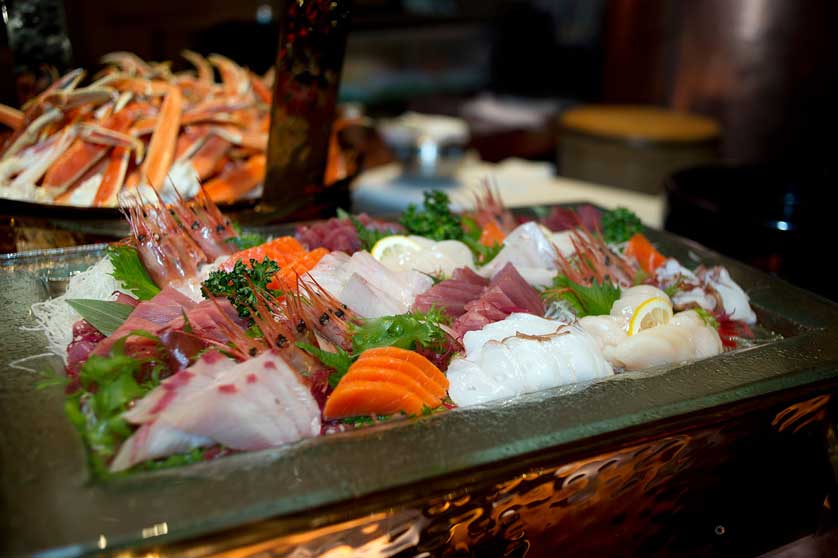 Enjoy the evenings after a hard day of skiing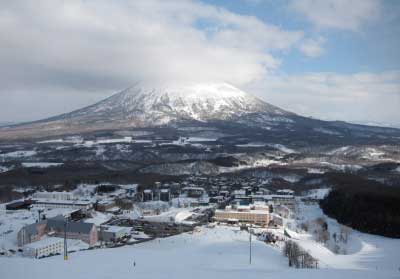 Hirafu ski resort and Mount Yotei, Niseko, Hokkaido, Japan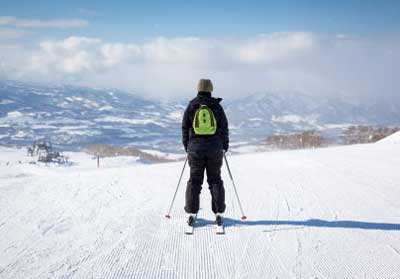 Skiing in Niseko, Hokkaido, Japan
Niseko Ski Resorts
Modern Niseko is made up of a total of seven ski areas: Niseko Mt. Resort, Grand Hirafu, Niseko Village (formerly Higashiyama), Niseko Annupuri, Niseko Hanazono, Niseko Moiwa, and the smallest of the bunch Niseko Weiss.
The main four are the closely linked resorts Hirafu, Niseko Village (Higashiyama), Annupuri, and Hanazono.
Grand Hirafu is the biggest resort in Niseko with six ski lifts and a small town has developed here with hotels, lodges, restaurants and bars. Hanazono is smaller and quieter and is located is on the other (eastern) side of the mountain.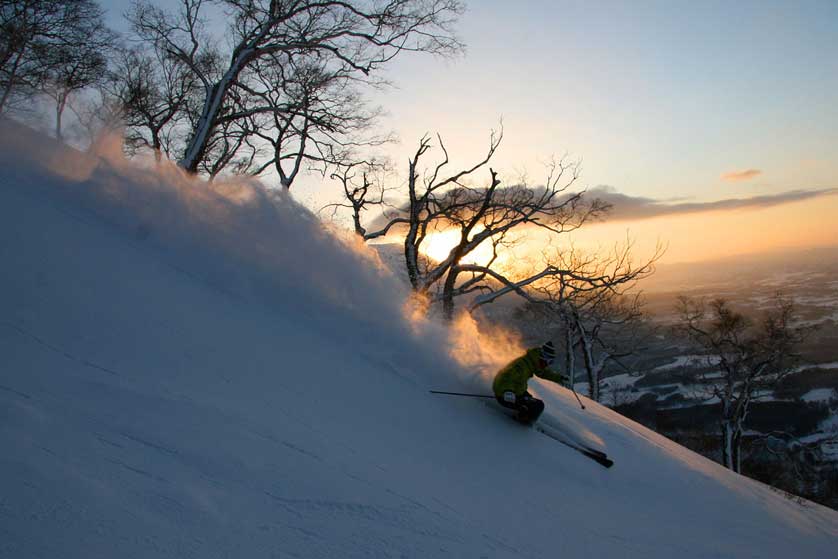 Skiing at Niseko Village, Hokkaido, Japan
Niseko Village is a developing resort, west of Grand Hirafu, situated around the Hilton Niseko Village with its own onsen and the The Green Leaf Niseko Village also with its own hot spring baths to relax and unwind after a day on the slopes.
West again is Annupuri again quieter with less people and fewer facilities. Moiwa is west again and the quietest of the four resorts.
All the big four resorts of Hirafu, Hanazono, Niseko Village and Annupuri have ski schools to help you improve your technique whatever your level of ability. A number of local tour companies also offer off piste, back country skiing and snow-boarding.
In addition to the skiing in Niseko, there is also good hiking in the nearby hills and mountains in summer.
In March 2008, Niseko was voted as the sixth in a list of the top 10 ski resorts in the world. The Niseko area also offers a number of onsen (hot spring baths).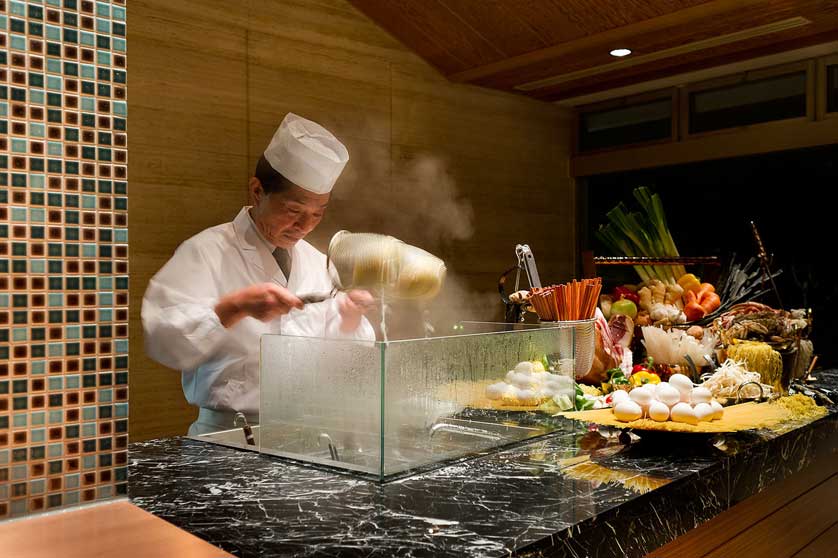 A chef at work at the Green Leaf Niseko Village, Hokkaido, Japan
Niseko Apres Ski
Niseko offers a multitude of bars, cafes and restaurants to enjoy in the evening. Japanese food options include a number of informal izakaya, soba noodles, sushi, nabe hotpot and Hokkaido's signature ramen and Genghis Khan lamb barbecues.
International food on Niseko's menus includes cheese fondue, burgers, French cuisine, Italian pizza and pasta, Mongolian, Indonesian, Korean, Thai and Chinese.
Recommended places to eat in Niseko include A-Bu-Cha (Tel: 0136 22 5620) in Hirafu for local Hokkaido nabe (hotpot) and Boyo-so (Tel: 0136 22 1274) at the top of Holiday Pair Lift #1 also in Hirafu for delicious (and warming!) Hokkaido ramen.
For drinks try the Ezo Pub in the Niseko Hilton Village and the Ice Bar for sub-zero shots in an igloo.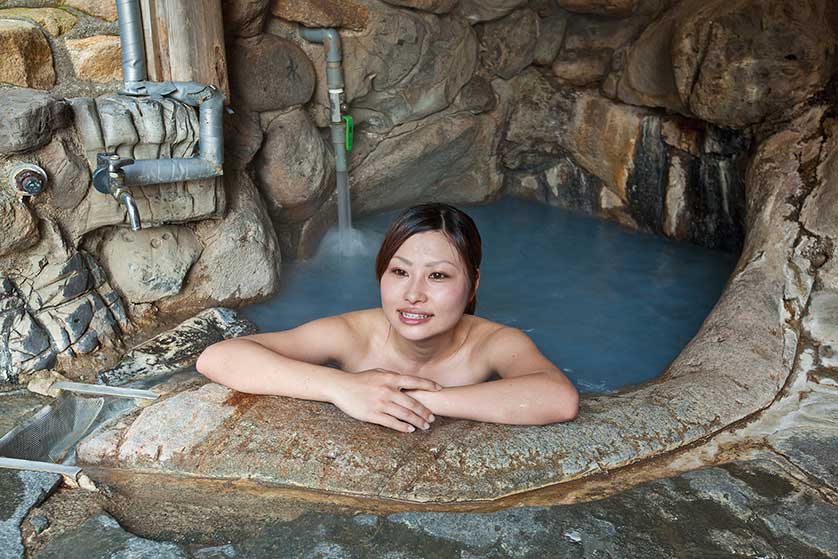 Enjoying hot spring onsen culture in Japan
Niseko Onsens (Hot Spring Baths)
There's nothing better after a hard day's skiing to relax in a natural hot spring (onsen). Many of the hotels in Niseko have their own indoor and outdoor baths (rotemburo). Even if you are not staying at the hotel you can enter the baths for an extra charge. Hot springs can be found at the Yumoto Niseko Prince Hotel Hirafutei, the Hotel Niseko Alpen, the Green Leaf Hotel Niseko and the Vale Onsen and Pool inside the 5-star Vale Resort. For a more basic, traditional onsen try the Yukoro onsen at Hirafu Lower Village.
Niseko Ski Conditions
Average annual snowfall is 595 inches (15 meters), which makes it the second "snowiest" resort in the world.
By March, the average depth is 138 inches (351 cm).
Lift Fees
In general lift fees will run about 4,000 - 5,000 yen a day.
It is possible to buy the Niseko All Mountain lift pass which allows you to use any of 38 lifts. The longest run at Niseko is 5.6 km.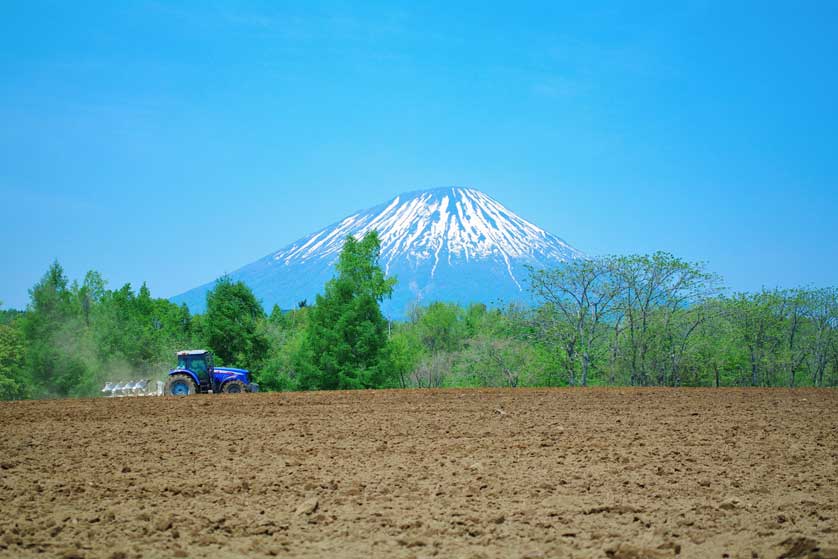 Mount Yotei and Niseko in summer, Hokkaido
Summer
It should also be noted that summer is a wonderful time to visit Niseko as well. Hokkaido does not have a rainy season - unlike the rest of Japan. Days are warm and nights are cool and pleasant. Hiking and nature are the main draw.
Niseko Towns
The main "towns" in the Niseko area are Niseko itself around Niseko Station and Kutchan. Neither place is a convenient base for skiers and snow boarders but Kutchan, the larger of the two, has a number of ski shops and restaurants.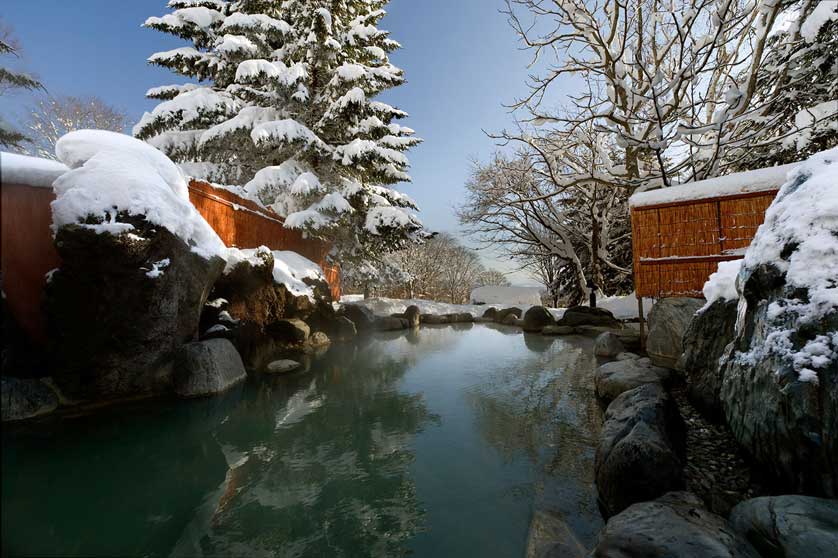 The Green Leaf resort in Niseko can be enjoyed in both winter and in summer, Hokkaido, Japan
Niseko Access
Plane (to Sapporo)
The closest airport is Sapporo's New Chitose Airport. Chitose is primarily served by domestic flights from all over Japan including Haneda Airport in Tokyo, Centrair in Nagoya and KIX in Osaka; however, come winter (in Japan), flights from abroad increase, primarily from Australia and there is also a twice weekly flight to Changi Airport in Singapore coinciding with the ski season and school holidays in Singapore.
Niseko Buses
From Sapporo Airport, you can use limousine bus service to Niseko. The cost per person ranges from 900-300 one way.
There are also several public bus lines that run from the airport to Hirafu. During ski season the Chuo Bus (+81 11 231 0500) makes 5 trips a day to Niseko. Donan buses (+81 123 465 701) make four runs a day. Other bus lines include Good Sports Whiteliner and Hokkaido Access Network.
For booking, go to the domestic travel agent counter on the 1st floor New Chitose Airport.
The trip takes 3-4 hours. This will of course depend upon the roads--and snow.
From Sapporo to Otaru is 1 hour by bus and a further 80 minutes to Kutchan Bus Terminal from Otaru.
There are a number of shuttle buses in the Niseko area: the Niseko United Shuttle runs around Niseko Mountain Range from late November to early May. The Hot Spring Hopping Bus connects hot spring onsens in Niseko. The Kutchan Night Go connects Kutchan urban area with Hirafu from December to late March (free). The Hanazono shuttle bus runs from Hirafu and Hanazono from December to early April (free).
Niseko By Road
Niseko is 61km from Otaru, 100km from Sapporo and 127km from Chitose Airport on the highway. On National Highway 276 it is 15km to Kimobetsu and a further 75km to the port town of Tomakomai, which has ferries to Nagoya and Sendai.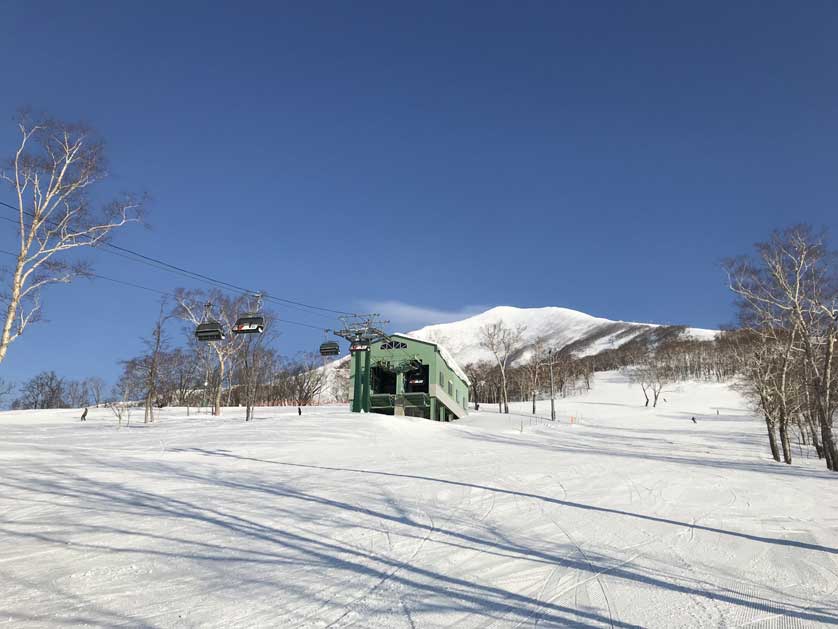 View from the chair lift, Niseko, Hokkaido, Japan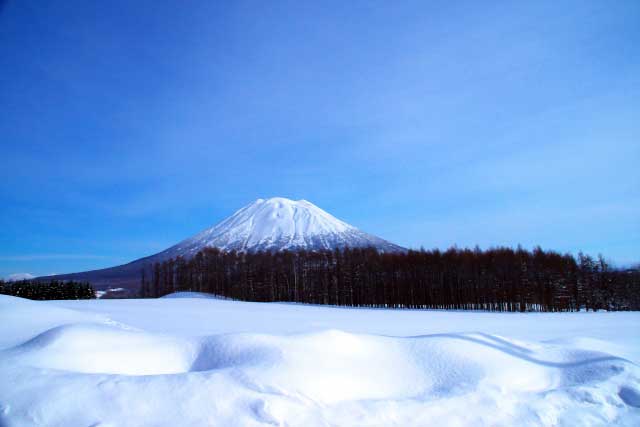 Mount Yotei, Niseko, Hokkaido
Niseko Train
This is not recommended in non-ski season. You will need to change at Otaru, and wait for one of the six daily local trains to Kutchan (the closest railway station to the Niseko-Hirafu Alpine Resort) and Niseko town. Then take a bus to Hirafu (15 minutes) from Kutchan.
From December to March, there are direct trains to Kutchan and Niseko: the Niseko Ski-Express. This will get you to Niseko in 2 hours and cost 560 (free if you have a Japan Rail Pass).
New Chitose Airport is 36 minutes on a rapid train to Sapporo; Sapporo to Otaru is 33 minutes by rapid or 45 minutes by local; Otaru to Kutchan is 90 minutes by local train.
Tourist Information Center
Niseko Resort Tourism Association, Inc.
77-10 Aza Motomachi, Niseko-cho, Abuta-gun, Hokkaido 048-1544
Tel: +81 136 43-2051, +81 136 44-2468
Fax: 0136-43-2050
E-mail: masterniseko.org
Niseko Maps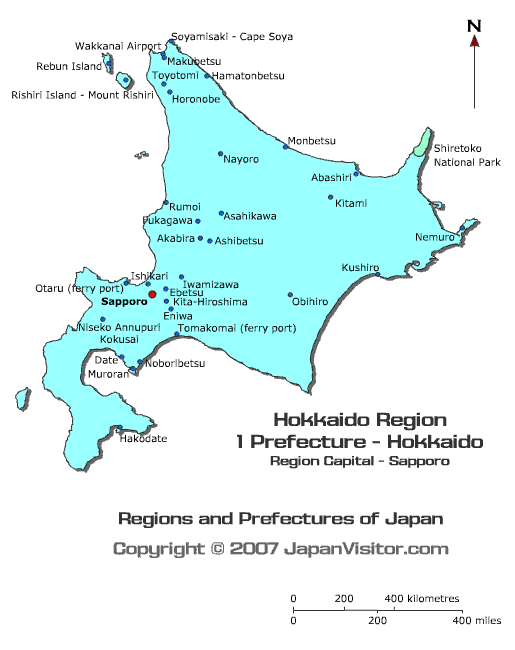 Niseko Accommodation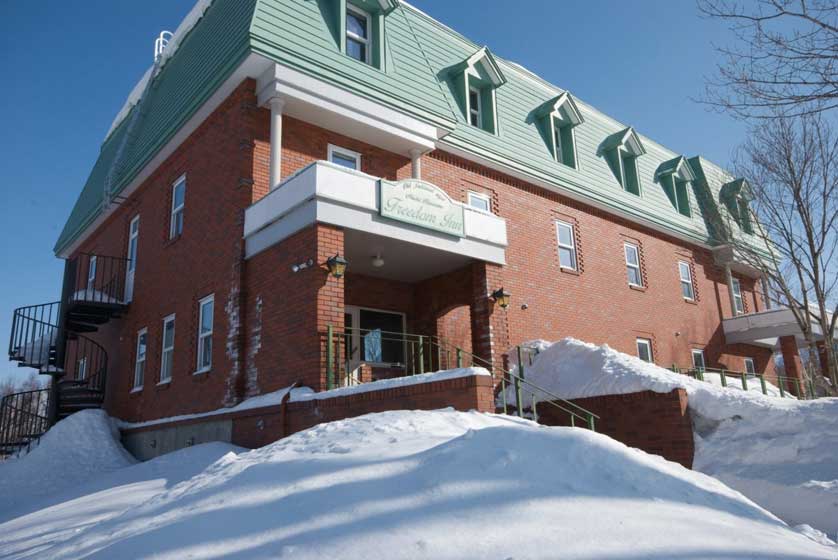 Freedom Inn Niseko
As the property boom continues apace in Niseko, new apartments, hotels, pensions and ski lodges are quickly being built with many foreigners involved in the growing property market. Most of the accommodation options are located in Hirafu, with Annupuri and Higashiyama being more peaceful options. Self-catering apartments are also available for rent.
The European-style Freedom Inn, Hanazono, a short stroll from the new Hanazono 308 base lodge and the Niseko United ski lifts, offers Western and Japanese-style rooms and a dorm. Facilities include a restaurant, terrace and hot bath.
Freedom Inn
Asahi 305-8, Kutchan, Abuta-gun, Hokkaido 044-0083
Tel: 0136 22 3322
The Hotel Nikko Annupuri (Tel: 0136 58 3311) and the Niseko Prince Hotel (Tel: 0136 44 1111) are two of the upmarket western-style hotels in Niseko.
The Hotel Ashiri provides free shuttle buses to various places in Niseko while the luxury Hilton Niseko Village Hotel has an outdoor bath (rotemburo) and a night club for apres ski. The Niseko Pension Grandpapa is a favorite with Australian visitors with a great bar, table football, bicycle rental and darts.
Niseko Map
Book Hotel Accommodation in Sapporo Hokkaido
Niseko: Read a guide to Niseko, Hokkaido. Niseko is a world-class ski resort in northern Japan. Niseko attracts skiers and hikers from around the world.
All the themes of the city