Otaru Guide
Otaru 小樽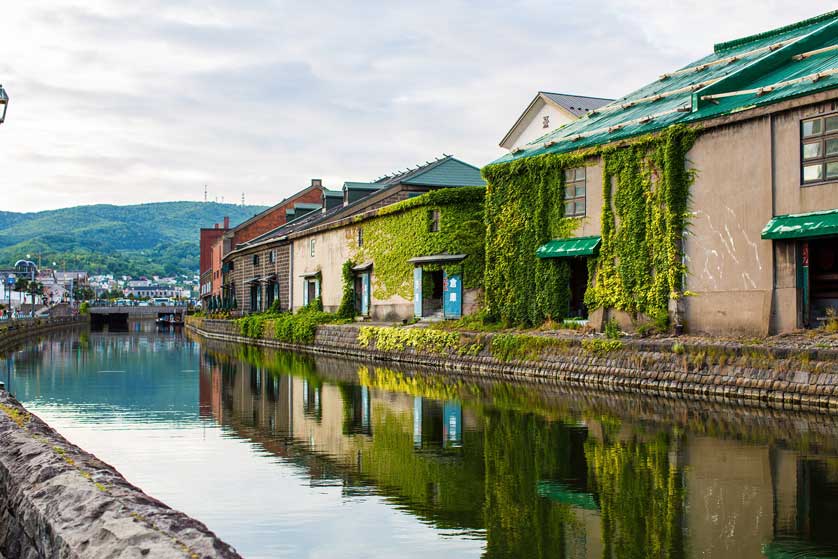 Otaru Canal Area, Hokkaido
Otaru, a port city on the northern island of Hokkaido, about 40 km north west of Sapporo, enjoyed its boom period in the Meiji and Taisho periods as a herring fishing center and the terminal for Hokkaido's first railway between Otaru and Sapporo.
Sometimes known as the "Venice of Japan," Otaru has preserved its historic and picturesque canals lined with brick warehouses and gas lights. The Venice connection has been expanded to include a new focus on glass-blowing in the city.
Out on the coast at Shukutsu are the "Herring Mansions" and "Herring Villas" of the so-called Herring Barons, who helped bring prosperity to Otaru during the development of Hokkaido from the 1880's onwards.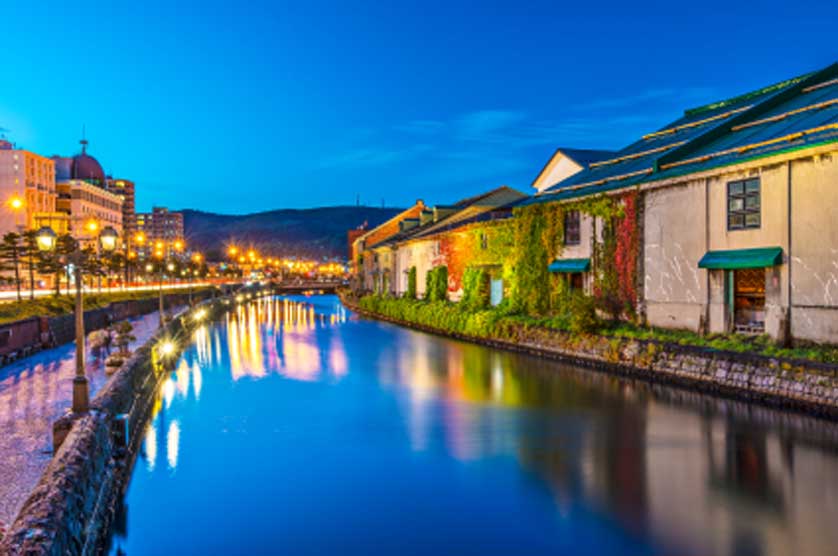 Otaru Canal Area Night View, Hokkaido
Otaru Attractions
The Otaru Canal area including Sushiya Dori, Nishigin Dori, Chuo Dori, Ryugu Dori and Sakaimachi is the first place most visitors to Otaru begin.
Admire the fine old period buildings which have been preserved and converted into museums, shops, bars and restaurants, especially sushi restaurants.
The Bank of Japan Museum opened in 1912 and was in business until 2002. The structure was designed by architect Kingo Tatsuno, who was also responsible for Tokyo Station and the Bank of Japan building in Nihonbashi in Tokyo. The Bank of Japan Museum building is now a museum with exhibits on its history as a bank and Japanese money.
The Otaru Museum is housed in a restored warehouse dating back to 1893. The Otaru Museum has exhibits on Hokkaido's indigenous Ainu, natural history and the herring industry.
Other historic buildings in the Otaru Canal area include the old Mitsui Bank Building and the Former Nippon Yusen Company Building, which is open as a museum (300 yen admission).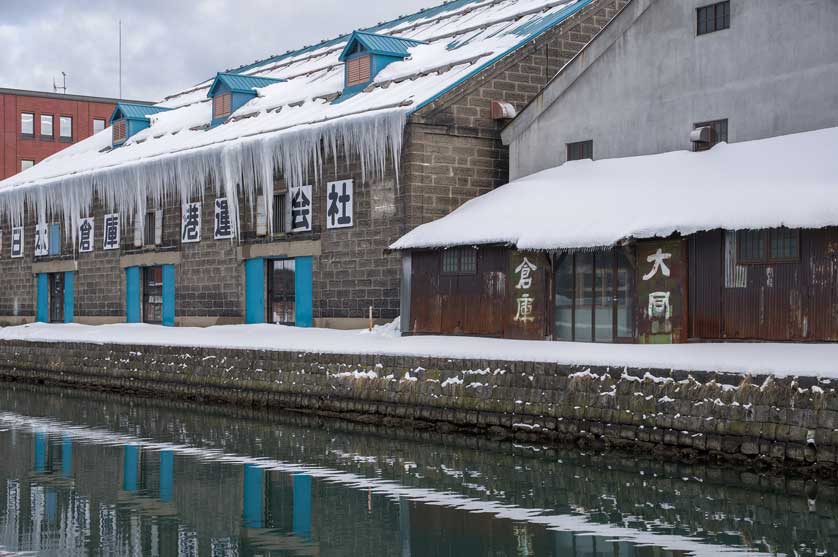 Otaru Canal Area in Winter, Hokkaido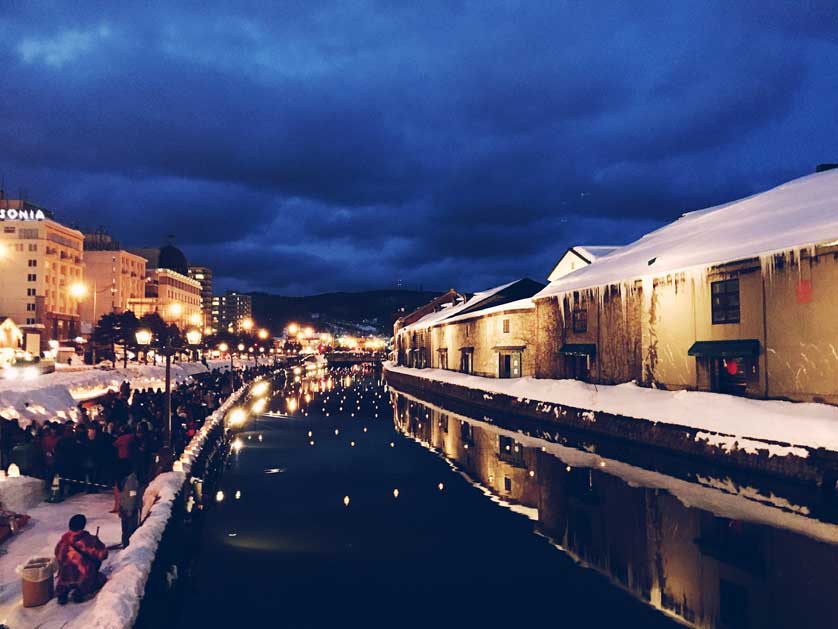 Otaru in the snow, Hokkaido
As part of Otaru's self-styled connection with Venice and a new direction for the makers of glass buoys after the decline of the herring fishing industry - a number of glass-blowing companies have begun in the city. Venetian art is celebrated at the Venetian Museum of Art, opened by local glass-blowers, Kitaichi, with exhibits of venetian glass, paintings and even a gondola.
The free Music Box Museum has displays of music boxes and a shop selling them, housed in a building built in 1912. There are various parts of the museum located in other buildings around Otaru and the company has similar places in Arashiyama Kyoto, Hakodate, Kamakura and Nikko.
Marchen Square is a spacious meeting point in the Sakaimachi district of Otaru outside the Music Box Museum. Admire the Otaru Steam Clock, manufactured in Canada by Raymond Sanders and placed here in 1993. The square is a short walk from Minami Otaru Station.
Visitors can also try their hand at glass blowing in various craft shops near to the Canal area including K's Blowing (Tel: 0134 31 5454) in Sakaimachi and Yuzu Kobo (Tel: 0134 34 1314) very close to the Otaru Museum.
The Otaru Railway Museum is built on the site of Hokkaido's first railway from Otaru Port to Sapporo and has a number of railway engines from different eras highlighting the development of the rail system on Hokkaido from the early Meiji period onwards.
Otaru Aquarium (Tel: 0134 33 1400) is the largest in Hokkaido and has over 5,000 animals from over 250 species including penguins, walruses, seals and sealions.
The Temiya Line (手宮線) was a former narrow gauge railroad linking Minami-Otaru Station and Temiya Station which both freight (coal, marine products) and passengers. The Temiya Line closed in 1985 but parts of the tracks have been preserved.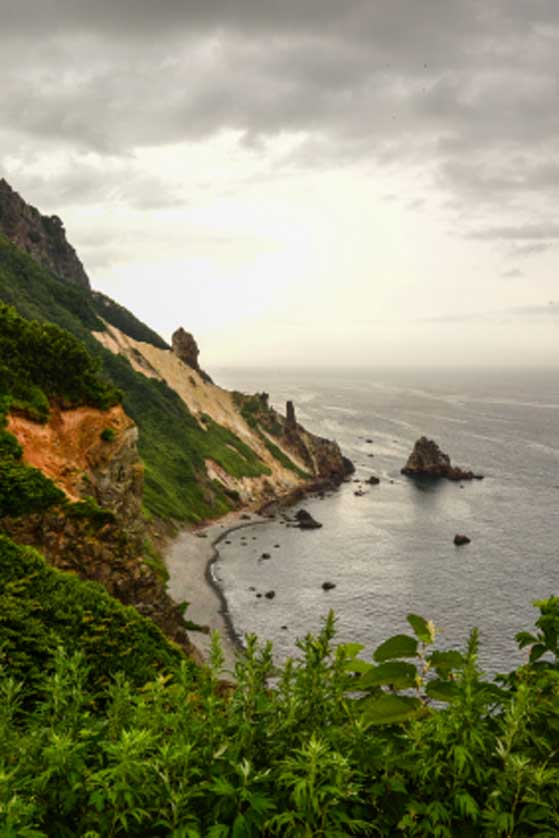 Otaru coast, Hokkaido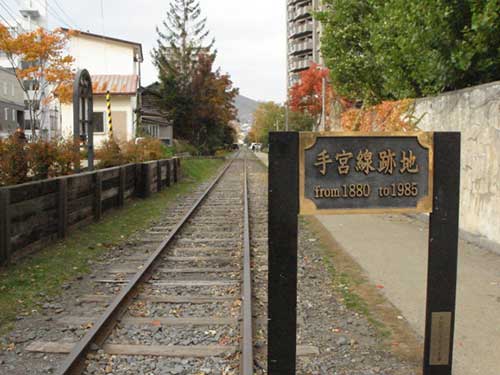 Temiya Line, Otaru, Hokkaido
Outside Otaru Downtown Area
A short bus ride outside the downtown area is Shukutsu, where the wealthy tycoons who controlled the herring fishing industry built their "mansions" - huge complexes where they lived along with their seasonal workers. Much of the herring caught off the Hokkaido coast was used for fertilizer rather than for human consumption, but over-fishing led to the collapse of fish stocks and the business collapsed in the 1950s.
Nishin Goten (Herring Mansion) was built in 1897, though it was moved to its present location on a hill overlooking the harbor in the late 1950s.
The nearby Former Aoyama Villa aka Nishin Goten Kihinkan Villa (Tel: 0134 24 0024) was the luxurious property of the Aoyama family, one of the three big business families in the Shukutsu herring trade, along with the Ibaraki and Shiratori families.
The villa was six years in construction and was completed at vast expense in 1923. Done in Japanese style, the villa is built mainly in zelkova wood with other exotic timber used to create the exquisite tokonoma alcoves and other features. Lovely gardens surround the property.
The Aoyama family Herring Mansion can also be seen and is preserved in the Historic Village open area museum of historic buildings just outside Sapporo.
Admission to the Nishin Goten Kihinkan Villa is 1,000 yen and the Shukutsu area can be reached by bus #10 or #11 from Otaru Station or in summer on a boat from the Otaru Pier No. 3 to Otaru Aquarium.
Tenguyama is a local ski resort with fine views over Otaru and Shukutsu. There are buses to the ropeway up the mountain from bay 3 outside Otaru Station. The Tenguyama Ropeway is very busy at New Year with people ascending the mountain to see the first sunrise of the year.
The Nikka Whisky Yoichi Distillery in nearby Yoichi makes for an interesting trip. Visitors can tour the distillery and a museum dedicated to Masataka Taketsuru, who studied whisky-making in Scotland before returning with a Scottish wife, Rita Taketsuru, and starting the Nikka Whisky Yoichi Distillery in 1934. Masataka and Rita Taketsuru are considered the father and mother of Japanese whisky and Nikka produces some of the world's best whisky.
Asarigawa, to the north east of Otaru, is known for its hot springs and ski resort in the winter ski season.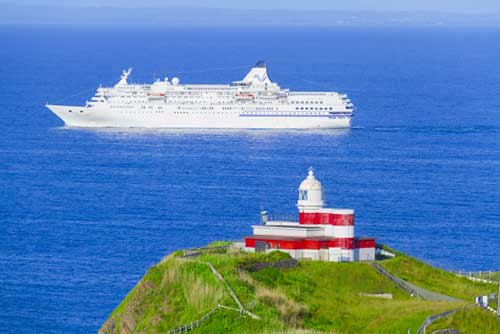 Hiyoriyama Lighthouse & Cruise ship, Otaru coast, Hokkaido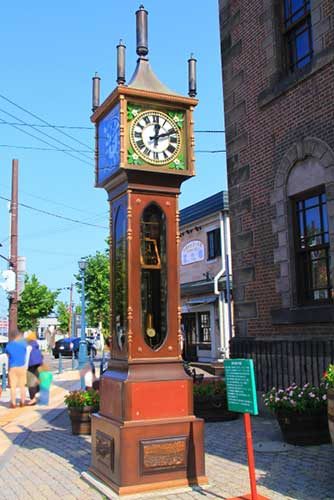 The Otaru Steam Clock, Marchen Intersection, Otaru, Hokkaido
Getting Around Otaru
Otaru is small enough to get around on foot or bicycle. The retro green and red Otaru Stroller's tourist buses leave from Otaru Station and circuit Otaru's attractions and run out to Otaru Aquarium in Shukutsu. The flat fare on Otaru city buses and the Stroller's buses is 210 yen. A one-day bus pass is 750 yen. Yoichi is 25 minutes by train from Otaru.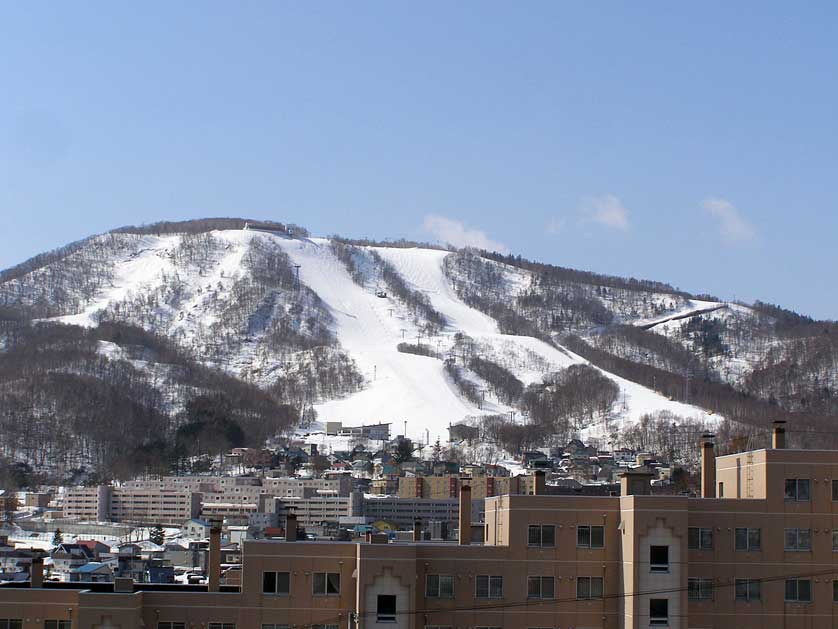 Tenguyama skiing, Otaru, Hokkaido
Tourist Information Center
Otaru's Tourist Information Center is at Otaru Station and has brochures and maps in English and other languages.
Otaru Tourist Office (Tel: 0134 29 1333). There is also a small information booth at Unga Plaza near the Otaru Museum.
Download Otaru brochures in English, Chinese and Korean.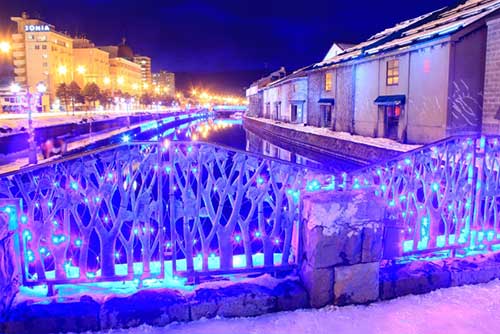 Otaru Snow Light Path Festival (Otaru Yuki Akari no Michi)
Otaru Festivals
Otaru's big festival is the Otaru Snow Light Path Festival (Otaru Yuki Akari no Michi) held in February. The Otaru Snow Light Path Festival is usually held at the same time as the Sapporo Snow Festival and it is well-worth making the trip to Otaru to see the lanterns and small snow sculptures that illuminate the Canal area at Unga Kaijo and Temiyasen Kaijo - along the now disused Temiya Railway Line. Shopkeepers and restaurants also place lanterns outside their businesses during the festival.
Various events and concerts accompany the 10 day festival.
Official website (in Japanese).
The Otaru Tide Festival in July gives thanks to the sea and is one of the most popular sea festivals in northern Japan. More than 10,000 participants take to the streets to dance and numerous paper lanterns decorate the whole city. At Otaru Wharf, some 4,000 paper lanterns are set adrift on the sea and many boats and ships parade around the bay amongst them. Other attractions include mikoshi portable shrines and fireworks.
Accommodation in Otaru
Otaru has some excellent hotels, ryokan and minshuku to stay. Western style hotels in Otaru include the four-star Grand Park Otaru Hotel, the Hotel Vibrant Otaru, housed in a former bank building, the budget Dormy Inn Premium Otaru convenient for Otaru Station, the Hotel Nord Otaru and the Authent Hotel Otaru. See here for a full listing of hotels in Otaru.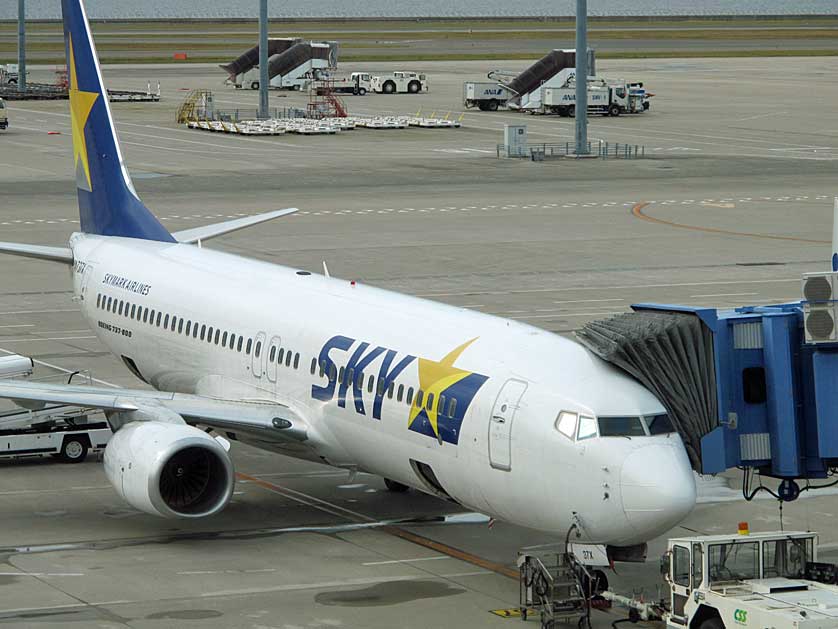 Skymark airplane on the runway in winter, Chitose Airport outside Sapporo, Hokkaido; Skymark has flights to Chitose from Nagoya, KIX, Kobe, Ibaraki, Narita & Haneda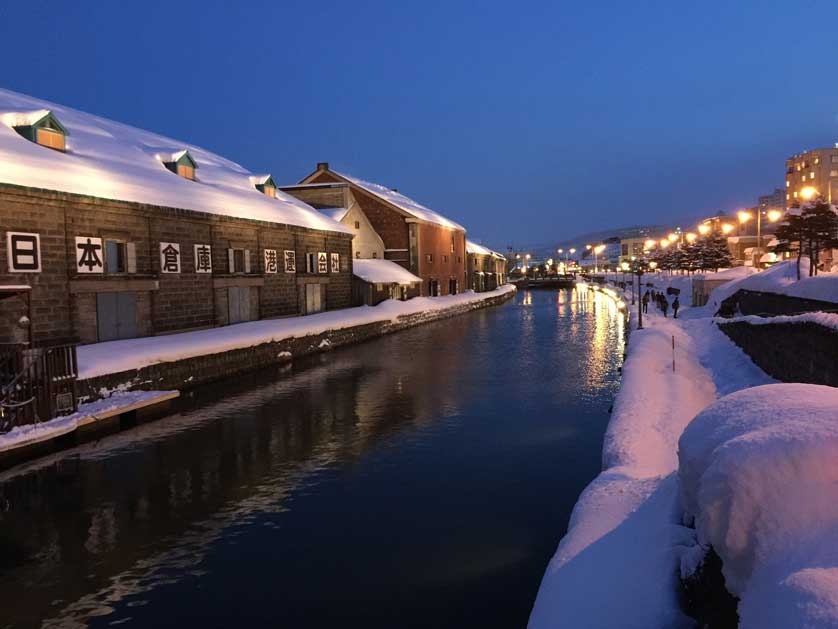 Otaru Canal Area in the snow, Hokkaido
Access - Getting To Otaru
Train
Otaru is easily reached from Sapporo, 40 km to the south east on the JR Hakodate mainline from Sapporo Station to Otaru Station, taking 30 minutes by express and 49 minutes by local train. From Hakodate Station in Hakodate take the Super Hokuto Express to Sapporo and change.
Trains from Otaru to the ski resort of Niseko take over 2 hours on the JR Hakodate Line.
Air
There are 40 flights daily from Tokyo (Haneda Airport) to Shin-Chitose Airport (1 hr. 30 min) near Sapporo. From Osaka (Kansai International Airport) 10 flights daily (2 hours). Sapporo has direct air connections with most major cities in Japan and some international destinations.
Buses (80 mins) and trains (36 minutes) to Sapporo city center from the airport. Sapporo has the smaller Okadama Airport nearer to the city with flights to Hakodate, Rishiri, Memanbetsu and Kushiro. To reach Okadama Airport take a bus from Sapporo Station or the Sapporo Bus Terminal. Trains from Otaru to Shin-Chitose Airport take about 70 minutes.
Bus
There are regular highway buses from Otaru to Sapporo (journey time around 1 hour) operated by Hokkaido Chuo Bus.
Ferry
There are regular ferries between Otaru and Niigata (18 hours) and Otaru and Maizuru port in Kyoto Prefecture (20-21 hours) operated by Shin-Nihonkai Ferry. A bus connects Otaru Port and Otaru Station.
A ferry leaves Maizuru at 12.30 am in the morning and arrives in Otaru at 8.45 pm. From Niigata the boat leaves at 10.30 am (except Monday) and arrives the next day at 4.30 am. For Maizuru the Otaru ferry leaves at 11.30 pm arriving the next day at 9 pm. For Niigata the boat leaves Otaru at 10.30 pm (except Monday) and arrives at 6 am. The Sunday boat leaves at 7.30 pm arriving at 3.30 pm the next day.
Check the Shin-Nihonkai Ferry website for details.
Otaru Map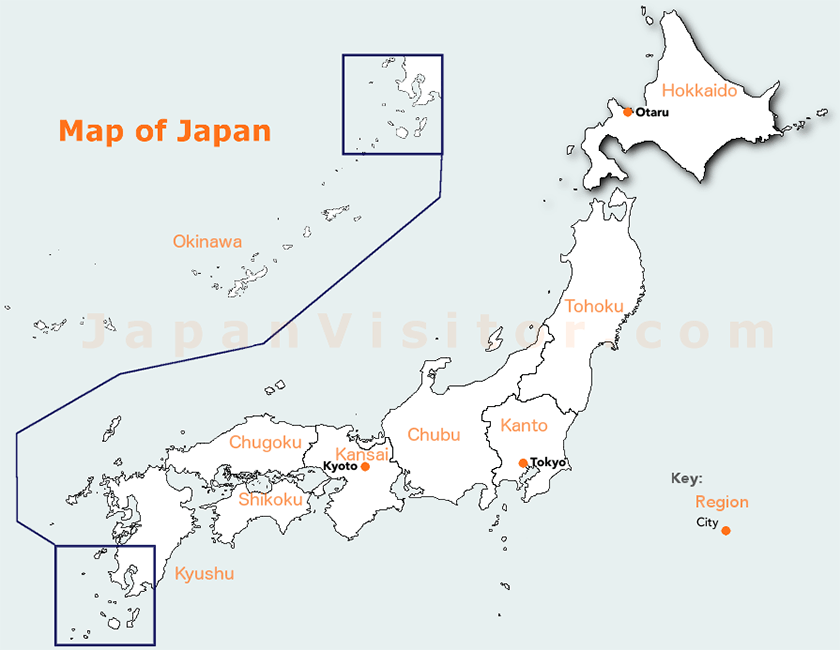 Otaru Map
View Sapporo & Hokkaido Map in a larger map
Otaru guide: read a travel guide to Otaru close to Sapporo in Hokkaido famous for its preserved historic warehouses in its canal district.
All the themes of the city