Hamamatsu Guide
Hamamatsu 浜松市
Hamamatsu in Shizuoka Prefecture is an industrial city west of Shizuoka city. Hamamatsu has long been known for the production of musical instruments with Yamaha and Kawai prominent in the city, and motorcycles, with Honda, Suzuki and Yamaha also having factories in the area.
Historically Hamamatsu was an important communications center in the Edo Period as it was the meeting place of the Tokaido highway (the route largely followed by today's Tokaido Shinkansen) and the Shinano higway, which runs north along the Tenyu River to Matsumoto and Nagano.
Hamamatsu is Shizuoka Prefecture's second largest city after Shizuoka City, with a population of around 800,000. Around 18,000 are Japanese Brazilians, many from the São Paulo area, drawn to work in the area's manufacturing industries.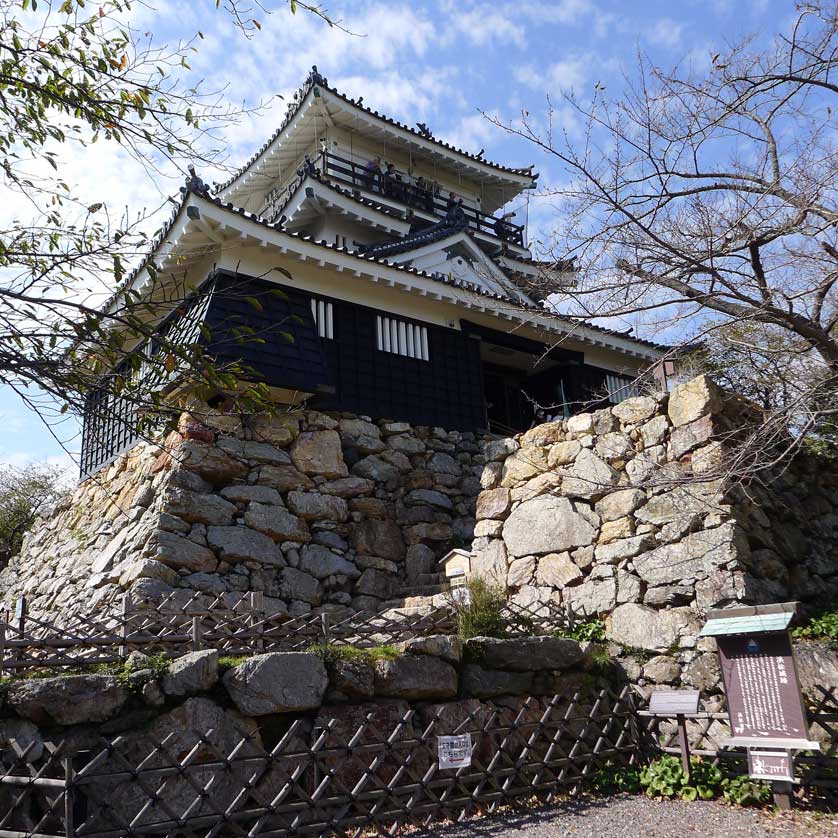 Hamamatsu Castle, Shizuoka
Hamamatsu - Things to see and do
Though not a tourist city per se, Hamamatsu has a number of interesting places to visit. Perhaps Hamamatsu's main attraction is Hamamatsu Castle (Tel: 053 453 3872; 150 yen).
The original Hamamatsu Castle (Shussei Castle) was destroyed in World War II, along with much of the rest of the city, and was rebuilt in 1958.
The original Hamamatsu Castle is related to the life of the warlord Ieyasu Tokugawa (1543-1616) who moved his base from nearby Okazaki Castle to Hamamatsu in 1570 and lived here as a young man for a further 17 years before moving to Sumpu Castle in what is now modern day Shizuoka city. 
Hamamatsu Castle's grounds, which are now a pleasant park, contain a bronze statue of Ieyasu and are a favorite spot for hanami or cherry-blossom viewing, as the park has over 360 cherry trees. The 3-story reconstructed keep has a small museum packed with samurai armor and Tokugawa memorabilia.
Hamamatsu Castle Park also has the Hamamatsu City Art Museum (Tel: 053 454 6801; 300 yen) with wood block prints by Hiroshige Ando and works by local artists, and the Shoin-tei tea house. The Hamamatsu Literary Memorabilia Museum (Tel: 053 471 5211) is also here, with a collection of Japanese literature focused on the local area.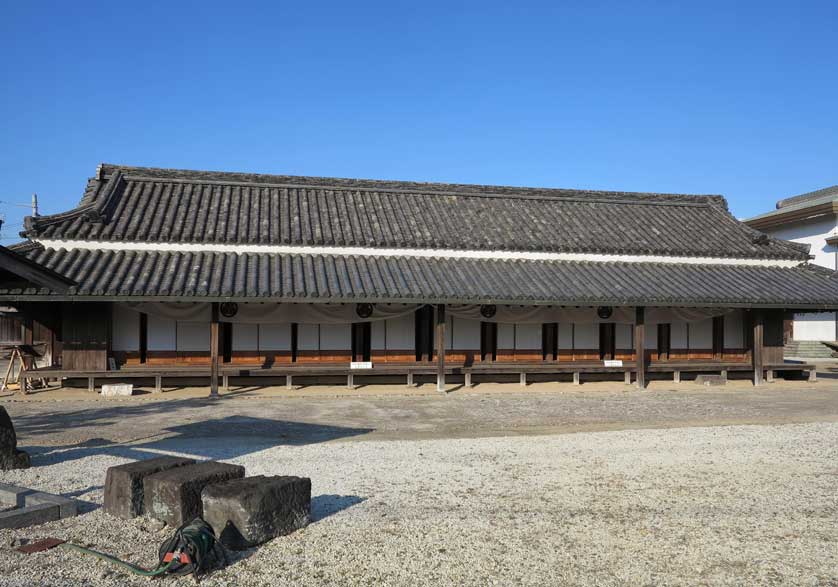 Arai Checkpoint, Arai-juku, Tokaido, Shizuoka, a short train or bus journey west of Hamamatsu
Hamamatsu's connection with musical instruments is shown at the superb Hamamatsu Museum of Musical Instruments (Tel: 053 451 1128; 400 yen) in the Act City complex near Hamamatsu Station.
The Hamamatsu Museum of Musical Instruments has two floors: the upper floor has instruments from Japan, Korea, China, Mongolia, Iran and the rest of East and South East Asia. The lower floor has instruments from Europe including a gem of a collection of European pianos and the rest of the world: America, Oceania and Africa. Visitors can see videos of musical performances and listen to snippets of the instruments on headphones.
The Hamamatsu Museum of Musical Instruments is also a venue for performances of music by groups from around the world.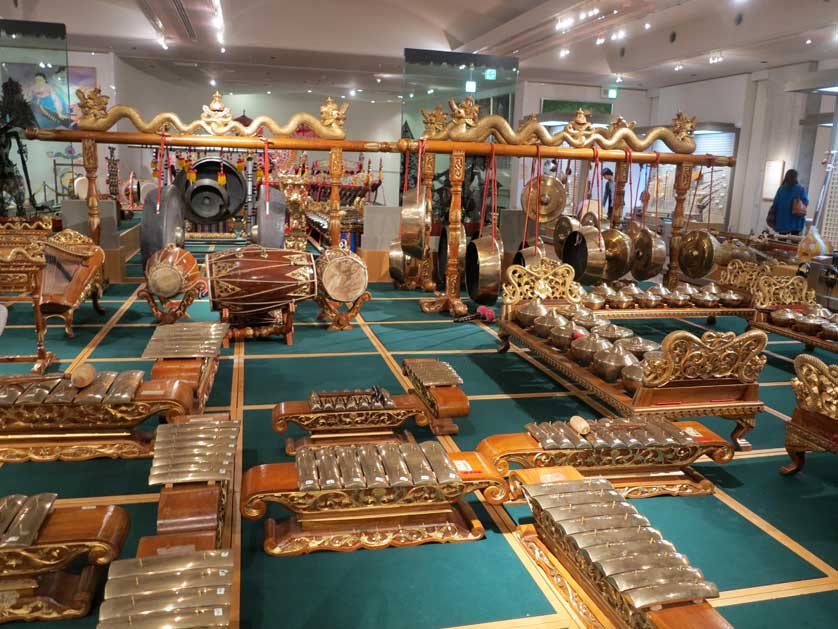 Hamamatsu Museum of Musical Instruments, Shizuoka
Act Tower is a huge tower that contains an Observation Gallery (Tel: 053 451 0001; 500 yen) at 185m with amazing views on a clear day of the Southern Alps, the Enshu Coast and Hamamatsu city. Mt. Fuji is also sometimes visible. The Observation Gallery is actually part of the Okura Act City Hotel Hamamatsu, which occupies part of Act Tower, so the Gallery is usually closed for private events on weekends. Usually open between 10am and 6pm.
The Hamamatsu Science Museum (Tel: 053 454 0178; 500 yen) is aimed mostly at children and has exhibits on six themes including nature and science. The Hamamatsu Science Museum also has a 20m diameter planetarium.
The Gosha Shrine at the end of Kajimachi Boulevard past the Zaza City shopping mall is a pleasant shrine where people take their children for the Shichi-go-san Festival.
Nearby is the free Hamamatsu Reconstruction Memorial Museum, which details Hamamatsu's development since World War II and has original household articles from the 1950's, 1960's and 1970's, as well as uniforms and helmets from the wartime period.
The Keisuke Kinoshita Memorial Museum is also close by and celebrates the life and movies of the Japanese film director Keisuke Kinoshita  (1912-1998).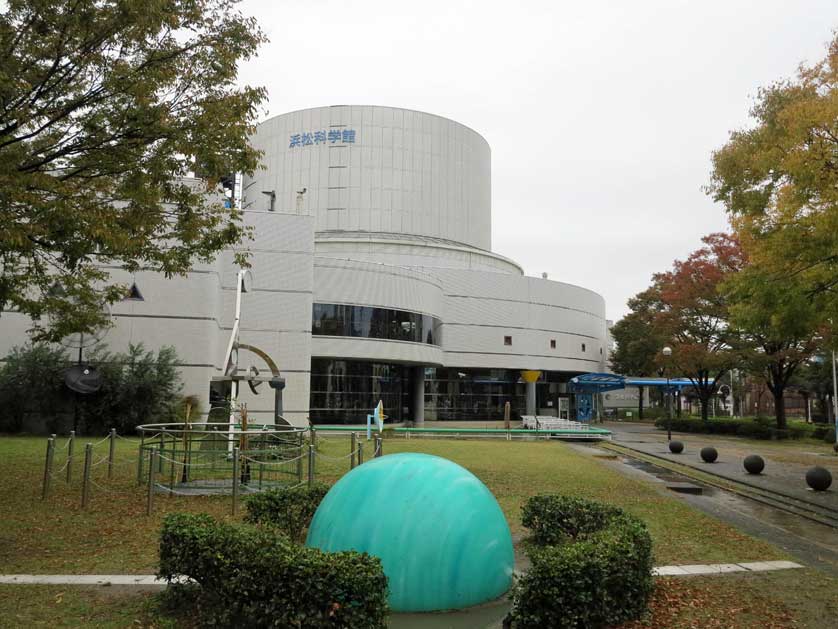 Hamamatsu Science Museum, Shizuoka Prefecture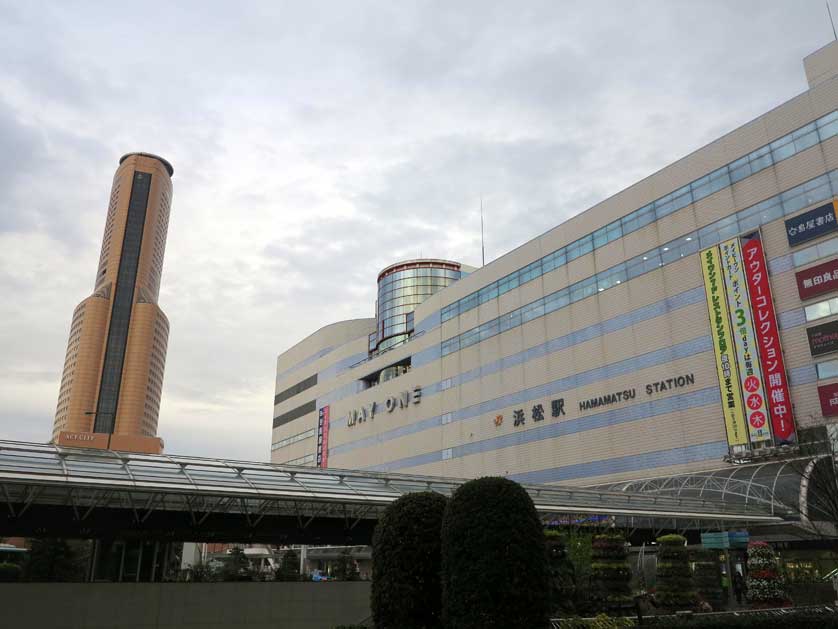 The Act Tower & Hamamatsu Station, Shizuoka
Chitose, Yurakugai & Sakanamachi
Hamamatsu's main entertainment area for shops, bars and restaurants are Chitose behind the Zaza City mall and Yurakugai & Sakanamachi to its north. The May One mall inside Hamamatsu Station has a restaurant alley and numerous shops.
Outside Hamamatsu City
There are a number of good museums within easy reach of Hamamatsu city. Down at the coast to the south at Enshu Beach Sea Park is the Hamamatsu Festival Pavilion (Tel: 053 441 6211; 400 yen) which has exhibits of the huge 4 meter-long kites used in the Hamamatsu Festival. The 4km-long Nakatajima Sand Dunes, where the Hamamatsu Festival takes place, are close by. Take bus number 6 from Hamamatsu Station bus terminal (15 minutes).
North of Hamamatsu is the free Air Park (the Air Self-Defense Force Hamamatsu Public Relations Hall) where visitors can see fighter planes and enjoy flight simulators. Take bus number 15 from Hamamatsu Station bus terminal (25 minutes). Near by just off National Highway 257 is a large Honda Factory. South on National Highway 257 is the Saigagake Museum, dedicated to local history.
To the west around Lake Sanaru are the Hamamatsu City History Museum (Tel: 053 456 2208; 300 yen, 9am-5pm, closed Monday, but open if Monday a public holiday, in which case, closed Tuesday) which focuses on the Jomon Period of the area's history with exhibits found in the nearby Shijimizuka archeological site. The Kamono Mabuchi Memorial Hall (Tel: 053 456 8050; 300 yen) celebrates the career of the classical Japanese scholar, Kamono Mabuchi (1697-1769).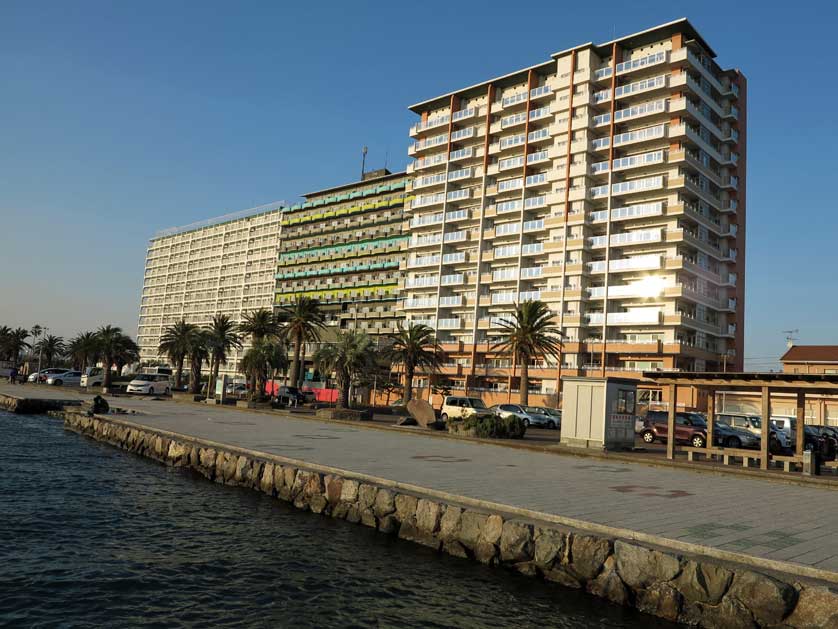 Resort Hotels at Bentenjima, Hamanako, Hamamatsu, Shizuoka
Hamanako (Lake Hamana)
Further west of Hamamatsu towards Toyohashi is Lake Hamana (Hamanako; 浜名湖) a popular resort area in summer for boat excursions on the lake - Japan's 10th largest - and other water sports such as water skiing, kayaking, wind surfing, parasailing and, of course, fishing.
Hamanako is famous for its eel and oysters, blowfish (fugu) and pike conger (hamo) are both caught off the Enshu Nada coast. The Hamanako region is also known for its delicious strawberries and mikan oranges and visitors can pick and buy their own in a number of places near Mikkabi on the north west edge of the lake.
Besides the local delicacies, Lake Hamana has a number of onsen hot springs in Bentenjima, Kanzanji and Mikkabi. The Hamanako area offers such resort hotels as the Hotel Green Plaza Hamanako, the Hamanako Royal Hotel and the Hamanako Benten Resort The Ocean. Many of the Hamanako area's hotels and ryokan have hot springs, some of them outside baths called rotemburo, from where bathers can enjoy views of the lake and surrounding hills.
Attractions around the edge of Hamanako include the Hamamatsu City Zoo, Hamamatsu Flower Park, Kanzanji Ropeway, Kanzanji Temple and Kanzanji Ukimido, Hamanaka Pal Pal amusement park and the Hamanako Music Box Museum all close to Kanzanji on the north eastern side of the lake. Hamamatsu Fruit Park Tokinosumika is further to the north and has a number of fun activities including fruit picking, BBQs, a food court, winery, tropical green houses, a dog run, boating, after dark illuminations and live performances. By public transport take a Tenryu Hamanako Line train to Fruit Park Station.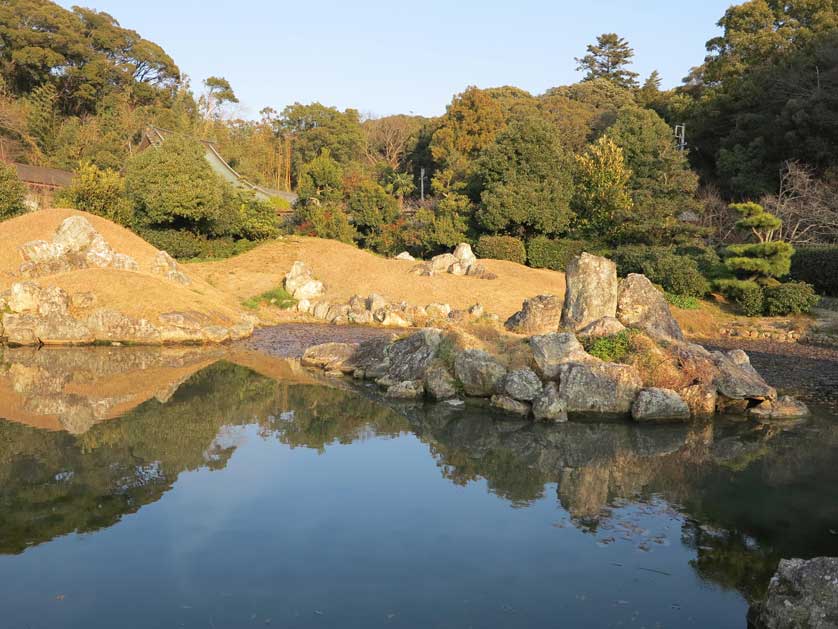 Makayaji Temple showing the Heian Period garden and pond, Mikkabi, Shizuoka
A short walk or shorter taxi ride from Mikkabi Station on the Tenryu Hamanako Line is the delightful Kamakura Period (1192-1333) Makayaji Temple with its impressive Heian-style garden and trio of historic Buddhist wooden statues, two of which are classified as National Treasures.
Further south near the coast, echoes of the Edo Period Tokaido highway between what is now modern-day Tokyo and Kyoto can be found at the original Arai Checkpoint (sekisho) and Kinokuniya Inn both a short walk west from Araimachi Station.
In Bentenjima, one stop east on the JR Tokaido Line, visitors can see the beautiful Maisaka Shukuwaki-honjin, an inn for samurai and commoners traveling on the Tokaido, but used for more important people if the honjin - inns for daimyo, court nobles and Shogunate officials - were full. The honjin have rarely survived as they catered to such rarified clientele, whereas there are a number of waki-honjin still in existence in Japan, though the Maisaka Shukuwaki-honjin is the only such place left on the Tokaido.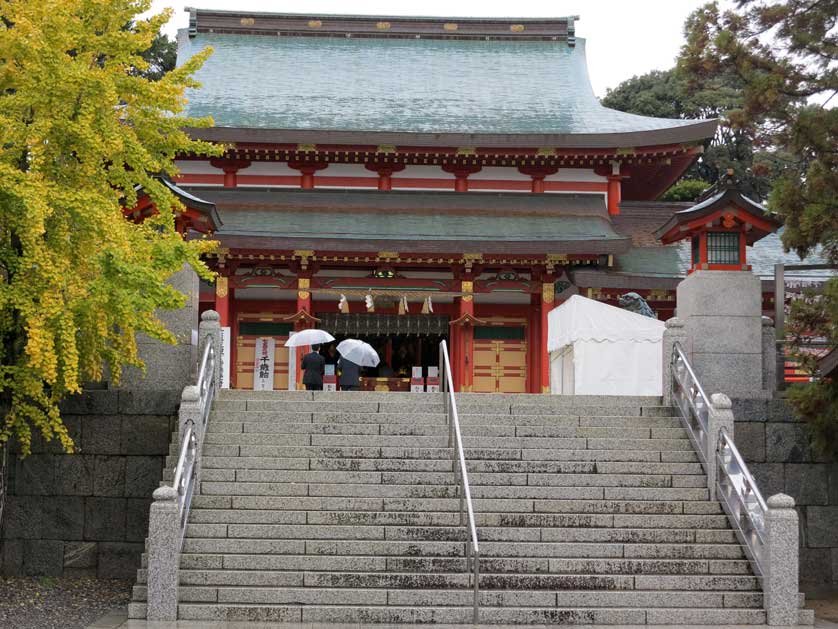 Gosha Shrine, Hamamatsu, Shizuoka
Industrial Tourism in & Around Hamamatsu
Hamamatsu's industrial heritage can be explored on various factory tours organized by the numerous companies based in the area. Some factory tours require prior reservation. Reservations are required to visit the Suzuki Plaza in Takatsuka (Tel: 053 440 2020), the Hana-no-mai Sake brewery (Tel: 053 582 2121) near Miyaguchi Station, the Honda Motor Company (Tel: 053 439 2011) and the Heian Corporation Miyakoda System Laboratory (Tel: 053 428 5321).
The Unagi Pie Factory, the Soichiro Honda Craftsmanship Center and the Shizuoka University Takayanagi Memorial Hall keep usual museum hours.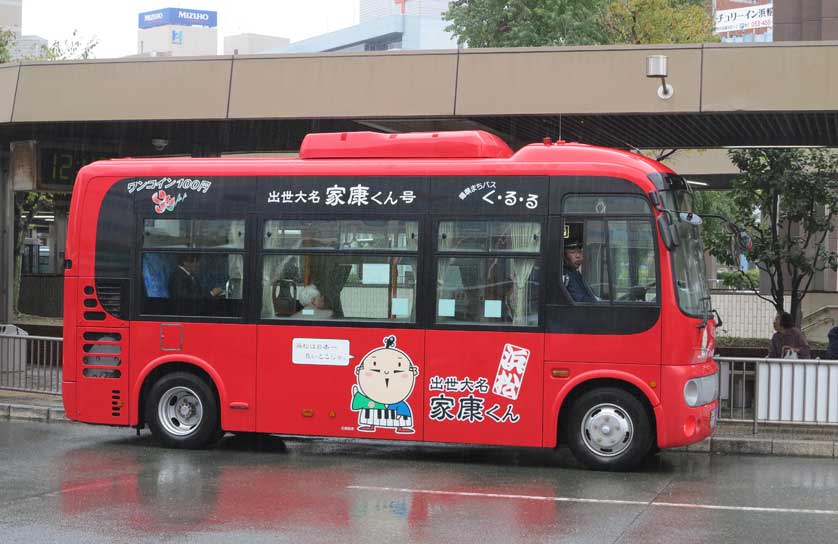 Kururu Loop Bus, Hamamatsu, Shizuoka; single fare 100 yen or day pass 200 yen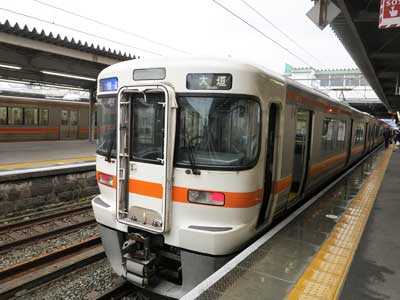 Train at Hamamatsu Station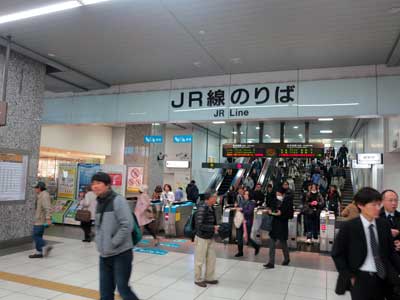 Entrance to JR lines
Hamamatsu Access
Rail
There are good rail links to Hamamatsu with Tokyo, Nagoya and Osaka (Shinkansen bullet train). Note that the fastest shinkansen, the Nozomi does not stop in Hamamatsu.
From Tokyo JR Station take a Hikari or Kodama train to Hamamatsu. The journey is 89 minutes from Tokyo to Hamamatsu by Hikari. From Nagoya the journey is only 29 minutes by Hikari and from Osaka 83 minutes.
Alternatively from Nagoya take a local JR train about 30 minutes to Toyohashi. Toyohashi can be reached by either JR or Meitetsu from Nagoya Station or Kanayama Station. By local JR train from Shizuoka journey time is 72 minutes to Hamamatsu.
The Enshu Railway Line connects Shin-Hamamatsu Station with Nishi-Kajima Station to the north.
The Tenryu Hamanako Railway loops up and around the west of Lake Hamana and north of Hamamatsu from Shinjiohara to Kakegawa to the east of Hamamatsu.
Bus
There are highway buses from Hamamatsu to Shinjuku and Shibuya in Tokyo run by Entetsu Highway Bus e-LineR. The company also runs highway buses to Osaka via Kyoto and Yokohama.
Road
From Osaka, Hamamatsu is 282 km and from Tokyo 230km by Tomei Expressway. Exit at Hamamatsu I.C.
Shizuoka Airport
Shizuoka Airport (Mount Fuji Shizuoka Airport) opened in June 2009 and has international flights to Seoul, Taipei and Shanghai. There are domestic flights to Sapporo, Naha (Okinawa), Kagoshima and Fukuoka in Japan. The airport is close to Makinohara and Shimada and it takes 70 minutes by Entetsu E-wing bus to Hamamatsu.
A bus runs from Hamamatsu to Centrair (Chubu International Airport) and costs 3,000 yen.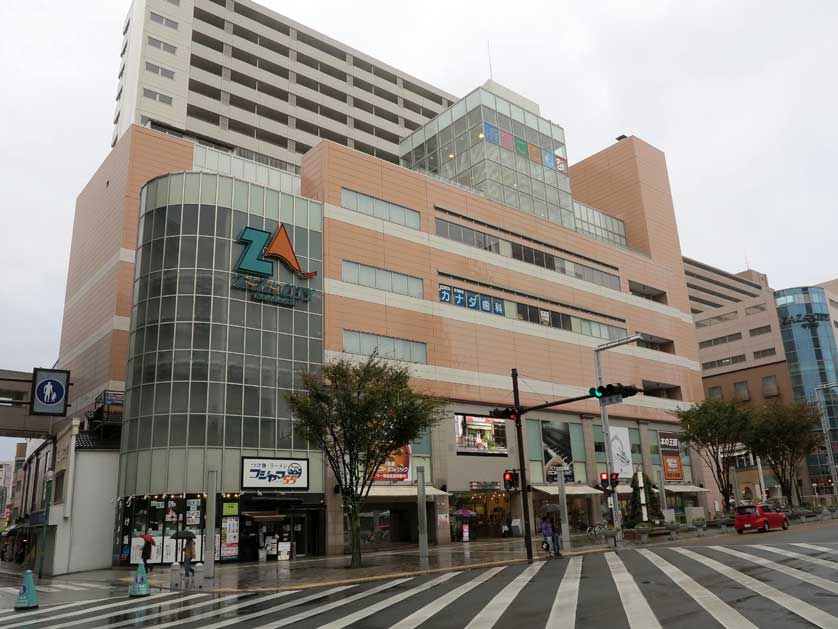 ZaZa City mall, Hamamatsu, Shizuoka
Hamamatsu Hotel Accommodation
There are plenty of places to stay around Hamamatsu Station. The city's most luxurious hotel is the Okura Act City Hotel Hamamatsu. Other hotels in Hamamatsu near the station are the more budget Daiwa Roynet Hotel Hamamatsu, the Hotel Crown Palais, the Toyoko Inn Hamamatsu Eki Kitaguchi, the Hotel Sorriso Hamamatsu, the Hamamatsu Hotel and the Comfort Hotel Hamamatsu.
More traditional ryokan in Hamamatsu include the Okuraya Ryokan, Ryokan Tsuruya and the Ukikawa Ryokan.
Getting Around Hamamatsu
The Kururu Loop bus runs in three circuits around Hamamatsu: west, east and south. It costs 100 yen for a single fare or 200 yen for a day pass. Entetsu buses run to various destinations around Hamamatsu including Bentenjima, Hamanako, Oiwake, Aizuke and Wakamibashi.
Hamamatsu Tourist Information Office
The Tourist Information is near the South Exit of Hamamatsu Station at 265-16 Sunayama-cho, Naka-ku, Hamamatsu; Tel: 053 452 1634 for pamphlets and maps in English and other languages.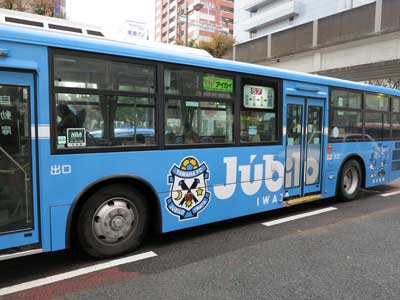 Entetsu Bus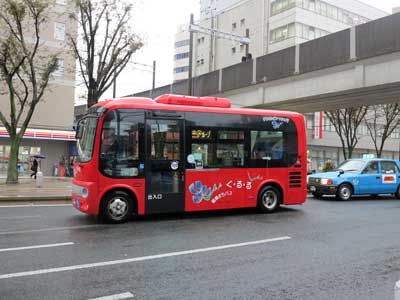 Kururu Loop Bus
Hamamatsu Map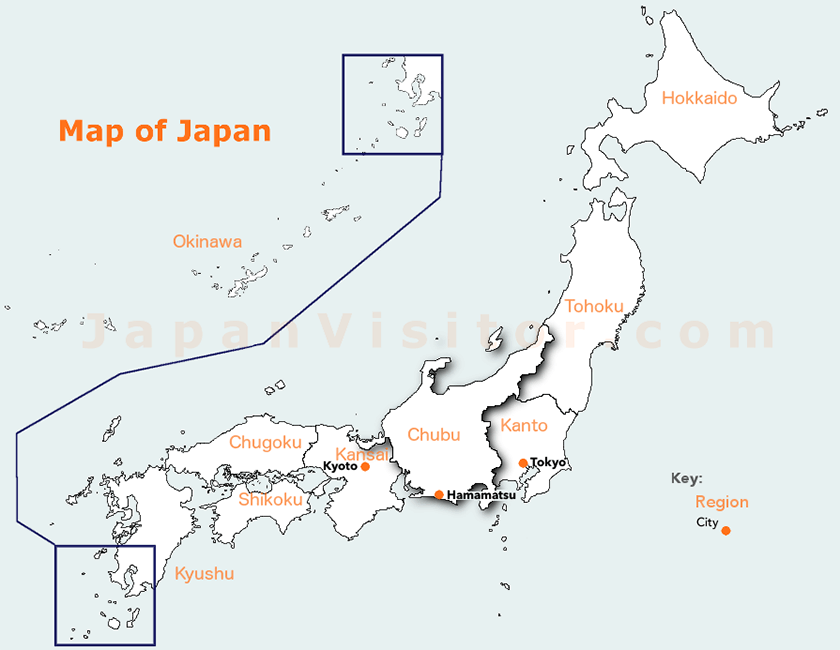 Hamamatsu Map
Hamamatsu guide: read a travel guide to Hamamatsu in Shizuoka Prefecture famous for its production of musical instruments and motorbikes.
All the themes of the city