Lake Hamanako Guide
Hamanako (Lake Hamana), Shizuoka Prefecture 浜名湖
Lake Hamana (Hamanako) is just west of Hamamatsu, in Shizuoka prefecture, close to the eastern border of Aichi. Hamanako is Japan's 10th largest lake, with a surface area of almost 65 sq km.
Lake Hamana was once a fresh water lake but earthquakes and a tsunami in 1498 have made the water brackish.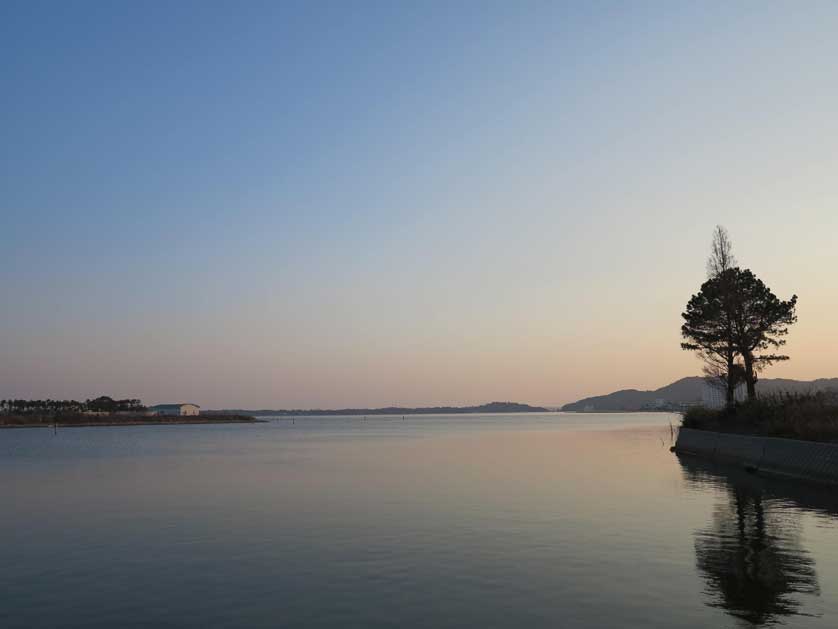 Lake Hamanako at Mikkabi on the north west shore, Hamamatsu, Shizuoka Prefecture
Hamanako is a very popular resort area in summer for boat excursions on the lake and other water sports such as water skiing, kayaking, wind surfing, parasailing and, of course, fishing.
Hamanako is famous for its eel and oysters. Also, blowfish (fugu) and pike conger (hamo) are both caught off the Enshu Nada coast. The Hamanako region is also known for its delicious strawberries and mikan oranges, and visitors can pick and buy their own in a number of places near Mikkabi on the north-west edge of the lake.
Besides the local delicacies, Lake Hamana has a number of onsen hot springs, in the nearby towns of Bentenjima, Kanzanji and Mikkabi.
Kanzanji is home to a number of hotels and ryokan with hot spring baths, a fun fair - Hamanako Pal Pal - a ropeway up to Okusayama Sightseeing Platform, Kanzanji Temple, Hamamatsu City Zoo, Hamamatsu Flower Park and lots of places to pick your own fruit in season: mainly strawberries and mandarin oranges.
Kanzanji also draws wind surfers, sea kayakers and parasailing enthusiasts, especially in summer.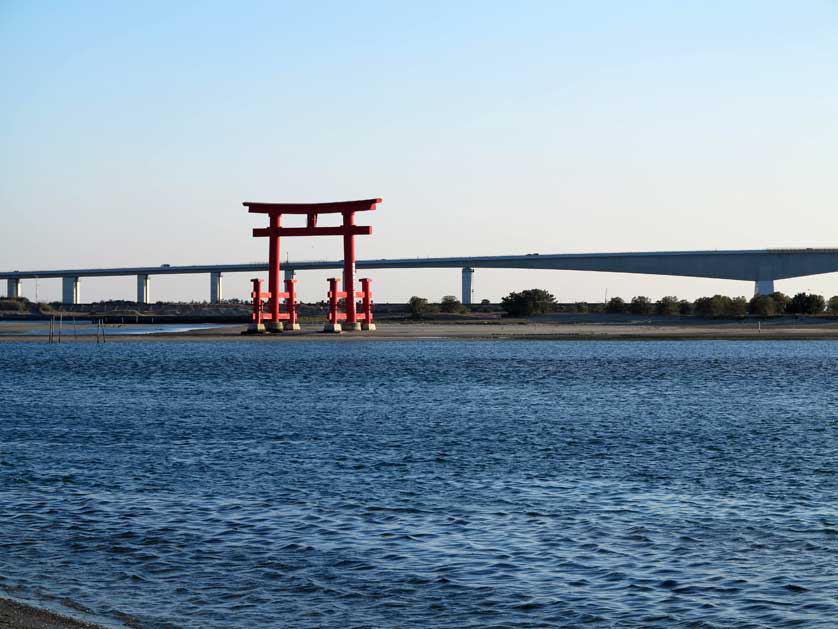 Lake Hamanako at Bentenjima, Hamamatsu, Shizuoka Prefecture
Hamanako Attractions
History
Due to its location adjacent to the historic Tokaido highway between what is now modern-day Tokyo and Kyoto, the Hamanako area has a number of sites dating from the Edo Period of Japanese history.
Near the coast, the original Arai Checkpoint (sekisho) is the only such extant barrier checkpoint station on the Tokaido. The historic Kinokuniya Inn is also close by and both places are short walk west from Araimachi Station.
From Bentenjima, one stop east on the JR Tokaido Line, visitors can see the beautiful Maisaka Shukuwaki-honjin, an inn for samurai and commoners traveling on the Tokaido, but used for more important people if the honjin - inns for daimyo, court nobles and Shogunate officials - were full. The honjin have rarely survived as they catered to such rarified clientele, whereas there are a number of waki-honjin still in existence in Japan, though the Maisaka Shukuwaki-honjin is the only such place left on the old Tokaido highway.
The Nakamura Residence is north of Bentenjima over the Ufumi Bridge and is the preserved household of a samurai family.
A short walk or shorter taxi ride from Mikkabi Station on the Tenryu Hamanako Line is the delightful Kamakura period (1192-1333) Makayaji Temple with its impressive Heian-style garden and trio of historic Buddhist wooden statues, two of which are classified as National Treasures.
Kanzanji Temple predates the onsen and some say it was founded by the famous priest Kobo Daishi (Kukai) in the 9th century.
Kanzanji Temple is a Soto Zen temple located on a small hill (Tateyama) behind the Sago Royal Hotel, and the temple grounds contain a large statue of Kannon - the Buddhist Goddess of Mercy - viewing spots over Lake Hamana and a cave, Ana-Daishi, where prayers can be said for healing of diseases of the eyes.
There are also some small shrines in the complex where supplicants can write ema - votive plaques - in the hope of finding a spouse or for happy marriage. The temple holds an annual fire festival on December 15.
To the west near Kosai city is the Sakichi Toyoda Memorial House, located at the birthplace of the founder of the Toyota company. The museum celebrates Toyoda's life as an inventor of power looms and the setting up of a company that was to become famous for automobile production. Toyoda's former home and shed, where he worked on his inventions, still remain.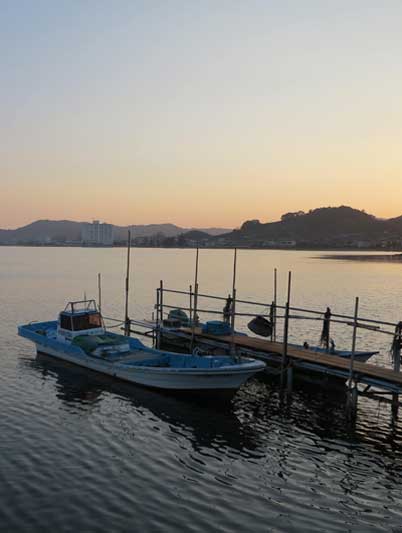 Lake Hamanako sunset, Shizuoka Prefecture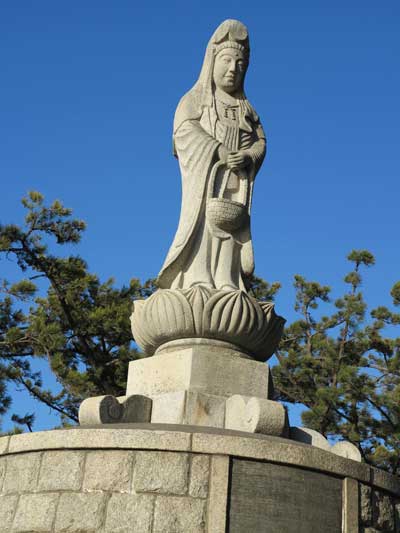 Statue of Kannon at Bentenjima, Shizuoka
Onsen
Kanzanji Onsen on the eastern side of the lake dates from 1958 when a hot spring was discovered and drilled. A number of hotels and traditional Japanese inns (ryokan) were subsequently built, with extensive baths utilizing the hot water and providing beautiful views over Lake Hamana.
These hotels and ryokan include the Sago Royal Hotel, a resort-style hotel close to Kanzanji Temple, Ryokan Nakaya, Hamanako Grand Hotel Sazanamikan, the traditional Kaikakutei with outdoor and indoor baths, as well as the more budget Matsuichi and Naito - both Japanese-style with tatami-floored rooms.
For an upmarket bathing experience try the Hoshino Resort, Kai Enshu, Tel: 050 3786 0099.
The large bath complex Hanasaki-no-Yu, part of the Hotel Wellseason Hamanako, has three baths, a buffet restaurant, relaxation areas and a massage center.
Most of the onsen in Kanzanji are open to day visitors as well as guests staying at their respective hotels and ryokan.
Bentenjima, Yuto, Mikkabi and Oku-hamanako also have less well-known onsen.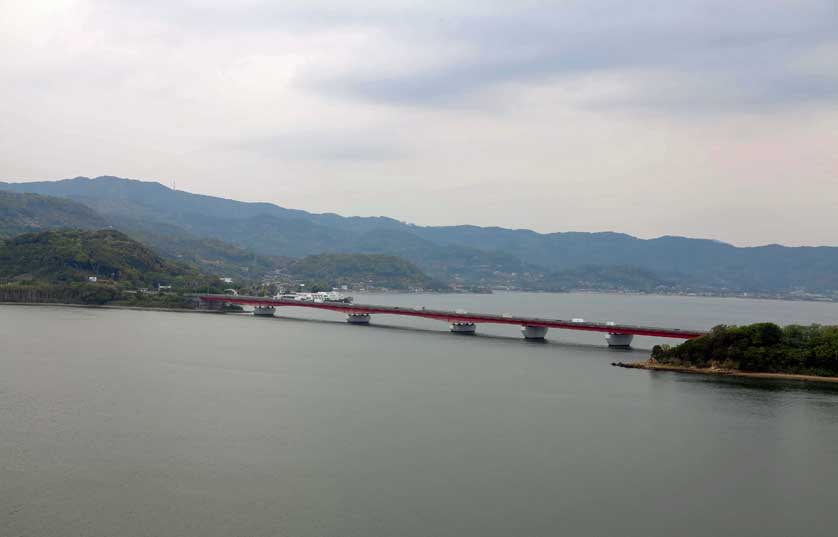 Hamanako Bridge of the Tomei Expressway, Hamamatsu, Shizuoka Prefecture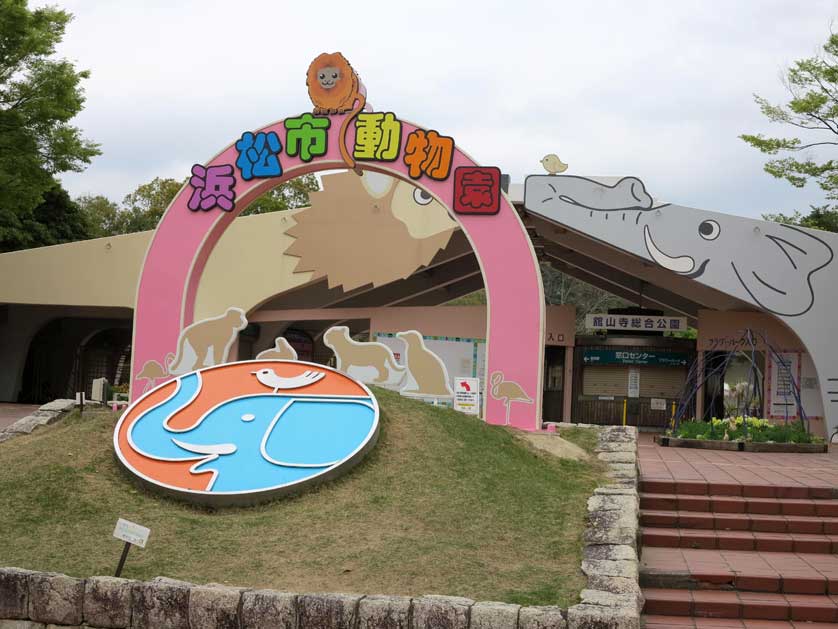 Hamamatsu City Zoo, Kanzanji Onsen, Shizuoka
Sports & Leisure
Attractions around the edge of Hamanako include the Hamamatsu City Zoo, with over 450 animals from 30 different species including gorillas, orangutan and other monkeys, making the primate collection one of the largest in Japan.
The impressive Hamamatsu Flower Park is a large garden park with flowers in bloom all year round. Altogether there are over 100,000 plants from 3,000 species in the park. Highlights of Hamamatsu Flower Park include a fountain show, a rose garden, lawn areas, a western style garden with glass houses called Crystal Palace, a Balinese-style garden and a Mexican garden with varieties of cactus.
Hamanako Pal Pal is a popular amusement park with a number of fun roller coasters, a Ferris Wheel, water rides and merry-go-rounds. The Hamanako Music Box Museum can be reached via the Kanzanji Ropeway over the lake from Hamanako Pal Pal.
Hamamatsu Fruit Park Tokinosumika is further to the north and has a number of fun activities including fruit picking, BBQs, a food court, winery, tropical green houses, a dog run, boating, after dark illuminations and live performances. By public transport take a Tenryu Hamanako Line train to Fruit Park Station.
Bentenjima, where the sea meets the lake, is popular with anglers and is pleasant place to stroll along the beach to see the torii gate (Symbol Tower) in the water and watch the sun set. Nagisaen Camp Site is here along with places rearing the area's signature food - unagi (eels). The totally flat reclaimed islands north of Bentenjima Station have some pleasant parks and a statue of Kannon - dedicated to people who fish for a living.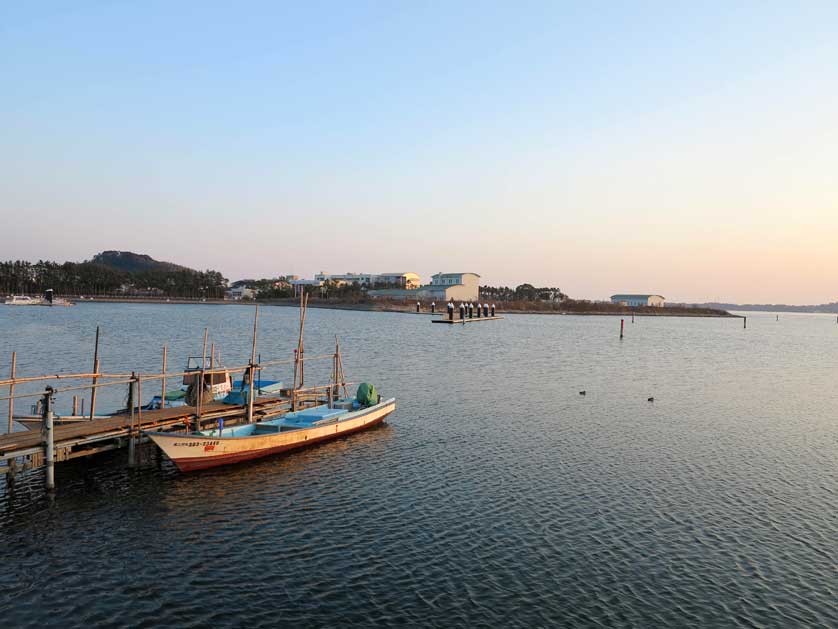 Hamanako Lake, Shizuoka Prefecture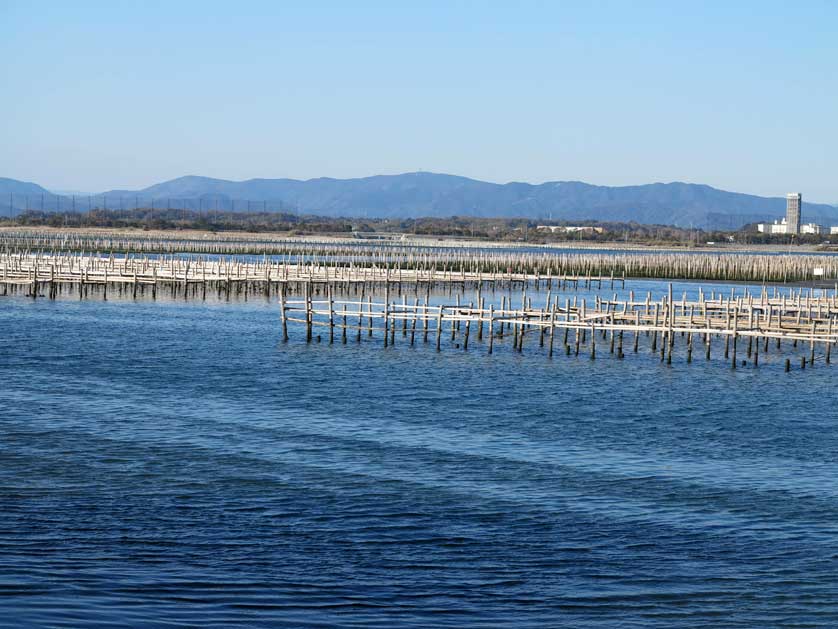 Lake Hamana is Japan's 10th largest lake, Hamamatsu, Shizuoka Prefecture
Hamanako Accommodation
The Hamanako area offers such resort hotels as the Hotel Green Plaza Hamanako, the Hamanako Royal Hotel and the Hamanako Benten Resort The Ocean. Many of the Hamanako area's hotels and ryokan have hot springs, some of them outside baths called rotemburo, from where bathers can enjoy views of the lake and surrounding hills.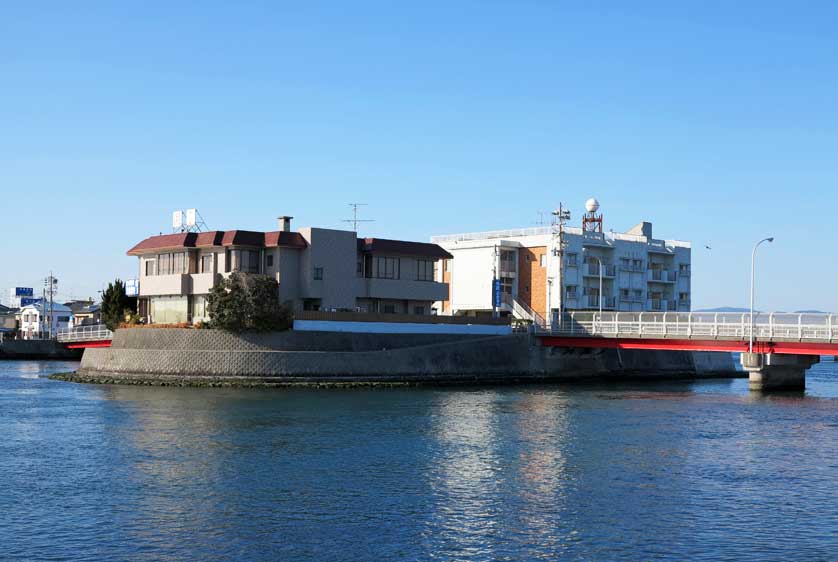 Bentenjima, Hamana Lake, Shizuoka Prefecture
Getting to Hamanako
Hamanako can be approached from Nagoya, Toyota, Okazaki and Toyohashi to the west and Hamamatsu from the east.
To get to Kanzanji Onsen take a number #30 bus from bay one of the Hamamatsu bus terminal outside Hamamatsu Station. The fare is around 580 yen depending where you alight. The journey is a long and winding 40-50 minutes on narrow roads. By car, exit the Tomei Expressway between Nagoya and Tokyo at Hamamatsu-Nishi Interchange.
There are good rail links to Hamamatsu with Tokyo, Nagoya and Osaka (Shinkansen bullet train). Note that the fastest shinkansen (bullet train), the super-express Nozomi, does not stop in Hamamatsu.
From Tokyo JR Station take a Hikari express or Kodama stop-at-every-station bullet train to Hamamatsu. The journey is 89 minutes from Tokyo to Hamamatsu by Hikari. From Nagoya the journey is only 29 minutes by Hikari express and from Osaka 83 minutes.
Alternatively from Nagoya take a local JR train about 30 minutes to Toyohashi. Toyohashi can be reached by either JR or Meitetsu from Nagoya Station or Kanayama Station. By local JR train from Shizuoka journey time is 72 minutes to Hamamatsu.
The Tenryu Hamanako Railway loops up and around the west of Lake Hamana and north of Hamamatsu from Shinjiohara to Kakegawa to the east of Hamamatsu.
There are highway buses from Hamamatsu to Shinjuku and Shibuya in Tokyo run by Entetsu Highway Bus e-LineR. The company also runs highway buses to Osaka via Kyoto and Yokohama.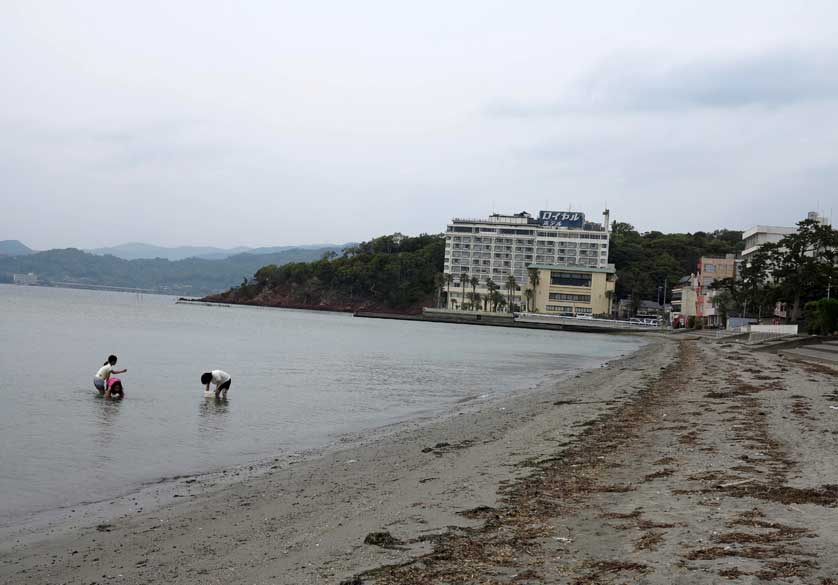 Children playing in the water, Kanzanji Onsen, Hamanako, Shizuoka
Book Hotel Accommodation in Hamamatsu Shizuoka Prefecture
Lake Hamanako (Lake Hamana) in Shizuoka Prefecture near Hamamatsu is Japan's 10th largest lake and famous for water sports, onsen, fruit picking and eels (unagi).
All the themes of the city