Shimoda Guide
Shimoda guide: read a travel guide to the historic town of Shimoda in Shizuoka Prefecture, Japan. Shimoda was the place where Commodore Perry's flotilla of Black Ships landed in Japan in 1854.
Shimoda 下田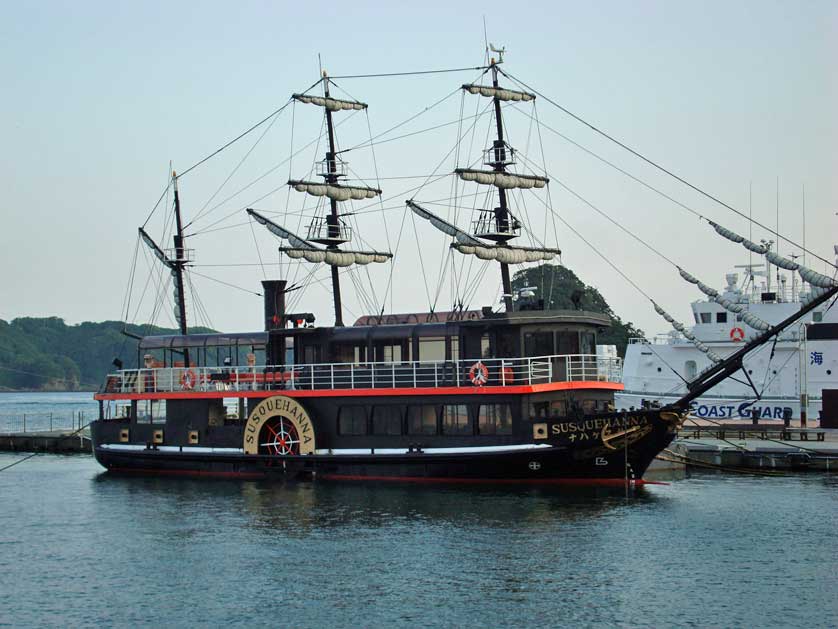 Visitors to Shimoda can sail in a reconstructed replica of one of Commodore Perry's Black Ships
Shimoda is a small coastal town, nestled amongst hills, located near the tip of the Izu Peninsula in southern Shizuoka prefecture. Shimoda is historically significant as a port town, and, as such, was where Japan's trading and diplomatic contact with the United States, and then Russia, began, in the 1850's, ending just over two centuries of Japan's so-called isolation.
Shimoda is worth staying at for a night or two to take in its many museums and temples, and enjoy its many natural attractions, including sidewalk hot springs for foot-dipping and the profusion of beautiful flowers that blossom throughout the town. Shimoda is compact, and almost everything is within about 30 minutes' walk from wherever you are.
Shimoda History
One of the first things you will see upon exiting Izukyu-Shimoda Station is a scale model in the station plaza of the USS Susquehanna, the flagship of the fleet of "black ships" or kurofune, that brought the man who formally opened Japan to the West, Commodore Matthew C. Perry.
Perry's first visit, at Uraga, at the mouth of Tokyo Bay, in July 1853, had been a show of strength, in which certain buildings ashore were destroyed by the new, exploding shell, cannons aboard the ship, convincing the Japanese that his demands for a treaty allowing commerce were serious. He returned in February 1854, this time to Shimoda, to sign the Convention of Kanagawa, to be followed up in 1858 by the much broader US-Japan Treaty of Amity and Commerce.
Historically, Shimoda had been a key inspection post for Japanese shipping from the 17th century till the early 18th, during which time the town flourished. Its history as an important port made it the Shogunate's choice for Perry's mid-19th century visit, as it was reassuringly distant from Edo (current day Tokyo), but still close enough for easy communication.
Shimoda Attractions
Shimoda Ropeway & Nesugatayama-sancho Park
Izukyu-shimoda Station is at the center of Shimoda's business district. Just across from the station entrance, beyond the traffic circle and the Shimoda Eki Iriguchi intersection, is Sanroku Station of the Shimoda Ropeway. The ropeway takes you from its Sanroku Station to the Nesugatayamasancho ("Peak of Mt. Nesugata," - nesugata meaning "sleeping form"). This brings you into the park at the top. The park is rich in attractions, including a "Black Ship Lookout Point," little theme gardens, ponds, monuments, a shrine to Ragaraja: the Buddhist deity of love, the Renjo Memorial Photography Museum commemorating Shimoda's own Shimo-oka Renjo (1823-1914): one of the first Japanese to acquire knowledge of and commercialize camera technology, a small maze, and, of course, flowers galore.
Shimoda Ropeway. Hours: 9 am - 5 pm. Return fare: 1,000 yen for adults, 500 yen for children. Ticket set (return fare plus admission to the Renjo Memorial Photography Museum (usually 320 yen for adults, 160 yen for children)) 1,200 yen for adults, 600 yen for children.
1-3-2 Higashi Hongo, Shimoda-shi, Shizuoka-ken 415-0035. Tel. 0558-22-1211
Note: the Shimoda Ropeway is barrier-free but there are stairs leading to the park at the top.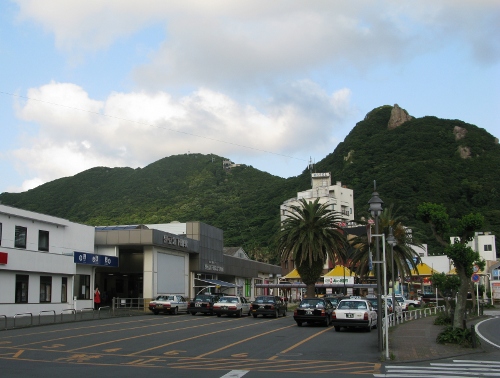 Shimoda town near the main railway station
Bridge near Ryosenji Temple, Shimoda
Perry Road
Commodore Perry's legacy stamps much of Shimoda. The most attractive walk through the town of Shimoda is along Perry Road, about 700 meters (less than half a mile) down Shimoda Kaido Road (Route 414) that runs past the station.
This is the path taken by Perry when he went to Ryosenji Temple to sign the Convention of Kanagawa in 1854. It is best to start from the ocean end, where there is a bronze bust of the Commodore, and then meander along the Hiraname River towards Mt. Shimoda Fuji, up to Ryosenji Temple.
The old houses and shops lining Perry Road mainly preserve the look of the road much as Perry probably saw it. Look out for the diamond mesh-patterned painted earthen walls known as namako kabe ("sea cucumber walls") for their lumpiness - characteristic of the Izu Peninsula.
Look out, too, for the big heavy kurazukuri ("storehouse construction") style of thick earthen walls - built to be fireproof. This is also the area where you will find the most elegant and/or interesting shops, including numerous antique shops, and bars and coffee shops.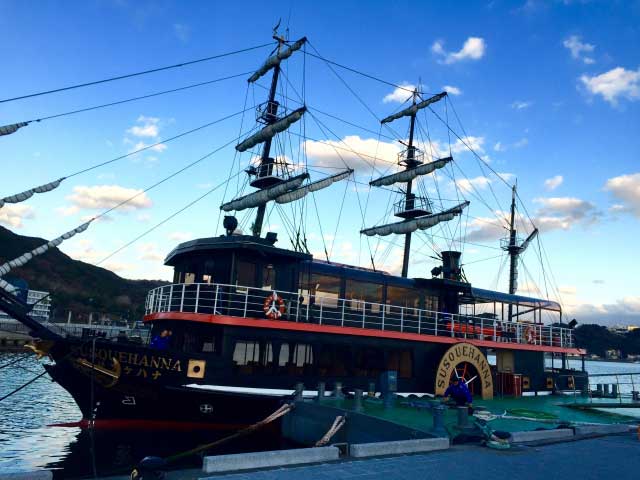 Susquehanna Cruise Ship

Harbor Cruise
Cruise around Shimoda harbor in a life-size replica of the Susquehanna: the "black ship" that brought Commodore Perry here in 1854. Called the Shimoda Konai Meguri "Shimoda Harbor Circuit" offered by Izu Cruise, it sets sail throughout the day between 9:10am and 4pm at intervals of between 40 minutes and an hour. The cruise itself lasts for about 20 minutes.Adults: 1,000 yen, children: 500 yen
Access: On foot (15 mins): Follow Route 135 (Higashi Izu Dohro Road) that runs eastwards past the station, cross the bridge, and, about 600 meters on, turn right at the first traffic lights.
By bus: Take the Tokai bus from the station and get off at Madogahama bus stop. 1 minute's walk from there.
Izu Cruise offers another cruise around the southern tip of the Izu Peninsula, about 15 km south of Shimoda. The Irozaki Meguri takes you around the majestic cliffs and small rocky islands of the peninsula in a funky-looking boat. It departs throughout the day between 9:30am and 4pm at intervals of 30 minutes. The cruise itself lasts for about 25 minutes.
Adults: 1,200 yen, children: 600 yen
Access: By car: Follow Route 135 (Higashi Izu Dohro Road) that runs past the station. It changes to Route 16 at a T-junction. Keep going straight along Route 16 then after 800 meters, turn right at the traffic light. You are still on Route 16. Turn left at the next traffic light (about 8km on). Parking available.
By bus (c.40 mins) Take the Tokai bus bound for Irozaki-todai from the station and get off at Irozaki-kohkoh bus stop. 3 minutes' walk from there.
Izu Cruise, Kamori Kanko Co., Ltd.19 Sotogaoka, Shimoda-shi, Shizuoka-kenTel. 0558-22-1151
Note - It is possible to board the Shimoda harbor cruise in a wheelchair as long as it is a normal wheelchair. However, since the width of the pier is narrow, wide wheelchairs and electric wheelchairs are not catered to.
The Irozaki Meguri cruise cannot be boarded in a wheelchair.
Shiroyama Park
Shiroyama ("Castle Mountain") Park is a 10 hectare (25 acre) area on a hill where the Hojo navy built a castle during the Warring States Period (late 15th - late 16th centuries during the Muromachi and Azuchi-Momoyama periods). Shiroyama Park is best known for its hydrangeas (ajisai), which bloom in May and June. It is said to have about 150,000 hydrangea plants representing over 50 varieties. An Ajisai Matsuri (Hydrangea Festival) takes place throughout June.
Shimoda Fuji
Shimoda has its own Mt. Fuji: Shimoda Fuji, the sharply peaked prominence behind the railway station. Of the 58 mountains named "Fuji," in Japan, it is the lowest, at 191m. There is a walkway to the shrine at the top: Sengen-jinja or Asama-jinja (alternative readings for the name of the shrine always associated with Shinto-based Fuji worship) - about a 20 minute climb. Accessible from the Hongo intersection, just behind the railway station.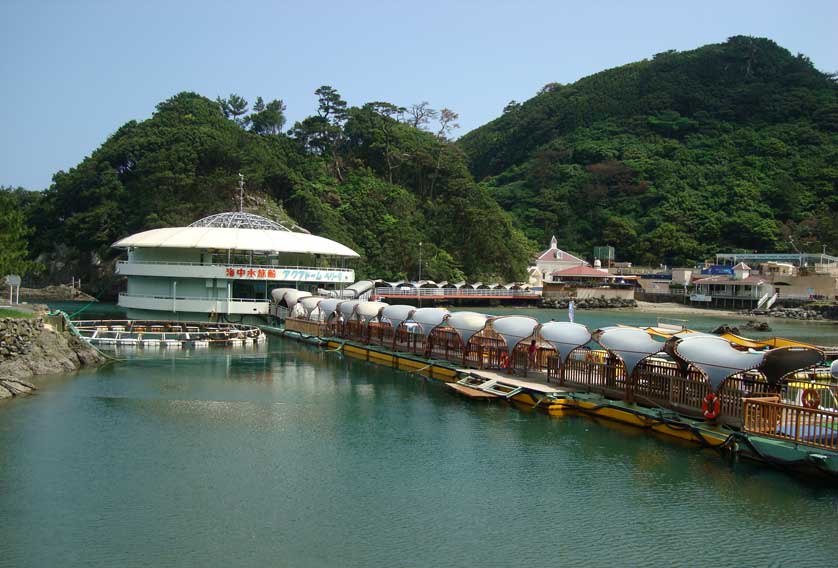 Shimoda Floating Aquarium, Shimoda
Shimoda Floating Aquarium
Being "floating," you might expect Shimoda Floating Aquarium to be an underwater lookout on the ocean. However, apart from being surrounded by a shallow ocean cove, it is little different from your average aquarium. Its main attraction is its dolphins and seals, which feature in regular shows throughout the day. Besides the usual indoor tank displays, there is also a penguin show, an open turtle tank, a restaurant, pedal boats, and, various rather expensive opportunities to interact with dolphins at close range, such as swimming with them, snorkeling with them, and feeding them. Great for the kids. About 7 minutes by bus, or 25 minutes on foot from Izukyu-Shimoda Station. If on foot, accessible via Shimoda Park.
1,900 yen for adults, 1,000 yen for children. Hours: 9 am - 4.30 pm, but:
- until 5 pm on Saturdays and public holidays between February and October.
- March 20 - April 4: 9 am - 5 pm
- April 29 - May 5: 9 am - 5 pm
- July 7 - August 31: 8am - 6 pm
- Closed December 14 - 17-Last entry: one hour before closing time.
3-22-31 Shimoda-shi, Shizuoka-ken 415-0023. Tel. 0558-22-3567
Daikamogawa River Boardwalk & Kisami Ohama Beach
A little south of Shimoda is the Daikamogawa River, the mouth of which is famous for its profusion of hamabo plants, AKA Glehnia littoralis, a species in the carrot family used in Chinese cough medicine, called beach silvertop, beach carrot, or American silvertop in English. Its flowers are particularly beautiful, and bloom in summer (July and August), making for a vivid spectacle. A 730 meter boardwalk has been constructed on the edge of the river that takes you among the hamabo. When the tide is out, the sand below teems with crabs. It is a very short walk from here to Hamabo Suspension Bridge which is where the boardwalk begins.
It is only a short walk down to the beautiful Kisami Ohama beach from here. This wide, popular beach is great for swimming and surfing; however, although it is shallow for a long way out, there are sudden deceptive depths, requiring care by adult bathers and careful supervision of children. Cafes by the beach.
Take the bus from in front of Izukyu-Shimoda Station, platform 3 or 4, and alight after about 10 minutes at Kisami bus stop. 2248-2 Kisami, Shimoda-shi, Shizuoka-ken
Shirahama Beach
Shirahama is Shimoda's most famous beach, for its white sand and, when the waves are right, surfing. It is about 4km north-east of Shimoda town and only 10 minutes by bus (two per hour) from Shimoda Station. Mid-July and August are considered the best times for swimming there.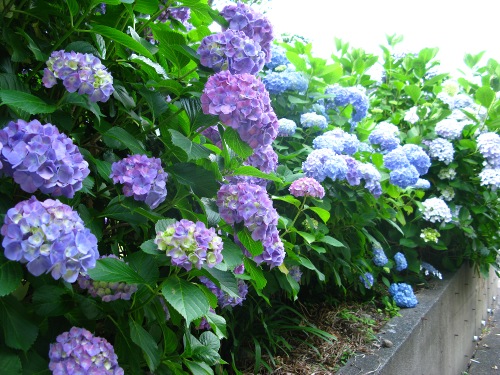 Hydrangeas (ajisai) in full bloom in Shimoda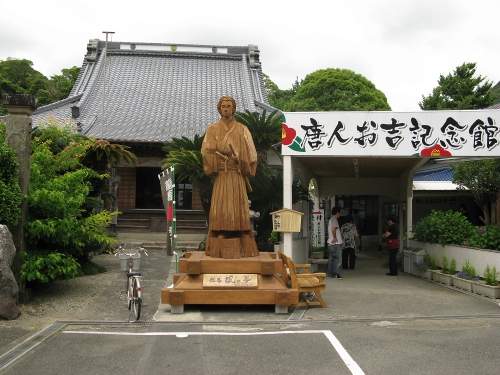 Shimoda has a number of interesting museums related to its history as the port where Commodore Perry and his US fleet landed; here pictured is the Tojin Okichi Kinenkan at Hofukuji Temple, Shimoda
Shimoda Museums
Ryosenji Treasure Museum
Ryosenji Treasure Museum, on the grounds of Ryosenji Temple, is a modest-sized two-story trove of realia and artworks related to cross-cultural encounters of the Japanese from the 16th to 19th centuries, culminating in Perry's visit and Townsend Harris's treaty.
500 yen for adults, 150 yen for children. Hours: 8:30am - 5 pm. Tel. 0558-22-2805
3-12-12 Shimoda-shi, Shizuoka-ken 415-0023
Shimoda History Museum
Known in Japanese as the Shimoda Kaikoku Hakubutsukan, or "Shimoda Opening-of-the-Country Museum," this small museum commemorates primarily the coming of the American "black ships" (kurofune) in 1854,. It also includes material relating to the first American consul, Townsend Harris, and his hapless helpmate, the Russian Count Yevfimy Vasilyevich Putyatin, who arranged the signing of Treaty of Shimoda in 1855 between Japan and Russia shortly after Perry's Convention of Kanagawa, and Yoshida Shoin, the bright-eyed Japanese boy whose attempt to stow away to the States on one of Perry's ships in order to "learn about the West for the good of Japan" was thwarted by Perry. Has waxworks, a souvenir shop, and Japanese language books for sale.
1,000 yen for adults, 500 yen for children. Hours: 8:30am - 5 pm (365 days)
4-8-13 Shimoda-shi, Shizuoka-ken 415-0024. Tel. 0558-23-2500
Yoshida Shoin Interim Residence
This ramshackle old Japanese house is strictly for the history buffs. It is linked to the fate of Yoshida Shoin (1830-59), born in Hagi, Yamaguchi prefecture, a young intellectual and teacher at the time of Japan's opening to the West who is most famous for attempting to stow away on Perry's "black ship" in 1854 in order to see America for himself and learn from it for Japan's benefit.
The hidebound Bakufu government was gravely destabilized by the threat of Western interference, and, upon being handed over by the crew of Perry's ship, the anti-Bakufu Shoin was imprisoned and eventually executed at the age of 29. This house is distinguished by being the place where Shoin spent a few days hiding from the Bakufu before making his ill-fated stowaway attempt. It is largely intact from that time.
9 am-5 pm, closed Wednesday; 100 yen; 300-1 Rendaiji, Shimoda-shi
Murakami Gassho-zukuri Folk Craft Museum
This traditional five-story gabled (gassho-zukuri), thatched farmhouse, set amongst woods, was brought, piece by piece, by the head of the Murakami family, from Shirakawa-go Village (a World Heritage site for its gassho-zukuri houses) in Gifu prefecture, over 200km NE of its present location, in 1964. The extended family lived here, breeding silkworms upstairs. It is now a showcase of the bygone rural lifestyle of Japan. 600 yen for adults, 300 yen for children. Hours: 9 am-5 pm (variable days off). Tel. 0558-22-2764.
3-26-27 Shimoda-shi, Shizuoka-ken 415-0023
Uehara Museum of Modern Art & Uehara Museum of Buddhism Art
Some way out of Shimoda is the Uehara Museum of Modern Art, founded in 2000, housing the artworks collected by the honorary president of Taisho Pharmaceuticals, Shoji Uehara. The focus is on Western art, with works by Cezanne, Renoir, Matisse, Picasso, and others, but also includes works by Japanese artists such as Ryuzaburo Umehara, Sotaro Yasui, Kunitaro Suda, Gyokudo Kawai, Shinsui Ito, and others. Sculpture is also on display, with works by Marino Marini, Giacomo Manz and others.
800 yen for adults, 400 yen for children. Hours: 9 am-5 pm (365 days, although occasionally closed for exhibition preparations). Tel. 0558-28-1228
Nearby is the Uehara Museum of Buddhism Art , founded in 1983 to preserve a variety of Buddhist art pieces. Its permanent collection consists mainly of wooden statues of the Buddha produced from the mid-19th century until the late 20th century. 300 yen for adults, 200 yen for school age - but Saturdays free for school age. Hours: 9 am-5 pm (365 days). Tel. 0558-28-1228
Directions to Uehara Museum of Buddhism Art Bus from Shimoda Station: (1) Take the bus bound for Dogashima (堂ヶ島), and after about 20 minutes alight at Aitama (相玉) bus stop. Walk along Matsuzaki Kaido Road (Prefectural Highway 15) in the Matsuzaki direction, and turn right at the traffic lights in front of the gasoline stand. Cross the Inousawa River and follow the signs (about a 15 minute walk).
(2) Take the bus bound for Kamo-Sakasagawa (賀茂逆川), and after about 20 minutes alight at Kamimitsukuri (上箕作) bus stop. Go down the steps at the left of the bus stop, walk towards the kindergarten (i.e. towards your right), and go right at the T-junction at the end of the road. Then go straight (about a 15 minute walk).
341 Udogane, Shimoda-shi, Shizuoka-ken 413-0715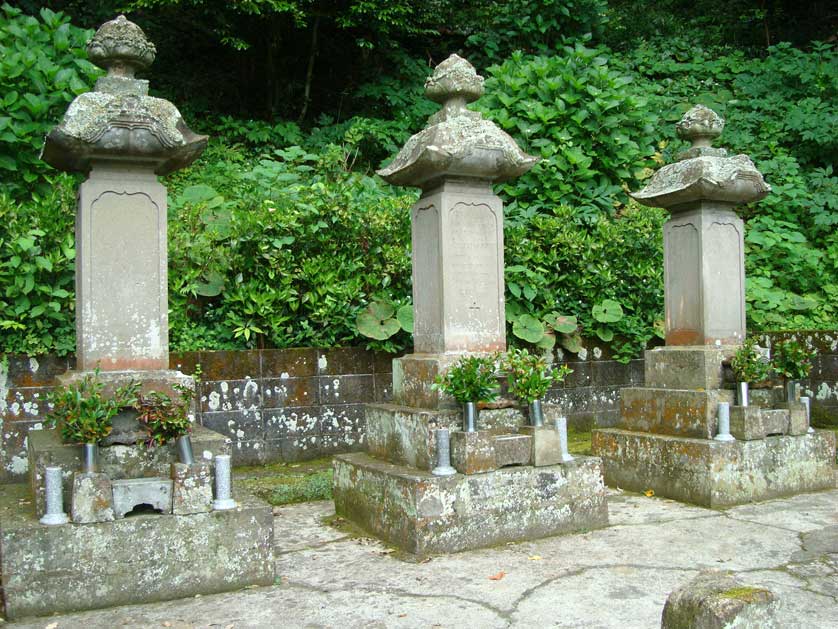 Foreigners' Graves, Gyokusenji Temple, Shimoda
Shimoda Temples & Shrines
Gyokusenji Temple
Gyokusenji Temple was the site of the first US consulate that opened in Japan in 1856. In 1856, the first American consul general Townsend Harris took up residence here under the Stars & Stripes and the temple became the first ever foreign consulate in Japan. In 1856, the first American consul general Townsend Harris and his secretary-interpreter Henry Heusken took up residence as the Stars & Stripes were raised and the temple became the first ever foreign consulate established in Japan.A plaque commemorating this historic event displays these prescient words from Harris: "At last get a reinforcement from the ship, flag staff erected. Men form a ring round it, and half past two pm of this day I hoist the first Consular flag ever seen in this empire. Grave reflections, ominous of change, undoubted beginning of the end. Query - if for the real good of Japan."Harris and Heusken stayed for just under three years before the consulate moved to Edo (Tokyo), where Heusken was later assassinated by swordsmen opposed to the country's opening to the West. Gyokusenji Temple also contains one of Japan's earliest photographs, a daguerreotype taken by Lieutenant Aleksandr Fiodorovich Mozhaiskii (1825-90).
Read more about Gyokusenji Temple.31-6 Kakizaki, Shimoda, ShizuokaTel: 0558 22 1287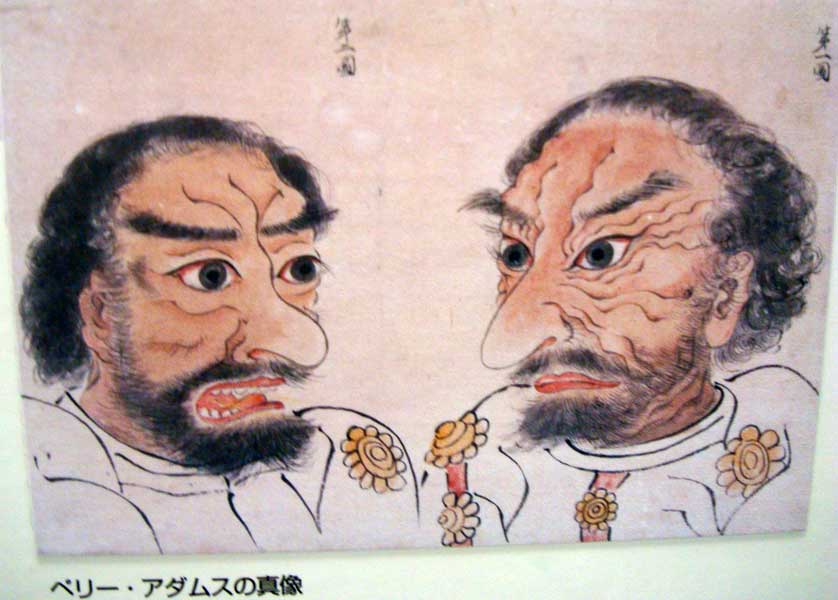 Contemporary Japanese print of the Southern Barbarians with beards and outlandish noses, Ryosenji Treasure Museum, Ryosenji Temple, Shimoda

Ryosenji Temple
Ryosenji Temple was founded in 1635 by the Shogunate, and used as a guesthouse. It is famous as the place where Townsend Harris, the first United States Consul General to Japan, signed the Treaty of Amity and Commerce with the ruling Tokugawa Shogunate on July 29, 1858. The treaty followed up on Commodore Perry's Convention of Kanagawa, AKA the America-Japan Treaty of Amity and Friendship, of March 31, 1854, which had been the first step in establishing a diplomatic and trading relationship between the United States and Japan. The temple also incorporates the Ryosenji Treasure Museum.
3-12-12 Shimoda-shi, Shizuoka-ken 415-0023. Tel. 0558-22-0657
Hofukuji Temple
Hofukuji Temple is a Shingon sect Buddhist temple founded in 1559. It is now best known for its association with Kichi Saito, AKA Tojin Okichi. Kichi, or Okichi as was her geisha name, was the most famous geisha in Shimoda. When Townsend Harris fell ill in 1858, his interpreter, Henry Heusken, inquired locally about getting him a nurse. The concept of a nurse was not understood in Japan at the time, and the request was taken as one for a mistress. Okichi was therefore chosen by those in charge, and sent to the American consulate in Gyokusenji Temple. Prejudice and ill-will got the better of the local population, not only for her close association with foreigners, but also for the generous conditions of employment she enjoyed, and she became known, and despised, as "Tojin Okichi," "tojin" being a disparaging word for "foreigner" or "barbarian." She was employed by Harris for only three months, and dismissed when he recovered. She returned to her life as a geisha, but, her reputation now in tatters, she turned to drink. She stopped being a geisha in 1868 and moved to Yokohama, where she lived with a carpenter she had known since childhood. In 1871, she returned to Shimoda as a hairdresser.
Her life thereafter, still marred by excessive drinking, was a succession of shifts and changes, and she left and returned to Shimoda more than once, searching for stability. Although a virtual outcast, she was not friendless, and a kindly ship's captain bought her a small restaurant in Shimoda that she operated for a couple of years before her alcoholism progressed to the point where it became impractical. She was thereafter reduced to begging to survive, and went on until March 27 1890 when, at the age of 48, she drowned herself in a pond in the town. Her family temple refused to bury her, so it was the priest of Hofukuji Temple who took pity and gave her a resting place. Her story was unknown until 1928 when the novelist Gisaburo Juichiya published what became his best-known work, Tojin Okichi. Okichi is now a legend, symbolizing sacrifice in the course of duty.1-18-26 Shimoda-shi, Shizuoka-ken. Tel. 0558-22-0960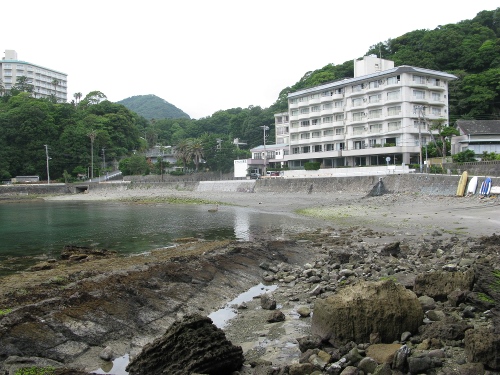 The rocky shore area of Shimoda in the Izu Peninsula
Access to Shimoda
Izukyu-shimoda Station is the terminal station of the Izukyu Railway: a 47.7km stretch of private railway that, together with the Ito line just north of it, branches off the JR Tokaido line at Atami Station. The JR Tokaido line, Ito line, and Izukyu line form a contiguous line run the full length from Tokyo to Shimoda by JR trains.
The most straightforward route from Tokyo is the JR Odoriko limited express from Tokyo Station to Izukyu-shimoda Station. There is the:
Odoriko - 6 daily on weekdays between 8 am and 1.30 pm; 3 daily on Sat/Sun/hols between 9 am and 2 pm
Superview Odoriko, all-seats-reserved with special panoramic double-decker cars & kids' play car - 4 daily on weekdays between 8 am and 3.30 pm; 2 daily on Sat/Sun/hols at 11 am and 1 pm
Resort Odoriko, all-seats-reserved luxury liner - 1 daily on Sat/Sun/hols at 11 am and 1 pm
Please note that the weekend/public holiday schedule is seasonal, so the number of Odoriko departing Tokyo Station on weekends/public holidays more than doubles in summer. One or two Odoriko leave from Shinjuku and Ikebukuro stations every week.
-JR Pass holders: Between JR Ito station and Izukyu Shimoda station is the private Izukyu Line not covered by your JR pass. For the Odoriko, a limited express train, you will have to pay a one-way supplementary 2,070 yen. However, no changing of trains is required.-Japan East Rail Pass holders: your pass covers the Izukyu Line, so no extra payment required.
The journey from Tokyo takes about 2 hours 40 minutes on any Odoriko.
Local trains provide a cheaper way to get to Shimoda. The cheapest route is to take the Odakyu Line from Shinjuku to Odawara, then the JR Tokaido Line from Odawara to Atami, then another local train down to Shimoda. It will take you about an hour longer than by Odoriko.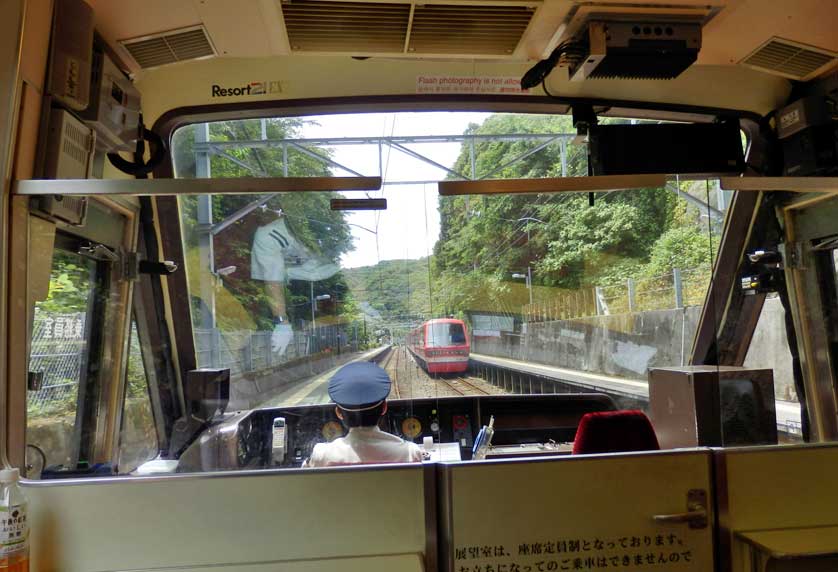 The Kurofune train meets the Kinme Train, Izu Peninsula
Izu Peninsula Rail passes
Besides taking local trains, a cheaper alternative is the:
JR East "Izu Free Q Kippu" - 13,190 yen for the return trip from Tokyo to the Izu Peninsula by Odoriko or shinkansen (kodama or hikari), not including any seat reservation charges, plus four days of free use of JR trains (including kodama shinkansen) between Numazu and Atami, between Atami and Shimoda, and between Mishima and Shuzenji (see map) and of certain bus routes on the peninsula of the Izu Shimoda, Tokai, and Izu Hakone bus companies. It is only a little more expensive than the return Odoriko fare. You cannot alight between the station you departed from and the free area. The pass is not usable during the peak seasons of New Year (Dec 28 - Jan 6), Golden Week (Apr 27 - May 6), and Obon (Aug 11-20). This pass is good if you have plenty of time on your hands and want to see as much of the Izu Peninsula as possible.- Odoriko Minami Izu Free Kippu - 11,400 yen for the return trip from Tokyo to the Izu Peninsula by Odoriko limited express, including seat reservation charges, plus three days of free use of local trains between Shimoda and Ito, and most Tokai Bus routes in southern Izu.
It is cheaper than the return Odoriko fare. You cannot alight between the station you departed from and the free area. The pass is usable in any season. This pass is good if you are just visiting Shimoda and environs.
Another possibility is the Kurofune Train. This train runs from Atami Station to Shimoda. The Kurofune train makes three runs per day in either direction. It starts out in the morning in Izu Kogen, halfway down the Izu peninsula, heads to Atami, then runs between Atami and Izukyu Shimoda twice a day. The last trip of the day takes it back from Atami to Izu Kogen.
The Shimoda Tourist Association is in the Shimoda Town Hall just across from the station.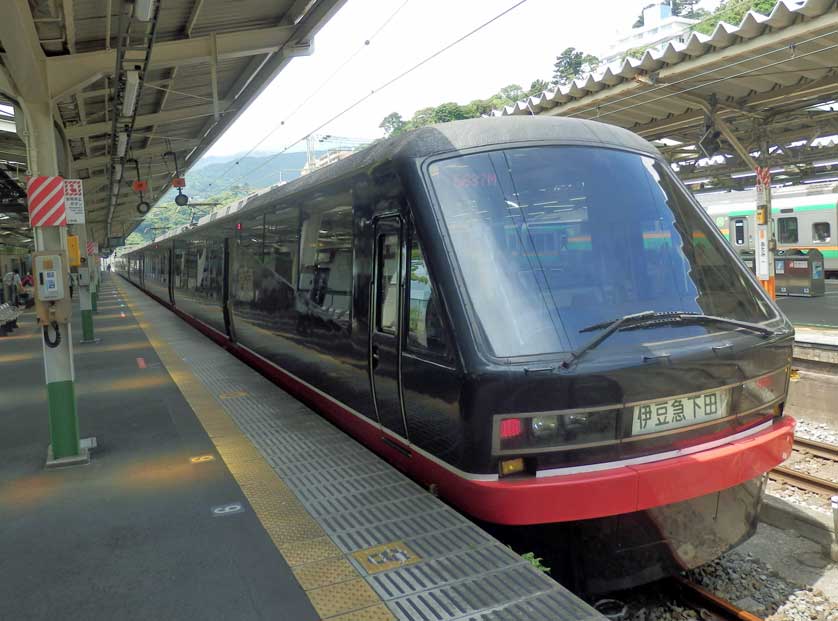 Kurofune train at Atami Station
Festivals in Shimoda
The main festival in Shimoda is the Black Ships Festival held annually in May. There are US Navy marching bands and characters dressed as Perry and Tokugawa officials.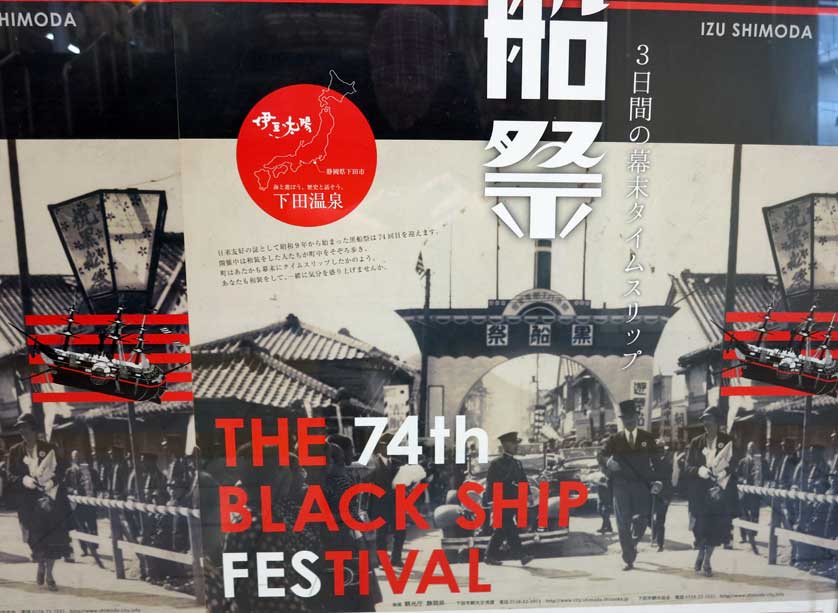 Black Ship Festival, Shimoda in the Izu Peninsula
Getting Around Shimoda
There are few attractions in Shimoda that are more than about 1.5 km from the railway station, making it ideal for walking or cycling. There are numerous places to hire a bicycle in Shimoda. Buses leave from the station, and time taken to get anywhere by bus is generally short.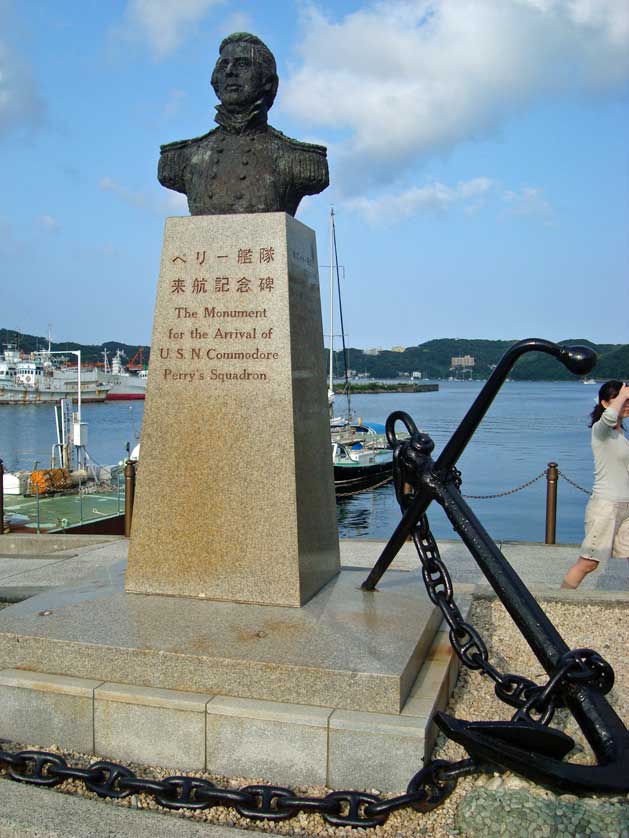 Perry Monument, Shimoda, Izu Peninsula
Shimoda Map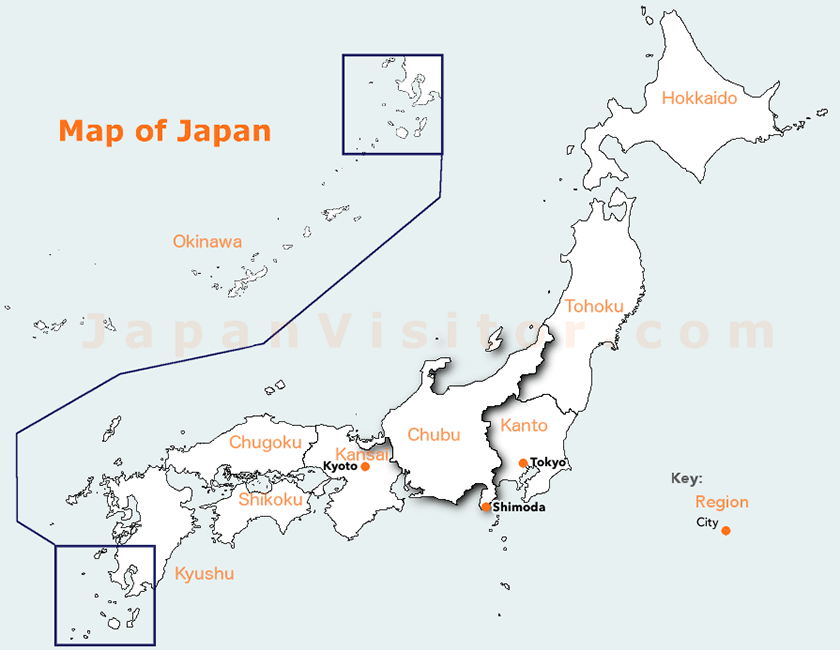 Shimoda Map
View Tokyo Map Japan in a larger map
All the themes of the city