Angel Road Shodoshima
Angel Road, Shodoshima エンジェルロード, 小豆島
Jake Davies
Just off the south coast of Tonosho, the main town on the island of Shodoshima, are a group of three small islets. As the tide recedes a sandbar appears that connects each of the islets and the mainland making it possible to walk out to them.
Somebody had the bright idea to name the sandbar Angel Road and to create a romantic association by claiming that by walking along Angel Road hand in hand with your partner will strengthen the relationship.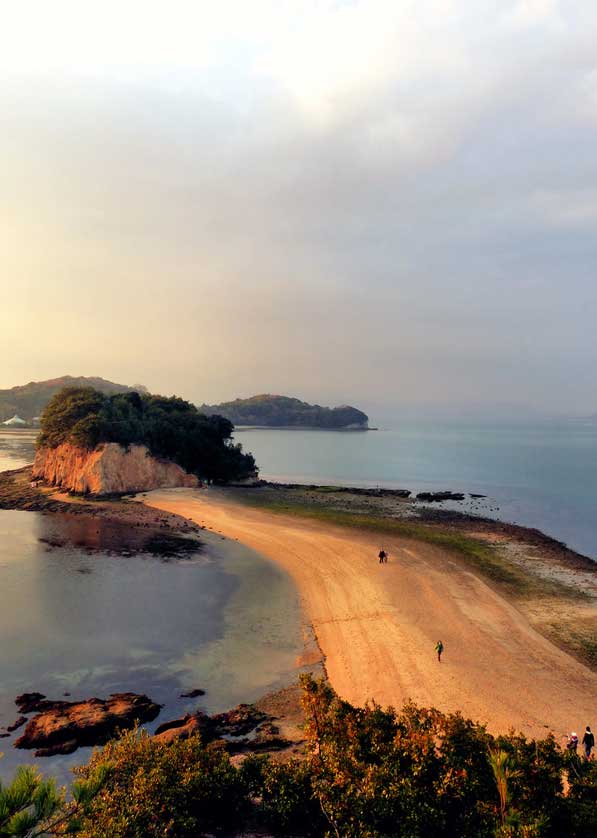 Angel Road from the viewpoint, Tonosho, Shodoshima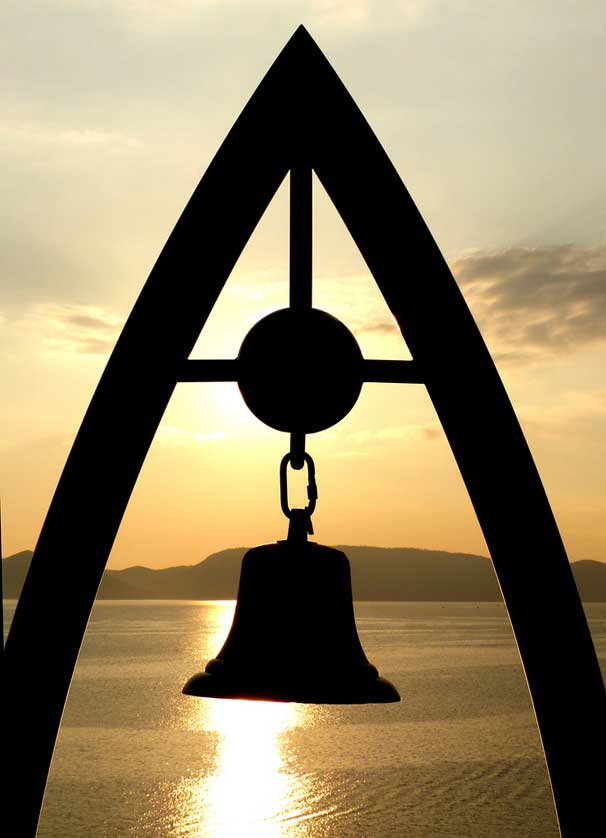 The "Love Bell" at the viewpoint, Tonosho, Shodoshima
Love Bell
It is possible that the idea came from Chiringashima, a small island near Ibusuki on the southern Kagoshima coast that has advertised itself in this way, but wherever or whoever the idea came from it has grown to be one of the major attractions of Shodoshima, with notices showing access and tide times on display in the arrival building of the ferry port.
Angel Road begins from just behind the Shodoshima Kokusai Hotel, and undoubtedly the hotel has been instrumental in its popularity. A small rock outcropping has a view over the Angel Road as well as the surrounding coastline, and there is a "Love Bell", down below is a new, small shrine, and tied to the trees around it are hundreds of ema, votive tablets, many shaped as hearts, but also many made of shells.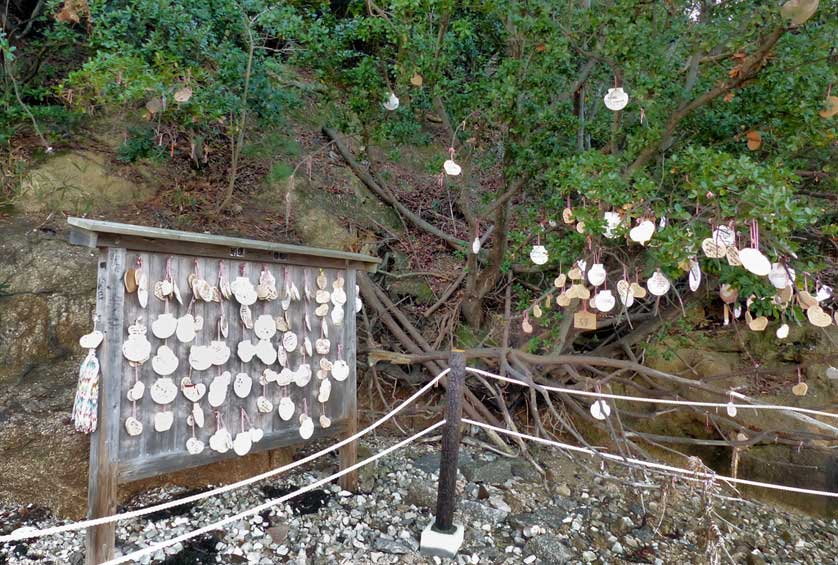 Ema with prayers for long relationships at the start of Angel Road, Tonosho, Shodoshima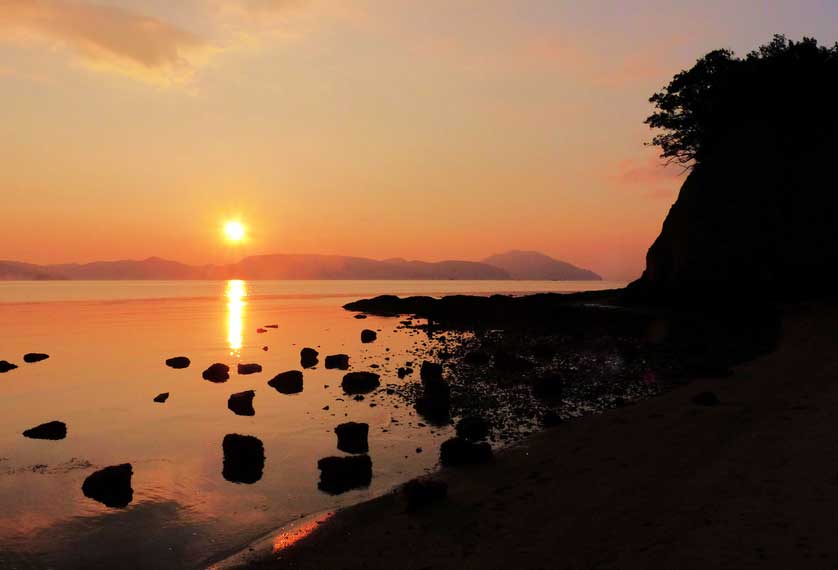 Sunrise at Angel Road, Tonosho, Shodoshima
Access - Getting to Shodoshima
There is no airfield on Shodoshima so access is only by ferry. There are six ports on the island with ferry services, the largest being the main town of the island, Tonosho.
Tonosho has ferries to and from Okayama, Uno and Takamatsu. The car ferry from Shin Okayama Port to Tonosho takes 70 minutes and runs about once an hour during the daytime and is operated by Ryobi Ferry (086 274 1222). Shin Okayama Port is a 35-50 minutes bus journey from Okayama Station.
There are two ferries from Uno Port on the Okayama coast, a car ferry that takes 90 minutes and a passenger ferry that takes 50 minutes, both stopping at Teshima Island and both operated by Shodoshima Teshima Ferry (087 851 4491) with about 5 services a day. Uno is 50 minutes by train on the JR Uno Line from Okayama.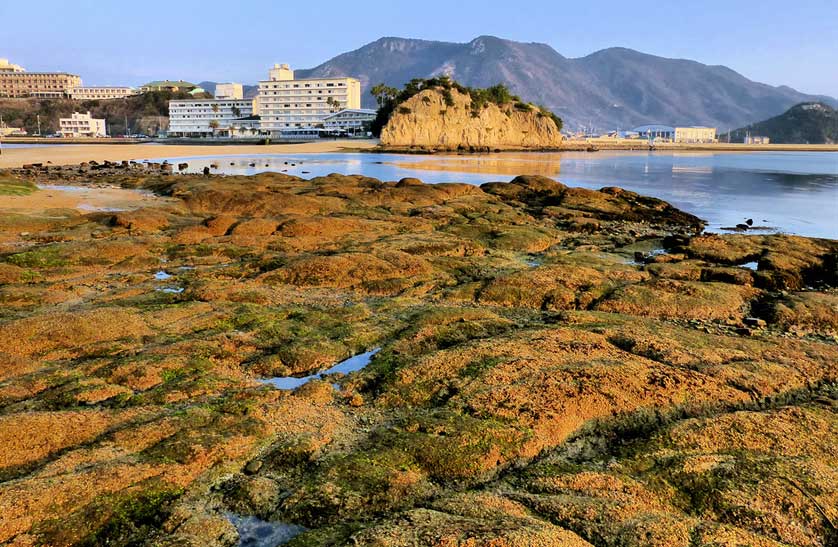 View of Tonosho from Angel Road, Tonosho, Shodoshima
The Takamatsu-Tonosho service has both a car ferry that takes 60 minutes and a passenger ferry that takes 30 minutes. Both run about once an hour and are provided by Shikoku Ferry (087 851 0131).
Ikeda Port also has a ferry to and from Takamatsu taking 60 minutes operated by International Ferry with 8 ferries a day.
Kusakabe Port has both car ferry and high speed passenger ferry service to and from Takamatsu operated by Uchinomi Ferry (0879 82 1080), taking 60 minutes or 45 minutes respectively 5 times a day, approximately every 3 hours.
Sakate Port, in the southeast corner of the island, has a car ferry service to and from Kobe run by Jumbo Ferry (078 327 3322). The crossing takes a little over 3 hours and runs 3 or 4 times a day. The ferry then carries on to Takamatsu. There is an overnight service that goes first to Takamatsu before stopping at Sakate early next morning.
Fukuda Port on the north coast of the island has a car ferry service to and from Himeji run by Shodoshima Ferry (0879 62 1348). The journey takes 100 minutes and runs 7 times a day.
Obe Port, also on the north coast, has a car ferry to and from Hinase run by Setouchi Kanko Kisen (0869 72 0698). The crossing takes just over an hour and runs 5 times a day. Hinase is on the JR Ako Line and is 70 minutes from Okayama or 50 minutes from Himeji.
There are local buses that connect all the ports on the island with each other and all major sites and hotels.

Panorama from Angel Road towards Shodoshima, Tonosho, Shodoshima
Accommodation on Shodoshima
There are a number of accommodation options in Tonosho including the recommended Shodoshima International Hotel, the Resort Hotel Olivean Shodoshima and the Bay Resort Hotel Shodoshima.
Angel Road near Tonosho on Shodoshima Island in the Inland Sea is a group of three small islets reached by a sandbar at low tide.
All the themes of the city