Marugame Castle
Marugame Castle 丸亀城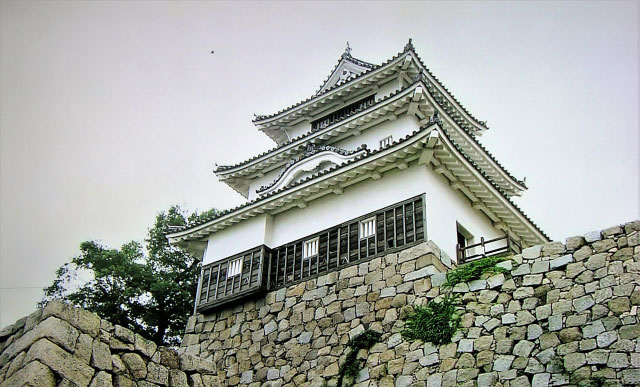 Marugame Castle
Marugame Castle, west of Takamatsu in Kagawa Prefecture in northern Shikoku, dates from 1597. Marugame Castle is one of the twelve original Japanese castles still standing.
Perched on a hill south of Marugame town, the most impressive features of Marugame Castle are its huge stone walls rising up to 50m in parts.
The walls of Marugame Castle are known as Ougi no Kobai as they resemble the shape of a Japanese folding fan. Incidentally Marugame is known for its production of paper fans, though the round, flat uchiwa type.
The small central tower of Marugame Castle has the usual displays of samurai helmets, photographs of Japan's other fortresses, samurai swords and armor with impressive views over the surrounding countryside and the Inland Sea, the body of water separating Shikoku from Honshu to the north.
The pleasant Marugame Castle grounds are now a park with hundreds of cherry trees, a small zoo and a play ground for young children.
At the foot of the hill on which Marugame Castle stands is the Marugame City Museum (admission free; hours 9 am-4.30 pm; closed Mondays and public holidays; Tel 0877 22 5366). The museum has exhibits relating to the history, archaeology and ethnology of the area and sometimes puts on special exhibitions (which may be charged).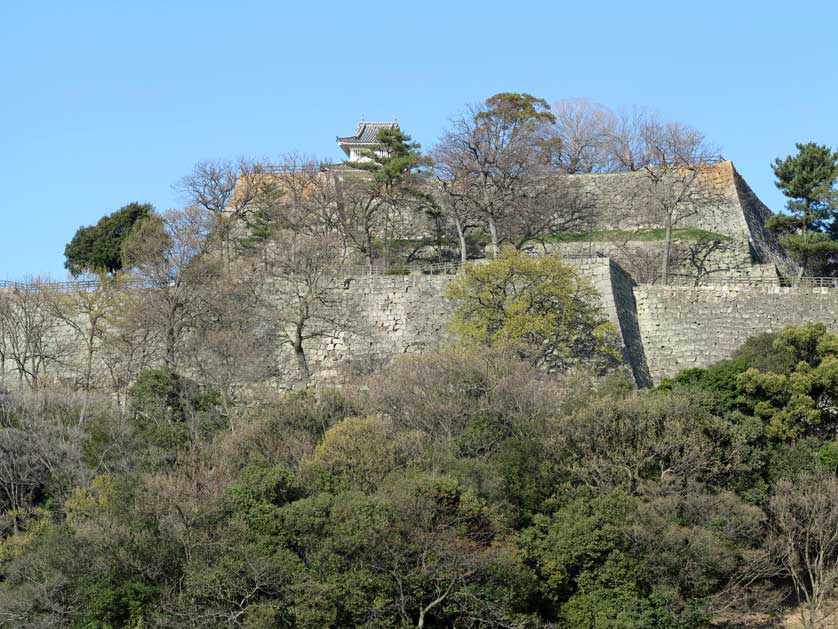 Marugame Castle & its impressive walls, Marugame, Kagawa Prefecture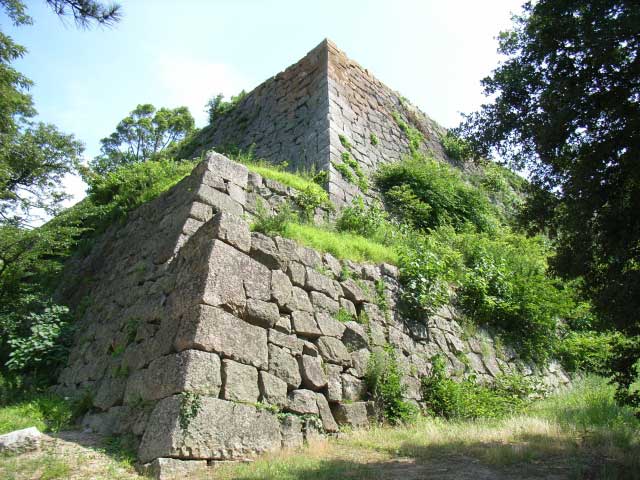 Marugame Castle, Kagawa Prefecture, Shikoku
History of Marugame Castle
Ikoma Chikamasa, the Lord of Sanuki, built the first castle in Marugame in 1597, but it was pulled down on orders of the Tokugawa regime in 1615 as part the "one fief, one castle" ordinance and then rebuilt in 1641 by Yamasaki Ieharu.
Marugame Castle is a hirayamashiro - a castle on a hill (yama) rising from a plain or flat land (hira). Marugame Castle has also been known as Kameyama Castle or Horai Castle.
After the Meiji Restoration a fire damaged Marugame Castle in 1869 and a year later the new authorities pulled down more of the castle and filled in parts of the moat, in line with destroying the power of the former feudal lords. The only original buildings that remain at Marugame Castle are the tenshu (keep), Ote Ichino Gate and Ote Nino Gate.
Marugame Castle
Marugame
Kagawa
Tel: 0877 24 8816
Admission: 200 yen
Hours: 9 am-4.30 pm (last entry 4 pm)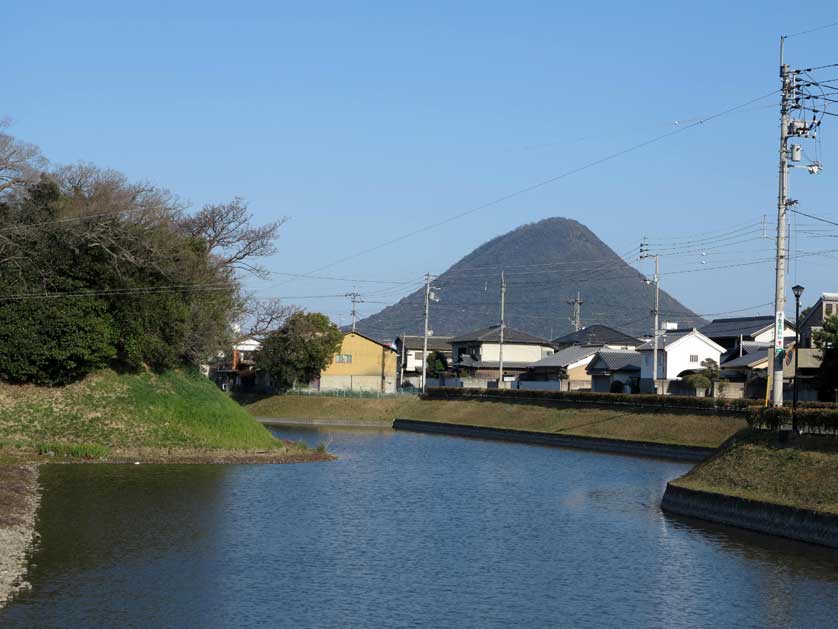 Mt. Iinoyama (Sanuki Fuji), Marugame Castle, Kagawa Prefecture
Access - Getting to Marugame Castle
From JR Marugame Station, the castle is a 15-minute walk. By car, exit the Takamatsu Expressway at the Zentsuji Interchange. There are regular trains to Marugame from Takamatsu Station with the fastest Limited Express trains taking about 25 minutes. Slower local trains are about 40 minutes.
Other attractions in and around Marugame include the Marugame Genichiro-Inokuma Museum of Contemporary Art (MIMOCA) dedicated to the art of Genichiro Inokuma, who grew up in Marugame, Nakazu Banshoen, a strolling garden built by Kyogoku Takatoyo, the second daimyo (feudal lord) of Marugame and the adjacent Marugame Museum of Art with a collection of French painting: Jean-Baptiste-Camille Corot, Gustave Courbet and Jean-François Millet.
The Uchiwa-no-Minato Museum dedicated to Marugame's fan industry and the Marugame Hirai Museum of Art (aka Museo Muragame Hirai) are both free museums. The latter showcases the work of up-an-coming Spanish artists from the 1990's onwards and is housed in a futuristic tower.
Also close to Marugame are several temples on the 88 Temples of Shikoku Pilgrimage circuit: No. 76 Konzoji, No. 77 Doryuji and No. 78 Goshō-ji.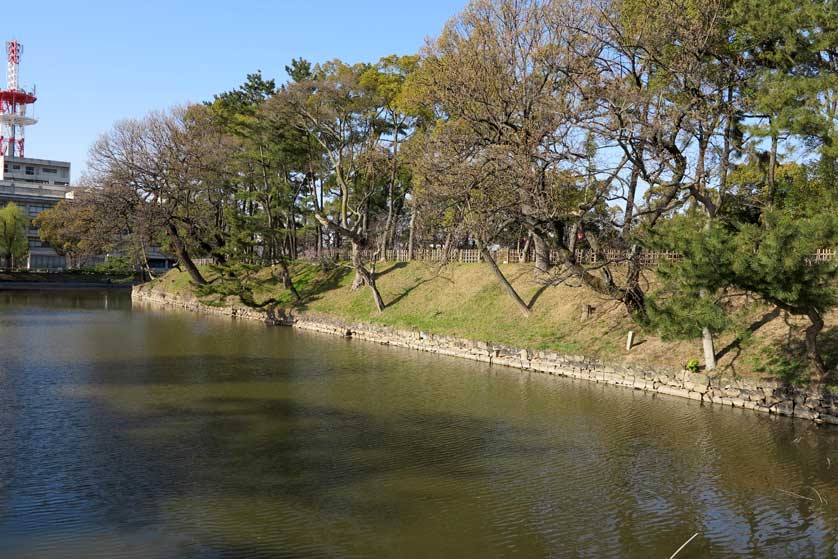 Marugame Castle moat, Marugame, Kagawa Prefecture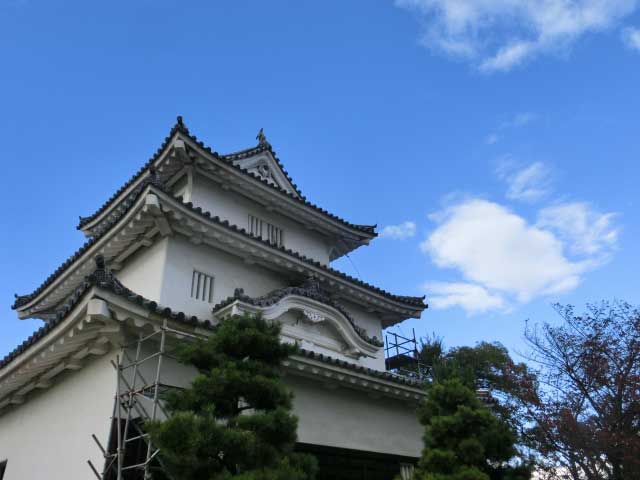 Marugame Castle, Kagawa Prefecture, Shikoku
Accommodation in Marugame
There are a few hotels in Marugame but more options about 11 km away in nearby Kotohira which serves the pilgrims going to visit Konpira-san Shrine.
In Marugame the pick of the places to stay are the four star Okura Hotel Marugame with excellent sea views, a sauna, dining options and a sky bar. As its name suggests, the APA Hotel Marugame Ekimaeodori is right at the station and is a standard 3-star business hotel. Likewise the more out of town Hotel Route-Inn Marugame and the Chisun Inn Marugame Zentsuji.
In Kotohira choose from the excellent, four star Kotohira Kadan with a choice of Western or Japanese style rooms, the Kotohira Park Hotel with free WiFi throughout the property and the Kashikiri Yunoyado Kotone with mountain views.
See here for a listing of hotels in Kotohira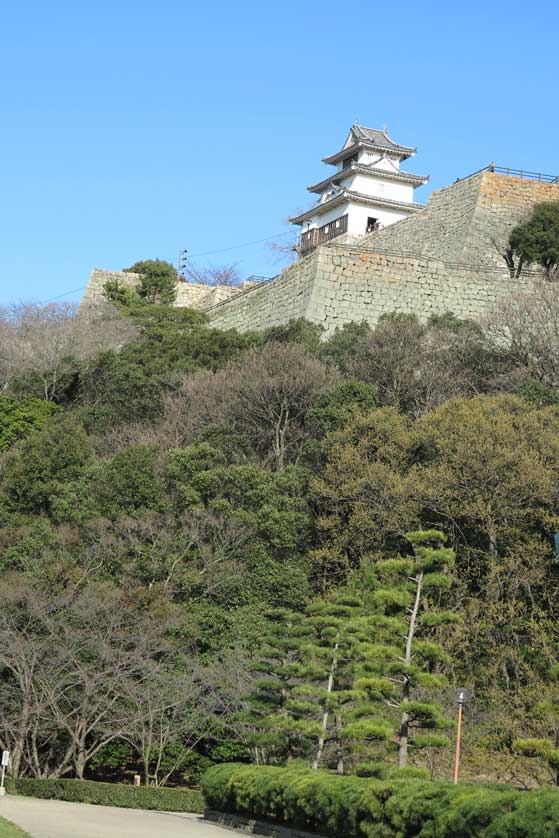 Looking up at the castle walls
Book Hotel Accommodation in Shikoku Japan
Marugame Castle: read a guide to Marugame Castle in Kagawa Prefecture, Shikoku. Marugame Castle is one of only 12 completely original castles in Japan.
All the themes of the city