Megijima & Ogijima Guide
Knowing Tranquility Part III: Megijima (女木島) & Ogijima (男木島)
Edward J. Taylor
Megijima & Ogijima are two small islands off the coast of Takamatsu that are part of the Setouchi Triennale with art exhibits by Japanese and international artists.
Shodoshima greeted me with a rainbow, and now sees me off with rain. This area supposedly gets the least amount of rainfall in Japan, but I had seen my share. Perhaps it is the early hour, or the bad night's sleep, but the noise of the ferry terminal is getting to me, raucous as a nightclub. There is a group of middle school kids preparing to board, all dressed in sweat suits for some sort of athletic event. Judging from the bags they carry, quite a few sports will be represented. The sheer racket they are making can probably be explained as nervous excitement. Only the kendo players are still, with quiet thoughtful countenances below shaven heads.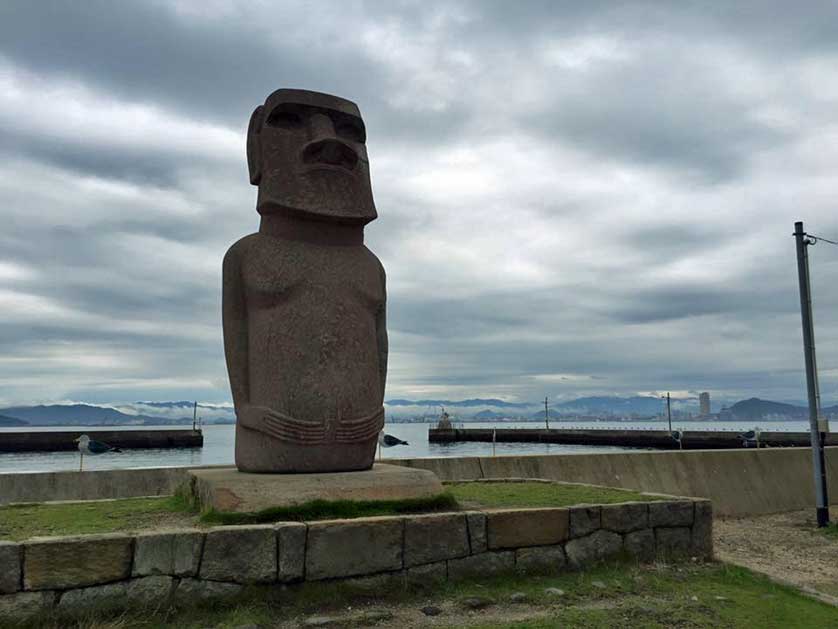 Megijima Moai.
I step outside to escape the noise, and am surprised that they all follow. There are a few teachers about, none of which are enforcing any sort of order, least of all a rather butch looking woman who I take to be a PE coach, who rocks back and forth from foot to foot as she eats a hurried breakfast. It is a recent (and ever-ready) media trend to bemoan the falling morals of youth, but it appears to me that the role models themselves have also slipped.
On board, the smokers immediately fire up, in an isolated corner that is hardly isolated. I am momentarily surprised by the presence of an ashtray mounted between the urinals, something I haven't seen in a long while. In it, two cigarettes are slowly dying. As are old customs apparently, in these remote corners of Japan.
I disembark in Takamatsu, and head for another ship at an adjacent pier. A small, two storied vessel, it is the type of boat I most associate with the Inland Sea, and the type on which Donald Richie would have used on his own journey in The Inland Sea. The newer ships are either large ferries laden with a highway of vehicles, or those small water taxis that rush from harbor to harbor in a way that must make the old people here reassess their centuries-old concept of time.
We pull out and slowly rock our way back in the direction from which I came. Just as I am thinking that the large steel cranes on the docks look like giraffes, a boat passes by with the model of an actual giraffe on its stern, for no particular reason. And I smile, as one of my favorite things about this country is that incongruity never fails to be congruous.
Incongruous Ungulate.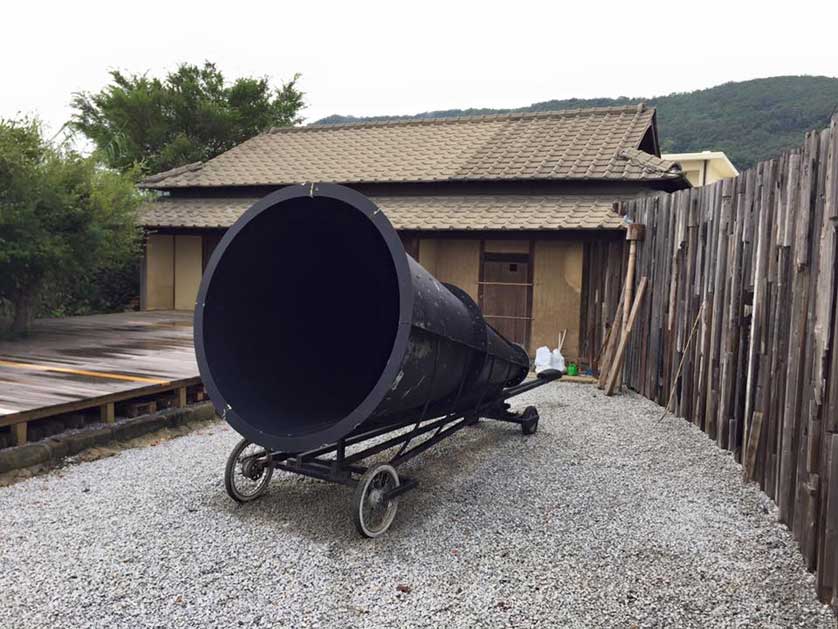 Megi House, Aichi Prefectural University of Arts and Music.
Megijima
We land in Megijima, and board the bus that is waiting. It has only one stop, which is the Oni caves atop the island's perfectly conical peak. On board, I notice a woman who has a hair clip shaped as a feather. But that is last I will see of angels today, as I head into the lair of demons.
The Momotaro legend is one well known, and for some unknown reason the locals decided that the island on which he did battle with the Oni was this one, despite historical truths such as their cave lair was in fact a former mining operation. I am fascinated by the legends of the oni, and my own pet theory is that these large, hairy, ferociously jabbering men were in fact Koreans who had made their way southeast from the Izumo area up on the Sea of Japan. (The valleys between are filled with oni stories.)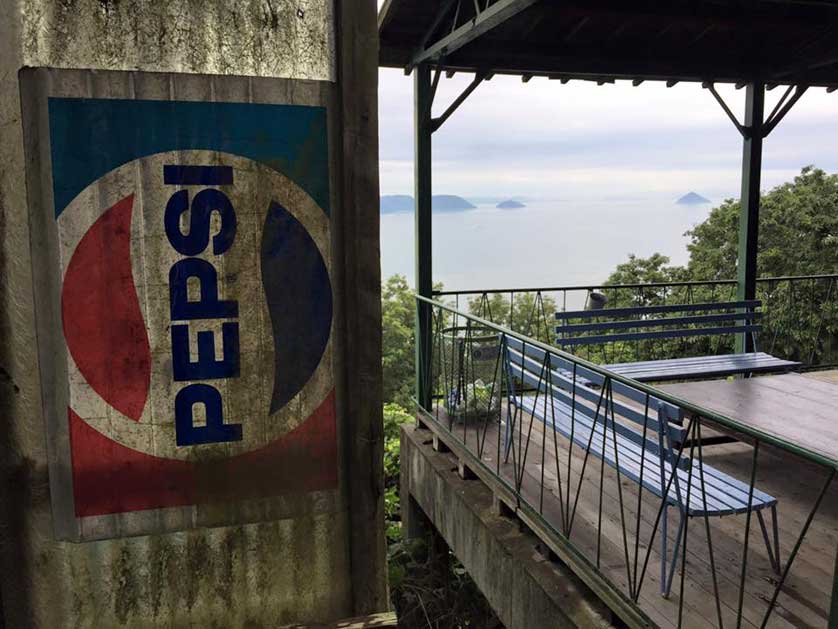 Refreshments at the oni's lair, Megijima.
If there had in fact been people hiding in these caves, they were more likely to have been pirates, who over the centuries had commanded an area stretching across to China. Documents show that the Chinese had ofttimes petitioned Japanese rulers to keep these wako pirates in check, and it is believed that Buddhism itself had been exported to Japan in the 6th century as a way to civilize its people.
Whatever the case, the caves are fun, the highest form of kitsch. Within are concrete oni of various size and color, a trunk overflowing with gold, and good old Momotaro himself preparing for battle. And in the center of it all a small Buddhist altar, sitting with a quiet dignity.
In one of the best quotes from The Inland Sea, Richie writes, "I heard the cicadas the moment they ceased." I share a similar epiphany, for it is only when leaving the refreshing cool of the caves that I notice the morning's high humidity. It sits heavy upon all after the previous day's rain, and as the moisture rises into the air to form a milky white, I am once more robbed of my view. The summit of this island peak is enshrouded, rendering meaningless the signs point at adjacent islands. Only bits of Takamatsu are visible, looking from this height like a dwarf Hong Kong.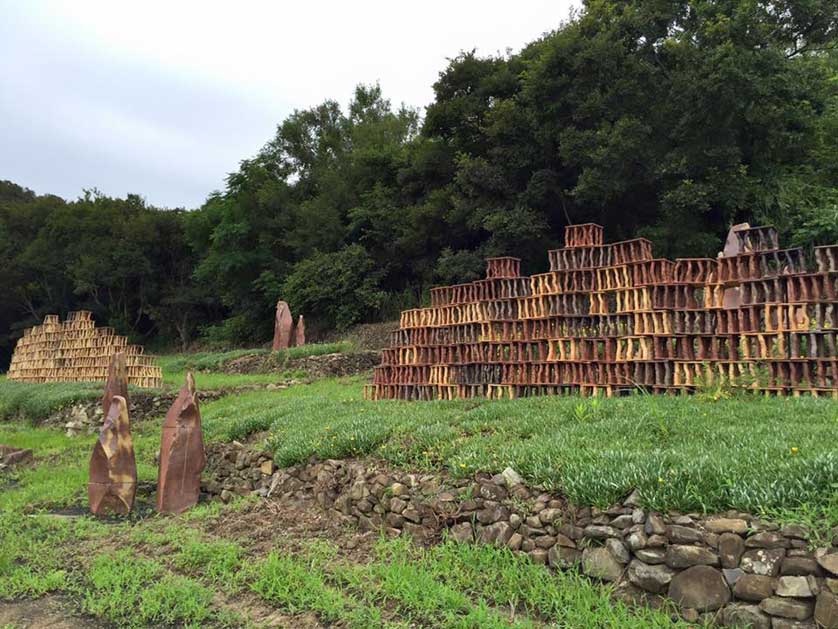 Yasuyoshi Sugiura Terrace Winds, Megijima.
Winter in July
I return to sea level and walk through the village. All is completely deserted. Aside from a pair of men working in the ferry terminal, I don't see anyone moving out here. What I do see are a lot of houses in various states of decay, many demoted to hold tools and decades of detritus.
One villa along the shore has a facade of Greek columns, many of them broken like a mouth of jagged teeth. This is flanked by a handful of minshuku, all devoid of any life. The only hint that they are still being used is the white plastic chairs bowing forward as if in apology. It looks like a beach town would in the winter, but here we are in mid-July. It could be that it is a weekday, or it could be the weather, but this whole place is devoid of life. This Megijima, whose name can be poorly translated as 'Female Tree,' looks withered and beaten by blight. I decide then to take the next boat and see how her male counterpart is faring.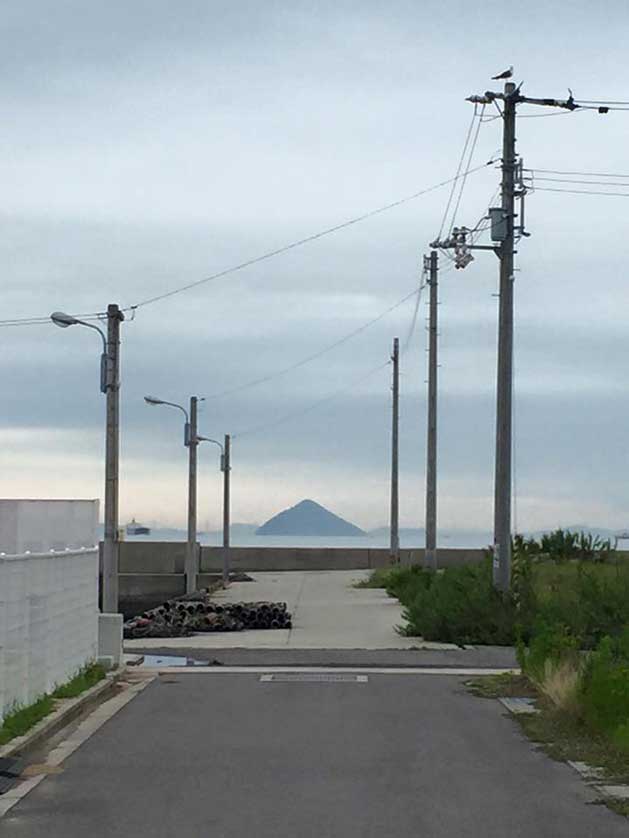 Ogijima, Inland Sea.
Ogijima
Ogijima has much more of a lived-in feel. School kids swim in the school pool, and the senior citizen center is the center of the action, with grannies gossiping over tea and one old-timer getting his hair cut. The cicadas too are screaming lustily at the top of their lungs. The newfangled visitor center has been built as a concrete island topped by the swoops and swirls of roman lettering. Within, I find some English information written by the middle school kids of the island. Sadly the school had graduated its last class last year. Most active of all are the cats, who can be seen all over the place in various states of inactivity.
I make my way through the zigzag of narrow lanes to reach the shrine fittingly situated at the top of the hill above the village. I am about to ring the bell and pay my respects when I notice a young woman in a tartan skirt kneeling in front of the shrine, head bowed. In Japan, the gods are petitioned with prayer. When I come across a scene like this, I always wonder what it is people are looking for. But this being a shrine to the god of childbirth, it is easy to guess.
I continue to amble. Here is the island village of my imagination, one seen in numerous films, the whole community clustered together in a single cove, apart from the wild of mountainous forest and the distracting calm of beach. The distinction here though is the art projects that have been erected in some of the abandoned homes. Sadly, as at Megijima earlier, many of them are closed.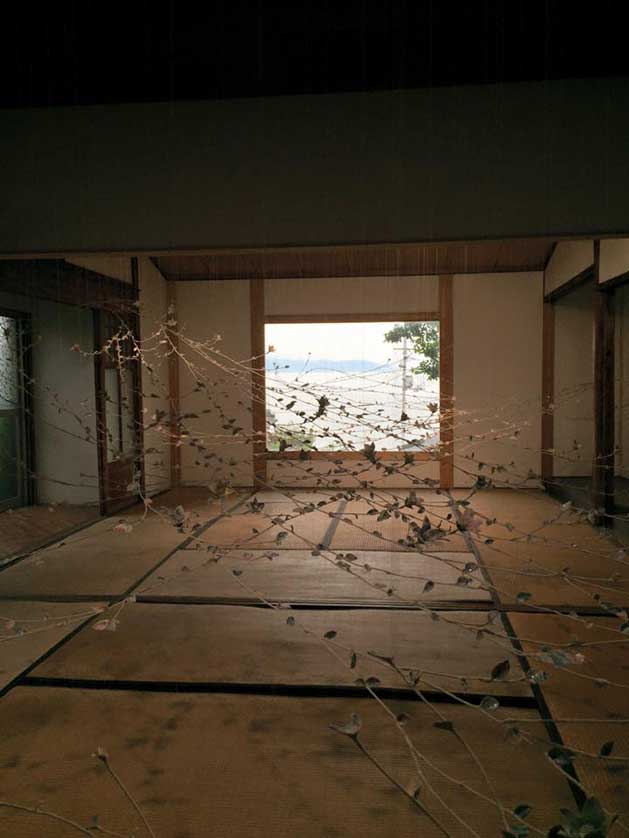 Sea Vine by Haruki Takahashi, Ogijima.
The few that I do stumble upon are delightful. Within a small simple kura I find what looks like a lit up Christmas tree, but without the tree. Dozens of jars hang with lights built into their lids, illuminating objects within. Most appear related to childhood - shuttlecocks, toys, photographs - and I imagine that each of the 188 islanders have contributed something.
Around the corner I find a large porcelain object looping and curling, a bit of drifting seaweed beckoning the waters visible through the window beyond. Most interesting to me is another kura from whose rafters hang a series of bamboo figures that twirl and clack and make music. The whole thing is synchronized, to create a musical soundscape like that of a bamboo grove with perfect pitch. It is this that makes me, finally, for the first time this morning, sit completely still.
Genki
Each of these installations is manned by a single person, each a young and fresh-faced bohemian. Tellingly, none are actually from this island, and none are even artists themselves. This is a part time job for them, commuting as they do from Takamatsu forty nautical minutes away.
I think that the owners of these buildings must be thrilled that they have been given new life, a way to inspire other than in the beauty of decay. And the young people who look after them are filled with enthusiasm and life themselves. One was extremely genki, a term that stymies even the most talented translator. Lively, peppy, vigorous, vivacious. All these apply, and then again, don't. Genki is a nuanced word that the Japanese language is so filled with, one that can only be felt and inferred, through recognition rather than understanding.
I return to the port, hire a bicycle, and ride above the jagged shoreline. After looking at so many art installations the past three days I am beginning to see patterns in the natural world that look man-made. The rocks look too perfect to have been created by chance. The path brings me out to an old lighthouse that had been a film location for Times of Joy and Sorrow, by Kinoshita Keisuke, director of Shodoshima's 24 Eyes. A small museum here deals both with the lighthouse and the film, but before long my stomach tells me that it is time to go.
I return the bicycle to an old woman who multitasks and makes me a plate of Hayashi rice. As she cooks I try to get her story, but she is less forthcoming than the young commuters from Shikoku. I do find out that she also is from there, near Temple 88 of that island's famed pilgrimage. I imagine that she came here in order to get married, and most likely, this island is where she will pass the rest of her days. As for me, I'll be gone within the hour.
Access - Megijima & Ogijima
Megijima and Ogijima are reached by ferry from Takamatsu with a departure roughly every two hours. The journey takes 20 minutes to Megijima (370 yen) and 40 minutes to Ogijima (510 yen).
Ogijima Wallalley by Rikuji Makabe.
Accommodation in Takamatsu
Accommodation options are plentiful in Takamatsu. Some recommended places to stay close to the ferry terminal and Takamatsu Station include the 4-star Rihga Hotel Zest Takamatsu, the JR Clement Hotel Takamatsu, the Business Hotel Rupinasu, Takamatsu Terminal Hotel, Chateau Est Takamatsu, Okura Hotel Takamatsu, and the Hotel Areaone Takamatsu.
See here for a full listing of hotel accommodation near Takamatsu Station.
About the Author
Based in Kyoto, Edward's work has appeared in a variety of print and online publications. Co-editor of the Deep Kyoto Walk anthology, he is currently at work on a series of books about walking Japan's ancient highways.
Megijima & Ogijima are two small islands off the coast of Takamatsu that are part of the Setouchi Triennale with art exhibits by Japanese and international artists.
All the themes of the city