Shikoku Mura Takamatsu
Shikoku Mura in Yashima near Takamatsu is an open-air museum displaying over thirty traditional buildings brought from all over Shikoku and surrounding islands.
Shikoku Mura, Yashima, Takamatsu 四国村
Shikoku Mura is an open-air museum displaying over thirty traditional and historic buildings brought from all over Shikoku and surrounding islands in the Inland Sea and laid out in a pleasant parkland.
Yashima and Shikoku Mura make for a pleasant half-day or full-day excursion from nearby Takamatsu.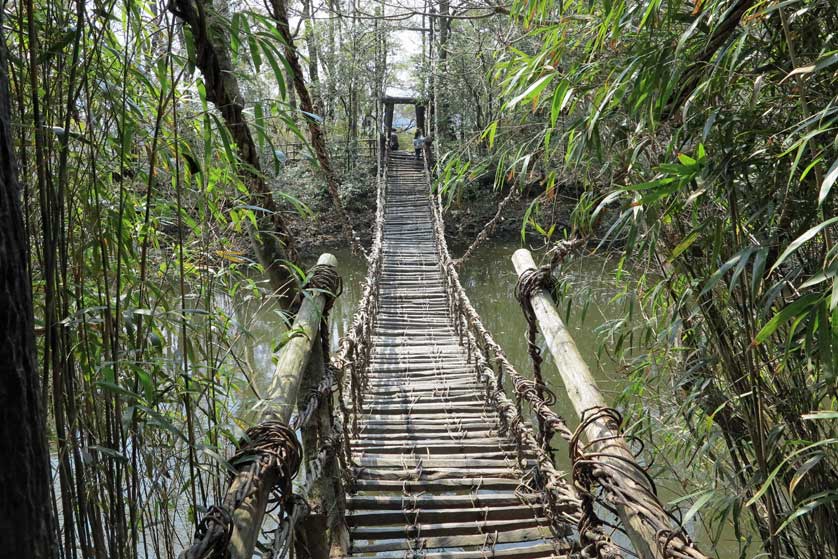 Vine Bridge, Shikoku Mura, Yashima, Shikoku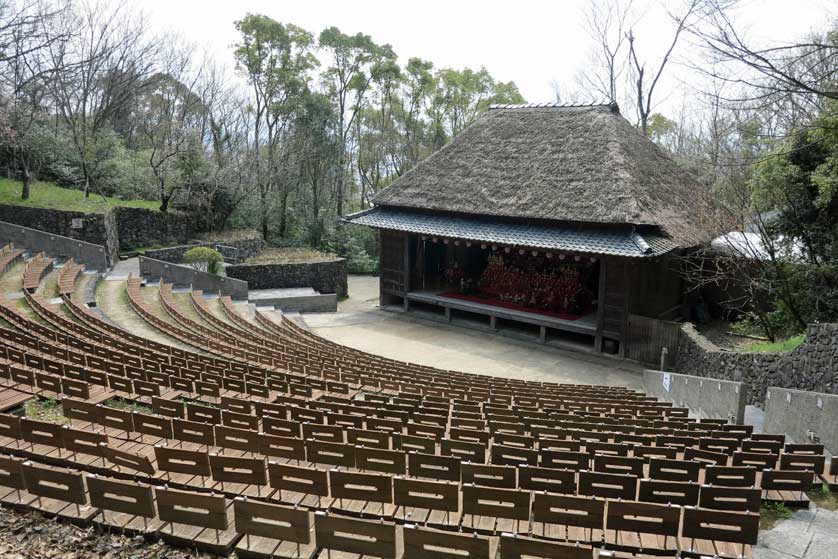 Farmers' Kabuki Theater, Shikoku Mura, Yashima, Shikoku
History
Many of the preserved buildings at Shikoku Mura are from the Edo and Meiji eras of Japanese history. These include the ticket office at the entrance which is an example of a tomariya - a lodge where male adults would gather of an evening in fishing villages in Kochi Prefecture to drink sake and socialize. Young boys of around 15 were admitted to this assembly after presenting the elders with a bottle of sake.
Vine Bridge
The adjacent Vine Bridge (kazurabashi) from the remote Iya Valley in Tokushima Prefecture is a reconstruction (with steel cables) of a traditional bridge that was once made with a tough mountain vine called shirokuchi.
It is thought that after their defeat in the Battle of Yashima in 1185, surviving members of the Taira clan fled to the Iya Valley and set up so-called "fugitive villages" (ochiudo mura). Access over the steep river valleys was aided by these vine bridges. Only one original vine bridge still exists in the Iya Valley and its vines are replaced every three years.
Farmers' Kabuki Theater
After crossing the bridge the next attraction is a Farmers' Kabuki Theater from Obu village on Shodoshima Island. This large thatched building would have provided kabuki performances for the local villagers' entertainment. Occasional dramas are still performed with the seating all outdoors.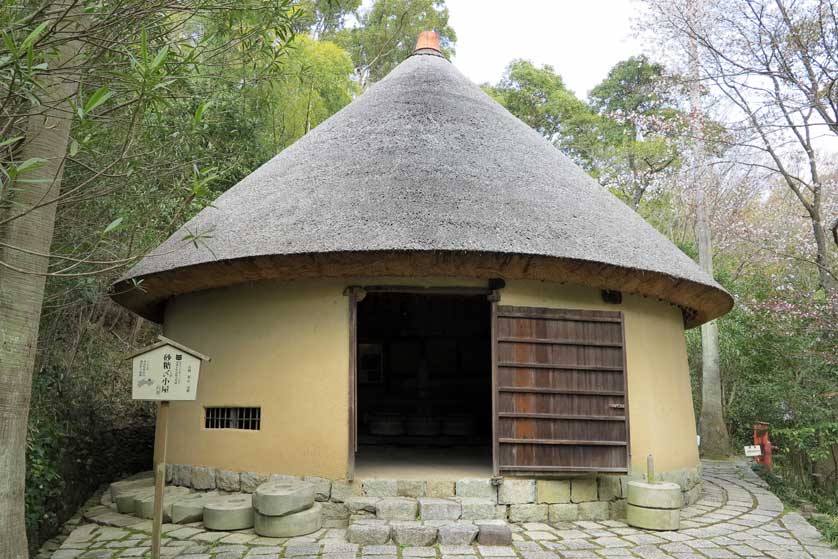 Sugar Cane Press, Shikoku Mura, Shikoku

Stone Bridge, Shikoku Mura, Shikoku
Warehouse
Another impressive building is the original Marugame domain official rice warehouse with its thick clay walls to protect it from both frequent fires and intrusive rodents.
The conical sugar cane presses at Shikoku Mura were originally powered by harnessed oxen and are beautiful wooden interiors.
Other buildings at this pleasant museum include traditional fisher folk houses, a traditional 19th century soy sauce warehouse from Hikeda complete with vats and presses and a stone warehouse and fire station from Shodoshima.
Lightouse Residence
Further historic structures at Shikoku Mura include a lighthouse keeper's residence from Nabeshima designed in 1871 by British architect R. H. Brunton (1841-1901) - the so-called "Father of Japanese Lighthouses" who built a total of 26 Japanese lighthouses in Western style around Japan based on the design of those in his native Scotland.
Brunton's work was part of the modernizing and westernizing drive of the Meiji government in the late 19th century as it strove to keep up with the industrial West. There are also lighthouse keepers' houses from Cape Esaki (also by Brunton), Kudakoshima and a lighthouse from Okunoshima at Shikoku Mura.
A number of family farm houses, an arched bridge done in stone, an ornamental waterfall by sculptor Masayuki Nagare and walls built to protect farm land from wild boar round out this interesting and thoroughly worthwhile museum.
Shikoku Mura Gallery
The modern Shikoku Mura Gallery (extra charge) designed by Tadao Ando in 2002 exhibits a wide range of art including bronzes, calligraphy, ceramics, paintings and sculpture. There are excellent views from its wide balcony.
Shikoku Mura is close to the large Yashima Shrine and just outside its entrance is a western-style house dating from 1906 and a fine example of an Ijinkan from Kobe. The building is now used as a fashionable cafe. The Waraya Udon Restaurant nearby is also a popular place to eat the area's signature Sanuki udon.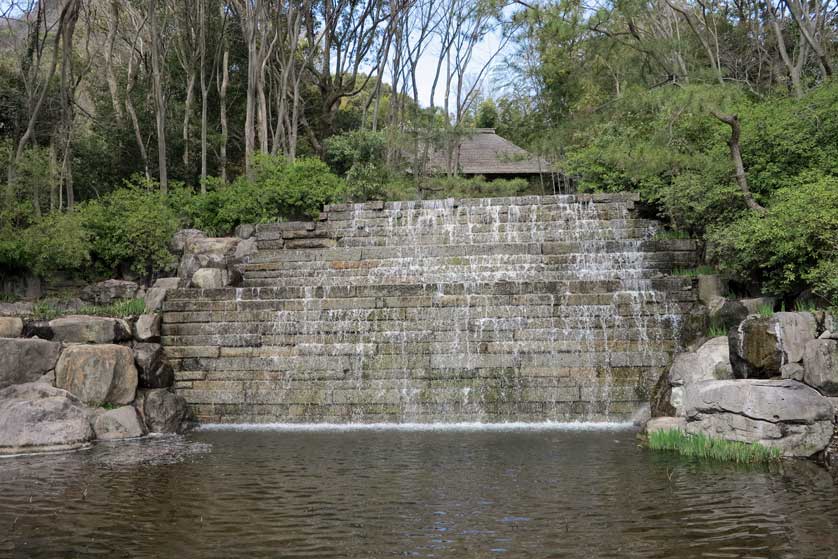 Ornamental Waterfall, Shikoku Mura, Yashima, Shikoku
Shikoku Mura Access
Shikoku Mura (shikokumura.or.jp)91 Yashima-NakamachiTakamatsuKagawa PrefectureTel: 087 843 3111Hours: April - October 8.30 am-5 pm; November-March 8.30 am-4.30 pmAdmission: 800 yen for adults; children 300 yen.
Shikoku Mura is a short walk from Kotoden Yashima Station on the Shido Line from Kawaramachi Station (two stops from Takamatsu-Chikko Station close to Takamatsu JR Station). There are three trains an hour from Kawaramachi Station to Kotoden Yashima Station.
Alternatively take a less frequent train from JR Takamatsu Station to Yashima Station from where it is a 15 minute walk to Shikoku Mura.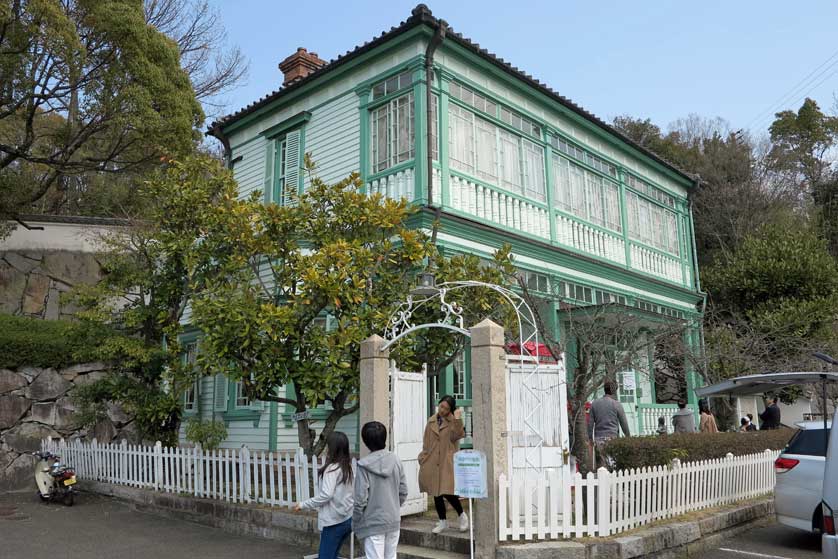 Western-style House from Kobe, Shikoku Mura, Yashima, Shikoku

Book Hotel Accommodation in Takamatsu
All the themes of the city