Naoshima Island Tour
直島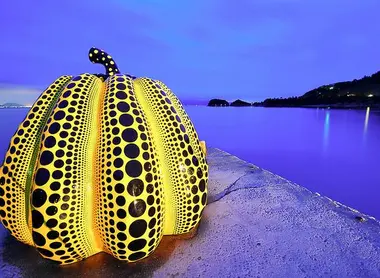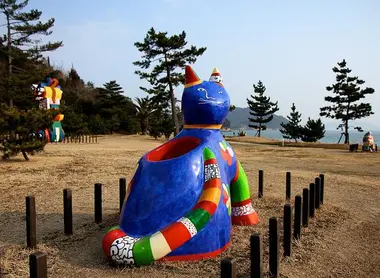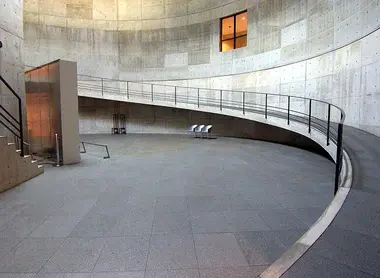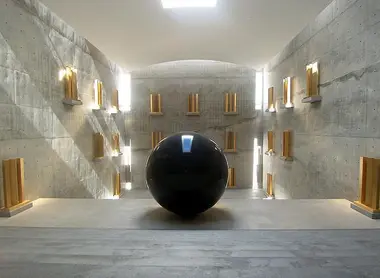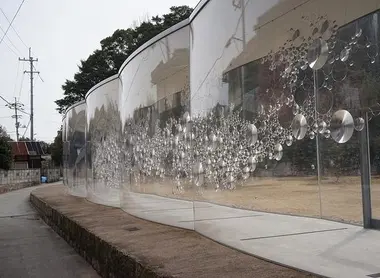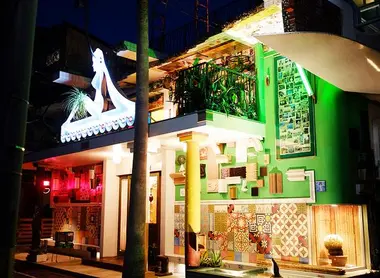 Modern Japanese art in the heart of the Seto Inland Sea
There are no temples, shrines or medieval castles to visit on this island in the Japanese inland sea (Setouchi), but seven spaces dedicated to contemporary art,  bathed in sunshine. Naoshima Island is not a peaceful place like the others, strange artistic creations inhabit it and attract visitors from all over the world.
Resurrection of Naoshima: the birth of the Japanese artistic island
In Naoshima , art has not always reigned supreme. This small island (3,400 inhabitants on approximately 8km2) located between the cities of Takamatsu and Okayama , has long lived from the refining industry. At the end of the 1980s, it was deserted and deprived of future prospects. Two men decide to react: the mayor, who wishes to bring his island back to life, and Tetsuhiko Fukutake , founder of the Benesse company (specializing in education and in in correspondence courses), looking for a place where he could set up a children 's holiday camp.
The camp opened its doors in the summer of 1989, but Tetsuhiko Tetsuhiko did not choose just any architect to carry out his project: Tadao Ando , also behind 21_21 Design Sight in Tokyo, designed small white yurts whose clean lines fit perfectly into the environment of Naoshima . A first sculpture is installed on the island: The frog and the cat by Karel Appel.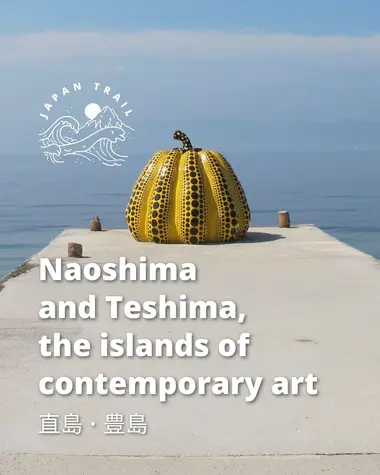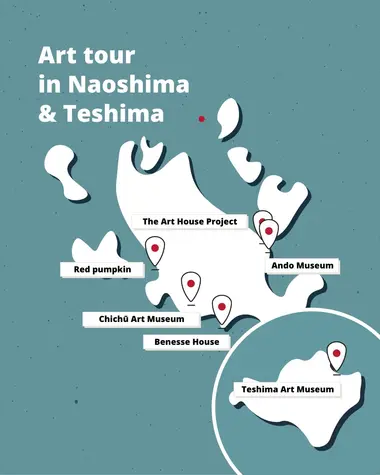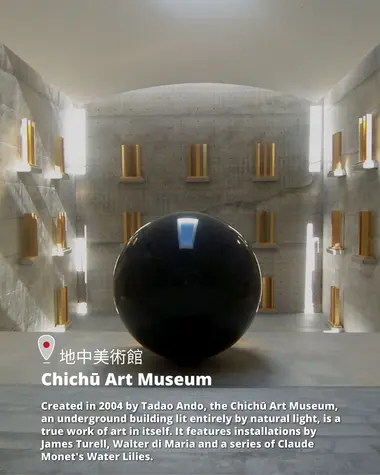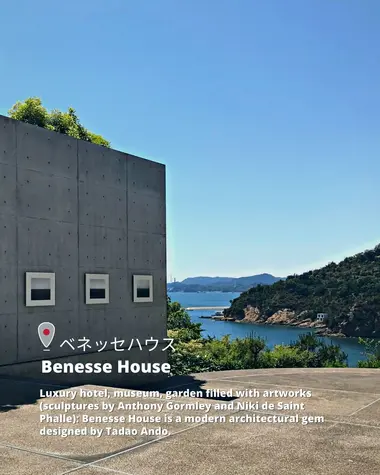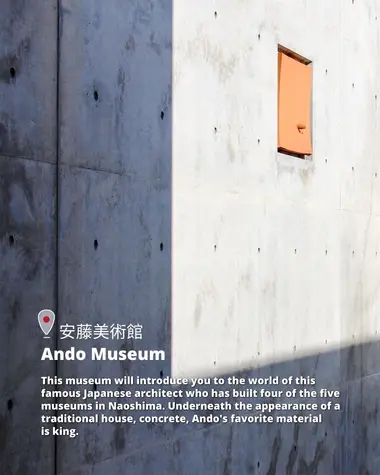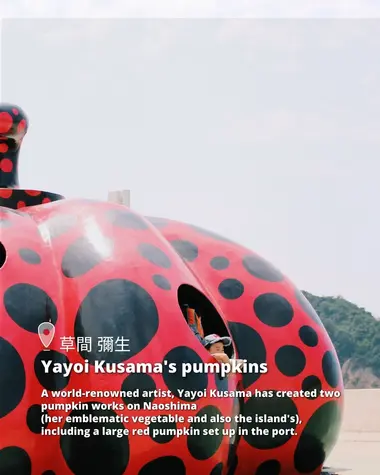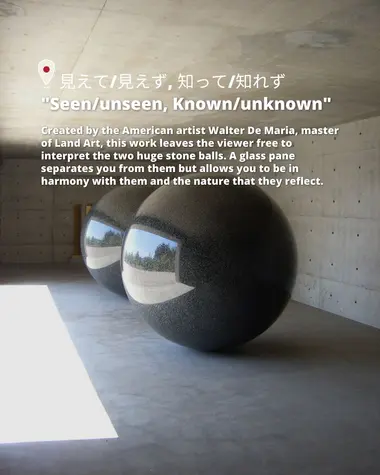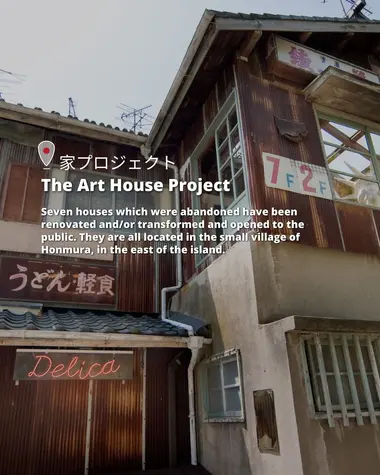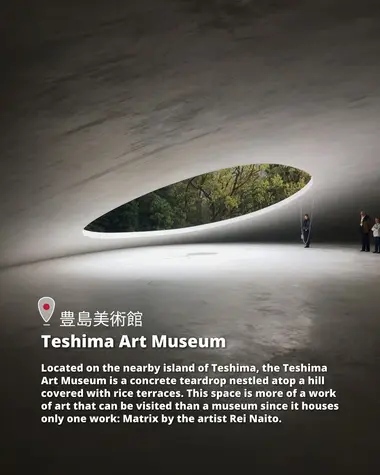 But Tetsuhiko Fukutake wanted to push the project further and had a hotel/museum built in 1992, again with the help of Tadao Ando. Later the Oval Room, where water, sky, nature and architecture mingle, was created by Ando and added to this building. The Benesse house, a luxury hotel and refuge for a large collection of contemporary art, was born.
Naoshima, due to the profusion of its works of art and its exceptional museums, has also become the most visited place during the Setouchi Triennale, a contemporary art festival which takes place every three years on the islands of the inland sea of Japan.
Places dedicated to contemporary art and museums in Naoshima
In short, few works are exhibited at the Chichu Museum: Les Nymphéas et l'Étang de nymphéas by Claude Monet, Open Sky by James Turrel and Time/Timeless/No Time by Walter De Maria . But the museum , created in 2004 by Tadao Ando, is in itself a true work of art which is one of the best features of your visit to Naoshima.
Note that it is imperative to book in advance online.
Luxury hotel, museum, garden populated with works of art (sculptures by Anthony Gormley and Niki de Saint Phalle): the Benesse House is a unique place of which, once again, Tadao Ando is the creator.
To discover the universe of this famous Japanese architect who alone created four of the five museums of Naoshima. Beneath the exterior of a traditional house, concrete, Ando's favorite material, is king.
Seven abandoned houses have been renovated and/or transformed and opened to the public. They are all located in the small village of Honmura, in the east of the island.
This museum designed by Tadao Andô houses the works of Korean-born artist Lee Ufan , a friend of the architect.
Created by Japanese artist Shinro Ohtake, this public bath is nothing like a traditional sentō. Designed for the inhabitants of Naoshima and for travelers passing through, so that everyone can relax and get to know each other, this building has something to surprise you, whether it is outside or inside.
In addition to these museums and buildings dedicated to art, there are dozens of outdoor works, including those by Shinrô Otake. However, the two giant pumpkins; one yellow, the other red, by Yayoi Kusama, a now world-famous Japanese artist, are still the stars of Naoshima's open-air works.
Tips for Visiting Naoshima
It takes at least one day to visit the two or three main museums and two or three days are necessary to visit all the museums of Naoshima and discover the island and its works of art . In summer, you can also enjoy its beaches. The best is to sleep on the island (there are guest houses and small hotels if you can't afford to stay at the Benesse House!). Bicycle rental allows you to travel between the sites, and a bus line also connects them.
Please note : all museums (except the Benesse house) are closed on Mondays (or Tuesdays if Monday is a public holiday). Also be aware that if you are on a tight budget, museum entrance tickets are expensive.
The project to highlight the island heritage of the Seto Inland Sea through contemporary art continues to grow: Teshima, Inujima, and other surrounding islands also host ephemeral works and renowned museums and participate in the Setouchi Triennial during which artists come to create in situ works and performances on several islands.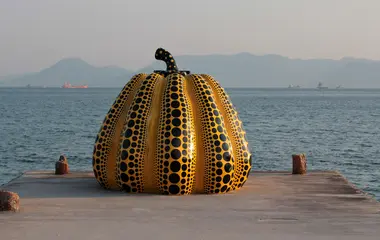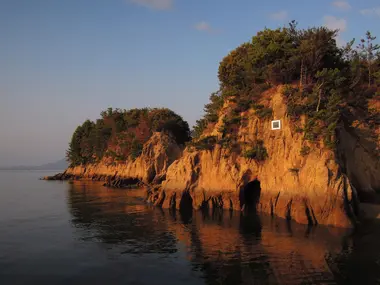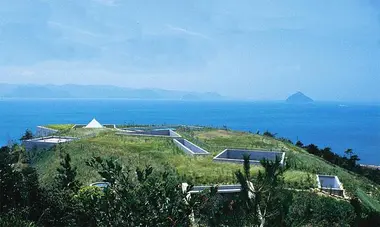 ---
Address, timetable & access
Address

Timetable

The island is accessible by ferry from Shikoku and the city of Takamatsu, from Honshu and the city of Uno, from the nearby island of Shodoshima, which is also worth visiting for its olive groves, or even from Kobe.
All the themes of the city