Mima City Guide
Mima Guide 美馬市
Jake Davies
Mima is a city of about 30,000 inhabitants in Tokushima Prefecture on Shikoku. Mima is an administrative city covering 367 square kilometers that straddles the Yoshino River. It extends north to the border with Kagawa and south to Mount Tsurugi, at 1,954 meters the second highest mountain in all of western Japan.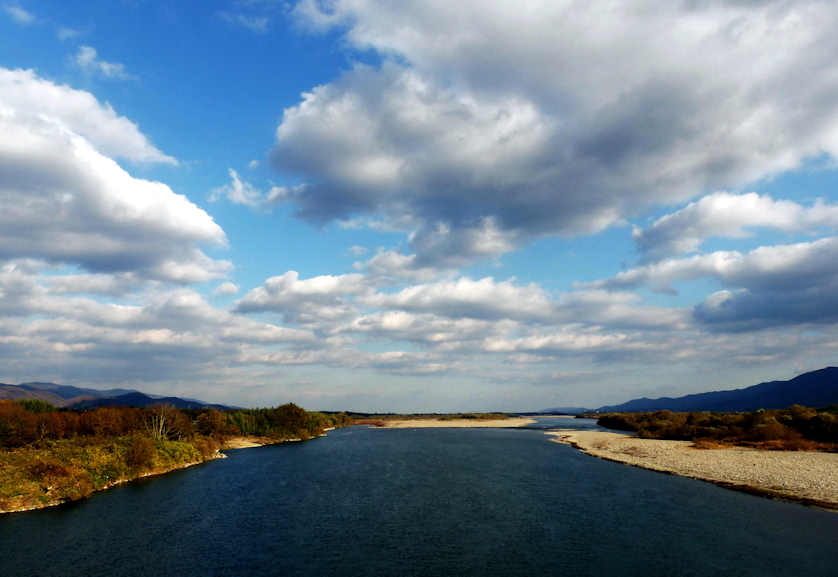 The Yoshino River, second longest on Shikoku and considered one of the three greatest rivers in Japan runs through the middle of Mima City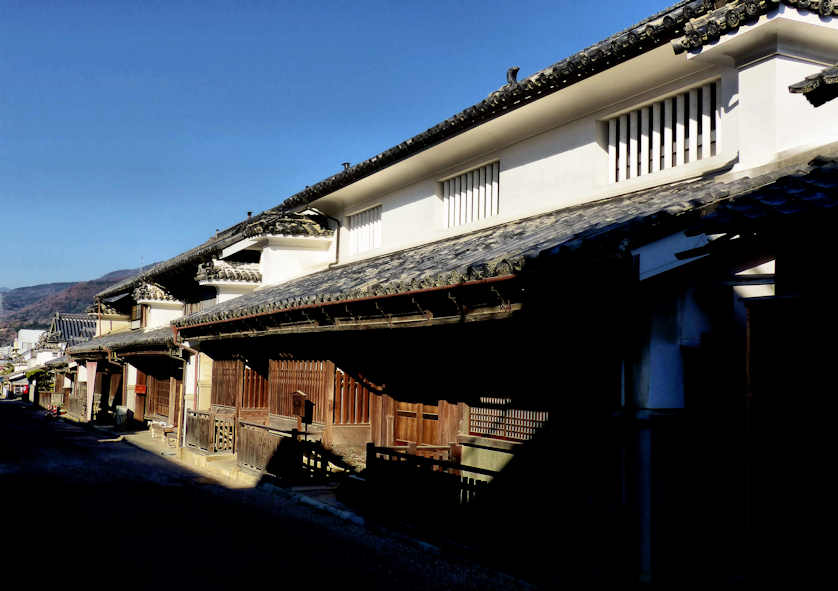 The Udatsu Street of historic Edo Period buildings in Wakimachi, Mima
Mima History
In historic times Mima was a gun, a district with many villages, and that is really what it still is. The name Mima means "beautiful horse" and refers to the area's historic role as breeders of quality horses. The horse appears as a symbol on such things as the local drain-covers.
During the Edo Period Mima was a main trading center for the region's most important cash crop, indigo, used to dye cloth, and the area continues to be known for it.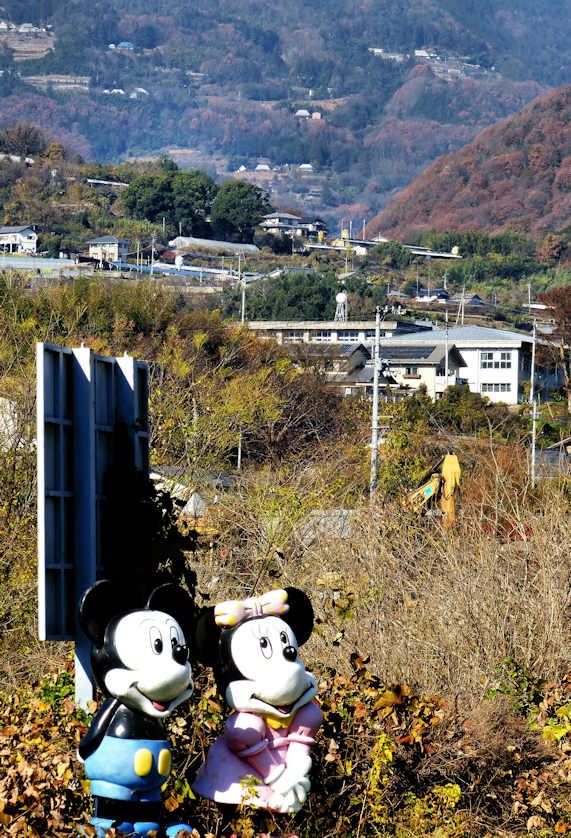 Away from the Yoshino River valley, most of Mima is small villages clinging to steep mountainsides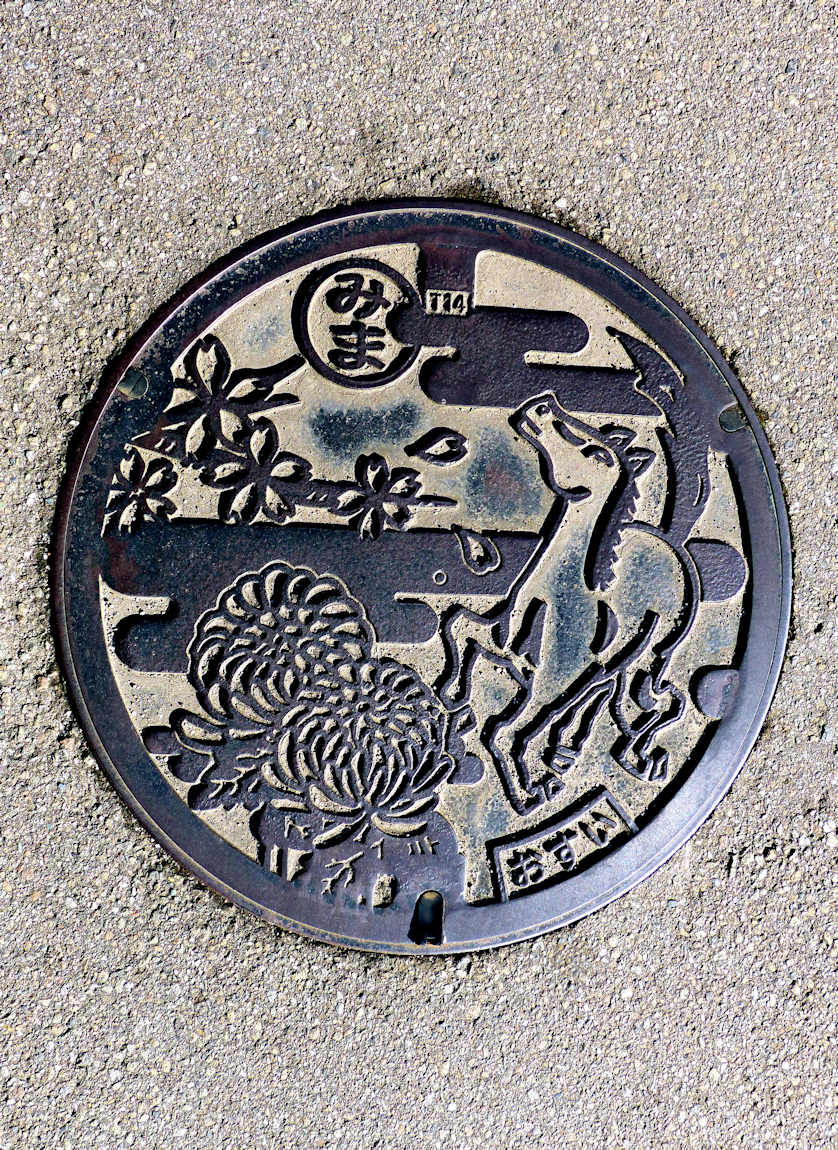 In ancient times the area around Mima was famous for raising horses
Wakimachi
In the center of the Mima area, on the banks of the Yoshino River is Wakimachi, a merchant town with a main street lined with historic buildings. Many of the buildings, homes, storehouses and shops, date from the Edo Period and have a rare architectural feature called udatsu which has led to it being classed as one of the top streets in Japan.
Many of the buildings are now home to cafes, gift shops, ryokan etc., but one, the Yoshida House, belonging to a former wealthy indigo merchant family is open to the public.
Right next door is the main Tourist Information Office for the area. Here you can pick up all the information you need, book accommodation and rent bicycles. They do sometimes have an English speaking volunteer available so with advance notice you can arrange a tour in English.
Mima City Tourism Resource Center
53 Oaza, Wakimachi, Mima, Tokushima 779-3610
Tel 0883 53 0960
Open daily from 9am to 5pm
Anrakuji Temple's impressive main gate in Teramachi, Mima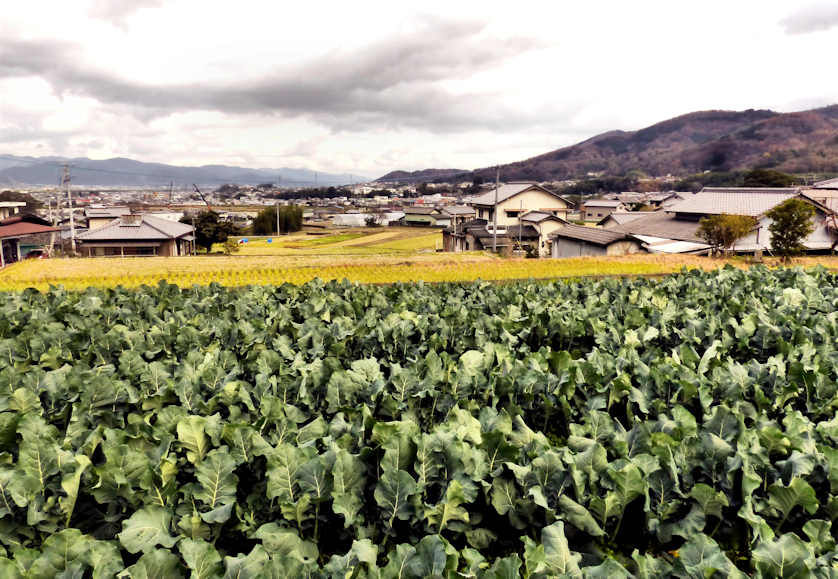 Mima City in Tokushima is primarily an area of agricultural, mountain villages
At one end of the town is the Wakimachi Theater, built in the early 20th century and featured in a popular movie, it is now open for tourists.
A little further out of town is the Former Nagaoka House, a fine example of a traditional mountain farmhouse from the 18th century.
Teramachi & Anrakuji Temple
About 8km further west from Wakimachi is Teramachi, (Temple Town), and here are collected together numerous temples set among the narrow alleys and lanes of a riverside village.
The most distinctive of the temples is Anrakuji, not to be confused by the more famous temple with the same name a little further down the valley that is the 6th temple on the famous Shikoku 88 Temple Pilgrimage.
Mima's Anrakuji has an imposing vermilion torii gate and is the oldest True Pure Land sect temple on Shikoku. As well as the gate, one of the biggest in the prefecture, the temple is also known for its performances of Noh and Kyogen on a traditional Noh stage.
Among the other temples in the immediate vicinity is Gansho Temple which has the oldest dry stone garden in Shikoku. Not far away is the Aoiki Residence, a 100 year old home of a wealthy family that now houses numerous cultural events. The Teramachi area is about 3km from Sadamitsu Station, but would be a nice cycle ride from Wakimachi 8 kilometers down the valley.
Anraku-ji Temple
11-Miyanishi, Mimacho
Mima-shi
Tokushima 771-2105
Tel: 0883 63 2015
Mount Tsurugi
Mount Tsurugi is not a well known mountain, but is the second highest in all of western Japan. Surrounded by mountains only slightly lower, it is a great place for hiking and camping.
Mount Tsurugi is about 50km from the train stations along the river so access is best by hire car. Below the summit is a small settlement with minshuku, a museum, shrine and temple plus a chair lift that operates in good weather from April to November.
After a 15 minute journey, from the top of the chairlift at 1,750 meters it's still an hour's walk to the summit at 1,955 meters and expansive views over Shikoku and even as far as the Inland Sea, weather permitting of course.
At the top chairlift station is a large camp-ground and there are several mountain huts in the surrounding hills. Currently there are three companies offering paragliding for beginners and the more experienced.
On the lower slopes on one of the two roads that lead up the mountain is a small folklore museum and a 400 year old Edo Period thatched house, the Miki House.
Kenzankanko Center (Tourist Information, chairlift, restaurant)
2805 Higashiyasugeoi
Miyoshi-shi
Tokushima 778-0201
Tel: 0883 67 5216
Festivals of various kinds are held throughout the year, though nine are particularly famous. Best to enquire at the Tourist Office in case any coincide with your visit.
Primarily an agricultural area, local products include several fruits: yuzu, Hassaku oranges, grapes and some blueberries. Indigo is still grown here.
In the Udatsu street are a couple of shops still selling locally made Japanese paper umbrellas and a shop selling puppets made from bamboo. Perhaps the most unusual local product is Cymbidium, a species of orchids. Most Cymbidium around the world originated here and numerous products made from them can be bought.
There is a full range of lodgings and accommodation available around Mima including hotels, hot spring resorts, business hotels, ryokan, minshuku, rental cabins, mountain huts and camp-grounds.
Some places that can be booked online include Aburayamimakan, Nodokeya Guesthouse and a farm stay at Farmers House Yuzunosato Izumi.
Access - Getting to Mima
Mima has three stations on the JR Tokushima Line: Anabuki, Oshima and Sadamitsu. Anabuki Station is 40 minutes by Limited Express from Tokushima Station (1,370 yen) or an hour or 70 minutes by local train (850 yen). Mima also is 105 minutes from Takamatsu and 2 hours 20 minutes from Okayama. The nearest airport is Tokushima.
The Japan Rail Pass is valid on JR lines.
Book Hotel Accommodation in Shikoku Japan
Mima City (美馬市) is an historic and picturesque town in Tokushima Prefecture on Shikoku. Mima City is famous for a street of preserved udatsu style houses and its indigo production.
All the themes of the city