Naruto Guide
Naruto Tokushima Prefecture, Shikoku 鳴門
Matt Baxter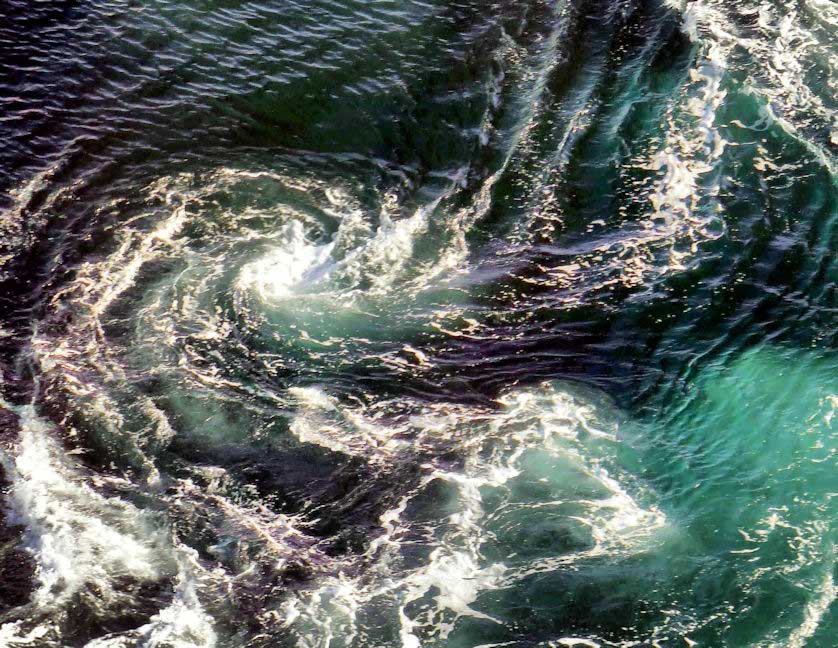 Naruto Whirlpools, Tokushima Prefecture, Shikoku
Naruto is a small city in Tokushima Prefecture in east Shikoku. While the name may remind people of the smash hit comic of the same name, the place of Naruto is best known across Japan for the Naruto Whirlpools.
With a low population of 61,522, tourism has done a lot to improve the lives of locals and is well organised, plus tourist spots are easy to access.
Naruto also hosts professional baseball team Tokushima Indigo Socks, as well as soccer team Tokushima Vortis.
Naruto is also on the 88 temples Shikoku Pilgrimage, with two temples called Ryozenji and Gokurakuji, temples one and two on the famous circuit. All these sites can seem spread out, so allowing more than one day is advised to see it all. Naruto is often a good side-trip from Tokushima city or a stop off point if heading around the island on a train pass.
The Naruto Whirlpools are located below Onaruto Bridge, caused by the tidal waves between the Seto Island Sea and the Pacific Ocean passing over narrow, undersea ridges, causing strong currents and some deep whirlpools up to 20m in diameter. Boats for tourists circle around these roaring whirlpools, and get pretty close to the action. The whirlpools are at their peak at the new or full moon.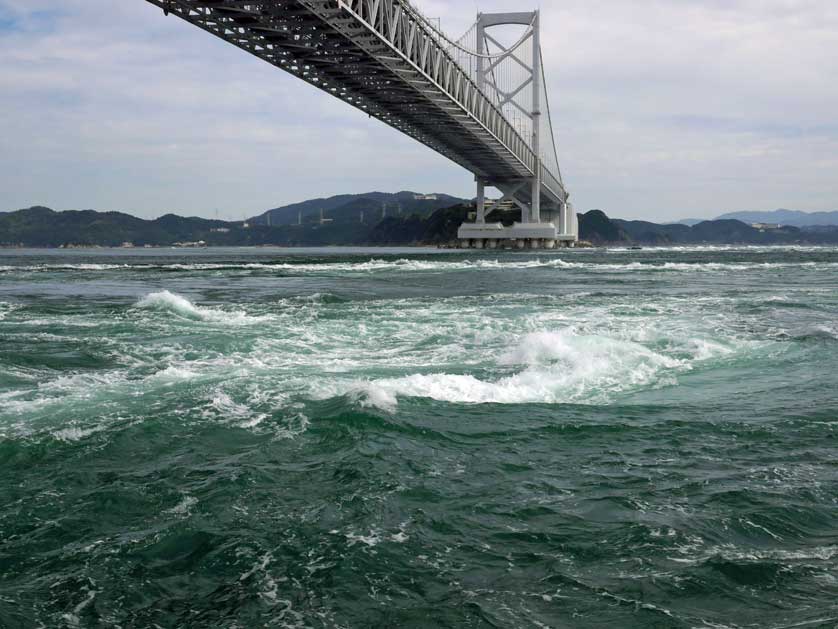 Naruto Whirlpools, Tokushima Prefecture, Shikoku
Whirlpool Boat Tours
There are two boat operators in Naruto: Uzushio Kisen (1500 yen) and Naruto Kanko Kisen (1530 yen). Both offer similar experiences with frequent departures, but Naruto Kanko Kisen has a special boat, the AQUA EDDY (2400 yen), that has an underwater observatory room. Reservations are not required for normal boats, but the AQUA EDDY requires advanced reservations here. Children's tickets are half price.
When buying tickets, be sure to ask about tides, as low tides help to make the whirlpools significantly more impressive. There are usually two good times a day to see the whirlpools, so arrive early and ask at the counter, or give the information center a call the day before. The 30-40 minute boat rides get very close to the whirlpools, and will be sure to make some spectacular holiday photos.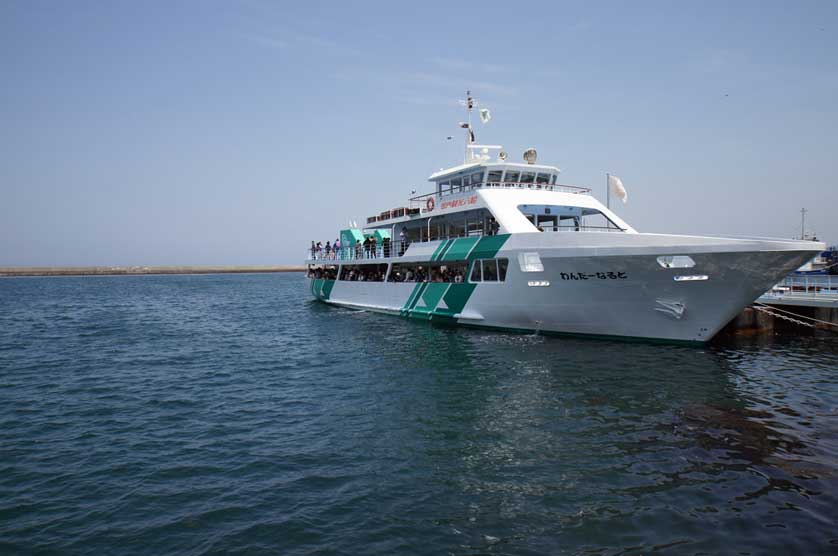 Naruto Tour Boat, Tokushima Prefecture, Shikoku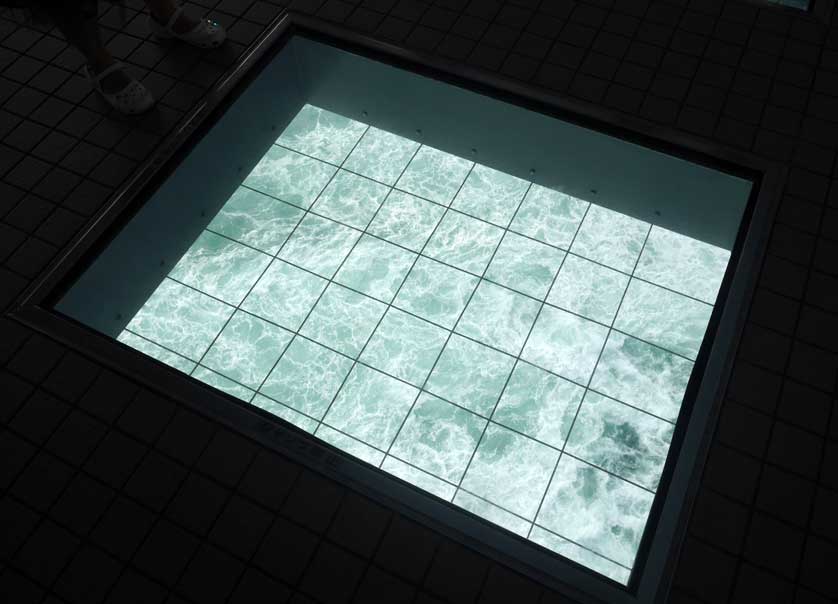 Uzu No Michi at Onaruto Bridge, Tokushima Prefecture, Shikoku
Around Naruto Park
After your boat ride there is plenty to do around the park. Most people head straight to Uzu No Michi at Onaruto Bridge. A footpath running for 450 metres under this huge bridge connecting Shikoku to Honshu, Uzu No Michi features glass panel floors for watching the whirlpools directly below.
At only 45 metres above these whirlpools, this is arguably the best view of the natural phenomenon. There are also displays explaining how whirlpools occur and how the bridge was constructed in such an odd environment. Best visited at low tide.
For other viewpoints of the sea and whirlpools, visitors can walk up to Narutoyama Observatory. High above the sea, it offers superb views of the vast lands of Honshu over the water on a clear day. Eska Hill Naruto also offers great views. Visitors get on one of Japan's longest elevators (68 metres) and head up for a panorama view from a special observatory. It also sells its landmark soft ice cream, which is combined with crispy pieces to create quite a unique taste.
Otsuka Museum of Art, possibly the most renowned art museum in Japan, cost businessman Masahito Otsuka, of Pocari Sweat fame, over $400m to build. The Otsuka Museum of Art has a vast collection of artwork, including over 1,000 accurate replicas of everything from western paintings to murals. This includes reproductions of the entire halls of the Sistine Chapel and the Scrovegni Chapel. It also has a rather cute robot named 'Mr Art', who can guide visitors around the galleries and provides a little information about the various pieces.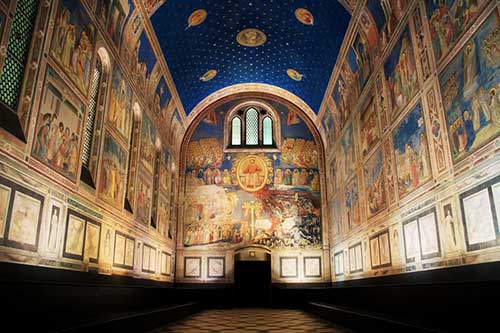 Otsuka Museum of Art, Naruto, Tokushima Prefecture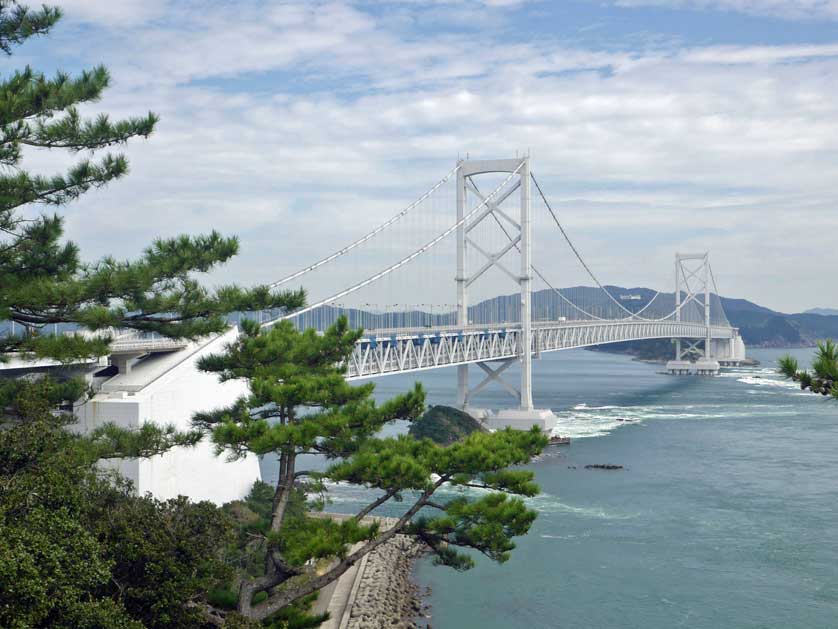 View from Narutoyama Observatory, Naruto, Tokushima, Tokushima Prefecture, Shikoku
Central Naruto
If you still have time in Naruto after seeing the whirlpools head back into the city. The main site here is the Naruto German House. Built during the First World War when Japan seized some of Germany's Asian territories, it held German prisoners of war.
Called Bando Camp, the prisoners were allowed a surprising amount of freedom, able to work within and join Japanese communities around the camp. Creating a deep connection between Japanese and German people, the city was eventually given a sister relationship with Luneburg in Germany and the Naruto German House was built as a museum about the prisoners.
Those interested in the 88 temples Shikoku Pilgrimage should start at Ryozenji Temple. Founded in the 8th century by the monk Gyoki, it's often the place where the devoted start the pilgrimage, dressed in white robes and woven hats. Next on the route is Gokurakuji Temple, just to the west. Built in the Kamakura Period of Japan's history, it features a carved statue of Amida, a National Cultural Treasure. People come here to pray for long lives.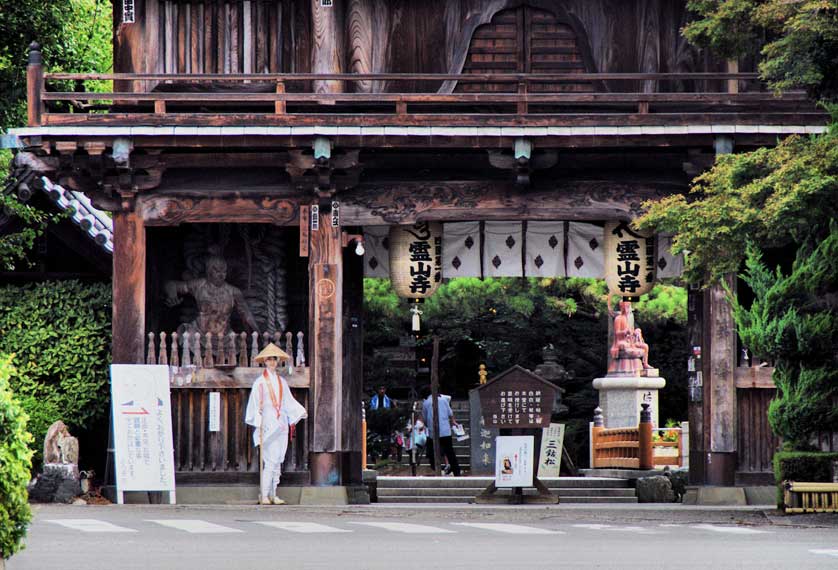 Main gate to Ryozenji Temple, Naruto, Tokushima Prefecture, Shikoku
Naruto Accommodation
Nearby Tokushima has a host of hotels for all kinds of budgets. Naruto Kaigetsu is a luxury hotel right next to Onaruto Bridge in the park. Hotel Sunroute in downtown Tokushima is a more budget option, and right next to the station. A little further away is Hotel Avanti, offering super cheap, small rooms, so great for budget travelers.
See here for a full listing of hotels in Tokushima.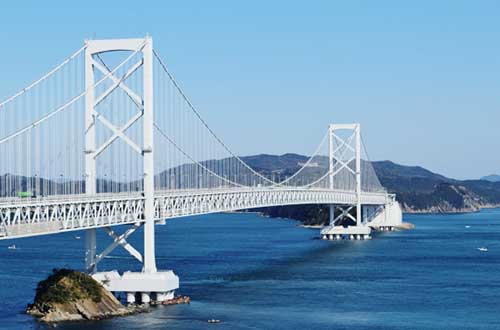 Onaruto Bridge, Tokushima Prefecture, Shikoku
Naruto Festivals
Tokushima's famous Awa Odori (Awa Dance Festival) also makes an appearance in Naruto. In Naruto every August 9th, 10th and 11th, this is part of Japan's most famous summer dance festival.
Spectators just need to get there early to get a good spot on the streets, as the dancers form groups (Ren) wearing traditional woven hats and dance uniforms. The large groups performing synchronized dances creates a distinctive and very energetic feeling.
There is also the Naruto Noryo Hanabi, a fireworks display on the Mayu River in the town on August 7th every year. Lasting over an hour, spectators can see a variety of expectably huge Japanese fireworks, viewable from different points along the river or from around Onaruto Bridge. Traditional Japanese food and drink stalls also help to create a great atmosphere.
Tourist Information Center
There are a couple of Tourist Information Centers in Naruto.
Naruto Tourist Association
31-36 Higashihama, Minamihama, Muya-cho
Naruto-shi, Tokushima
Tel: 088 684 1731 or at the office at the entrance to Uzu No Michi.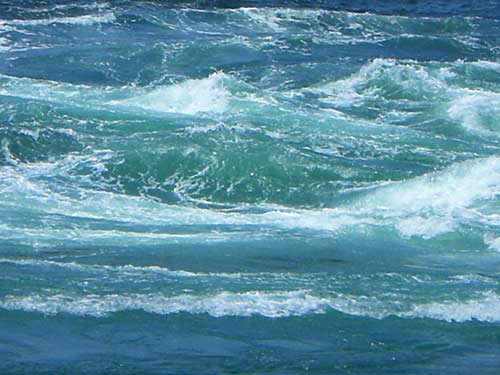 Naruto Whirlpools, Tokushima Prefecture, Shikoku
Access - Getting To Naruto
Air
There are connections to Tokyo, Osaka, Kagoshima and other destinations from Tokushima Airport. Tokushima Airport is about 15km from the city center and frequent shuttle buses are available to both downtown Tokushima and Naruto.
Train
From Tokushima station, there are a few services every hour to Naruto (transfer will be needed at Ikenotani for Limited Express trains). Journey time is about 30 minutes on the Naruto Line.
From Okayama Station in Okayama, which connects to the shinkansen network, with bullet trains coming from Tokyo, Yokohama, Nagoya, Kyoto and Osaka to the east and Fukuoka, Yamaguchi and Hiroshima to the west, take a JR Marine Liner 53 minutes to Takamatsu and then transfer to a Ltd Express Uzushio to Ikenotani (1 hour). Change here for the Naruto Line to Naruto (20 minutes).
Bus
Highway buses do not usually stop at Naruto, so most bus riders first make their way to Tokushima, then take the train from there. There are daily buses to Tokushima via Awaji Island, including night services to/from Tokyo with JR Bus (11 hours) as well as services to Nagoya and south to Kochi.
Shikoku Map
Naruto in Tokushima in the north east corner of Shikoku is famous for its whirlpools that can be viewed by boat or from the Onaruto Bridge.
All the themes of the city