Onjuku
Onjuku is a placid seaside town in Chiba Prefecture renowned for its surfing beach, and an easy train ride from Tokyo.
Onjuku 御宿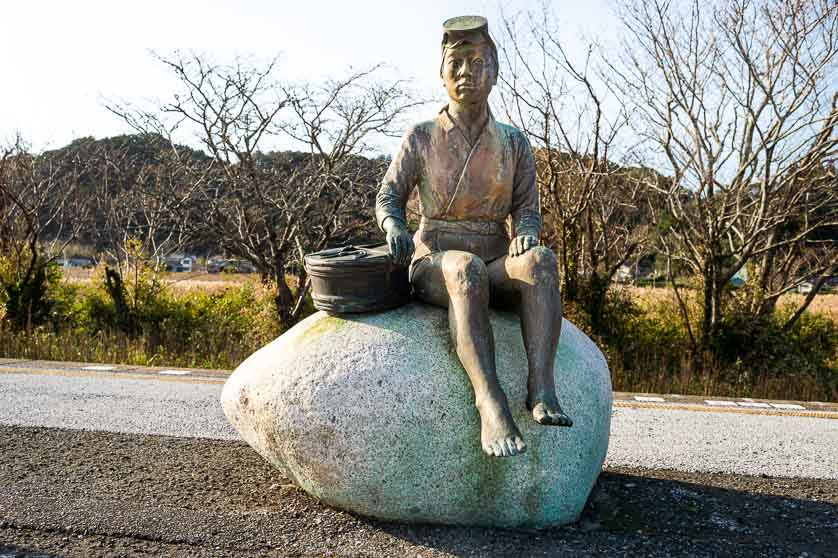 Ama-san female abalone diver statue on the platform of Onjuku Station
Onjuku is a small coastal town on Ajiro Bay on the east coast of Chiba prefecture. Onjuku has a 2-kilometer-long white sand beach, surf, fishing (traditionally abalone and lobster by ama female divers), a year-round mild climate - plus a shipwreck in its history that gives the town an important overseas connection.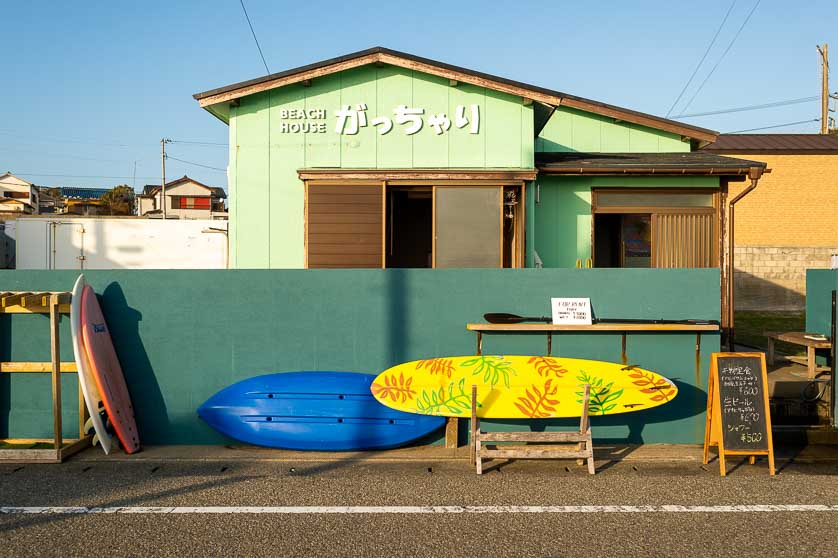 Surf shop by Onjuku beach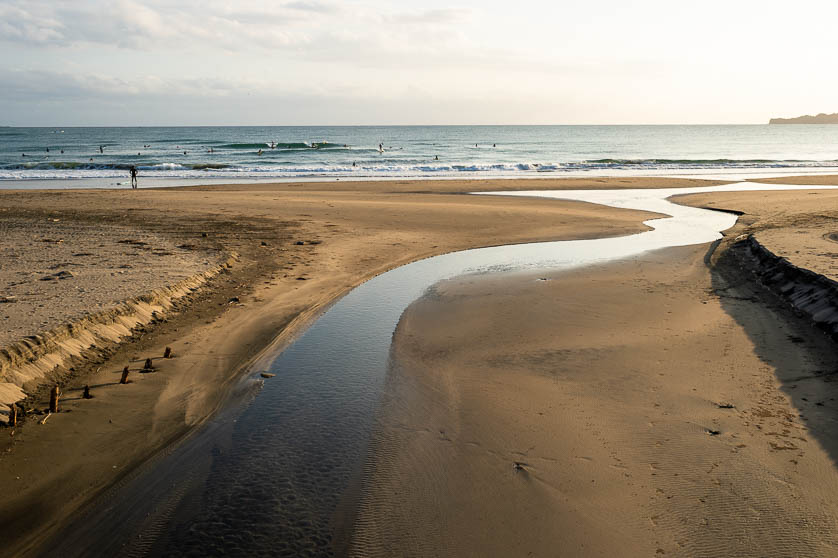 The Shimizu River reaches Ajiro Bay, Onjuku
Onjuku's easy accessibility from Tokyo makes it one of the most popular beach towns in Chiba. For a small town it has a lot of accommodation - most of it reasonably priced. However, Onjuku is also an easy day-trip from the Tokyo area.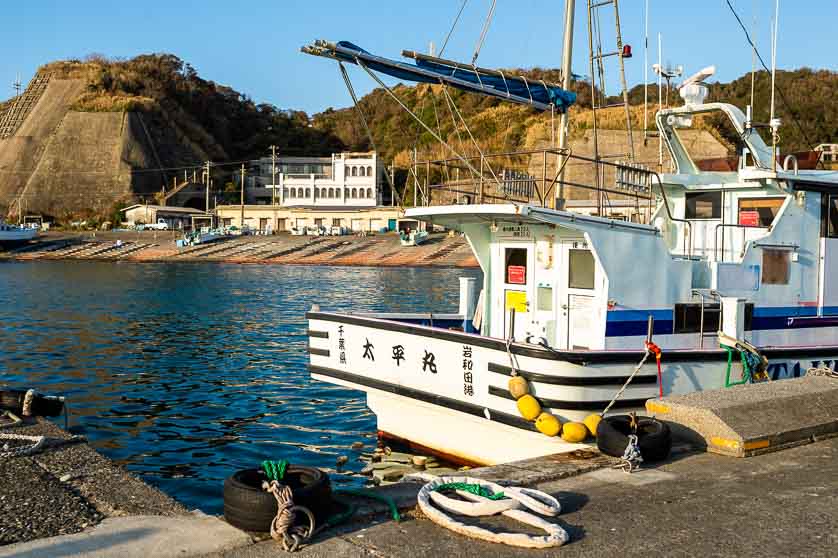 Fishing boat in Iwawada Harbor, Onjuku, Chiba Prefecture
Onjuku is a peaceful, friendly town that is attractive not only for its beach, but for its restful atmosphere, making it a great place to unwind for city dwellers.
Onjuku Sightseeing Information Center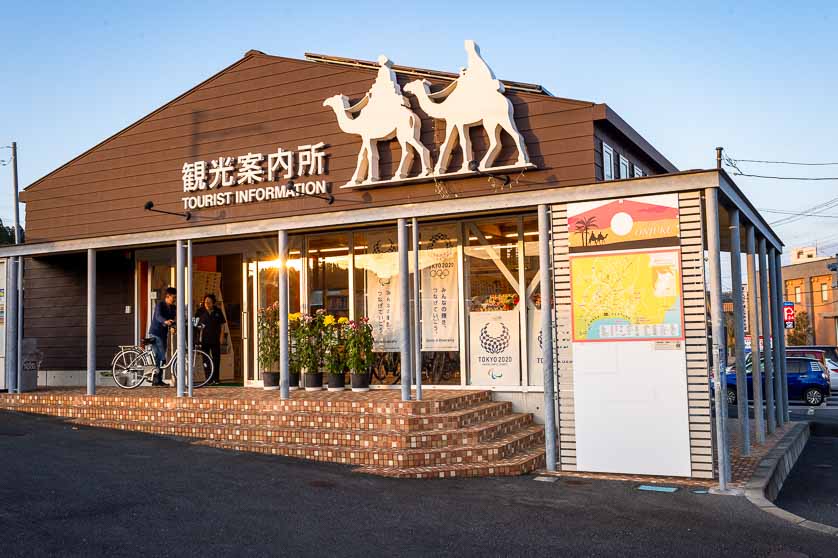 Onjuku Sightseeing Information Center, by Onjuku Station
The Onjuku Sightseeing Information Center is right beside Onjuku Station, and is the first place to go for local sightseeing and tourist information. You can also hire bicycles here, both ordinary and power-assisted. The latter are recommended, as some of the top sights are in the nearby hills.
Beach & Surf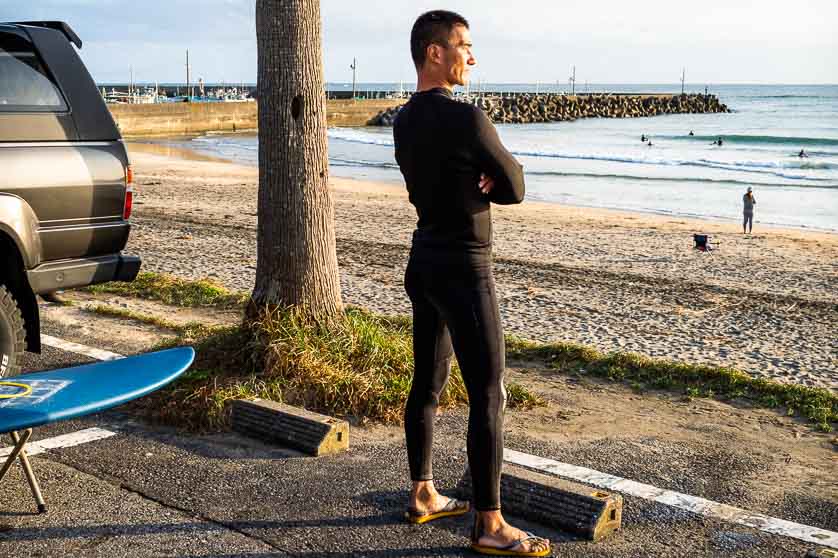 Surfer looking out over Onjuku beach, Ajiro Bay
Onjuku is a summer haven for surfers (longboards, shortboards, paddle boards, funboards), bodysurfers and swimmers. The wide, semi-circular beach has constant swells that always break, and gets a surfing score of about 4/10.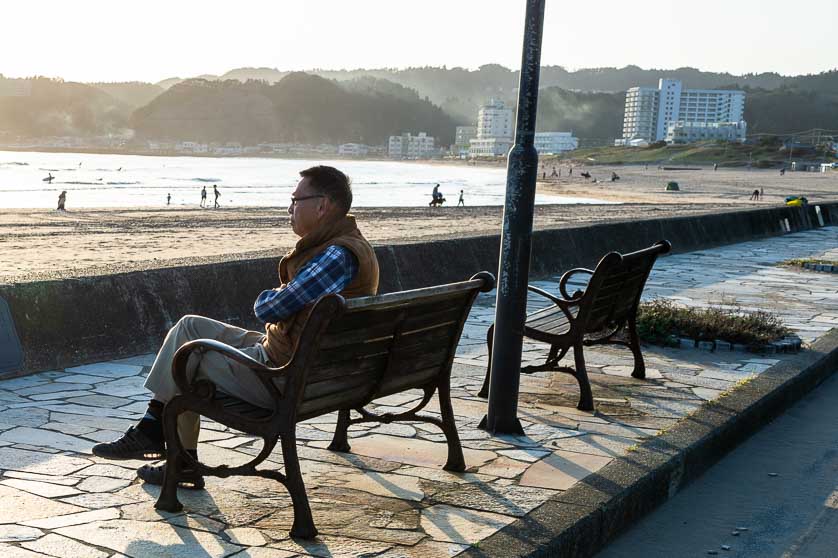 Relaxing on the Onjuku beach promenade
There are plenty of facilities for surfers, both experienced and beginners, from toilets, showers and changing rooms by the beach, to local surfing instructors for hire.
Summer is the busiest time at the beach in Onjuku, especially on national holidays; but, even at peak times, Onjuku beach is generally less crowded than many other beaches further up the coast.
Tsuki no Sabaku ("Moon Desert")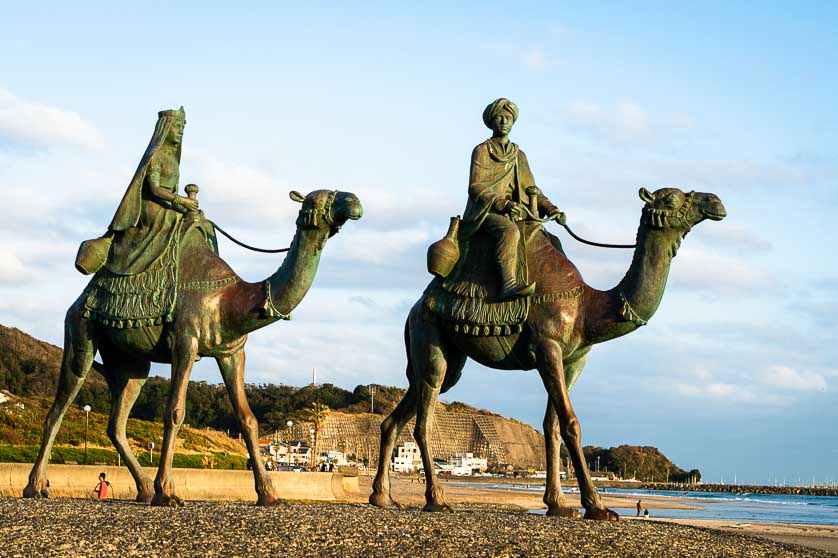 Tsuki no Sabaku ("Moon Desert") camel statues on Onjuku beach
The "Tsuki no Sabaku" ("Moon Desert") sculpture on the beach of a pair of camels bearing riders dates from 1969. It was inspired by a 1923 illustration of the same name by the illustrator, Masao Kato (1897-1977), which had inspired an even more famous song for children.
In his youth, Kato, who had tuberculosis, would spend summer in a sanitorium in Onjuku. It was therefore speculated that Onjuku's sandy beach was the inspiration for "Moon Desert." Near the end of his life, in 1976, he moved to Onjuku, where he died the next year.
Tsuki no Sabaku Kinenkan 月の沙漠記念館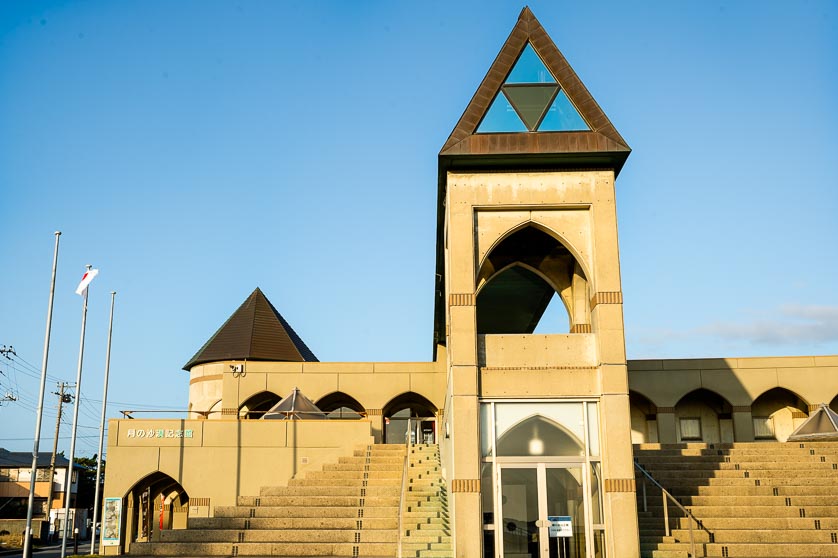 Tsuki no Sabaku Kinenkan
The Tsuki no Sabaku Kinenkan (Moon Desert Commemorative Hall) is a quaintly designed municipal building overlooking the camel statues on the beach. It has a regular exhibit relating to "Tsuki no Sabaku," with information, photographs and realia, as well as other changing exhibitions.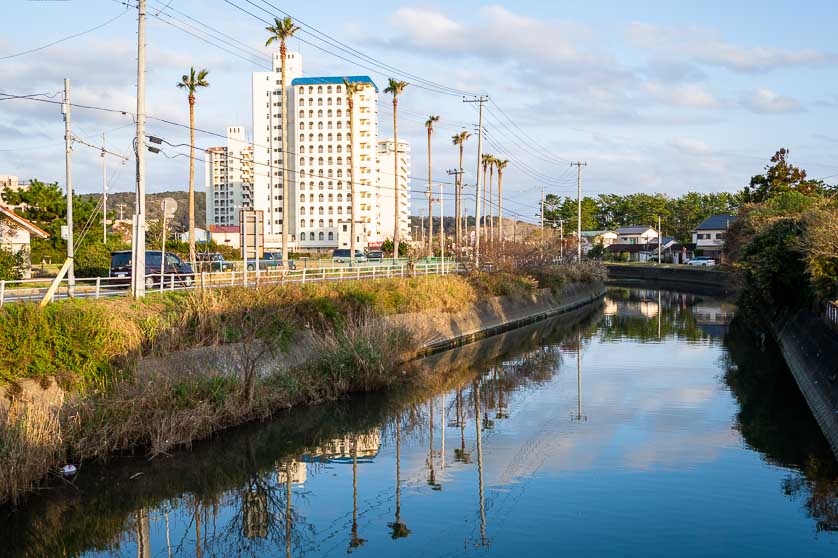 Shimizu River through Onjuku, with hotel in distance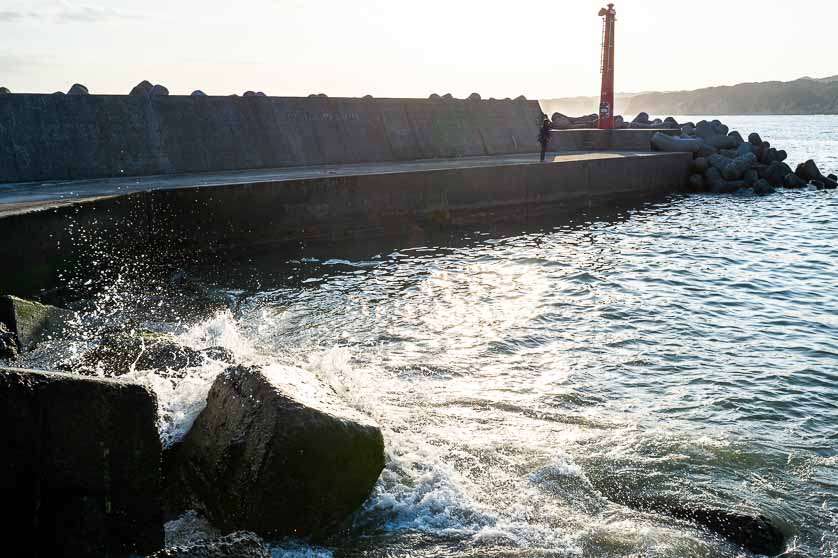 Breakwater, Ajiro Bay, Onjuku, Chiba Prefecture
History
History plays a prominent role in present-day Onjuku, with an ancient shipwreck incident memorialized in the town's small Mexico Memorial Park. This small "park" (more a plaza) on a hill near the eastern edge of the town overlooks Onjuku's Ajiro Bay.
Mexico Memorial Park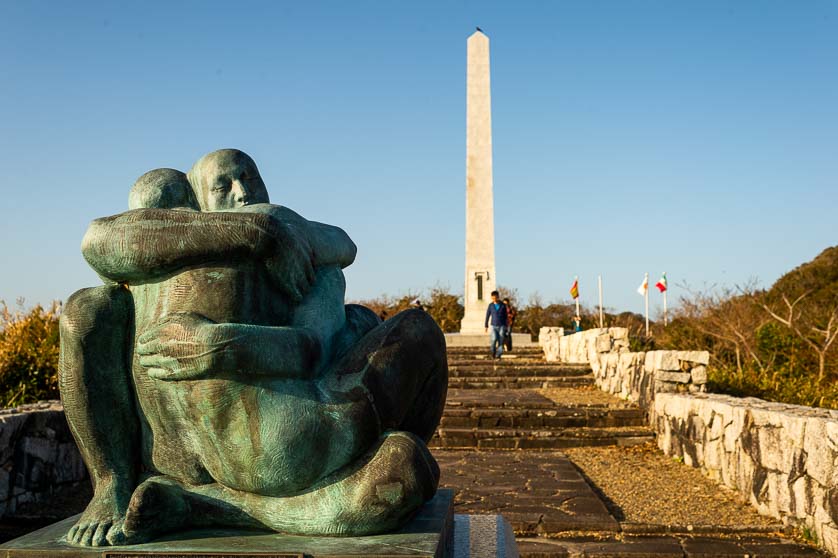 Mexico Memorial Park, with 'El Abrazo' sculpture by Rafael Guerrero Morales
The large obelisk in Mexico Memorial Park, erected in 1928, is commonly called the "Mexico Tower," but actually commemorates friendship between Japan, Mexico and Spain. The story behind it began in 1609 when Don Rodrigo, the governor of the Philippines (colonized by Spain), was on his way back to Mexico. On September 9th, his ship was wrecked on the Onjuku coast. Nearly all the crew, or 317 people, were saved from the seas by local residents, and kept warm and fed.
Memorial stones at the Don Rodrigo landing point, Iwawada, Onjuku
Just over a kilometer further east of Mexico Memorial Park is the actual Don Rodrigo Landing Point, where he and the rest of the shipwrecked survivors were washed up. It is marked by two side-by-side monuments, one in Spanish, the other in Japanese. From here you can see the small cove where the dramatic event took place.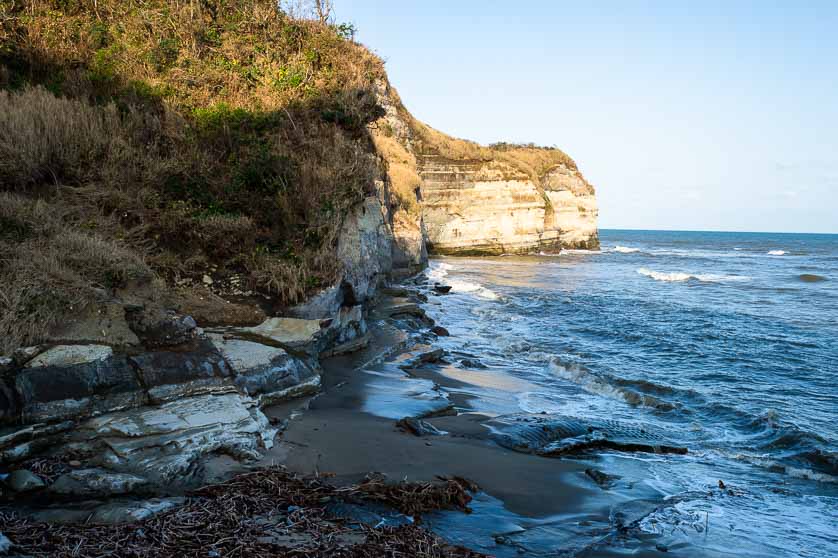 Don Rodrigo Landing Point, Iwawada, Onjuku, Chiba Prefecture
Koura Kaigan
About 500 meters along the coast from the Don Rodrigo Landing Point is a small stretch of pristine beach known as Koura Kaigan. Access is for the adventurous, as it requires taking the trail over the hill that separates Koura Kaigan from the Don Rodrigo Landing Point, involving a tunnel or two.
The beach here is accessible through holes in the cliff face. However, be warned that rockfalls from the cliff happen, so proceed with caution and at your own risk.
Saimyoji Temple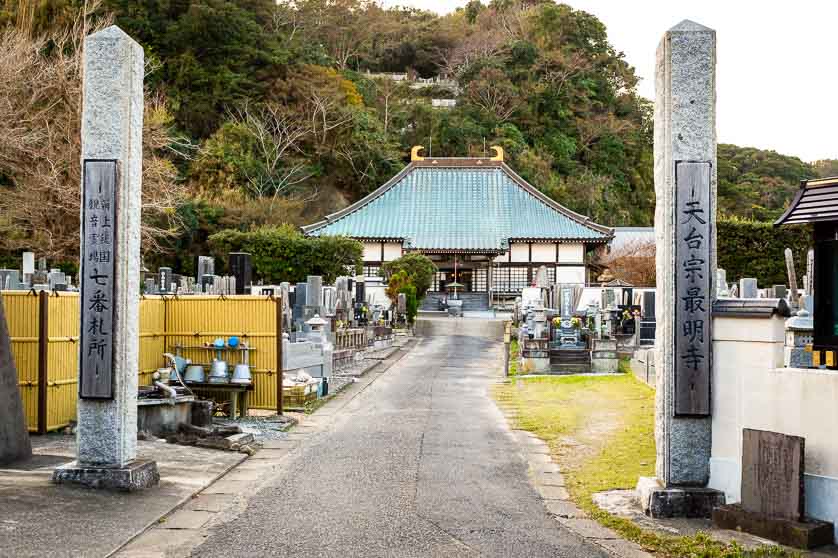 Saimyoji Temple, Onjuku, Chiba prefecture
Saimyoji is a Buddhist temple not far from Onjuku beach, that is said to have been founded in the ninth century. Tokiyori Hojo (1227-1263), the fifth regent of the Kamakura shogunate, is said to have stayed in Saimyoji Temple when doing a tour of the realm. He wrote a poem while staying there which mentioned the "honorable lodgings" that he was enjoying. It is from this phrase that the name "Onjuku" is derived.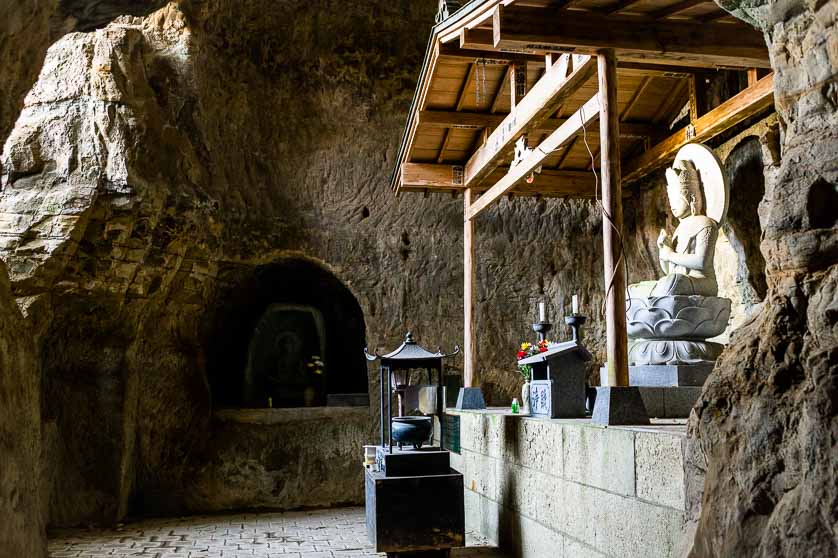 Dainichi-do Cave, Saimyoji Temple, Onjuku
Saimyoji is worth visiting for the Dainichi-do cave at the back of the main building, which houses a Buddha statue.
Map
See a map of Onjuku with sightseeing attractions and accommodation.
Friendly Onjuku
If you are coming from Tokyo, you will be pleasantly surprised by the warmth and friendliness of the people of Onjuku. If you are able to communicate in Japanese, by all means engage a little with a local or two, and maybe get firsthand pointers about what to do and where to go in the town.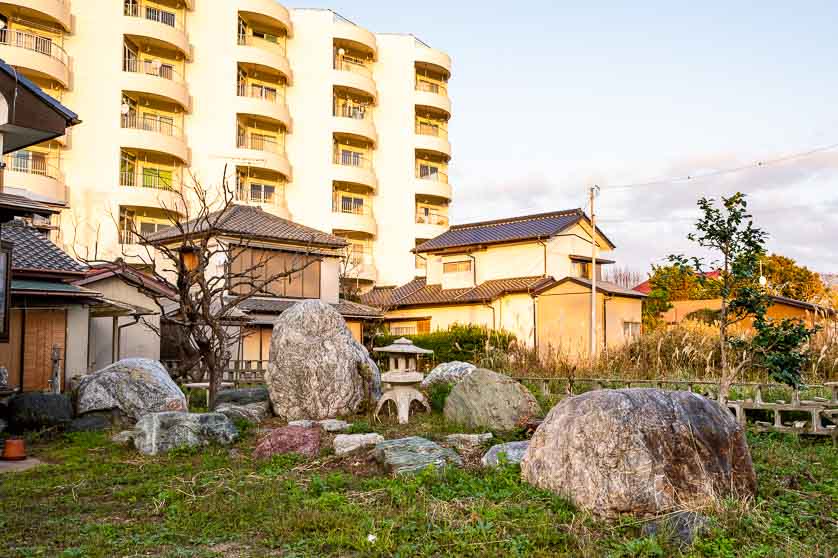 Rock garden in a residential area of Onjuku, Chiba Prefecture
Accommodation
The Flying Sumo Surf Company offers clean, comfortable, spacious studio and apartment accommodation just two minutes' walk from Onjuku beach. Ideal for a relaxed, self-contained stay, with helpful, friendly English-speaking owners (who also offer surfing lessons and rent out marine gear). Close to stores, restaurants and many other convenient facilities, including an onsen hot spring bathhouse right next door. On-site cafe for lunch and dinner.
The Sundance Resort Onjuku is right on the beach front of Onjuku, overlooking Ajiro Bay for guaranteed stunning views from floor-to-ceiling windows, and very quiet for the ultimate in relaxation. Breakfast and meals are provided here (although with no vegetarian options), as are free bicycles for guests' use. There are DVD players in the rooms with free DVD rental at the front desk. Spacious enough rooms in a comfortable, if somewhat aged, facility. No English spoken.
Access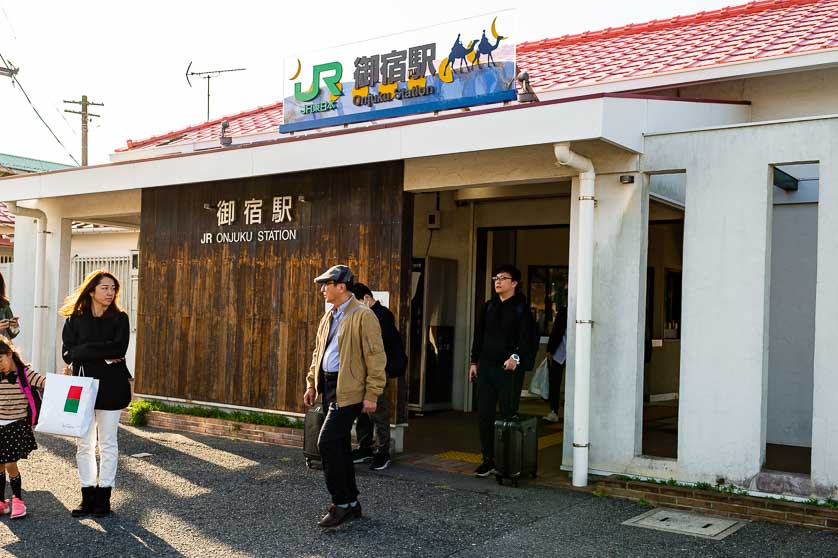 Onjuku Station, Chiba Prefecture
Train
Onjuku is a train ride of about one hour and a half from Tokyo Station on a Wakashio (わかしお) Limited Express train, for about 3,700 yen.
A cheaper alternative is a regular Sobu Line or Keiyo Line train to Chiba Station, then change to the Sotobo Line, for a total journey time of about two hours and a half and a total fare of about 2,000 yen.
The above trains are all covered by the Japan Rail Pass.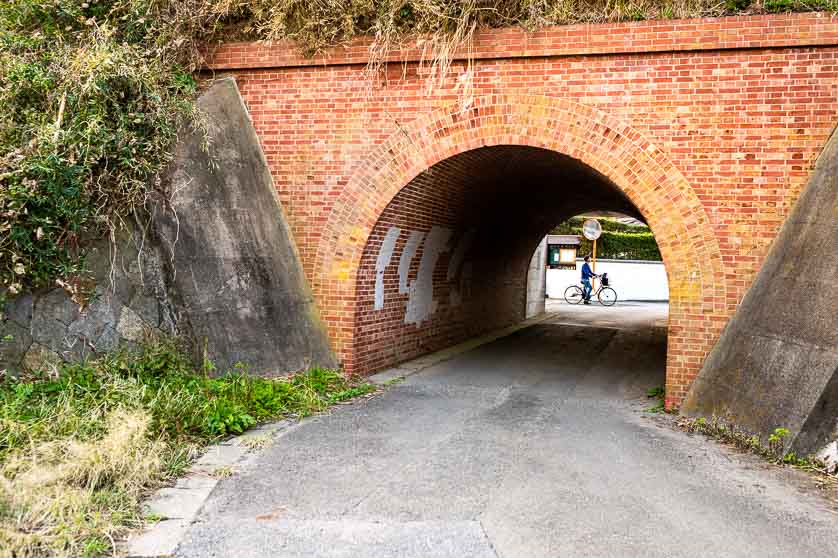 One of the several tunnels in Onjuku, Chiba Prefecture
Car
Onjuku is about an hour and three-quarter drive from Tokyo using the Tokyo Aqua Line.
Book Hotel Accommodation in Chiba Prefecture
All the themes of the city