Minakami Onsen & Takaragawa Onsen
Minakami Onsen & Takaragawa Onsen, Gunma Prefecture 水上温泉 & 宝川温泉
The Minakami Onsen area in the mountains of northern Gunma Prefecture contains a number of different hot spring resorts. These include Takaragawa Onsen, Hoshi Onsen, Sarugakyo Onsen, Tanigawa Onsen and Yubiso. Indeed these onsen in Gunma, along with Kusatsu Onsen, are thought by many onsen connoisseurs to be among the best in Japan.
The Minakami area is a famous escape from Tokyo, and Takaragawa Onsen in particular is well known for its remote, riverside hot springs, most of which are unusually for mixed-sex bathing, with one women-only bath.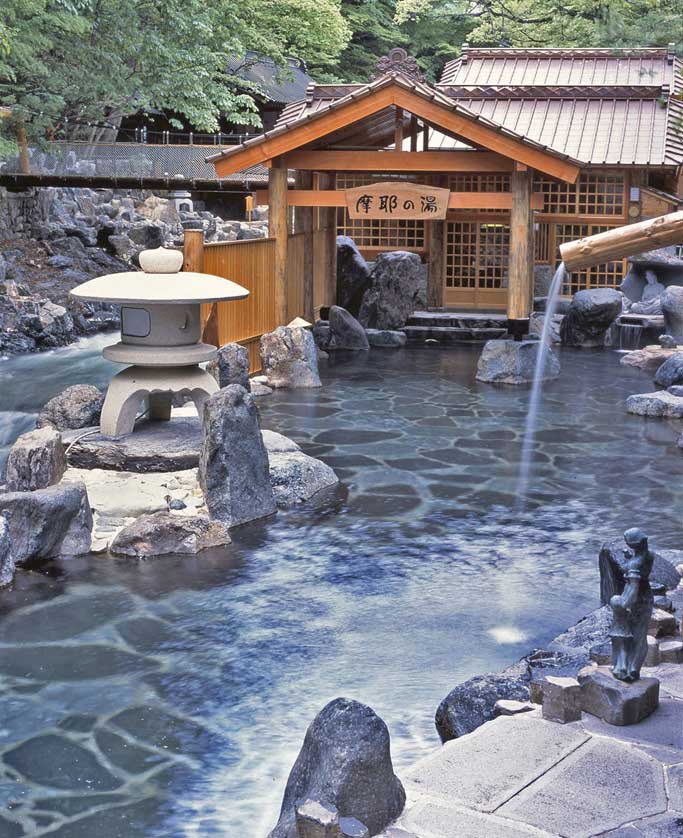 Takaragawa Onsen, Gunma Prefecture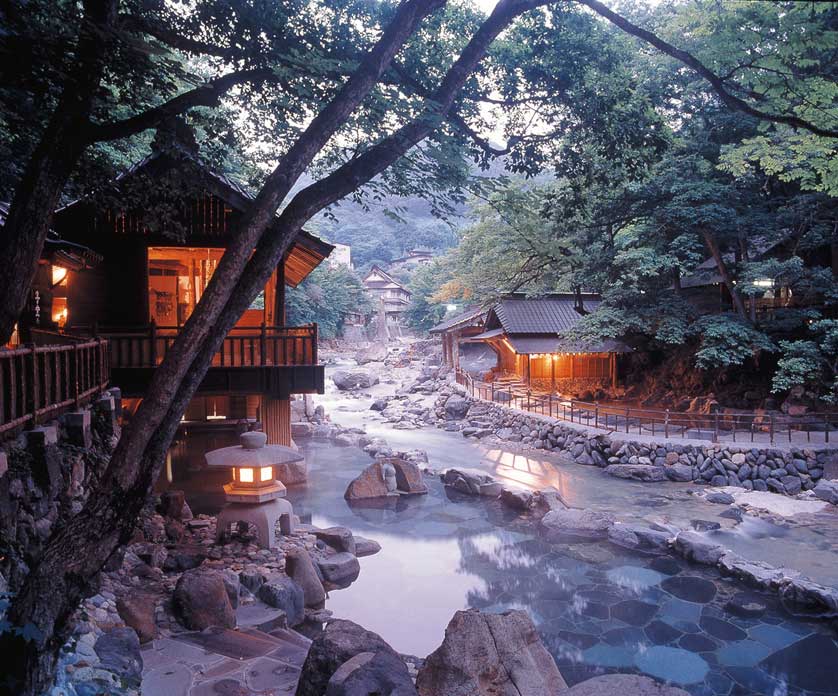 Takaragawa Onsen, Gunma Prefecture
Takaragawa Hot Spring
Takaragawa Onsen is about 30 minutes by road from Minakami town and the Japanese ryokan here Onsenkaku has a superb riverside location with tatami-floored rooms and futon bedding. Day visitors can visit the slate-bottomed hot spring baths for a fee of 1,500 yen. The onsen are mixed gender with one female-only pool.
Takaragawa Onsen is close to the following ski resorts: Hodaigi Ski Resort, Minakami Kogen Fujiwara Ski Resort and Okutone Snow Park.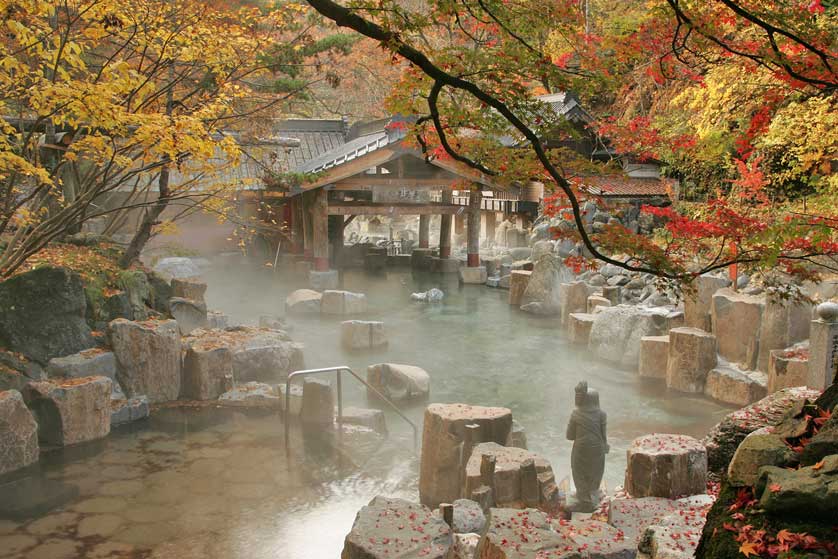 Takaragawa Onsen, Gunma Prefecture
View Gunma Prefecture Map Japan in a larger map
Minakami Hot Spring
Minakami Onsen is the point of access for the area's hot springs, skiing, snowshoeing and hiking. The alpine scenery of mountains and lakes is spectacular including Mt. Tanigawadake, Mt. Shibutsu and Mt. Hotaka. Visitors can enjoy canoeing on Lake Okutone and enjoying the views of Lake Fujiwara and Lake Dogen. The Tanigawadake Ropeway takes visitors by gondola to the summit of Tenjin-daira (1,321 meters above sea level) for hiking (June/July-November) and skiing and snowboarding over the winter months at Tanigawadake Tenjindaira resort.
Minakami Tourist Information Center
Tel: +81 278 72 2611
Hours: 9 am-5.15 pm
Minakami Accommodation
Many people tend to stay in ryokan fairly close to Minakami Station on the Jyoetsu Line. Accommodation options within a short drive of Minakami Station include Amanoya Ryokan and Tengunoyu Kimuraen.
North of Minakami town in the White Valley Ski Area are individual, though pricey cottages at Todomatsu Tentodo, Ryokan Tanigawa, with a free shuttle bus to the station, Yado Kanzan and Bettei Senjyuan (free shuttle service).
Recommended ryokan to stay near Kaminoku Station - the station before Minakami - are Hatago Shoya and Tatsumikan.
Naeba Ski Resort has many places to stay including the 2-star Lodge Edmonton, the Annex Kashiwaya, and the pleasant Sunshine Naeba.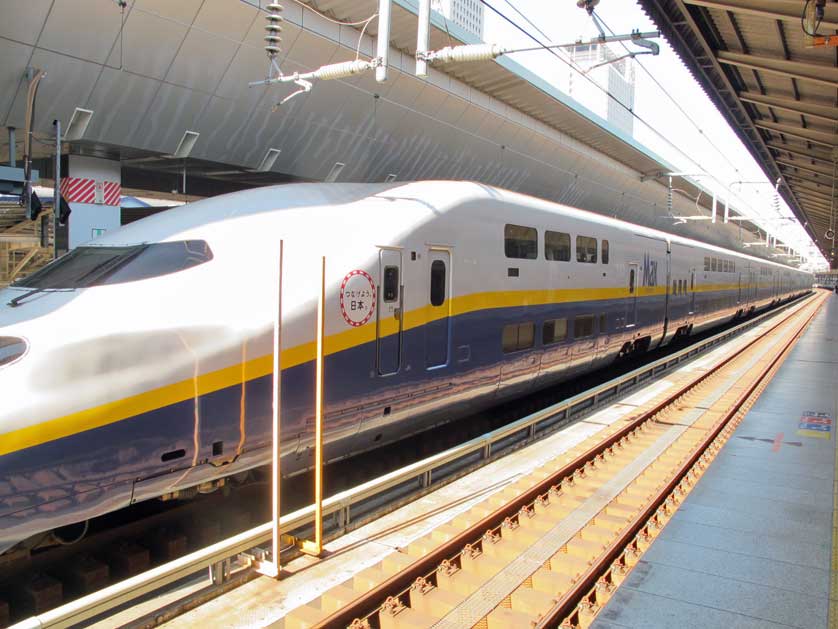 Joetsu shinkansen at Tokyo Station
Access - Getting to Minakami Onsen
From Tokyo Station, take the Joetsu Shinkansen line to Jomo-Kogen (75 minutes). Your JR Rail Pass is valid on this route. From Jomo Kogen there are buses (25 minutes) to Minakami or other destinations in the area.
Cheaper standard trains also operate from Ueno Station on the JR Takasaki Line to Takasaki (2 hours).  At Takasaki change to the Joetsu Line to Minakami (1 hour; total journey price 3,000+ yen). Alternatively, you could take the shinkansen from Ueno or Tokyo stations to Takasaki and then change to the Joetsu Line to Minakami about (2 hours, 10 minutes; 7000+ yen in total)
From Niigata to Jomo Kogen is just over an hour by shinkansen via Echigo-Yuzawa.
From Karuizawa it is around one hour or less by shinkansen to Jomo-Kogen with a change in Takasaki, depending on how long you have to wait in Takasaki.
Getting around Minakami Onsen
Many ryokan in the area offer free shuttle buses to and from the nearest station if you are not considering going too far.
From Minakami Station there are buses to Takaragawa Onsen, Jomo Kogen Station (on the Joetsu Shinkansen) and Mount Tanigawa for the Tanigawadake ropeway (20 minutes to the lower station of the ropeway - Ropeway-eki-mae; hourly buses).
Rental cars can be hired in Takasaki, Jomo-Kogen or Shibukawa.
Minakami Onsen & Takaragawa Onsen: read a guide to the Minakami area of Gunma Prefecture including the onsen resorts of Takaragawa and Yubiso.
All the themes of the city