Okachimachi
Okachimachi is a bustling historical market town in Taito ward, Tokyo, that showcases Tokyo's downtown commercial energy in its hundreds of small retail stores, including food and produce from all over Asia.
Tokyo Area Guide: Okachimachi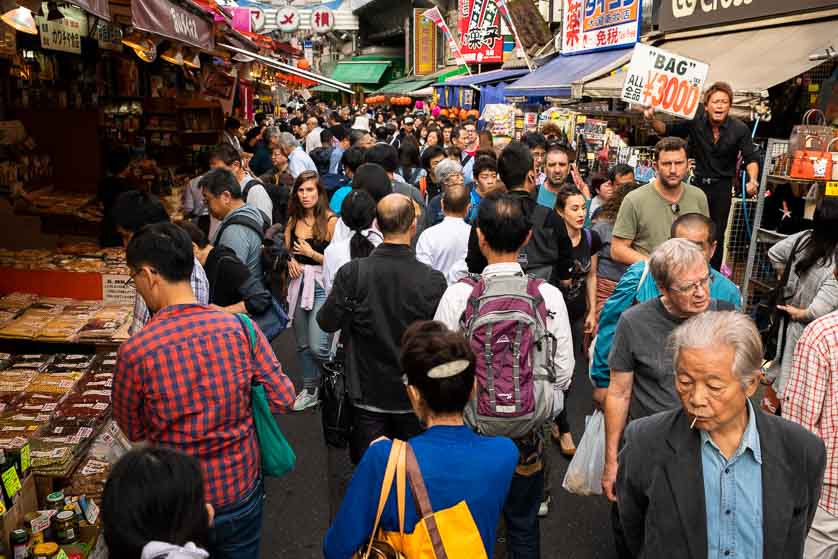 Peak time at Ameyayokocho ("Ameyoko") shopping alley, Okachimachi
Okachimachi in Tokyo's Taito ward is a boisterous, bustling, family-friendly shopping and dining district with a real market vibe. Okachimachi is officially part of the Ueno district of Taito ward, but is defined as the area surrounding Okachimachi Station.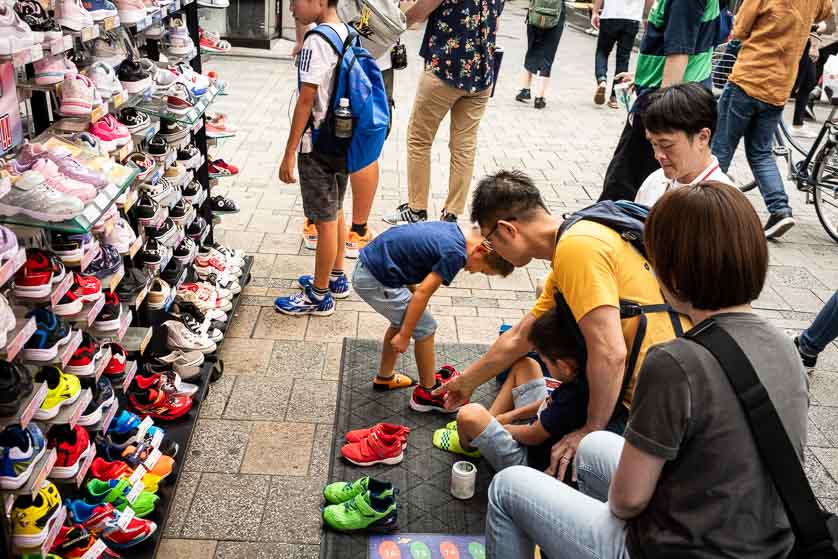 Buying shoes in Okachimachi
Okachimachi has the atmosphere of a flea market, without any pretense of being hip. Okachimachi shopping and dining is legendary in Tokyo for its variety and the bargains to be had. Crowds mill past tables of produce to the constant cries of hawkers. Keepers of little stores chock-a-block with bargain goods beckon.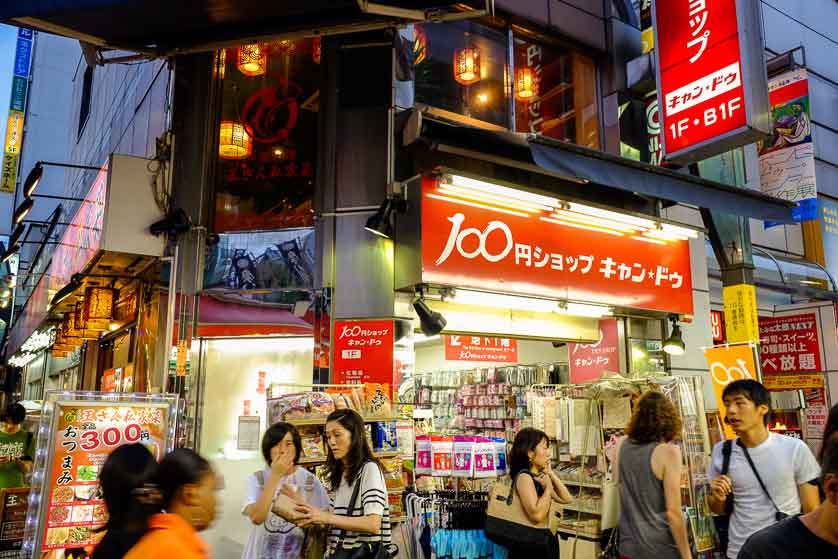 100 yen store in Okachimachi, Ueno, Tokyo
Passersby are cajoled to buy everything from pineapple-on-a-stick, to T-shirts, to fruit, fish, kebabs, handbags and backpacks, sneakers, cheap clothing, and used golfing goods. "1,000 yen for the lot!," "Be in while it lasts!," "This is our rock-bottom best!" ring out lustily over the hubbub.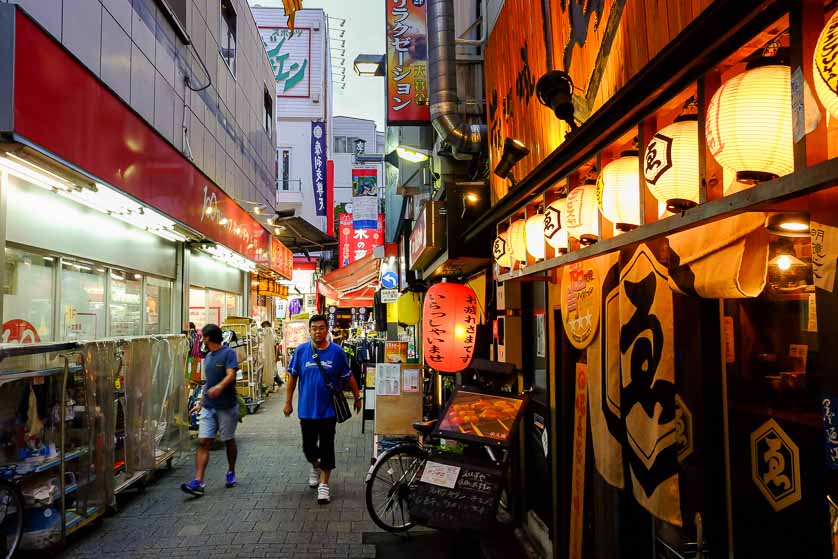 Izakaya pub (right) in an Okachimachi alley, Tokyo
There are dining opportunities aplenty in Okachimachi, with maybe more streets stalls - or at least dining spots that spill out into the street - than anywhere else in Tokyo.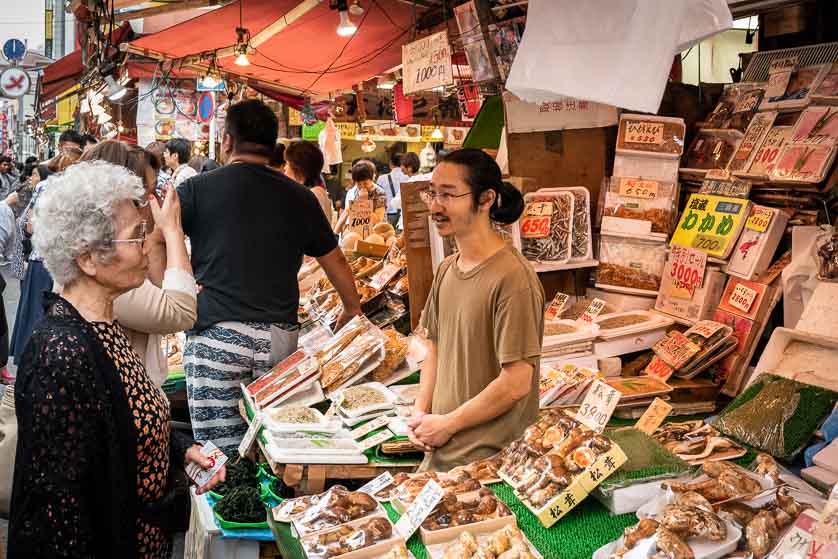 Grocery on Ameyayokocho, in Okachimachi
The crowds amble through here all days of the week, but especially on weekends and Japanese public holidays. A stroll through the streets of Okachimachi will show you a full-on, in-your-face commercial Tokyo atmosphere with something for all tastes and ages.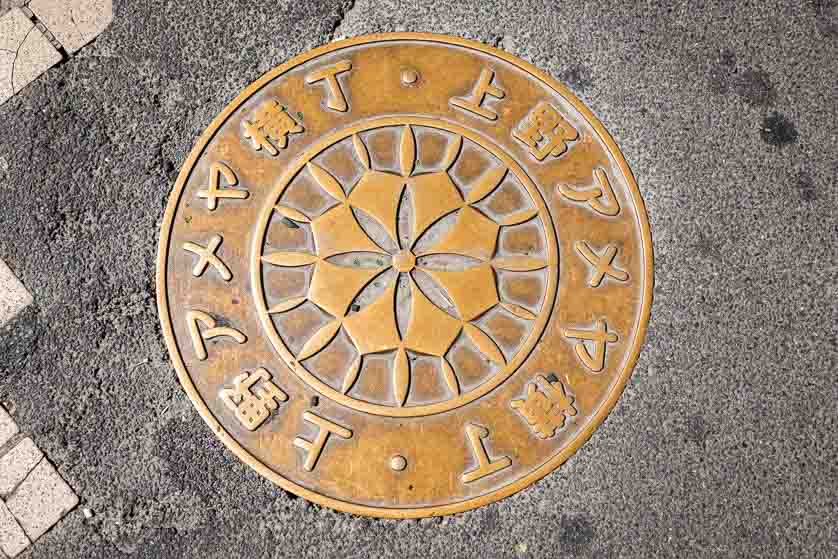 Manhole cover saying "Ueno Ameyayokocho"
Okachimachi History
Okachimachi history can be summed up in three words: lower samurai, jewelry, and black market. These three aspects of the district refer mostly to different periods, but came together to mold Okachimachi's character.
Lower samurai: The area got its name (which only became official in 1872, and was officially discontinued in 1964) from the lower-class samurai who lived here in the Edo period of Japanese history. Not permitted to ride horses, they were known as the "o-kachi," and "machi" simply means "town."
With the modernizing Meiji Restoration, the samurai class disappeared. The cries of today's hawkers on the streets of Okachimachi echo the "Roll up! Roll up!"s of the immediate post-samurai era, when the district was home to mainly comedy, song, and dance halls.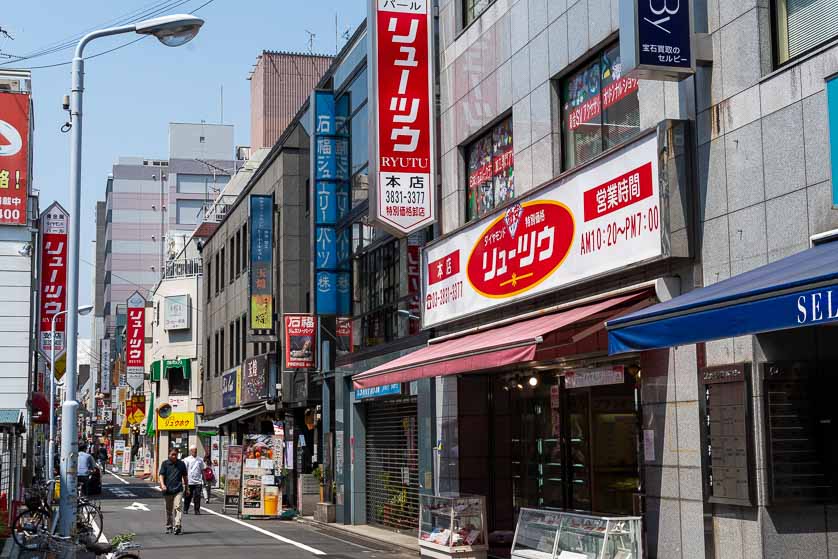 Ruby Street, on east flank of Okachimachi Station, full of jewelry and gem stores
Jewelry: back when the east of old Edo was the center of commerce (much like districts further west in Tokyo, like Marunouchi and Shinjuku, are today), there were red light districts galore here—as well as hundreds of temples, many of which still remain.
Mistresses and temples were both lavished with accessories, precious stones and other luxuries by the wealthy, albeit for very different reasons. Thus the proliferation of jewelers here. Unlike the samurai, the jewelers retain a presence in Okachimachi.
Black market: enterprising GIs in the aftermath of World War 2 turned Okachimachi into a black market, mainly for watches. Local entrepreneurs kept up the momentum, morphing into the watch and jewelry wholesaler associations that dominated Okachimachi—in fact, the whole of Japan's jewelry industry—until the early 1990s. Since then, the business moved principally to retail, but the black market here was the reason why jewelers remained a force to be reckoned with post-WWII.
Read more about Okachimachi history.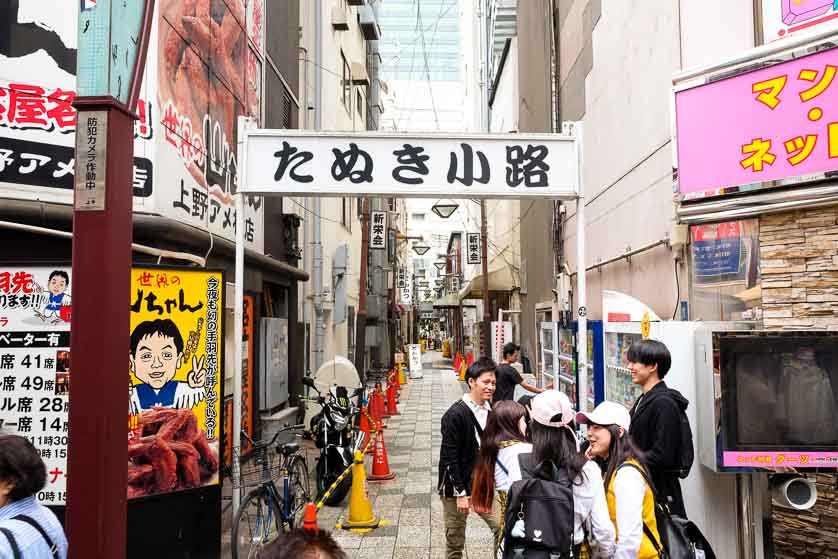 Tanuki (Racoon) Alley, Okachimachi, Taito ward, Tokyo
The Okachimachi Area
Okachimachi is made up of just five streets that run parallel to the approximately 500 meter stretch of elevated railway line that runs between Okachimachi Station in the south to Ueno Station a little north.
West of the Railway Line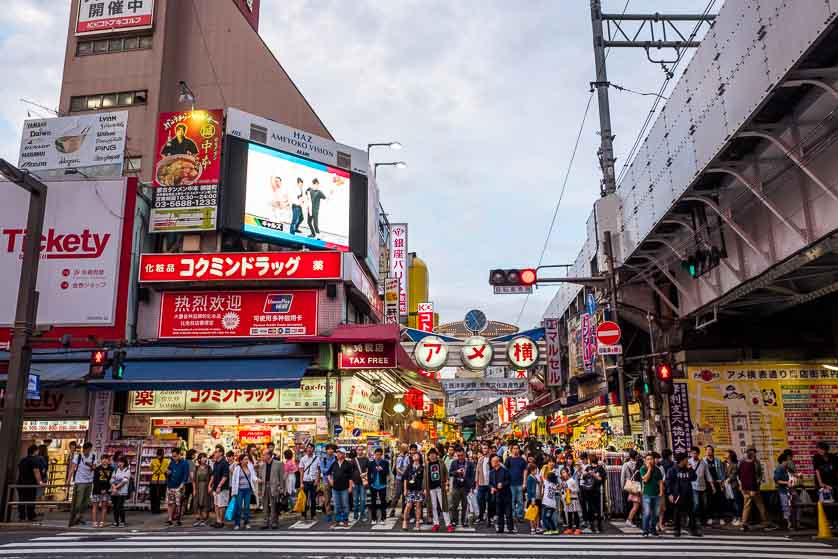 Entrance to Ameyayokocho shopping street, Okachimachi, Tokyo, Japan
Ameyayokocho is the best-known street in Okachimachi, and runs alongside the western edge of the railway line. Affectionately shortened to "Ameyoko," this is where Okachimachi shows its non-stop dynamism, with scores of tiny food stores and snack vendors crammed along its sides, between which the curious, meandering crowd funnels. Read more about Ameyayokocho.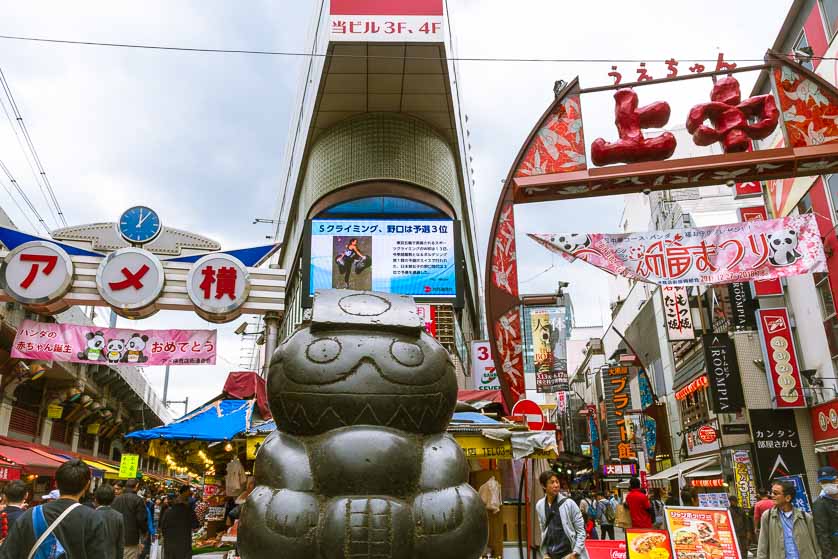 Where Uechun (right) forks from Ameyoko (left), at the northern end of Uechun (nearest Ueno Station)
Ueno Nakadori, or "Uechun," is a street that branches off Ameyayokocho, about a third of the way down it if you're coming from Ueno Station. Uechun is one block west of the railway line. Uechun is a welcome relief for many seeking refuge from the frenetic pace of Ameyoko.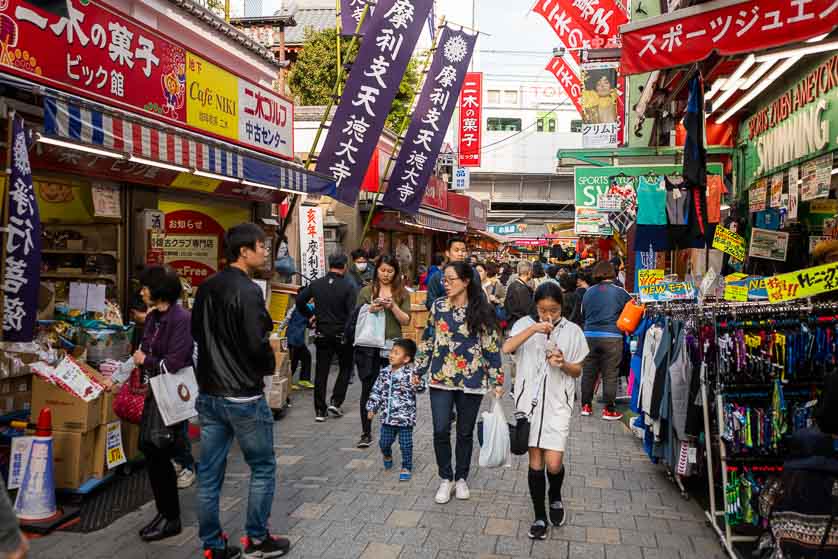 Okachimachi alley between Ameyoko and Uechun
While Uechun, too, offers a multitude of dining opportunities, it also has a larger range of clothing and footwear on offer - often at unbeatable prices. For snacks on Uechun, Karutaya is a traditional Japanese store for manju bean-paste cakes and soft-cream. Read more about Ueno Nakadori Uechun.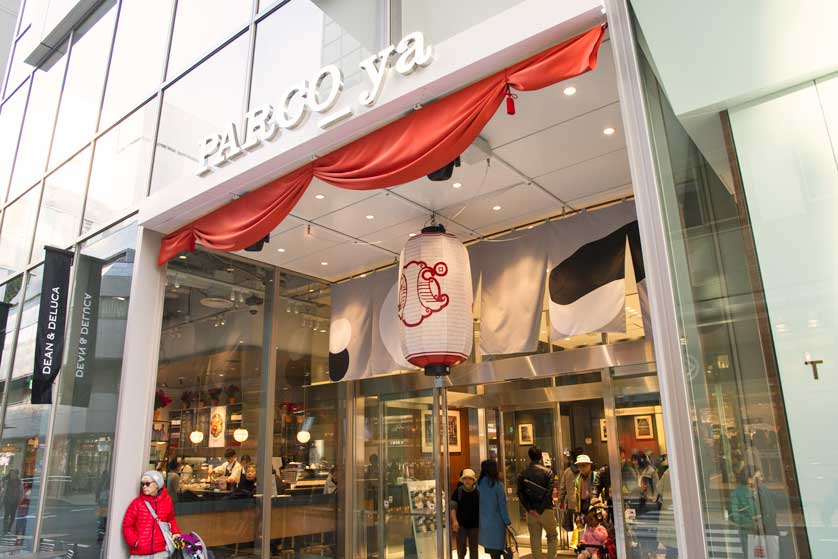 Entrance to Parco_ya Ueno Department Store in Ueno Frontier Tower
Ueno Frontier Tower is a stylish 22-floor commercial building near the North Exit of Okachimachi Station. The first 10 floors are dedicated to shopping and entertainment, and have the Parco_ya Ueno department store, the Toho Cinemas Ueno, and, on the B1 floor, an annex of the adjoining Matsuzakaya Ueno department store.
East of the Railway Line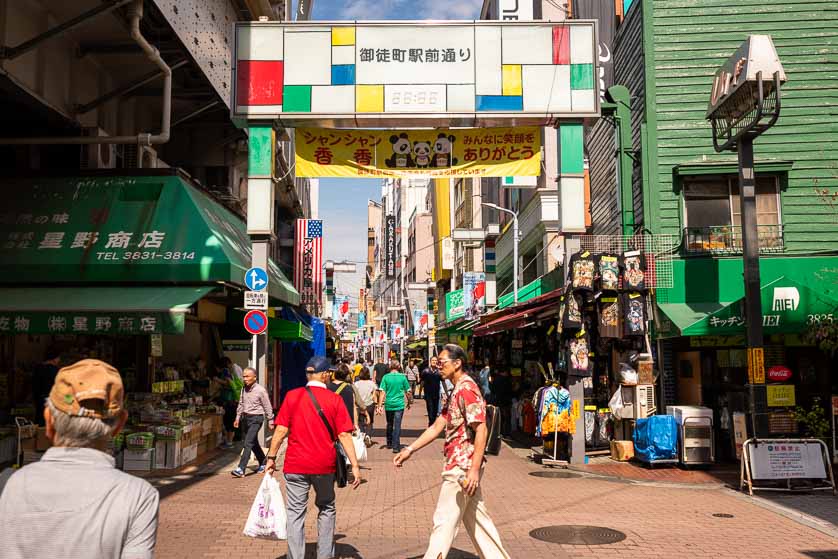 Okachimachi Ekimae-dori Avenue, Taito-ku, Tokyo
Okachimachi Eki-mae-dori (Okachimachi Station Street) hugs the railway line on its east side. However, if you're coming down from Ueno Station, it changes its name at the North Entrance of Okachimachi Station and becomes Sango Street ("Coral Street"). This is because from this point south, an increasing number of jewelry stores enter the mix of restaurants, cafes, izakaya (Japanese-style pubs), shoe stores, discount ticket stores, grocers, massage parlors, discount brand goods stores, drug stores, bath houses, and pachinko parlors.
Okachimachi Chuo-dori (Okachimachi Central Street) is one block east of the railway line. Its ambitious name does not reflect its popularity. Much like Okachimachi Eki-mae-dori (see immediately above), from Ueno Station to Okachimachi Station, it is mainly cafes, restaurants and izakayas, and changes its name to "Ruby Street" when it reaches Okachimachi Station to reflect a greater concentration of jewelry-related establishments, including jewelry pawn shops.
Sapphire Street is two blocks east of the railway line, on the very outskirts of what is considered to be Okachimachi.
Okachimachi Dining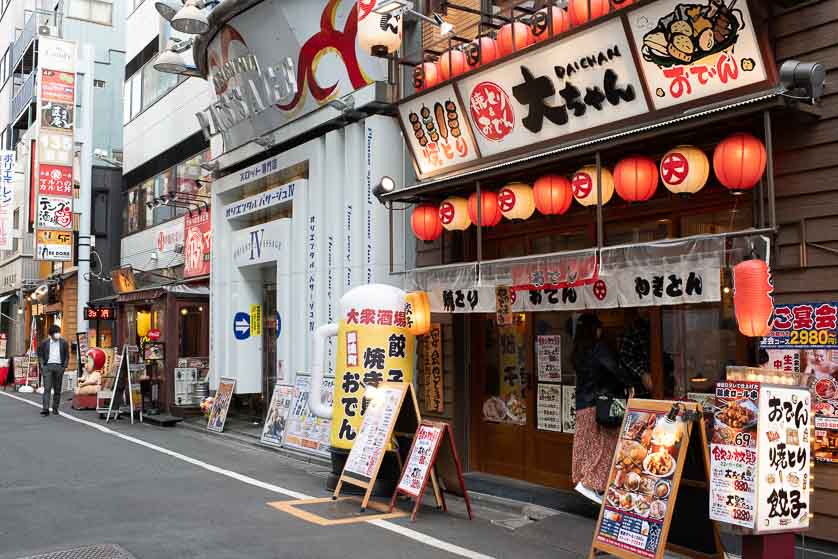 Oden restaurant in Okachimachi, Tokyo
Leaving Okachimachi without trying some of the food would be missing the point. There is a wide range of dining available here, much of it served in Japanese-style dining pubs, or izakaya. There are all the Japanese staple dishes, such as sushi, ramen, tonkatsu, yakitori etc. (read more about what to eat in Japan). There are also ready-to-eat snacks like takoyaki, yakitori (chicken skewers) and pineapple pieces on sticks.
But Okachimachi is characterized by a strong non-Japanese presence, too. A wide variety of non-Japanese cuisines is also available: Korean, Thai, Turkish, Indian, and more.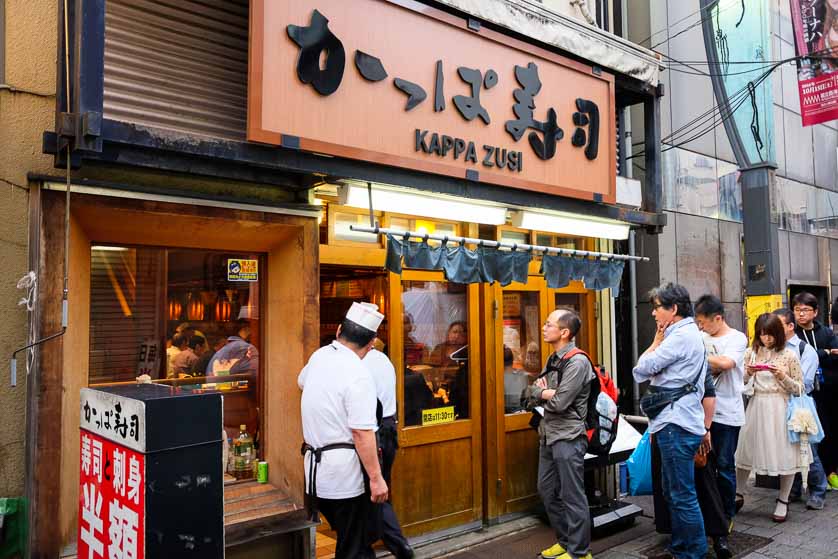 Lining up for sushi in Okachimachi, Taito-ku, Tokyo
For sushi, we recommend the Okachimachi branch of the Magurobito sushi restaurant, two minutes walk from the east side of the North Exit of Okachimachi Station on Okachimachi Eki-mae-dori. Magurobito is a tachikui (stand-and-eat) restaurant with just a single counter, no tables, accommodating only ten people at a time. In other words, you may have to queue. Hours: on weekdays 11:45 a.m. - 3 p.m. for lunch, then 4:30 p.m. - 10 p.m. (last orders 9:15 p.m.) for dinner; on weekends and Japanese public holidays open all day from 11:45 a.m. - 10 p.m. (last orders 9:15 p.m.).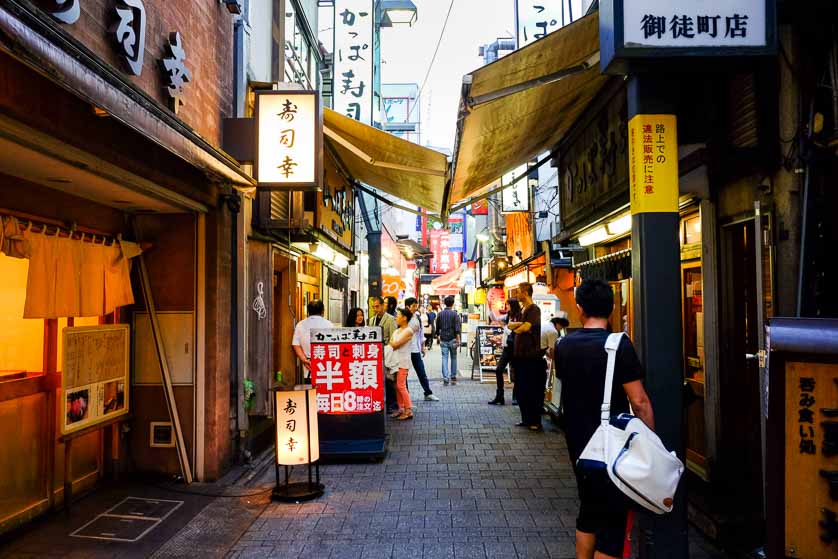 Alley of restaurants, Okachimachi
Kaisen Misakiko is a kaiten-zushi, or conveyor belt sushi, restaurant on Ueno Nakadori Uechun street (i.e., west of the station) that serves great-tasting sushi for a reasonable price. It also has a higher turnover, so may involve less, or no, waiting. Hours: 11 a.m. - 10 p.m. daily.
Vege Herb Saga is a very highly rated vegetarian Indian restaurant a minute's walk east of the South Exit of Okachimachi Station. Hours: open every day 10:30 a.m. - 2:30 p.m. for lunch, then 5 p.m. - 11 p.m. for dinner.
The Okachimachi branch of Mohko Tanmen Nakamoto serves great ramen noodles (as well as tsukemen and donburi), and is less than 200 meters south of the South Exit on the east side of Okachimachi Station. Hours: 11 a.m. - midnight every day.
Around Mohko Tanmen Nakamoto is a cluster of ramen shops and Chinese restaurants, on both the eastern and western sides of the railway line. This area is colloquially known as Okachimachi Ramen Yokocho (Okachimachi Ramen Corner).
For tonkatsu pork cutlets on rice, you can't go wrong with the Okachimachi branch of Tonkatsu Yamabe, which makes a delicous art of this straightforward working person's staple. Located on Okachimachi Eki-mae-dori, two minutes' walk from the eastern North Exit of Okachimachi Station. Hours: 11 a.m. - 3 p.m. for lunch, then 5 p.m. - 9:30 p.m. (last orders 9 p.m.) for dinner, every day.
Okachimachi Confectionery
Okachimachi's busiest street, Ameyayokocho, means "candy sellers alley," so the area's connection with confectionery is a long one, dating from the days when Okachimachi was an entertainment district.
Okachimachi has one of Tokyo's biggest sweet/confectionery emporiums, Niki-no-Kashi. With over 10,000 different kinds of confectionery to choose from, both Japanese and from around the world, Niki-no-Kashi is a veritable sweet department store. Stop by for a there-and-then treat, for a tasty souvenir to take back home, or both.
Niki no Kashi also sells a range of ordinary groceries, has a cafe on the basement floor, and even has a section dealing in used golfing goods.
Marishiten Tokudaiji Temple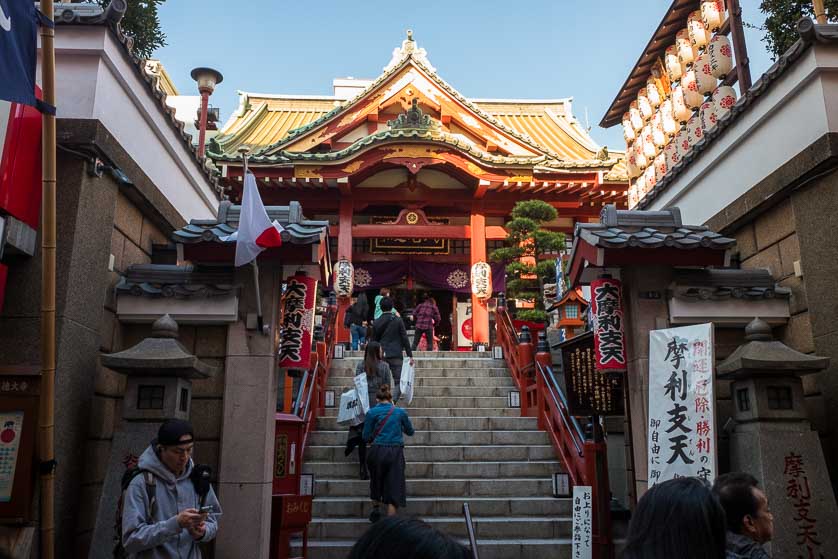 Marishiten Tokudaiji Temple, Okachimachi, Taito-ku, Tokyo
Marishiten Tokudaiji Temple is a small Nichiren Buddhist temple located just off Ameyayokocho, and occupies the narrow space between adjacent branches of the huge Niki no Kashi confectionery store.
Tokudaiji was probably founded around the mid-17th century and is fittingly dedicated to Marici, a bodhisattva of light and sunshine. In the Edo period, Marici came to be worshiped by merchants as a bringer of wealth and prosperity, and also by entertainers, which this area was once full of. The temple is an oasis of comparative calm in this raucous district. Open daily 9 a.m.- 6 p.m. Read more about Marishiten Tokudaiji Temple.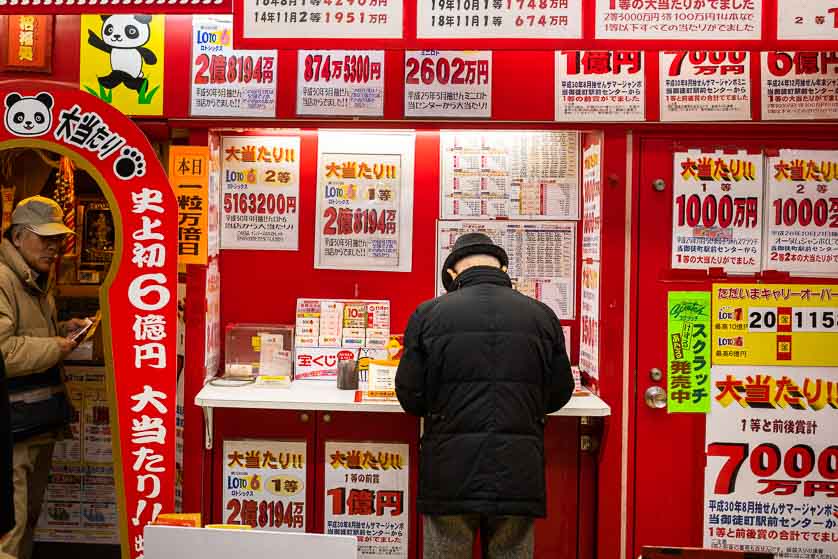 Buying lottery tickets in Okachimachi, Taito-ku, Tokyo
Okachimachi Map
See a Google Map of Okachimachi and the greater Ueno area. Use the search box in the larger map to locate specific attractions.
Access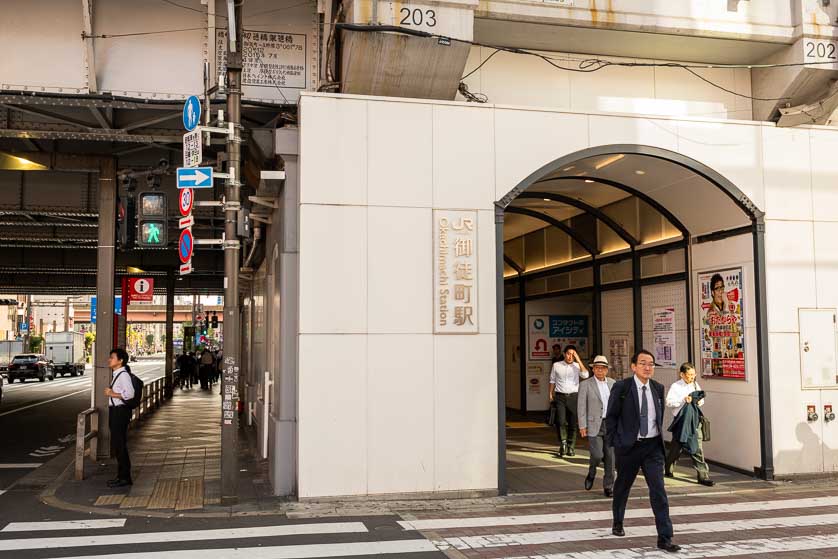 West-side North Exit, JR Okachimachi Station, Taito ward, Tokyo
Okachimachi is very well connected and easily accessible. There is a cluster of four railway stations in the Okachimachi area. Okachimachi Station, on the JR Yamanote Line and Keihin-Tohoku Line is the main station and is right in the middle of Okachimachi.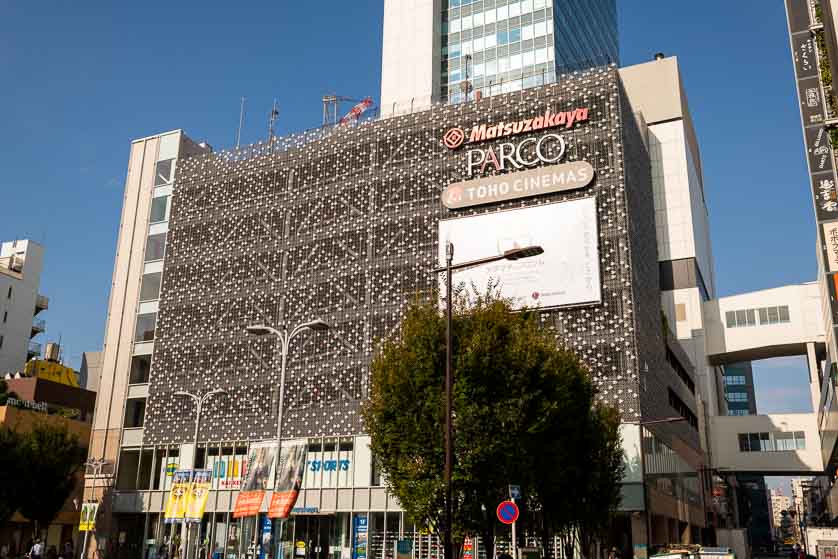 Base of Ueno Frontier Tower, with two subway stations below it, seen from Okachimachi Station NW Exit
Ueno-Okachimachi Station is on the Toei Oedo Subway Line. It intersects with Ueno-Hirokoji Station (Ginza Line), and is just 150 meters west of JR Okachimachi Station.
Ueno-Hirokoji Station is on the Metro Ginza Subway Line, and intersects with Ueno-Okachimachi Station (Oedo Line). It too is just 150 meters west of JR Okachimachi Station.
Naka-Okachimachi Station is on the Metro Hibiya Subway Line, and is just 140 meters east of JR Okachimachi Station.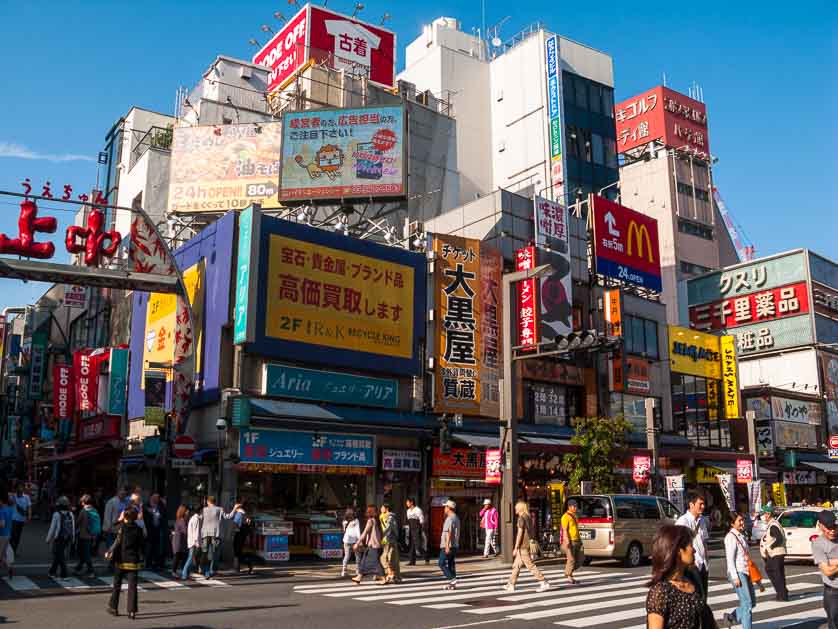 Southern end of Uechun Street
Accommodation
The following is a selection of recommended hotels near Okachimachi Station, in order of budget.
Hiromas Hostel in Akihabara offers comfortable air-conditioned, gender-separate dormitory accommodation very near Okachimachi Station. There is free Wi-Fi and each shared room has its own bathroom. There is a kitchen for guests to use and a lobby to hang out in. Baggage storage here is another plus. English spoken.
Best Western Hotel Fino Tokyo Akihabara is a 3-star hotel with its own restaurant and a buffet breakfast, a business center and drink vending machines on the premises. Most rooms have a city view, all rooms have free Wi-Fi, air-conditioning and a private bathroom. Clean, modern, with friendly helpful staff, and an excellent location.
Super Hotel Ueno-Okachimachi offers a thoroughly modern, convenient and comfortable accommodation experience in the heart of the Okachimachi district. Rooms come equipped with everything a guest may need, such as hairdryer, slippers free toiletries, refrigerator, microwave and electric kettle. The private bathroom features hi-tech toilets. Room door locks are PIN-encoded for extra security. The complimentary breakfast here gets rave reviews.
Book Hotel Accommodation in Tokyo Near Okachimachi Station
All the themes of the city