Tokyo Kappabashi Kitchenware Street
Kappabashi is a street in eastern Tokyo that offers a huge range of kitchenware products, especially for restaurants. A must-see for cooking hobbyists and professionals alike.
Kappabashi Kitchenware Street 東京合羽橋
Kappabashi-dogu-gai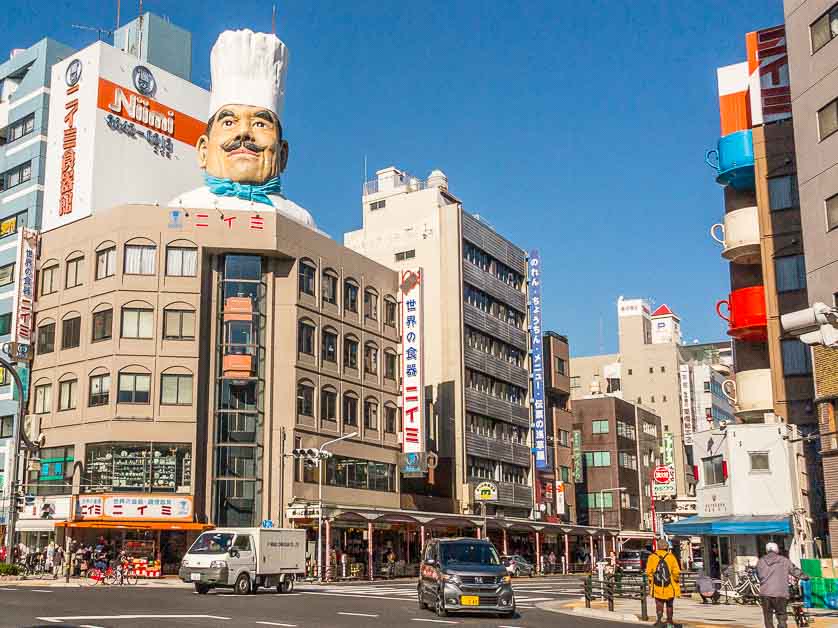 Kappabashi entrance on Asakusa-dori Avenue, Tokyo
Kappabashi-dogu-gai, (Kappabashi Kitchenware Street) is the street in east Tokyo that has catered to the catering industry for over 100 years. Over 150 shops line the almost 1 km (half mile) stretch of Kappabashi, each specializing in certain of the vast range of items required by the restaurant trade.
Kappabashi began its life in 1912 as a second-hand tool and implement market. Kappabashi now supplies everything needed by the entertainment and catering industry (except fresh foodstuffs), from traditional to high-tech. It also offers plenty that is of interest to the casual shopper.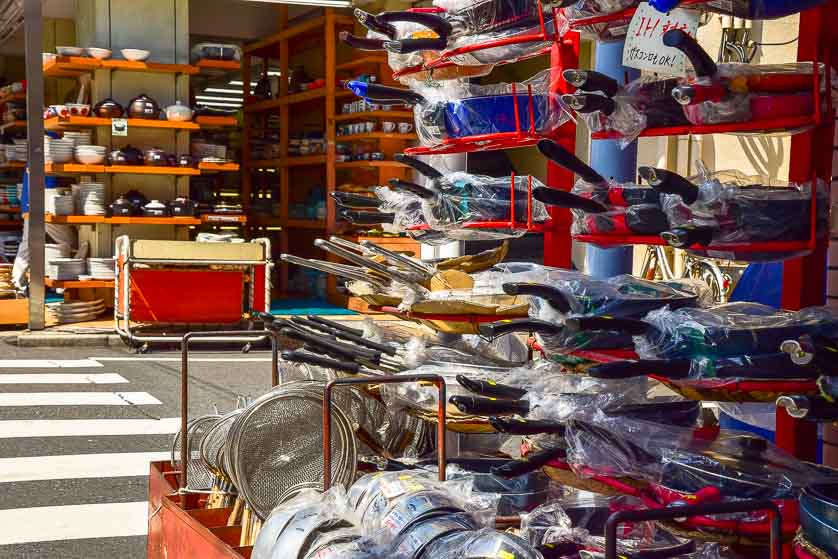 Pots and pans for sale on Kappabashi kitchenware street, Tokyo.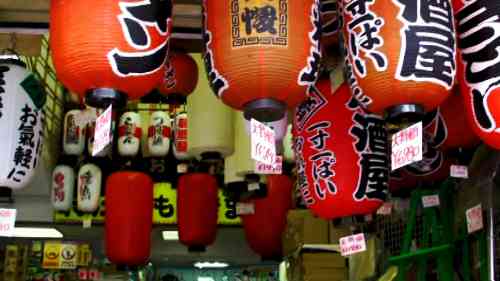 Paper lanterns for Japanese restaurants, Kappabashi
Ordinary consumers also make up a considerable part of Kappabashi's business, and certain goods in particular attract Tokyo residents and tourists alike, such as plastic food replicas and kitchen equipment - including Japanese knives renowned for their sharpness and resilience.
Most Kappabashi stores have goods displayed on the sidewalk creating a panorama of different goods for the passerby to easily browse. Many of the more traditional goods, such as ceramics, can make good souvenirs, and bargains are plentiful.
Categories of products stocked in Kappabashi stores include Japanese and Western tableware, chinaware, lacquerware, cups, mugs and glasses, cooking pots, pans and utensils, storage containers, plastic food replicas and the cases for restaurants to display them in, overalls and staff uniforms, bakery supplies, kitchen appliances, furniture, advertising banners, signboards and sign curtains, display cases, co them innfectionery, beverages and groceries.
Golden Kappa Statue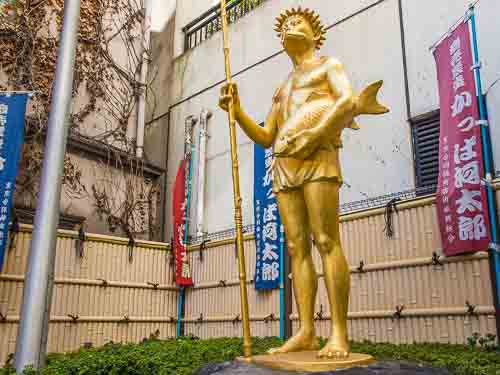 Kappa Statue, Kappabashi, Tokyo
Don't miss the golden Kappa statue in the tiny "pocket park" just one shop away from Kappabashi Intersection, halfway along Kappabashi, very near Seisuiji Temple. A kappa ("river child") is a creature of Japanese myth: a humanoid, frog-like amphibious creature with a plate-like head, scales, webbed feet and beak for a mouth. However, although pronounced the same, the "kappa" in Kappabashi and the mythical "kappa" are written differently. The association is coincidental, but Kappabashi has nevertheless eagerly latched on to the kappa as a mascot. The street's kappa statue, christened "Kappa Kotaro," is a gold-plated bronze statue erected here in 2003 for Kappabashi's 90th anniversary.
Seisuiji Temple
Seisuiji Temple is a Tendai sect Buddhist temple just along from the Golden Kappa statue. For all its small, plain, modern look, Seisuiji is a very ancient temple founded in 846 A.D., but in Hirakawacho, about 5.5 km (3 1/2 miles) south-west of its present site. It moved to nearby Bakurocho in 1604, then to its current site in Matsugaya, on Kappabashi Street. Seisuiji is the second of the 33 Pilgrimage Temples of Edo, next after the big, even more ancient, Sensoji Temple in nearby Asakusa.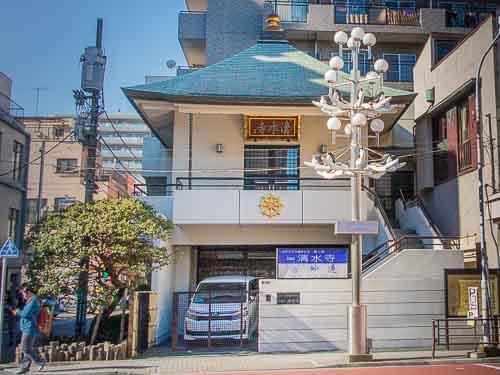 Seisuiji Temple, Kappabashi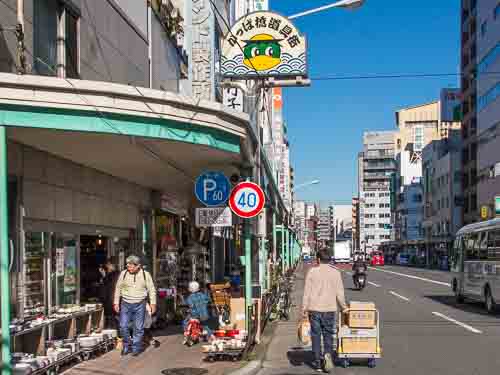 Kappabashi street mascot
Kappabashi Hondori
Kappabashi Hondori Avenue is a street running at right-angles to Kappabashi Dogugai. The two streets intersect at Kappabashi intersection. Kappabashi Hondori is where you will find most of the area's restaurants. It is also the only street in the area where the Tokyo Skytree is visible all along it - an imposing presence at its eastern end. Kappabashi Hondori is the venue for the annual Shitamachi Tanabata Festival, which happens on the first weekend of July.
Kappabashi Hours
Kappabashi hours: from as early as 9 am to as late as 7pm (depending on the store) Monday to Friday, but with over half the shops operating on Saturdays, and about a third of them operating on Sundays.
Kappabashi Access
Kappabashi access: The northern end of Kappabashi is about 10 minutes walk west from central Asakusa (Kaminarimon), or 4 minutes walk from Exit 3 of Tsukuba Express Asakusa Station.The southern end of Kappabashi, where it begins on Asakusa-dori Avenue, is accessible by turning right out of the elevator exit of Tawaramachi station on the Ginza subway line, about a 1 minute walk.
Kappabashi business association website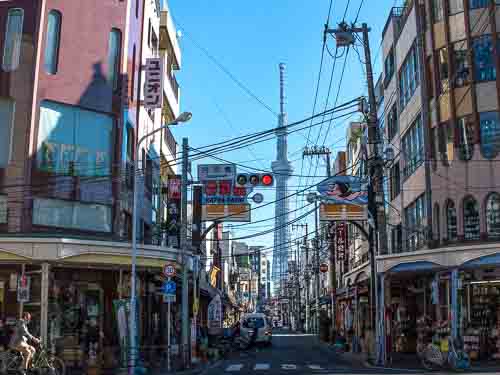 Tokyo Skytree, looking east from Kappabashi intersection
Near Kappabashi
Kappbashi starts on Asakusa-dori religious goods street, stretching between Tawaramachi station to the east and Inaricho station to the west. Asakusa-dori Avenue is lined with shops supplying the numerous Buddhist temples and, to a lesser extent, Shinto shrines, in the area.
Asakusa is eastern Tokyo's most bustling traditional quarter, famous in particular for its Sensoji Temple, and is just over half a kilometer east of the northern end of Kappabashi (about a 7 minute walk).
Ueno with its huge park, zoo, numerous museums, and popular shopping alleys is about 1.5 kilometers west of Kappabashi (about a 15 minute walk) along Asakusa-dori Avenue.
Kappabashi on YouTube
Follow David of JapanVisitor as he takes you on a short tour of Kappabashi.
Book Hotel Accommodation in Tokyo Near Asakusa
All the themes of the city