Encho-en Chinese Garden
Encho-en Chinese Garden in Tottori Prefecture is one of the largest Chinese gardens in Japan with most of the materials brought from China.
Encho-en Chinese Garden, Tottori Prefecture 燕趙園
Covering 10,000 square meters, Encho-en, in Tottori Prefecture, is one of the largest Chinese gardens in Japan. It is a genuine Chinese garden rather than a Chinese-style garden. It was designed in China, all the materials were sourced in China, the buildings were built in China and then dismantled and shipped over, and even some of the trees came from China.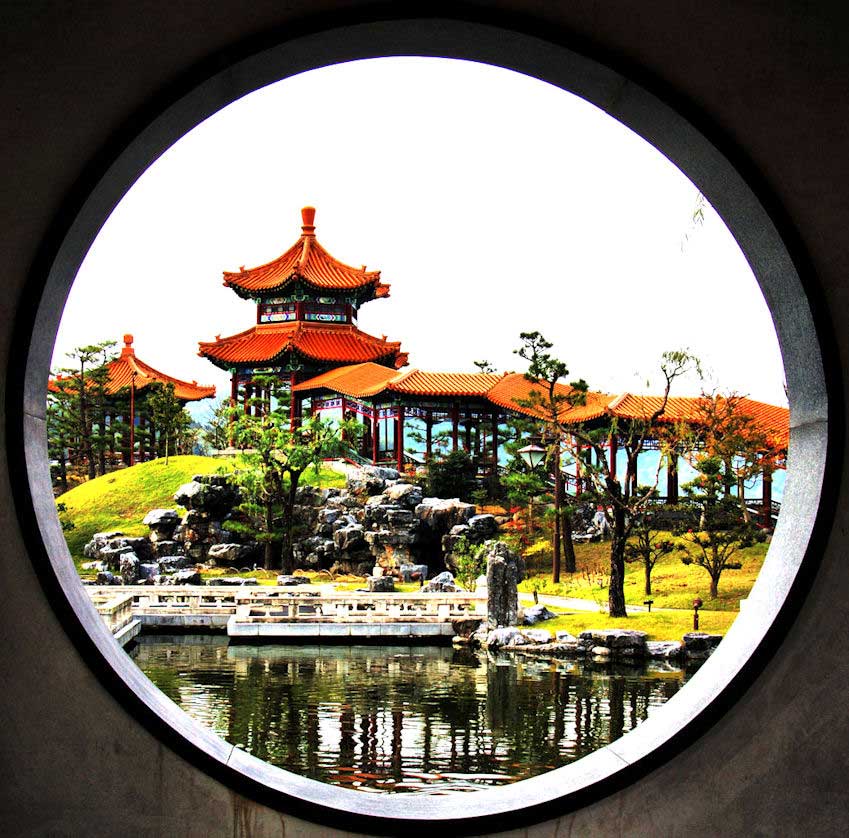 View of the Ichirantei, the highest point in the garden with great views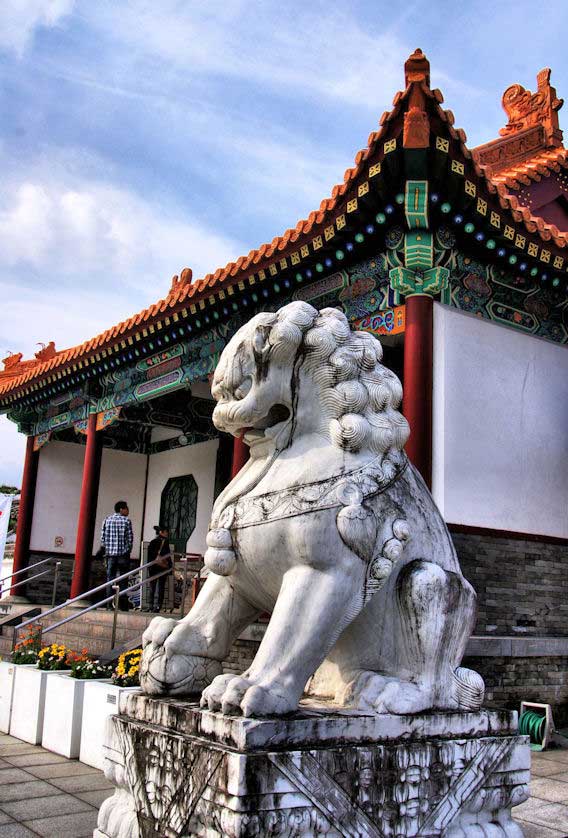 Main entrance to Encho-en Chinese garden in Yurihama, Tottori
The garden is located at the southern end of Lake Togo, near the Japan Sea coast of central Tottori Prefecture. Togo Lake covers about 4 square kilometers and is brackish and shallow with a maximum depth of about 7 meters.
Many waterfowl stop here in winter and there are several parks on its shore. Canoes can be rented for further exploration. Immediately adjacent to Encho-en Garden is a large hot spring, Togo Onsen, and on the western shore of the lake is Hawai Onsen with many hotels.
Encho-en Garden History
Encho-en Garden was designed and constructed in Hebei Province in China, and was constructed to celebrate the "sister relationship" between Tottori and Hebei that was established in 1986.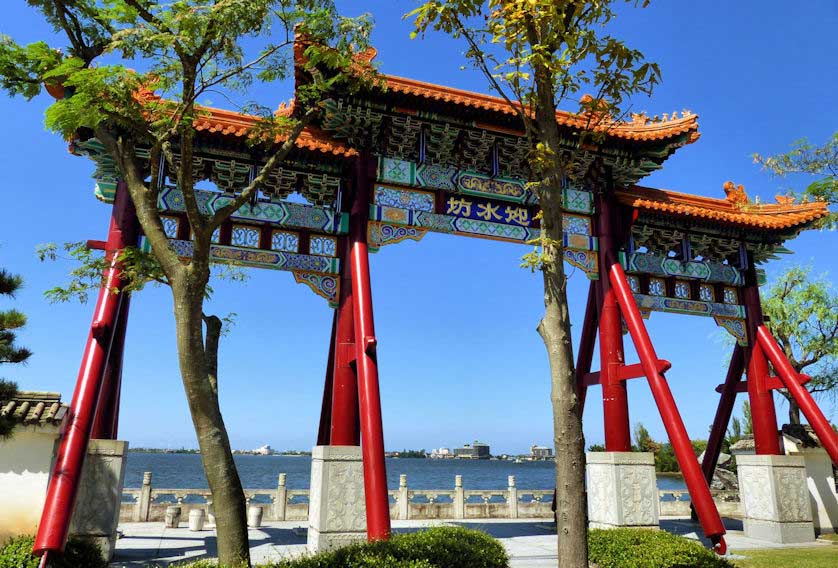 Gesuibo, the Water Gate, for arrivals and departures of Imperial pleasure boats


Nanohashi, the Seven Stars Bridge with lotus pond. The large green roof behind is the Togo Onsen building
Gardens & Facilities
It is an Imperial style stroll garden with the suggested route taking you to 28 specific viewpoints.
Some of the route is covered with roofs and there are numerous pavilions and small towers. The ochre-colored roof tiles were historically reserved exclusively for the use of the Chinese Emperors.
There are bridges across the water, and even an artificial waterfall, The garden is so large and so Chinese that you can lose sight of the fact that you are in Japan. In fact some scenes from the 2006 TV drama Saiyuki, a remake of the classic Chinese story commonly known as Journey to the West, or Monkey King, were filmed here.
Chinese costumes can be rented  to wear as you wander the garden, making for some great photos. Cosplayers from all over East and Southeast Asia visit here for events several times a year.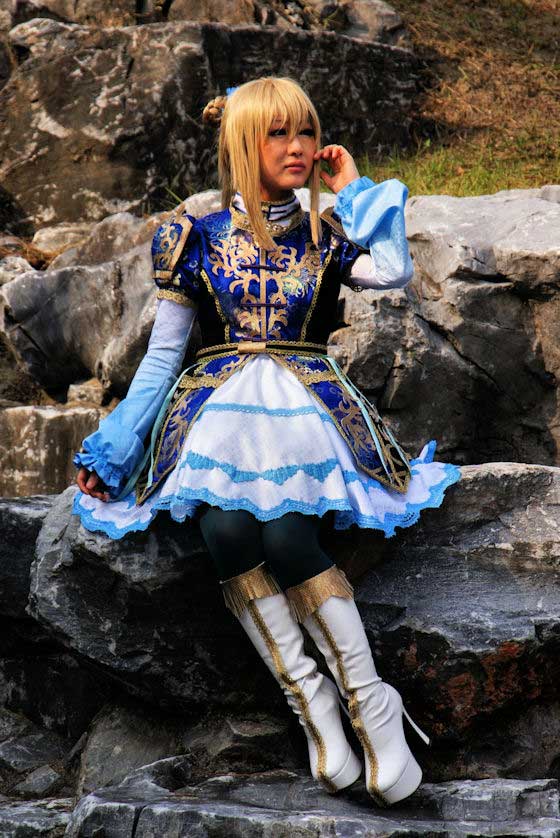 Cosplayers from all over Asia visit Encho-en several times a year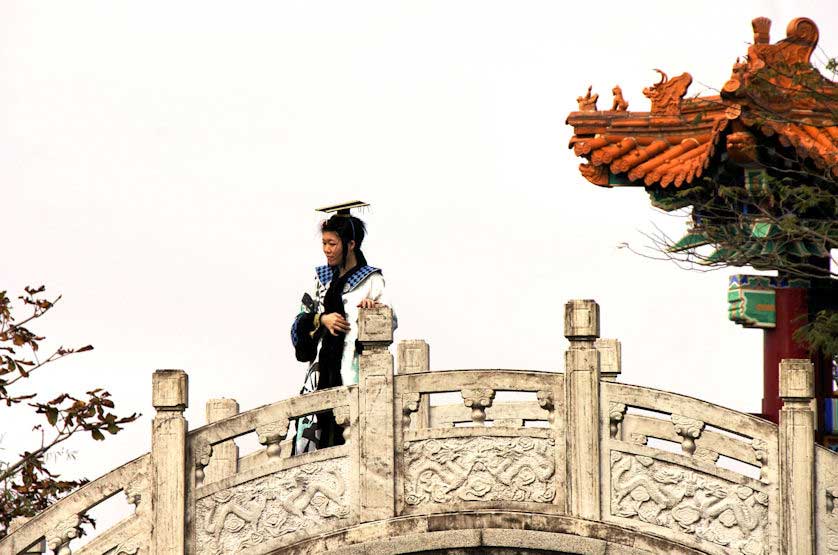 Chinese costumes can be rented to wear while exploring Encho-en Garden
Hours
Encho-en is open from 9 am - 5 pm. It is closed over the New Year national holidays and on the 4th Tuesdays of January and February.
Encho-en is completely wheelchair-accessible.
Admission
Entry is 500 yen for adults and 200 yen for children, though it is half price for all foreign visitors.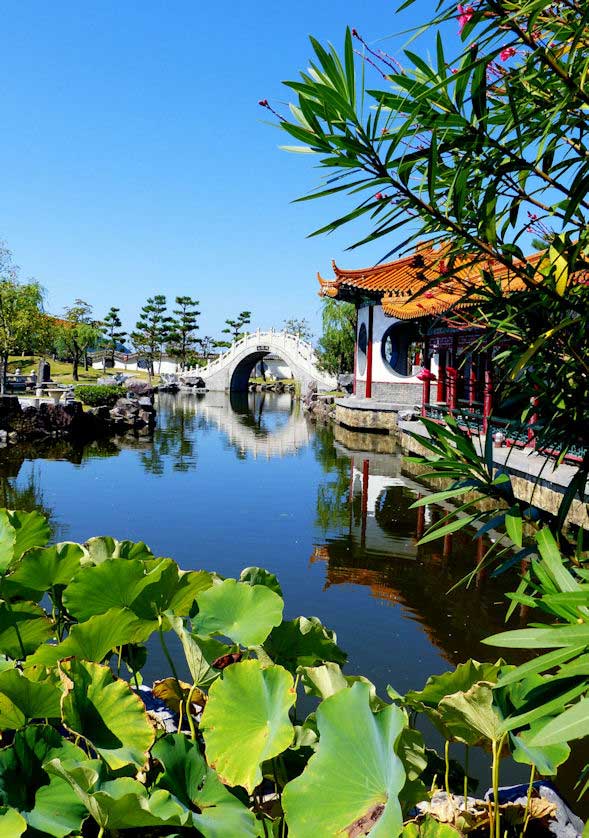 View of the Lotus Pond and Seven Stars Bridge from the Shimenkafusha, The Lotus Embracing pavilion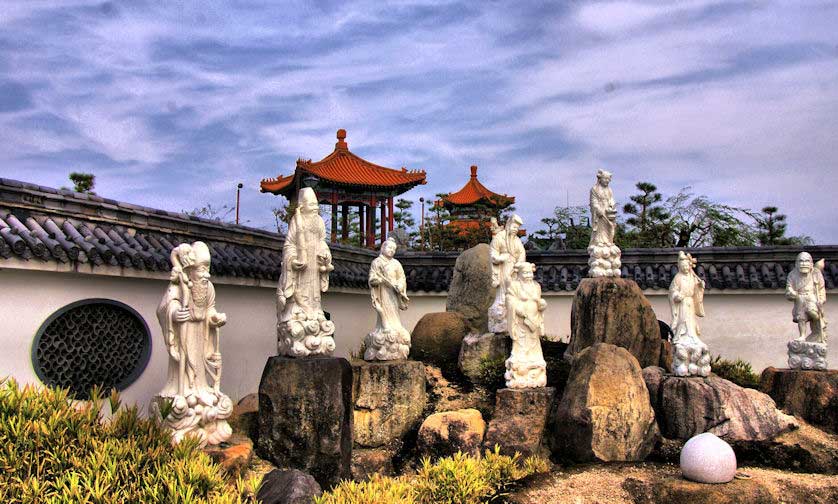 Statues of Chinese sages in the grounds of the Shusuikan at Encho-en
Access
One kilometer (about 15 minutes' walk) from Matsuzaki Station on the JR San-in Line, 37 minutes from Tottori city and less than an hour from Yonago Station.
From Osaka (3 hours) and Kyoto (3 hours, 40 minutes) take a Super Hakoto Express to JR Kurayoshi Station from where the garden is a 10 minute taxi ride.
From Okayama Station take a Super Inaba train to Tottori Station (1 hour, 40 minutes) and change. From Tottori Station to Kurayoshi Station is around an hour by local train or 30 minutes by express train.
565-1 Hikiji, Yurihama-choTohaku-gun, Tottori 689-0715Tel: 0858 32 2180
Encho-en website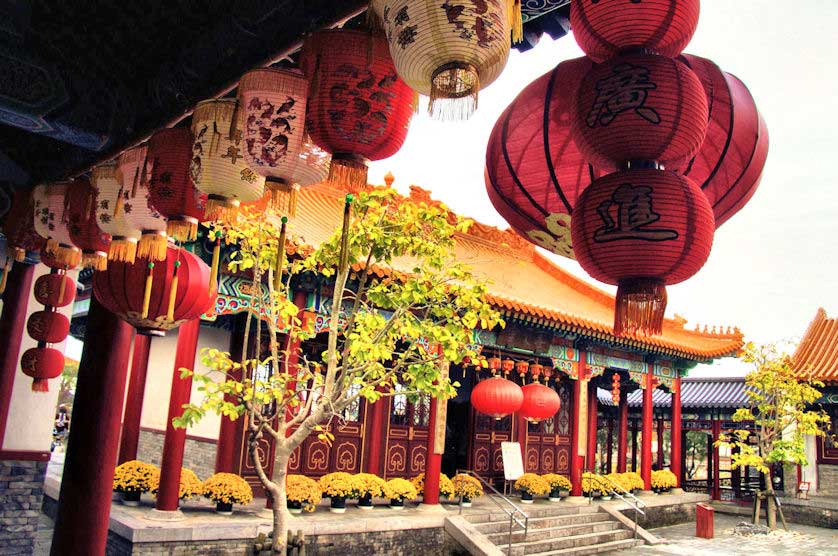 The Grand Pavilion at Encho-en Chinese Garden
All the themes of the city