Tottori Prefectural Flower Park
Tottori Prefectural Flower Park is a sprawling, modern garden park seasonally beautiful all year round, in the countryside of Tottori Prefecture, Japan.
Tottori Prefectural Flower Park とっとり花回廊
Tottori Prefectural Flower Park (Tottori Hanakairo) is a spectacularly laid out and meticulously maintained 50-hectare (123-acre) garden park in the west of Tottori Prefecture, presided over by lofty Mt. Daisen in the near distance.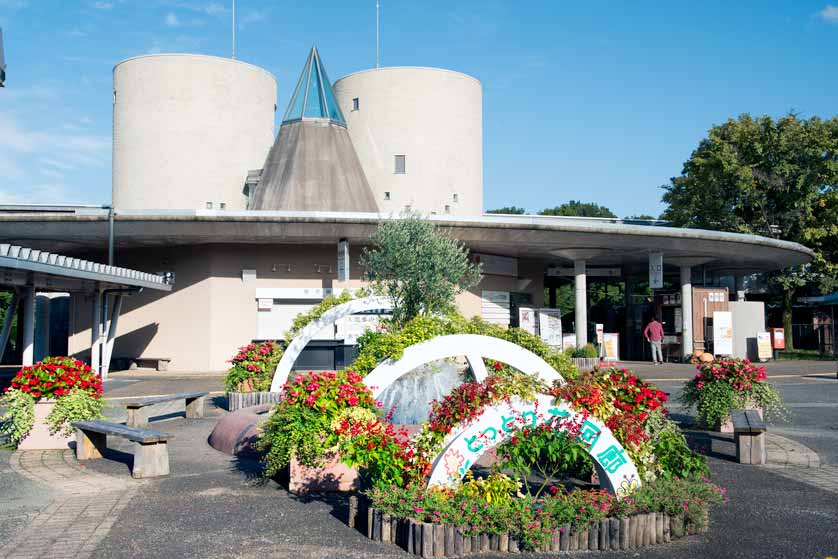 Entrance to Tottori Prefectural Flower Park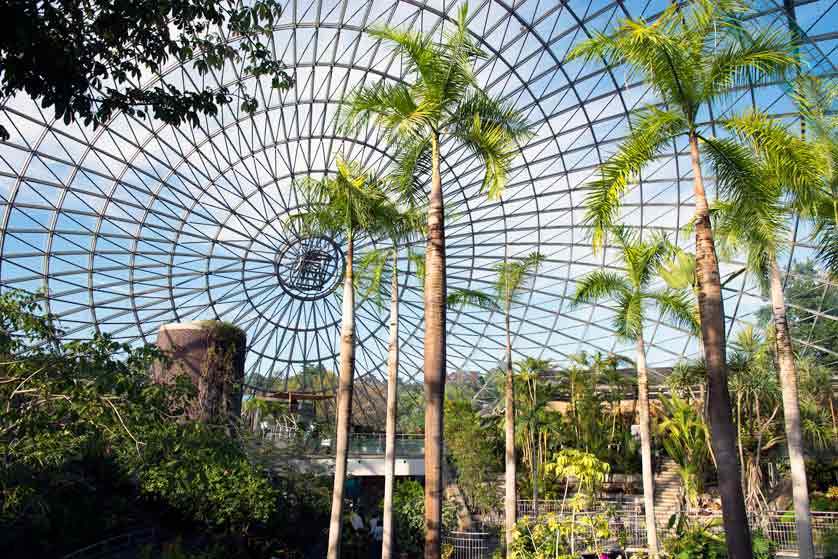 Flower Dome, Tottori Prefectural Flower Park
The park's numerous gardens and countless floral varieties make for scenes of dazzling beauty year-round, whatever the season or weather.
The focal point of Tottori Prefectural Flower Park is its futuristic transparent tropical Flower Dome. Encircling the dome is the 1-kilometer (more than half-mile) fully covered Circular Walkway for access to the variously themed gardens that fill the circle, and to the several other sprawling gardens beyond.
Tottori Prefectural Flower Park History
Tottori Prefectural Flower Park was opened in 1999 by the Tottori Prefecture Tourism Foundation (established by Tottori Prefecture) after 5 years of construction and at a cost of 18.2 billion yen.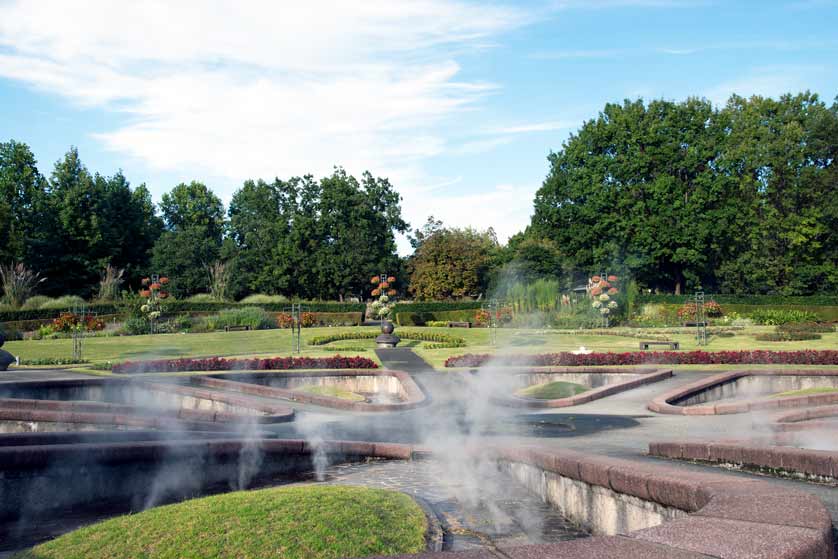 Mist Garden, Tottori Prefectural Flower Park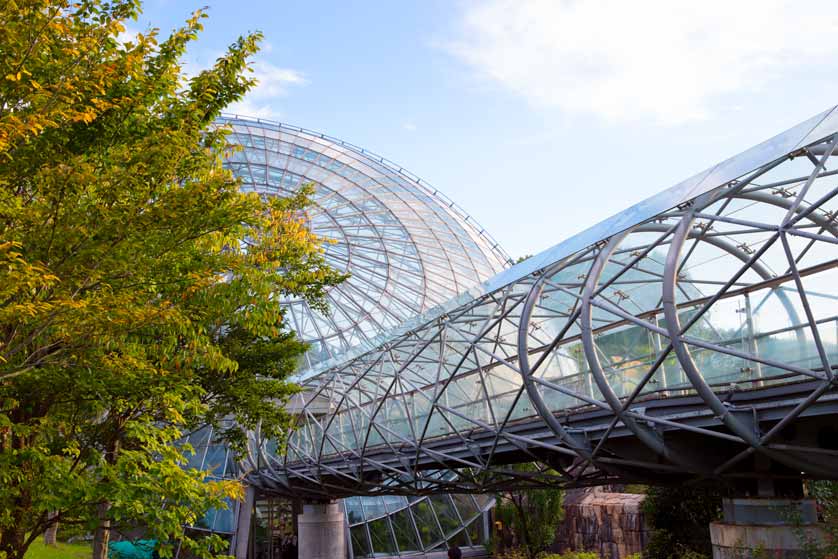 Crystal Road enclosed walkway, Tottori Prefectural Flower Park
Gardens & Facilities
The Flower Dome is a huge, clear transparent hemisphere 21 meters (69 feet) high, maintaining a warm temperature throughout the year and housing various weird and wonderful tropical and subtropical plants, among them towering palms, and over 1,000 types of orchid. The Flower Dome forms the centerpoint of a huge circular set of gardens bisected by paths at all four points of the compass.
The park entrance is at the western point of the compass, a Rest House - with restaurant - at the north, the Lily House at the east, and the Jungle Dome at the south.
The Crystal Road path from the Dome to the Rest House is a weatherproof perspex tunnel, leading to the also fully covered Circular Walkway. You can walk all the way around in any weather and access any of the gardens in or outside the circle.
The gardens enclosed by the Circular Walkway include the Flower Valley, Herb Garden, Garden on Water, Mist Garden, and formally arranged European Garden.
The Flower Hill, outside the circle, is a bold, floral dreamscape presided over by Mt. Daisen, and is one of the best views in the whole region.
The Moonlight Flower Garden is a seasonal (not year-round) illumination attraction at the park, featuring thousands of beautifully and imaginatively lit-up trees from sunset to 9pm. It happens in late-spring, summer and winter and requires an additional entry fee. Dates change every year, so please check ahead.
Transport around the park is available with the Flower Train and, for small groups, Flower Carts, both which charge a small fare to ride.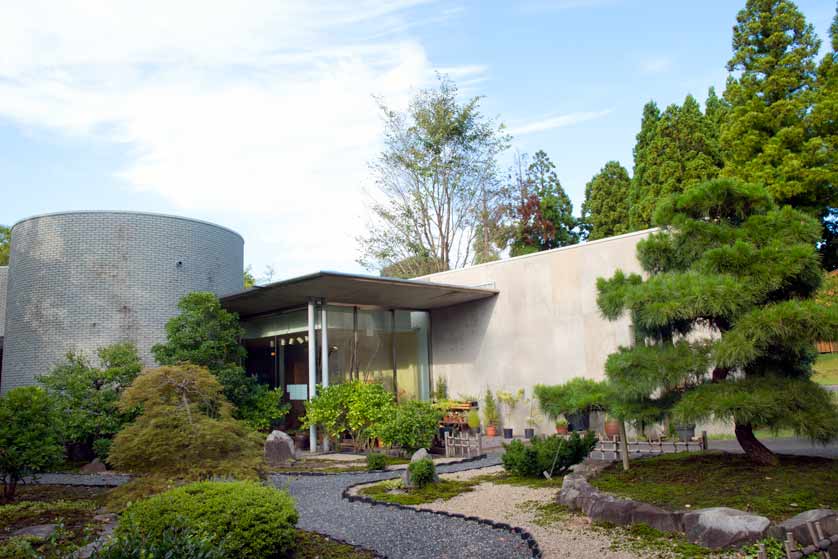 Yuri no Kan lily house, Tottori Prefectural Flower Park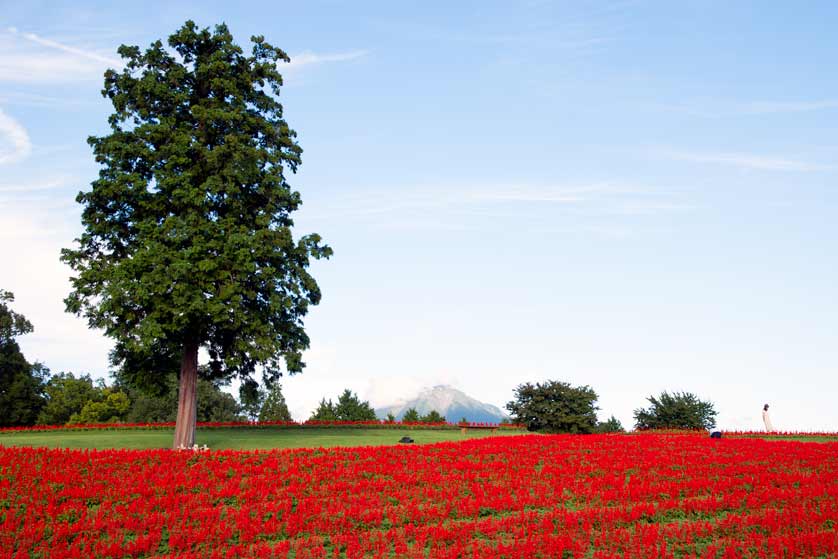 'Hana no Oka' Flower Hill with Mt. Daisen, Tottori Prefectural Flower Park
Hours
Operating hours change by the season. Note that the timing of the day off, Tuesday, depends on the season. Also, if Tuesday falls on a national holiday, the park stays open, but is closed the next day, Wednesday, in that week.
April to November: 9am-5pm. July and August only: closed Tuesday; open 7 days a week in the other months.
December and January: 1pm-9pm. In certain weeks, closed Tuesday (please confirm ahead of time).
February and March: 9am-4.30pm. Closed every Tuesday.
Admission
Admission fees change according to the season. Show your passport for a 50% discount.
April to November: 1,000 yen for adults, 500 yen for children.December to March: 700 yen for adults, 350 yen for children.
Access
Shuttle Bus: A free, 25-seater shuttle bus leaves from Yonago Station, bus terminal platform no.5, for Tottori Prefectural Flower Park once every hour. This increases to once every half-hour on weekends and public holidays from July to November. The ride takes about 25 minutes. Bus platform no.5 is the first platform you get to after going left out of Yonago Station. (Groups of 10 or more people are asked to use their own transport).
If coming by car, parking is free.
Hoki-Mizoguchi Station on the Hakubi Line is just east of the park, however the free shuttle bus from Yonago Station is recommended.
110 Tsuruta, Nanbu-cho, Saihaku-gun, Tottori Prefecture 〒683-0217 Tel: 0859 48 3030Tottori Prefectural Flower Park website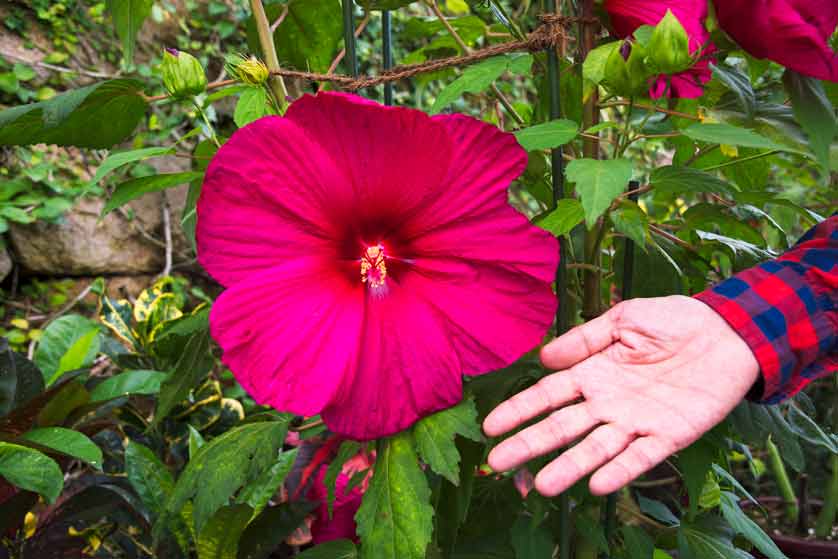 Giant hibiscus in the Jungle Dome, Tottori Prefectural Flower Park
Nearby
The free-entry Oni Museum and Onikko Land is a museum and amusement park for children about a kilometer south-east, featuring devils and ogres from Japanese myth. Hours: 9am-5pm, April to November.
Also, see the Daisen Loop Bus page for a list of numerous other attractions available in the Mt. Daisen area.
All the themes of the city