Sojiji Temple Yokohama
Sojiji Temple in Tsurumi ward, Yokohama, is a head temple of Zen Buddhism in Japan and has sprawling, green, park-like grounds.
Sojiji Temple 總持寺
Sojiji Temple is a Zen Buddhist temple in Yokohama, remarkable for its sprawling park-like grounds and massive, stately temple buildings, as well as an on-site museum.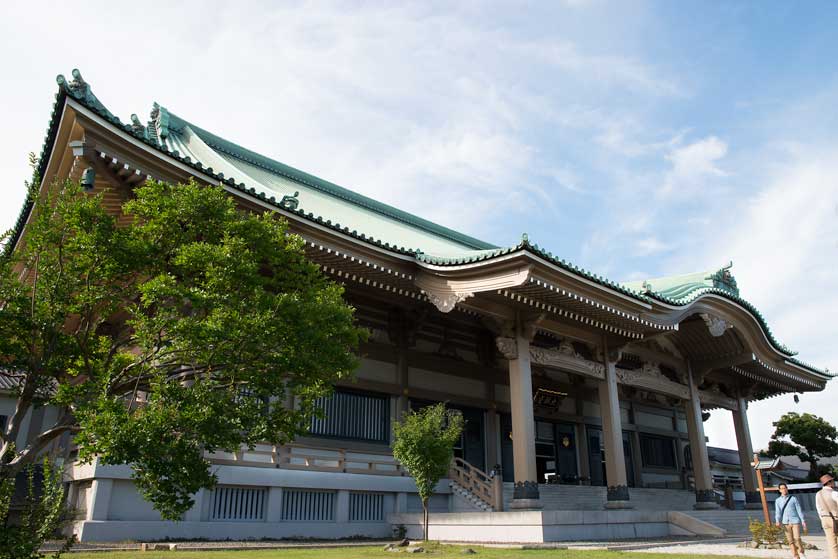 Butsuden Hall, Sojiji Temple, Yokohama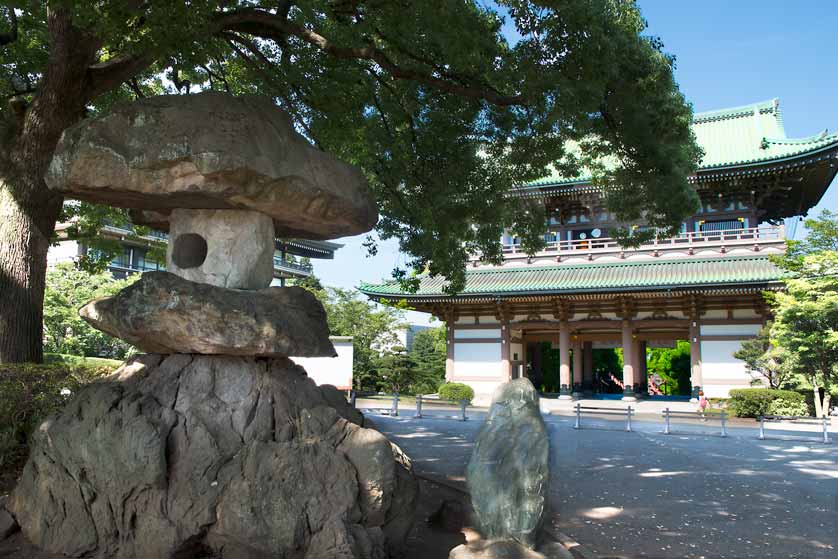 The huge Sanmon Gate of Sojiji Temple, with natural stone lantern in foreground
Sojiji is one of the two head temples of Soto Zen Buddhism, the other being Eiheiji Temple in Fukui.
Sojiji is in a residential area of Tsurumi ward, Yokohama, and occupies about 33 hectares (about 82 acres) of land, making it one of the biggest urban Buddhist temples in Japan.
Sojiji History
Sojiji's roots go back more than 1,200 years to far from its current location, in Wajima City, Ishikawa Prefecture, home to what was then Moro-oka Temple, founded in 740 A.D. on the grounds of Moro-oka Shinto Shrine.
In 1321, Morooka Shinto Shrine moved, and the temple left behind was renamed "Sojiji" (Soji Temple) by the head priest of Zen Buddhism in Japan at the time, Keizan Zenji who, under the patronage of the emperor of the day, Go-Daigo, changed it from a Shingon to a Zen Buddhist temple.
Sojiji burnt down in 1898, and the opportunity was taken to rebuild in Yokohama, as a base to spread Zen Buddhism further east in Japan. Sojiji in its current form opened in 1911, with numerous buildings added in the decades since.
Sojiji Features
Sojiji is grand both in its architecture and its landscaping. Full of trees, with expanses of kempt lawn, well-tended shrubs and gardens, and long pathways, Sojiji's grounds are more like a park than those of a typical Japanese temple, which are often quite cramped and usually with low-maintenance gravel scattered around in place of lawn.
Seven main buildings and dozens of other structures make up Sojiji Temple.
The Sanjushōkan Gate is the first gate, built in Korean style, which soon leads to the massive Sanmon Gate, said to be the biggest in Japan, built in 1965 in the traditional style, albeit using ferro-concrete.
Somewhat to the left of Sanmon Gate, when you're entering, are a few small buildings, including the bell tower and the plain Sanboden Shrine to the temple's guardian deity.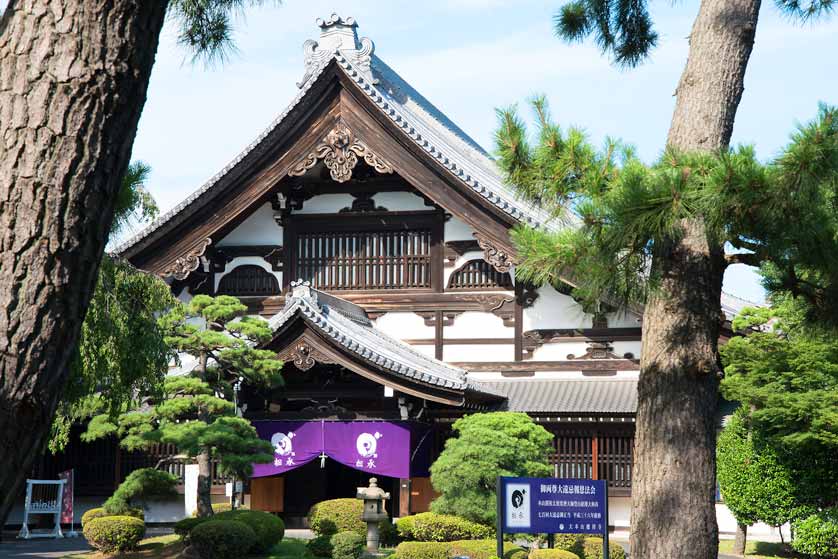 Koshakudai Reception Hall, Sojiji Temple, Yokohama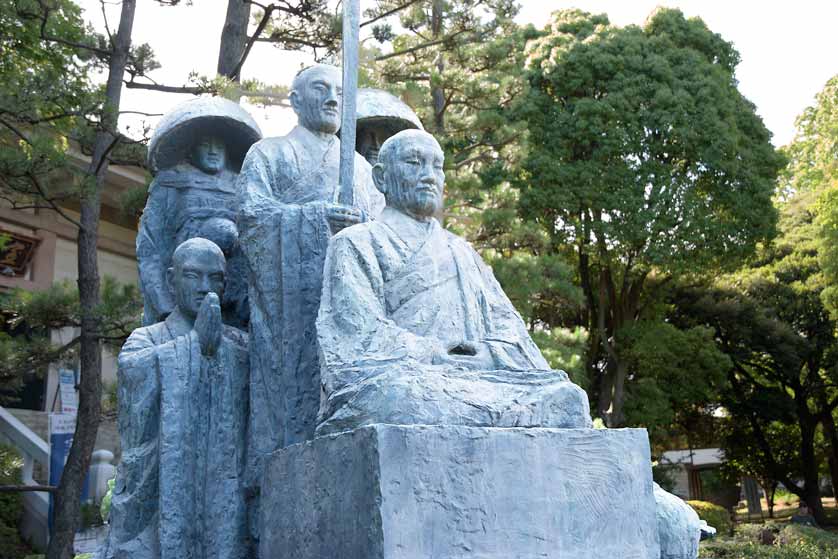 Zen Buddhist statue on grounds of Sojiji Temple, Yokohama
The big, central lawn of the Sojiji leads up to the Mukaikaramon Gate, with its graceful, elaborate roof. This gate is connected with the imperial order that made Sojiji a Zen temple, and used for special occasions.
Overlooking the lawn is the Sanshokaku Hall, a multipurpose building with a majestic sweeping gabled roof.
Beyond the Mukaikara Gate is yet another gate, the Chujaku-mon, flanked by another gate right and left, all joined by a long corridor.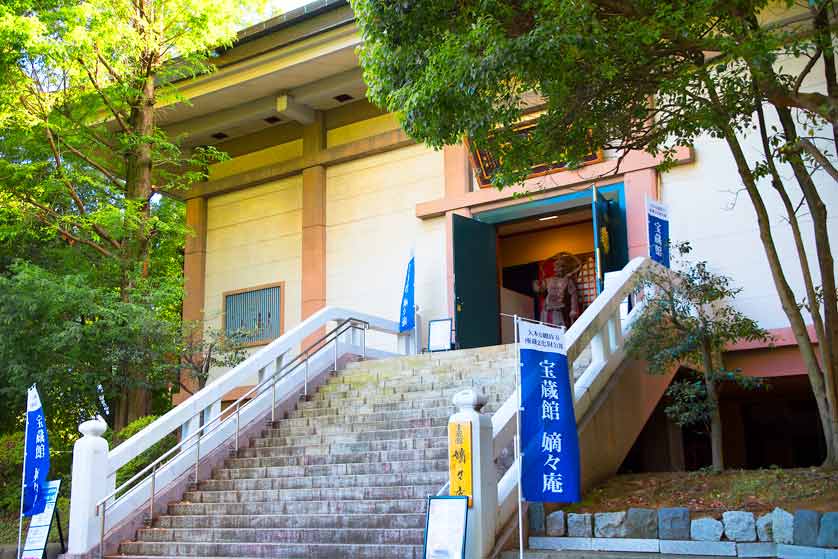 Tekitekian Buddhist Treasure Repository, Sojiji Temple
Tekitekian Museum
The Tekitekian Museum is a small repository of about 50 Zen Buddhist artifacts and artworks changed at three-monthly intervals. It is between the Mukaikara Gate and the Chujaku Gate, to your left.
10 am-4.30 pm (last entry 4pm) every day except Thursday and Friday (but open Friday if Friday falls on a national holiday). Closed December 25-31. 300 yen for adults.
Through the Chujaku-mon, the main temple building then comes into view, at the end of the second stretch of lawn: the Butsuden (Buddha Hall), a characterful dark wood building with a grand interior, where you may well catch a service in progress.
There are more buildings left and right of the Butsuden, including the plain but stately old Hokodo, left of the Butsuden. Hokodo is one of the few really old buildings on the grounds, dating from the mid-19th century and having been donated by So-onji Temple in Tsuruoka City, Yamagata prefecture, to Sojiji on the occasion of its reopening here in Yokohama in 1911.
Tours and Meditation Classes in English
Sojiji Temple offers guided tours in English, by monks of the temple, for 400 yen per person. There are also periodic Zen meditation classes in English for 500 yen. Contact the temple by phone if interested.
Sojiji's educational activities are extensive, with facilities from a kindergarten all the way up to a university, run by the temple.
Numerous brown-robed novice monks live at Sojiji, and can be seen going about their duties.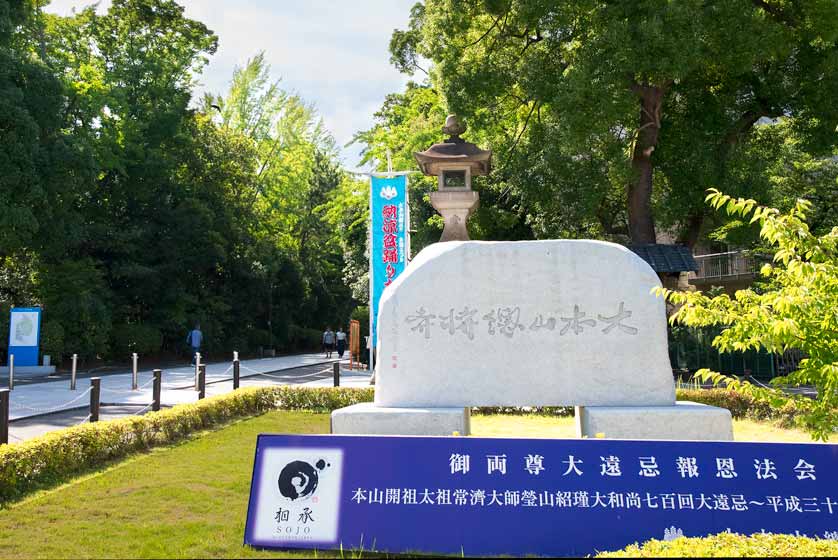 Sojiji Temple entrance
Access to Sojiji Temple
From JR Tsurumi Station (Keihin-Tōhoku Line, Tsurumi Line) take the West Exit, head for the bus terminal, and keep walking alongside the tracks for about 350 meters. The entrance to Sojiji Temple is on the right hand side of the road.
From Keikyu Tsurumi Station (Keikyu Line), take the West Exit and go left (towards and past the Sea Crane shopping and residential complex, with its 31-story apartment tower), with the Keikyu elevated railway line to your left. Turn right at the T-junction then immediately left, following the narrow road through a residential area about 150 meters until you get to a pedestrian bridge on your right that takes you over the railway tracks. The entrance to Sojiji is immediately in front of the overbridge on the other side of the tracks.
Sojiji Temple, 2-1-1 Tsurumi, Tsurumi-ku, Yokohama-shi, Kanagawa-kenTel. 045 581 6086
Map of Sojiji Temple
The following is a map of Sojiji Temple and nearby railway stations.
All the themes of the city