The Setouchi Aonagi Hotel
瀬戸内リトリート青凪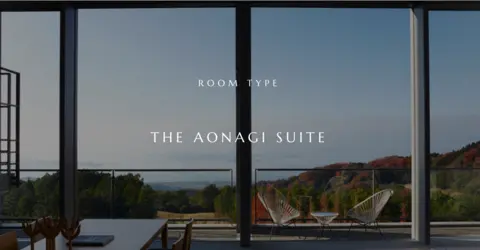 Luxury in blue
On the island of Shikoku, the luxury hotel Setouchi Aonagi has taken over the former building of a museum designed by the famous architect Tadao Ando. Here, no flashy luxury but clean lines where the light and the blue of the landscape charm and soothe the mind.
Located at the top of a wooded hill with a view of the Setouchi Sea , the construction bears the trademark of Tadao Ando : predominance of concrete, minimalism, play of shadow and light. In 2015, when work was undertaken to convert this private museum into a luxury hotel, the famous architect was asked to oversee the transformation and he chose the furniture himself. This is to say all the attention given to this extraordinary place.
Read: Architect Tadao Ando
Blue: the key word
Seven suites only , 100m 2 minimum , each offering a different atmosphere but all with a simple and modern decoration, with the surrounding nature as a landscape. The largest, which measures more than 169m 2 , is a real apartment and has an 8-meter-high bay window offering a breathtaking view of the blue sky and the sea in the distance. " Blue " is also the key word of the place. It is found in the name of the hotel ( ao de Aonagi) whose homepage of the site evokes the "majestic 'blueness' of the sky and the sea".
Water pleasures
Japan obliges, in addition to magnificent bathrooms, a jacuzzi with hot spring water , a sauna and a spa are also available to guests.
The outdoor swimming pool, The Blue , a long rectangle 30 meters long surrounded by concrete walls, offers at its end a splendid view of the sea and the surrounding islets.
The indoor pool, The Cave, can be rented by the hour for private use.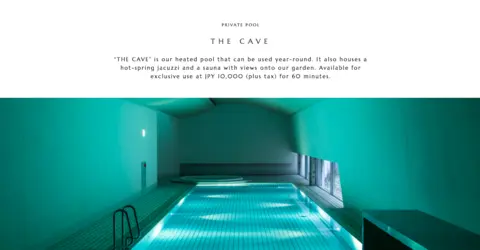 Pleasures of the senses
The restaurant serves very sophisticated " kaiseki " cuisine , made from locally grown produce and fish caught in the Setouchi Sea.
From the old museum, there remain works by the American artist Frank Stella and the Japanese calligrapher artist Rieko Kawabe. The gardens were made by landscape artist Yutaka Ono .
As for the hotel shop, there are local handicraft products (towels, pottery) and the spa's line of beauty products, among others.
Everything exudes good taste, serenity, comfort, and invites relaxation and contemplation...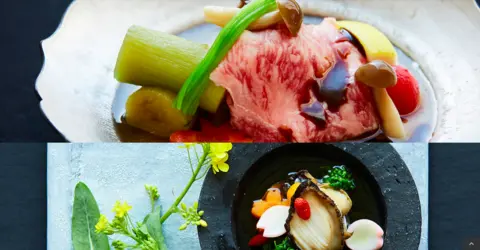 ---
Address, timetable & access
Address

Phone

(+81)89 977 9500

Timetable

Matsuyama Airport: 50 minutes JR Matsuyama Station: 35 minutes Dogo Onsen: 30 minutes A shuttle service is offered by the hotel (3240 yen one way), by booking at least 3 days in advance, to and from the following places :Matsuyama AirportJR Matsuyama Station Dogo Onsen Station Matsuyama Port Kanko Port to Matsuyama Castle Ropeway Station
All the themes of the city