Kochi Castle
高知城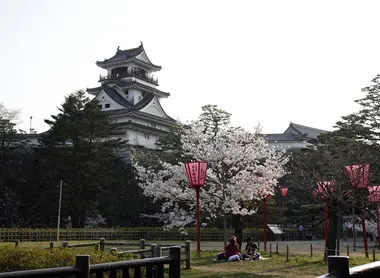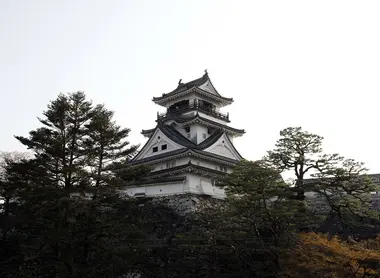 One of the last authentic castles in Japan
Located south of the island of Shikoku, Kochi Castle located in the city of the same name is one of the last 12 authentic Japanese castles with its wooden keep. Located in the city center, its park is also very popular, especially for celebrating Hanami.
There are little treasures that can only be found if you leave the classic circuits a little. Far from the tourist axes , the city of Kochi, located in the very south of the smallest of the four main Japanese islands, is nevertheless home to a castle classified as an "Important Cultural Property" of Japan since 1950 . Studio Ghibli even featured it in one of its movies, "I Can Hear the Ocean."
A RESISTANT BUILDING
The building, in wood and stone , located in the middle of the city center, denotes a little between the wide avenues with modern shops and high buildings of several floors. It was in 1603 that the castle was built on Mount Otsukasaka. It is one of the few Japanese castles from the Edo period (1603-1868) to have survived a good number of disasters , even if the building had to be rehabilitated several times, notably in the 18th century.
However, rare enough to be noted, its wooden tenshu keep and the lord's apartments connected to it are still from the period . This allows Kochi Castle to be included in the small, very closed circle of authentic Japanese castles , only made up of 12 members. The tower, destroyed many times, was rebuilt identically and according to the plans of the initial tower.
Other authentic castles:
ARCHITECTS TRICKS
For the anecdote, know that its architect had the idea of creating a false door , which would give the illusion to the enemies that once pressed, they would enter the very enclosure of the castle. Serious mistake: they land directly in a space where the samurai lived, ready to fight. It is in this space, of which only the outlines remain today, that many Japanese people meet to celebrate Hanami , under the many cherry trees.
A VISIT RICH IN INFORMATION
The castle, called yamashiro (castle in height) like that of Ono , is easy to visit, with a small explanatory brochure in English and allows you to learn a little more about the building, such as for example that it actually has six floors , whereas, from the outside, everything seems to indicate that it only has five. Sixth floor which also allows to have a superb panorama on the city prefecture. Tea room, entrance, latrines, bedrooms, veranda… the visit is vast and it takes 45 minutes to tour the entire building.
Before leaving the premises, do not forget to take a look at the roof: you will find two shachihoko , mythical animals that protect buildings against fire.
---
Address, timetable & access
Address

Timetable

4 minutes walk from Kochi-jo Mae tram stop; 20 mins walk from Kochi station.

Price

420 yen (3€25) Free for children under 18.

Access

9am-5pm
All the themes of the city