Okonomiyaki: A Japanese Omelet
お好み焼き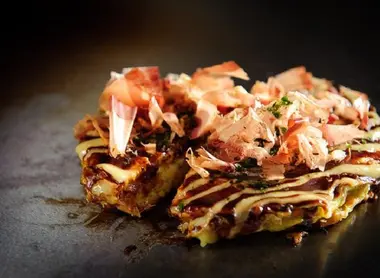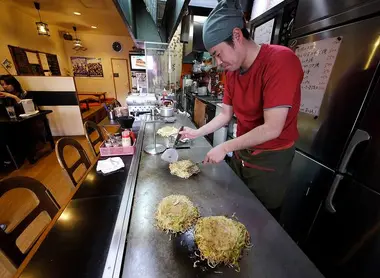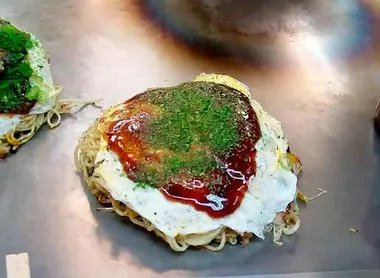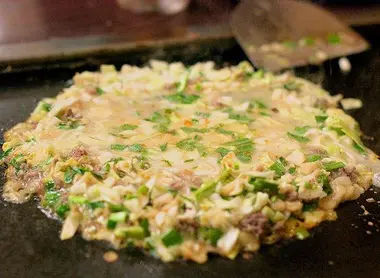 Okonomiyaki, the very popular Japanese dish
A cross between an omelet and a pancake, cooked with numerous ingredients and drizzled with a thick, savoury sauce. Okonomiyaki is a typical treat of Osaka, Hiroshima and Tokyo. 
What's in Okonomiyaki?
An institution in Japan and especially in Osaka, where it comes from, okonomiyaki (お 好 み 焼 き) is a specialty halfway between the garnished omelet and a pancake. It is often (wrongly) compared to pizza: the two specialties, however, have nothing in common apart from the round shape.
This dish can be enjoyed in many popular restaurants across the country. Okonomiyaki literally means "cooked as you like".
All okonomiyaki consist of a base mixture: wheat flour, egg, fish broth, and white cabbage. The Osaka mixture often contains seafood and nagaimo, a type of yam. Various ingredients can then be incorporated into the mixture or just added on top: pork, egg, cheese, squid, bonito, seaweed, shrimp, spring onion ... etc. The pancake thus prepared is then cooked on a hot plate (teppan), either in the kitchen or directly on the table in front of the customer at a restaurant. The final dish is then coated with sauce, mayonnaise or okonomi sauce.
Today okonomiyaki is a Japanese specialty considered a party dish to be shared with friends, directly on the teppan (hotplate), however, this has not always been the case. Made of inexpensive ingredients, easy to prepare, it quickly became a dish of times of crisis, for example after the Kanto earthquake in 1923, or in the aftermath of the Second World War. Okonomiyaki is a very hearty and nutritious dish.
History of Okonomiyaki
Okonomiyaki originates from funoyaki, which was a kind of sweet pancake eaten during Buddhist ceremonies, from the 16th century. Then during the Meiji era (1868-1912), this dish spread beyond monasteries and renamed mojiyaki.
Then after the Kanto earthquake, a savory version of this dish was eaten regularly. Due to this, the dish is altered and Western influences in Kyoto were added such as shallots and Worchester sauce. After World War II, okonomiyaki became more and more common because it was possible to eat without rice, which had become too expensive.
Variations of the Okonomiyaki
Although there are countless recipes and regional variations, the three most famous are those of Osaka, Hiroshima, and Tokyo.
In the Kansai style okonomiyaki, the tororo (grated yam, which gives a very sticky dough) is added to the basic mix. Sometimes grilled soba noodles (buckwheat) or udon (wheat) are also added, to make a modanyaki.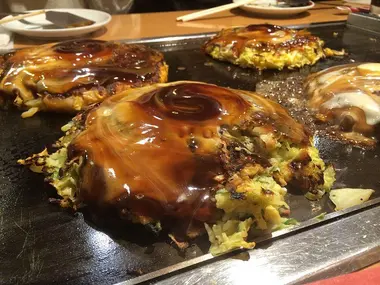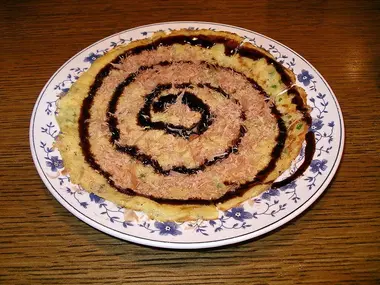 The Hiroshima style okonomiyaki is quite unique the ingredients are not mixed but cooked on top of each other, layer upon layer. Noodles and eggs top it all off. The people of Hiroshima are very proud of their recipe!

In the Kanto region, it is called monjayaki rather than okonomiyaki - a more liquid consistency of the mixture is prepared and poured on the griddle. While the other okonomiyaki are eaten with chopsticks, this version is eaten using a small spatula.
There are many variations on this recipe such as the finer Okinawa hirayachi, or the kaki-oko from Okayama prefecture, prepared with oysters.
How to make an Okonomiyaki at home
Where to eat okonomiyaki in Japan?
Here are some of the best places to try this specialty amongst the many restaurants throughout the country:
Prepare for a healthy dose of authenticity at Sometaro, located in the heart of Asakusa. The decoration could not be more Japanese, and here, it will be up to you to mix and then cook your okonomiyaki on the teppan at your table. A tasty experience!
Address: 2 Chome-2-2 Nishiasakusa, Taito, Tokyo 111-0035
Ajinoya, located in the lively Namba district, has famous in Osaka. Here you can taste a wide variety of okonomiyaki at very affordable prices (from 990 yen, or around $9).
Address: 1-7-16 Namba, Chuo-ku, Osaka 542-0076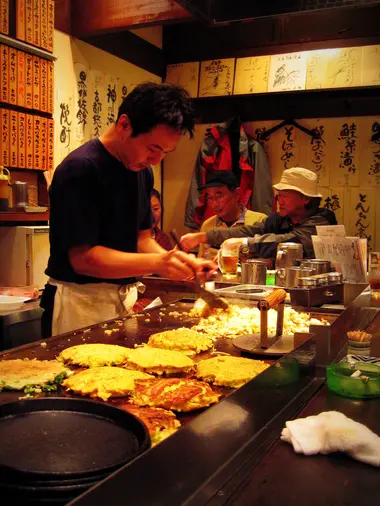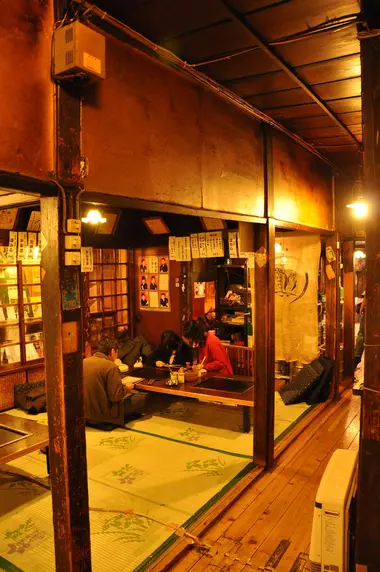 To try the Hiroshima version of okonomiyaki, we recommend the Nagataya restaurant, located not far from the Hiroshima Peace Memorial. The special house sauce and the excellent noodles have made the establishment famous.
Address: 1-7-19 Otemachi 1F, Naka, Hiroshima 730-0051
All the themes of the city