Where to eat in Hiroshima
広島料理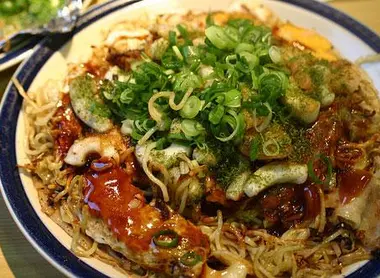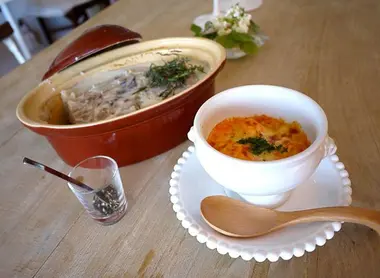 Small dishes of Chugoku
From oysters to okonomiyaki, an organic buffet to tofu restaurants and gourmet pastries, Hiroshima will never fail to surprise your taste buds. Here's a guide to the eateries of the city.
Okonomiyaki, a local specialty
This flat, fried food is an unavoidable local specialty, okonomiyaki (お好み焼き). Often described as a thick pancake with cabbage, it is prepared and cooked before your eye with the fixings of your choosing (strips of pork, squid, potatoes, eggs, cheese, seaweed, and more).
Hiroshima is THE place to test the so-called "Hiroshima-yaki," a variant of okonomiyaki that rests on a bed of noodles. There is an entire building for you to taste its infinite variations, according to the restaurants and floors: the Okonomimura (a word derived from the combination of okonomiyaki and mura, meaning "village").
Two restaurants specializing in these delicious molluscs will help you rediscover oysters with an original cuisine that the Western palate is not accustomed to. First, Kanawa, a gourmet restaurant, takes you on a barge docked along the Motoyasugawa river for an enchanting parade of dishes, each more unique than the last, introducing your taste buds to all sorts of new flavors.
Kaki-tei, meanwhile, simpler and cheaper, opens its doors for lunch or an informal dinner overlooking the Kyobashigawa river.
In addition to coffee, tea and cocktails, the J-Café offers waffles, crepes and paninis for night owls out for a stroll in the city of peace. Those out at night can also sample gourmet cakes at Lotus Café accompanied by the sounds of visiting DJs, which makes for a pleasant evening. To visit Nawanai and its raw or grilled sardines, follow the red lantern marking the entrance to this discrete basement izakaya.
The restaurant Fine Grapes, run by an owner passionate about France, is a real enclave of French gastronomy in Hiroshima. The menu, well-stocked and cheap, might give your taste buds a rest from their Asian adventures with the many tasty homely dishes such as roasted vegetable soups, casseroles, apple pies, fresh breads, and more.
For curious gourmets looking to experiment with new flavors, as well as lovers of the subtlety of tofu, the restaurant Tosho is ideal.
Between organic and panoramic
To those who prefer the feel of a buffet with the same elegant surroundings of the aforementioned Tosho, No No Budou has a terrace on the seventh floor of Pacela Mall, where you can enjoy some of its organic dishes and juices from all backgrounds.
On the eleventh floor of the same mall, Yale Yale A-kan is a restaurant with a panoramic view, a relaxing atmosphere, and a great menu, all while giving you a glimpse of the entire city of Hiroshima.
All the themes of the city