Ryokan
旅館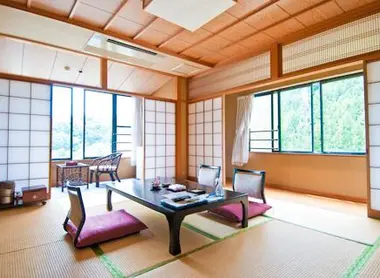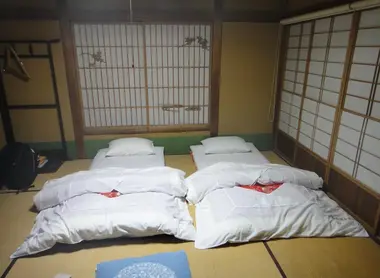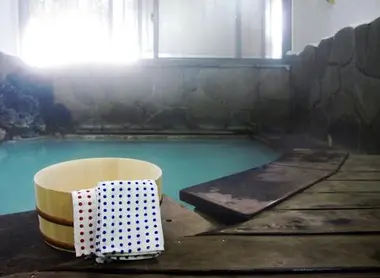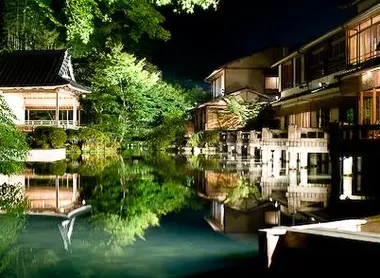 The truly Japanese way of life
From bathing to gastronomy, ryokan, traditional Japanese inns, offer an unforgettable experience to travelers in search of authenticity.
Go through the sliding doors, enter the vestibule, take off your shoes, put on the slippers at your disposal and follow the owner of the place: welcome to the ryokan. Whether it's a small family-run inn or a luxury establishment, a ryokan, with its tatami mats and rice paper sliding doors immediately immerses you in a serene and refined atmosphere.
Rural ryokan and urban ryokan
First appearing in the Edo period (1603-1868), ryokan are traditionally located near hot springs (onsen) but with 65,000 or so listed ryokan in Japan, you will also find them in cities, nestled in the heart of Tokyo, Kyoto or Osaka, like a time machine to old Japan, far from the urban chaos.
A real way of life
Staying in a ryokan allows you to discover a wide range of Japanese traditions. The rooms, in which you walk in socks or barefoot, are very clean. The central low table gives way, in the evening, to a futon that is unrolled on the tatami at bedtime. You will also find a yukata (light cotton kimono), to wear while you dine, or wander in the gardens that surround the property that lead to the baths. Private bathrooms in ryokan are rare. Here baths, both indoor or outdoor, are common and most often communal (separate for men and women). The bathing ritual takes place in two stages: wash with soap and rinse off in a first bathroom, before quietly entering the hot spring itself alongside the other visitors for an intense moment of relaxation.
Traditional meals
Once relaxed by the thermal waters, another highlight of your stay awaits you: dinner or, more precisely, kaiseki ryori, a traditional meal consisting of a multitude of small dishes (miso soup, rice, tofu, grilled fish, raw fish, meats, vegetables, pickles, tempura...) prepared from local produce and changing with the seasons. The meal can be served in your room or in a communal dining room, often around 6pm. The traditional breakfast commonly includes rice, miso soup, egg, and dried seaweed. Both meals are included in the price of the stay, which varies between 15,000 and 30,000 yen on average per person (between $135 and $270).
Choose your ryokan
A simple hostel or luxury hotel, old-fashioned or contemporary, the type - and price - of a ryokan can vary a lot. A top-of-the-range ryokan with views of Mount Fuji on Lake Kawaguchi, an unpretentious family inn near Tokyo's Ueno Park, a stopover in nature at Kurokawa Spa Resort on Kyushu island... A ryokan, whatever its standing, promises a total change of scenery. An immersive and inescapable experience during your trip to Japan.
Two organizations can help you select your ryokan based on your budget and itinerary: the Japan Ryokan and Hotel Association and the Japanese Inn Group.
Also discover: Rent an authentic and traditional house in Japan
---
Address, timetable & access
All the themes of the city