Ryogoku Kokugikan
両国国技館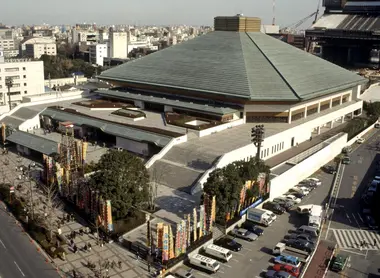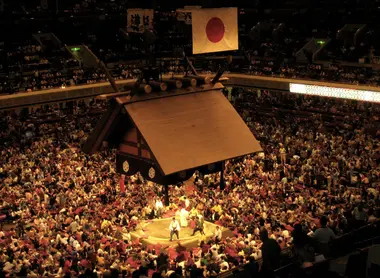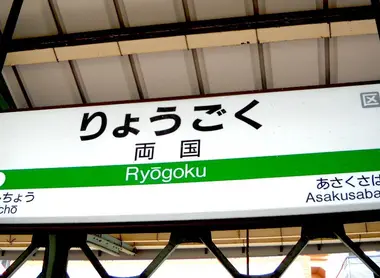 The Japanese Colosseum
It's at Ryogoku Kokugikan that you understand the spirit of sumo: close to the Edo-Tokyo Museum, this mythical stadium can accommodate up to 13 000 people.
The first Ryogoku Kokugikan was built under Emperor Meiji in 1909, when the popularity of sumo exploded amongst the Japanese population. The present building dates from 1985 and houses three sumo tournaments (honbasho) in the year, each lasting two weeks: the hatsu (new year) basho in January, the natsu (summer) basho in May, and the aki (fall) basho in September.
Morning and midday are calm. The few spectators casually follow the struggles of the less experienced sumo wrestlers, chatting over a beer or a bento purchased locally. Around 3pm, the Ryogoku Kokugikan of Asakusa comes to life. The atmosphere of the arena is electrified as the stands fill up. Around 4pm, the stadium is packed and is brimming with anticipation. Beer and sake keeps spirits high. The sumo stars then enter the fray.
The zabuton takes flight
Each match only lasts about twenty seconds, but spectators enjoy the dazzling drama unfolding before their eyes, in a fantastic fervor. The stereotype of the reserved Japanese people is shattered. Men get up and bellow out exhortations, exalted women celebrate their champions, overexcited spectators throw their zabuton (small Japanese cushions) at the end of the most intense combats.
You really have to book if you want to attend Friday night and Saturday night matches, which is when the best sumo wrestlers come face to face. The rest of the year, the building also houses other sports or cultural events, including boxing tournaments, professional wrestling and concerts.
---
Address, timetable & access
All the themes of the city