Ashiyu, Japanese foot baths
足湯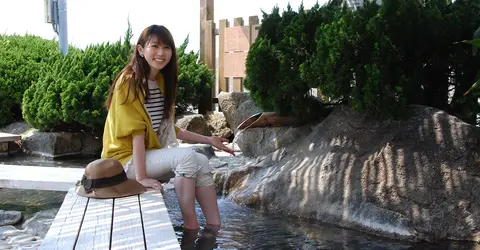 Des onsen pour pieds en pleine rue
Situés généralement à deuxpas des onsen, les ashiyu sont des bains de pieds publics trèspopulaires au Japon. Présents aussi bien près des sources thermalesque des spots touristiques, ils permettent de se relaxer en un tempsrecord et offrent de magnifiques paysages à contempler... les piedsdans l'eau !
What is an ashiyu?
Combining the foot character ashi [足]  and hot water character yu [湯] , the word ashiyu refers to small traditional pools that are sometimes found in public spaces in Japan. But beware, they're not just any paddling pools.
Filled with hot water, ashiyu are actually onsen for your feet!
That's why they are usually found in spa towns, close to places that attract crowds such as parks and train stations.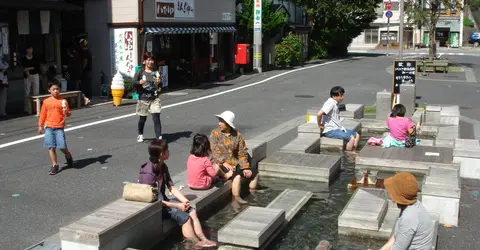 The relaxing virtues of these foot baths are as widely known as those of their larger hot spring counterparts.
Indeed, the time spent in ashiyu being much shorter than that spent in the onsen, these traditional pools are generally recommended by doctors for people who can't manage the heat of a full onsen, or have problems with blood pressure (onsen not being recommended in case of hypertension). Points in favor for the ashiyu, which have become a real institution in Japan.
Today, the popularity of ashiyu is easy to see. And the Japanese love these foot baths so much that they have even invented a variant in regions where winter is especially tough: the teyu, or hand bath!
Foot baths all over the country
Very popular with Japanese travel, ashiyu were built near hot springs to allow passing travelers to relax without having to fully immerse themselves in the onsen. That's why they're usually found near them, but also close to tourist spots where travelers tend to walk a lot, so their feet might appreciate a break.
Generally free to use, you just remove your shoes and socks and enjoy!
It's a considerable time saver compared to visiting a full-body onsen, which requires much more time set aside for the full bathing experience.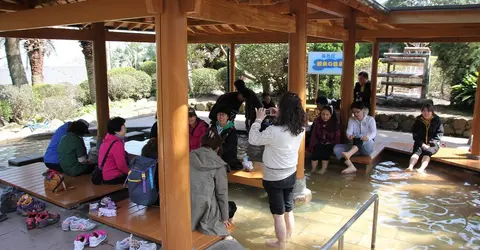 Although most ashiyu are free, some foot baths do charge a fee for use. This is particularly the case for ashiyu located near tourist sites, which can charge a fee of 200 to 300 yen to be used.
Be sure to check how the foot bath you've visited works before dipping your feet in!
Some well-known ashiyu
Whether near stations or by the sea, Japan has plenty of ashiyu! Don't hesitate to ask about it when you're close to a hot spring, since in 80% of cases you will probably find one nearby.
To make your search a little easier, here are some well-known ashiyu throughout Japan, where it's great to soak one's feet.
Kinugawa (Nikko) : located near Nikko in front of the train station that leads to Kinugawa onsen, this little ashiyu is very popular with onsen customers since it's completely free!
Arashiyama (Kyoto) : the bamboo forest also has a foot bath at the station served by the Keifuku Randen Tram, the small tram that leads to Arashiyama. For 200 yen you can soak your feet and leave with a small collector towel as a souvenir.
Read also : Arashiyama bamboo grove
Oedo Onsen Monogatari (Tokyo) : the most popular onsen in Tokyo is also equipped with a large ashiyu. You can even walk in it, and enjoy the feel of the stones lining the bath to boost your blood circulation. Access is free if you pay the entrance fee to the park.
Discover : Oedo Onsen Monogatari
Enoshima Spa (Kamakura) : near Kamakura, the small bridge at the entrance to the Enoshima Spa has a foot bath with direct views of the sea and Mount Fuji. The entrance fee is 200 yen and you can use the ashiyu without necessarily going to Enoshima Spa itself.
Kunomi Onsen (Shizuoka): in Shizuoka, this ashiyu is one with the sea and offers an incredible view of the shores of the Izu peninsula to all those who stop there soaking their feet.
Read more : The Izu Peninsula
All the themes of the city