Foot Bath Cafes
足湯カフェ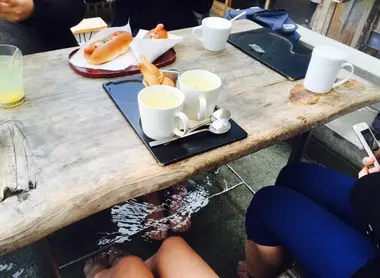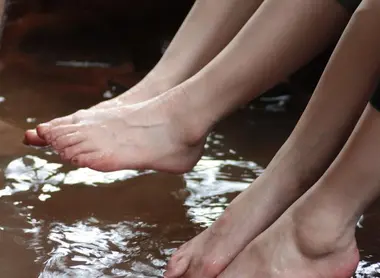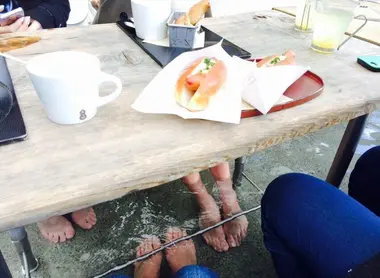 Relax your feet
Ashiyu are footbaths found in some public spaces, such as near train stations or in parks. Filled with hot spring water, you can soak just your bare feet while remaining dressed. It's a simple and practical way to relax. They have existed for a very long time, but more recently, ashiyu cafes and restaurants have become trendy. Sip a drink as you rest your feet! Hot water has the reputation of being relaxing and improving blood flow, so this type of place is ideal for recharging after long hours of sightseeing.
While walking the streets of Tokyo, visiting museums or browsing the shops, your feet might need a break! Here is our list of places perfect for pampering sore feet...
Hoguresuto / ほぐれすと
With a traditional setting and relaxing atmosphere, communal hot water baths welcome visitors here. The staff are happy to explain (in Japanese and English) the benefits of their foot baths. An hour's bath (a towel is provided) with a drink costs 1,080 yen. The property also offers massage treatments.
Hours : 10:30 - 21:00
Address : T & T Okachimachi Building, 4-8-5 Taito, 110-0016 Tokyo. On the 3rd floor.
Access : Yamanote Line, Okachimachi Station (South Exit). Metro Hibiya Line, Naka-Okachimachi Station (Exit 1). Metro line Oedo, station Ueno Okachimachi (5 minutes).
Mominoki House / もみの気ハウス
What a way to satisfy all the senses: not only can you soak your feet and get a massage, but also enjoy the chef's cuisine, whose dishes are a feast for the eyes as well as tastebuds. A familial and friendly atmosphere provides an authentic moment of relaxation.
Hours : 11:00 - 5:00 
Address : 7F ~ 8F Dogenzaka Crastos bldg. 2-28-3 Dogenzaka, Shibuya, 150-0043 Tokyo
Access : 5 minutes from Shibuya Station, Hachiko Exit
Hoguyshiya-honpo Riraku / ほぐしや本舗 Riraku
Located in the heart of Shinjuku, this resort specializes more in massages, but you can also enjoy hot water baths while sipping a drink. 1,200 yen for 70 minutes.
Hours : 11:00 - 23:00
Address : 22 East Building, 1-5-4 Kabukicho, Shinjuku, 160 0021 Tokyo
Access : 6 minutes from JR Shinjuku Station, East Exit; 7 minutes from Shinjuku san-chome subway station (Exit B3)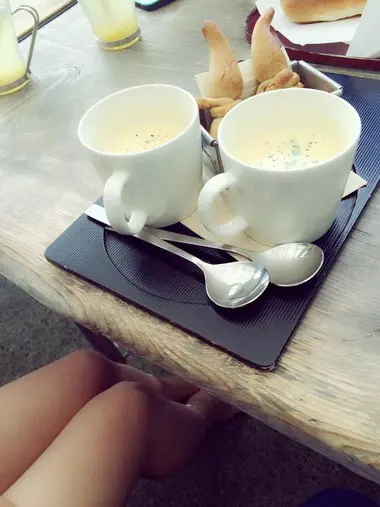 Momi No Yu / もみの湯
Several foot baths are available for customers, and you can also enjoy a 5-minute bonus massage. On weekdays (from 11:00 to 15:00) you can have lunch and enjoy an hour in the foot baths for 1,620 yen. The 45-minute bath with a drink and mini-massage costs 1,080 yen.
Hours : 11:00 to 17:00
Address : 4-5-2 Ueno, Taito, 110-0005 Tokyo
Access : Ueno Hirokoji (2 minutes), Ueno Okachimachi (3 minutes) or Okachimachi (3 minutes).
All the themes of the city