Fukuji onsen
福地温泉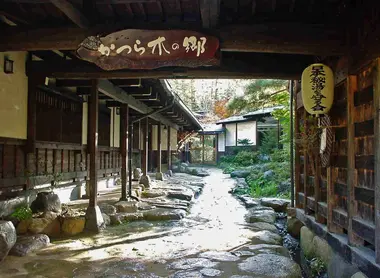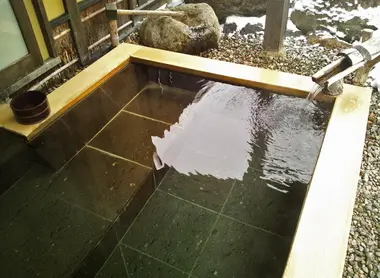 Under rocks, the source
A spa town renowned for the quality of its hot springs, Fukuji promises relaxation and clean air to urbanites yearning for Nature.
At Takayama's Katsuragi no Sato Inn , baths punctuate the visitor experience. Accessible to passengers not staying at the ryokan (Japanese inn) outside the hours dedicated to residents, the outdoor sources emit a light mist that invite you to relax. For those who are not at ease in public bathe, indoor baths can be privatized for their comfort.
Being a small number of baths, four outdoor and four indoor, the bubbling waters guarantee a moment of peace. The green landscape that can be seen from the steaming baths is embellished with the nearby summit of Mount Yakidake, for a postcard effect. Upon leaving the bath, the establishment invites you to enjoy a coffee or a more traditional green tea on the terrace of the garden.
The owners have thought of everything, since to round off the experience and refresh our memories, a gift shop awaits bathers at the exit. An escape from the big cities, a trip to Fukuji onsen allows you to recharge your batteries before returning to the frenzy of visits.
---
Address, timetable & access
All the themes of the city