Arima onsen
有馬温泉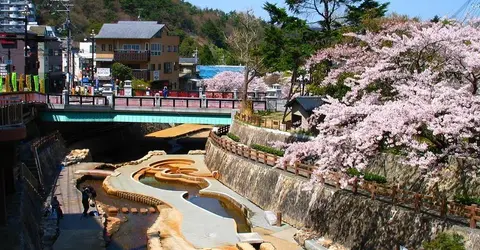 Source of all pleasures
Arima Onsen is one of the oldest and most famous hot springs in Japan. The ryokan (Japanese inns) and the hotels have their own baths. But there are also two public baths. A rejuvenating treat for body and mind.
Located on the northern slope of Mount Rokko, about twenty kilometers north of Kobe, this spa or onsen attracts a large number of bathers. Already in the seventh century, the carbonic and saline sources of this village were cited for their therapeutic qualities. Young couples, groups of perky old women, well-behaved students and co-workers do not hesitate to take the bus or train to reach this site nestled in the forested mountains of Hyogo Prefecture.
Here, already in the heroic times of feudal Japan, the shogun Toyotomi Hideyoshi (1537-1598), accompanied by the great tea master Sen No Rikyu (1522-1594), came to revitalize themselves. Centuries later, the author of In Praise of Shadows , Junichirô Tanizaki (1886-1965) did the same. It must be said that the reputation of the waters, be they are hot and ferruginous or clear and soft, is known to all. Staying in a ryokan in Arima onsen remains synonymous with unforgettable wellbeing, and as a bonus the inns will make your mouth water.
---
Address, timetable & access
All the themes of the city