Keio Line
京王線

Japan Railway: Keio Line
The Keio Line is a private railway line in Tokyo connecting Shinjuku Station in Shinjuku with the western suburbs of Chofu, Fuchu and Keio-Hachioji.
The Keio Line is a private railway line in Tokyo connecting Shinjuku Station in Shinjuku with the western cities of Chofu, Fuchu and Keio-Hachioji. The Keio Line is not be be confused with the Keiyo Line.
The Keio Line is 37.9 km long and intersects with other Keio Corporation owned lines in western Tokyo and Kanagawa Prefecture: the Keio New Line (Sasazuka Station in Shibuya to Shinjuku Station), Keio Sagamihara Line (Hashimoto Station to Chofu Station), the Keio Keibajo Line (Higashi-Fuchu to Fuchu-Keiba-Seimon-mae), the Keio Dobutsuen Line (Takahatafudo to Tama-Dobutsukoen for Tama Zoo), the Keio Takao Line (Kitano Station to Takaosanguchi Station with access on to Mt. Takao (Takaosan)), and the Keio Inokashira Line (from Shibuya Station to Kichijoji).
History
The Keio Line began in 1913 with the completion of the Shinjuku to Chofu section extending to Fuchu in 1916.
Extensions on the Keio Line continued from the 1960's through the 1980's.
The Keio Line was the first railway company in Tokyo to introduce special carriages for women back in 2000.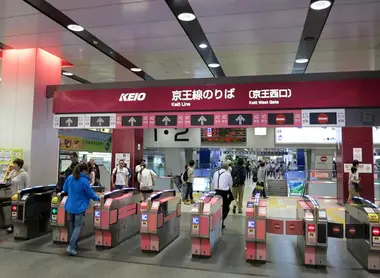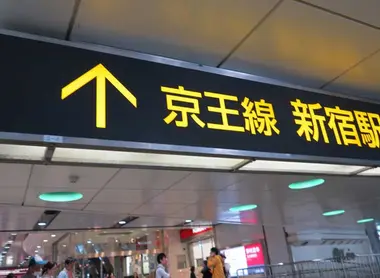 Keio Line Stations
The complete list of stations on the Keio Line is: Shinjuku (Toei Oedo Line, Toei Shinjuku Line, Marunouchi Line, Yamanote Line etc), Sasazuka, Daitabashi, Meidaimae, Shimo-Takaido, Sakurajosui, Kami-Kitazawa, Hachimanyama, Roka-koen, Chitose-Karasuyama, Sengawa, Tsutsujigaoka, Shibasaki, Kokuryo, Fuda, Chofu, Nishi-Chofu, Tobitakyu (for Ajinomoto Stadium), Musashinodai, Tama-Reien, Higashi-Fuchu, Fuchu, Bubaigawara, Nakagawara, Seiseki-Sakuragaoka, Mogusaen, Takahatafudo, Hirayamajoshi-koen, Naganuma, Kitano, and Keio-Hachioji.
Keio Line Information
The first Keio Line train leaves Shinjuku Station at 5.41am with the last train at 12.30am.
Services are less frequent on weekends and public holidays.
For complete timetables and updates please check the Keio Line website below.
Here are some useful tips for using the Keio Line in Tokyo.
1. First buy a pre-paid IC card, such as a Suica or Pasmo. They require a refundable 500 yen initial charge, but make train & subway use infinitely easier than having to buy a paper ticket at a station whenever you ride a train. You only need to touch your card for a second on the sensor at the ticket wicket as you pass through.
2. If you are purchasing a regular ticket, touch the button displaying the fare to your destination. Wait for the purchase display to appear. Insert coins or notes into the ticket machine and collect your ticket (and change, if any).
3. Mind your manners. Don't eat or drink on the train, don't put luggage on the seat beside you, don't talk on your cell phone, and if you're talking to people, try and keep it subdued.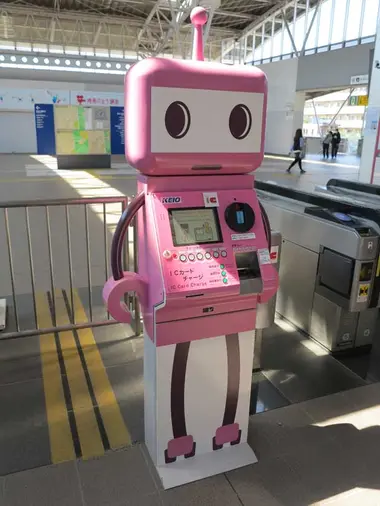 Purchase now your PASMO card!
All the themes of the city