Kanagawa Prefecture
Kanagawa Prefecture: read a guide to Kanagawa Prefecture, south of Tokyo, which includes the important cities of Yokohama and Kawasaki as well as Kamakura and Hakone.
Japan's Regions: Kanagawa 神奈川県
Kanagawa Prefecture is located south of Tokyo in the Kanto region of Japan. Kanagawa Prefecture also borders Shizuoka Prefecture and Yamanashi Prefecture and sits along Tokyo Bay.
Kanagawa is an urbanized and industrial prefecture especially in the east where the cities of Yokohama (the prefectural capital) and Kawasaki are located. To the south west, the Miura Peninsula is less built up and here lies the historic city of Kamakura. In the west of the prefecture near the border with Shizuoka are the resort areas of Hakone and Odawara.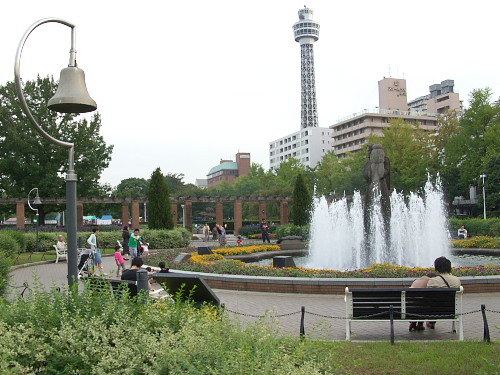 Yamashita Park, Yokohama, Kanagawa Prefecture
Around 23% of the total area of Kanagawa Prefecture is protected land including the Fuji-Hakone-Izu National Park, Tanzawa-Oyama Quasi-National Park as well as Jinba Sagamiko, Manazuru Hanto, Okuyugawara and Tanzawa-Oyama Prefectural Natural Parks.
Kanagawa's main cities include the capital Yokohama, with a population of 3.7 million inhabitants, making it Japan's second largest city after Tokyo, Atsugi, with is nearby air base, Ayase, Chigasaki, Ebina, Fujisawa, Hadano, Hiratsuka, Isehara, Kamakura, Kawasaki, Minamiashigara, Miura, Odawara, a former post-town on the Tokaido, Sagamihara, Uraga, Yamato, Yokosuka, an important naval base, Zama and Zushi, an up-market resort on the ocean.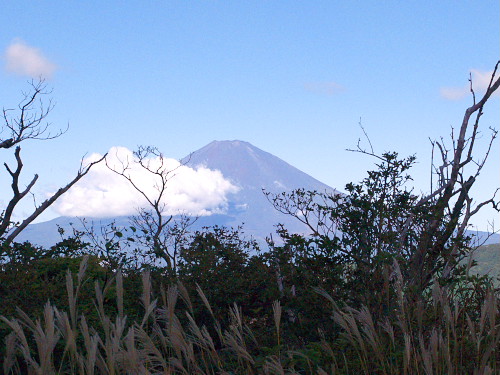 Mt Fuji from Hakone
Many towns and cities in the east and center of Kanagawa serve as bedroom communities for people working in Tokyo and Yokohama. These towns offer more space and fewer crowds than the Tokyo/Yokohama metropolis and include such places as Ebina, Fujisawa, Hiratsuka and Isehara.
Kanagawa has slightly cooler weather in the summers than areas further to the south in Honshu, though temperatures usually top 30 degrees Centigrade or more in July and August.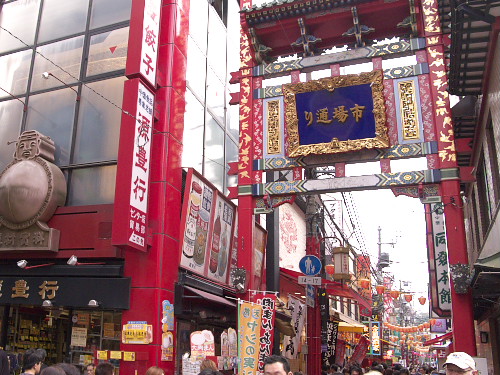 Chinatown in Yokohama is the largest Chinatown in Japan, bigger than those in Kobe and Nagasaki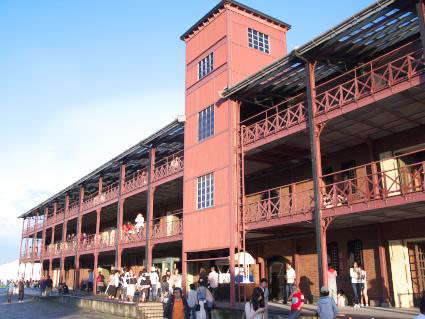 Yokohama Red Brick Warehouses - Aka Renga - contain shops, restaurants and a concert hall
Kanagawa Attractions
Kanagawa Prefecture has much to see and do. Yokohama is a cosmopolitan city known for Chinatown, the largest in Japan, the Minato Mirai 21 complex and the nearby Yokohama Maritime Museum, one of a number of excellent museums in the city.
Kawasaki has much less to see than Yokohama but the Kawasaki Daishi (Heiken-ji or Heigen-ji) is a large temple complex with numerous imposing buildings, venerating the Buddhist priest Kukai (774-835), aka Kobo-Daishi.
The main industrial area in Kawasaki-ku, fronting Tokyo Bay, is growing in popularity as an alternative tourist attraction to tour the factories both during the day and at night by boat from the sea.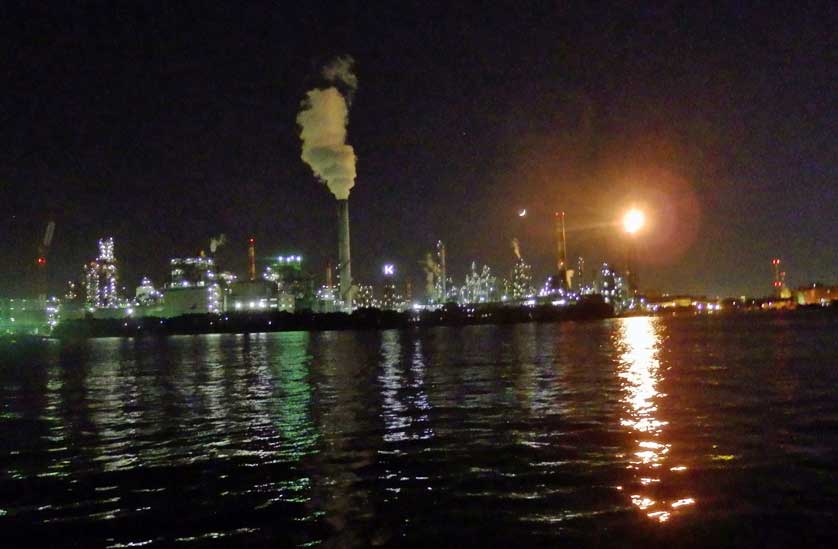 Kawasaki factories seen at night from a boat tour
Kamakura is an historic town with many Buddhist temples and the world famous Kamakura Daibutsu (Great Buddha).
Hakone is a mountainous area in Kanagawa Prefecture about 80 km (50 miles) southwest of Tokyo on the Tomei Expressway, just north of the Izu Peninsula, in the 121,850 hectare Fuji-Hakone-Izu National Park. Historically it was a rest and relaxation area for those making the journey between Kyoto (seat of the imperial Court) and Tokyo (seat of the Shogun) on the Tokaido. To this day it is one of the most popular tourist destinations in the Kanto region, known for its onsen, the scenic Lake Ashi and its high-quality museums.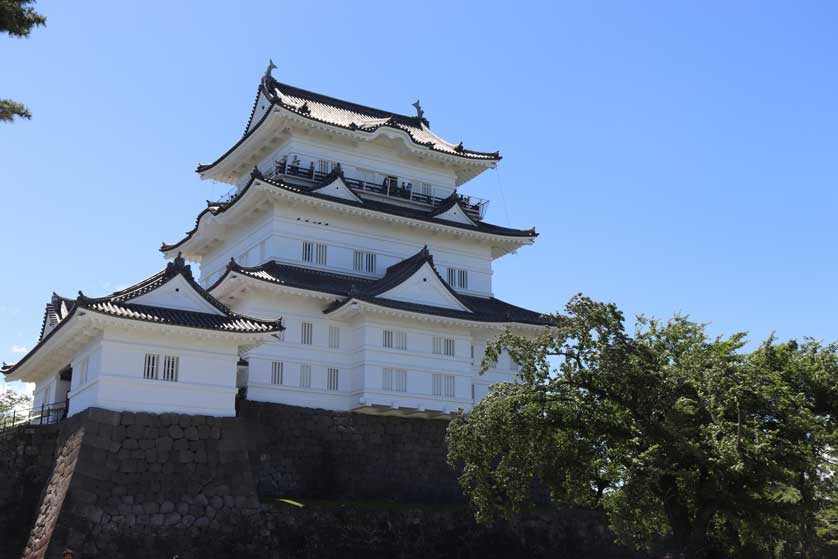 Odawara Castle 小田原城 is a 20th century reconstruction
Odawara also on the old Tokaido Highway is known for Odawara Castle, a modern, concrete reconstruction dating from the 1960's.
Enoshima is a small offshore island connected to Fujisawa by bridge and known for its beaches and gourmet restaurants.
International Stadium Yokohama (Nissan Stadium) in Yokohama city is one of the biggest stadiums in Japan and venue for the 2002 World Cup and 2019 Rugby World Cup finals.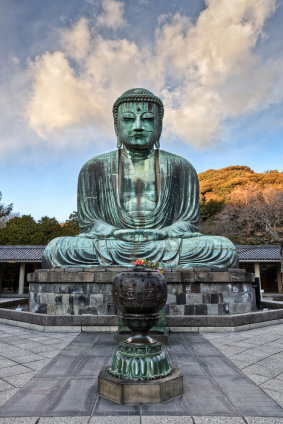 The Daibutsu "Great Buddha Statue" in Kamakura, Japan was originally housed in a wooden hall that was washed away by a tsunami in 1495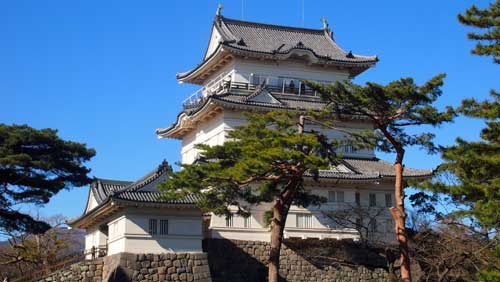 View of Odawara Castle, Kanagawa Prefecture, Japan
Kanagawa History
Kanagawa has a number of sites that date back to the Jomon Period but it was during the Kamakura Period (1185–1333) that Kanagawa became of national importance when Kamakura became the capital of Japan. During the later Edo Period, present-day Kanagawa was part of the provinces of Sagami and Musashi, ruled from Odawara Castle and Edo Castle respectively.
The arrival of Commodore Matthew Perry off the shores of Kanagawa and in nearby Shimoda and Tokyo Bay in 1853 and again in 1854 led to the signing of the Convention of Kanagawa that opened up Japan to Western trade after over 200 years of seclusion or sakoku.
The Treaty Port of Yokohama was opened to western traders in 1859 and became an important channel for westernization into Japan as new technologies, people, products, sports, food and ideas flooded into the country.
The Namamugi Incident (生麦事件), aka the Kanagawa Incident or Richardson Affair of 1862 saw the murder of British businessman Charles Richardson by Satsuma domain samurai in Namamugi in Kanagawa and led to a brief war and the bombardment of Kagoshima in southern Kyushu by British warships.
Parts of Kanagawa were badly damaged in the 1923 Great Kanto Earthquake and the area suffered again from extensive bombing of Kawasaki and Yokohama from the air by the US Air Force during World War II.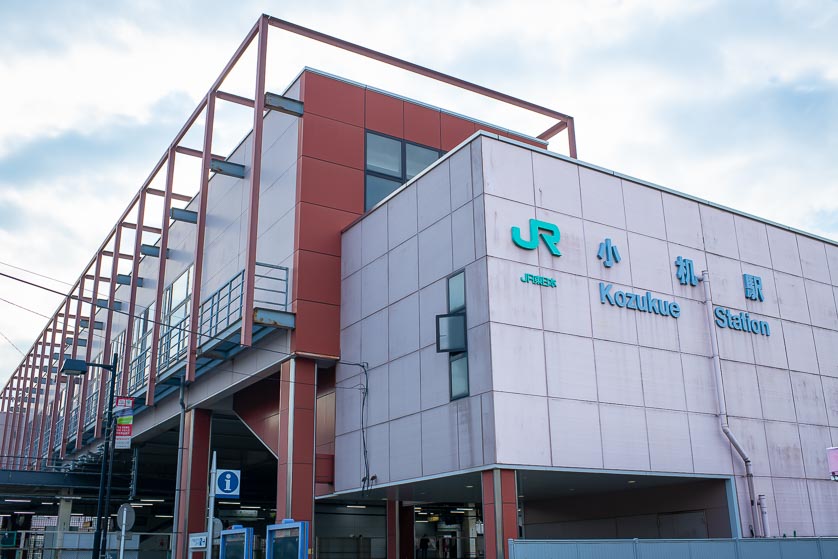 Kozukue Station, closest to Nissan Stadium
Access
Train
There are a number of different train lines running to Yokohama from Tokyo including the Tokyu-Tohoku Line from Shibuya Station to Yokohama Station and Motomachi-Chukagai Station; the JR Tokaido and Yokusuka lines from Tokyo Station take 40 minutes to Yokohama Station or the Keihin-Tohoku Line to Sakuragicho, Kannai or Ishikawacho Stations.
From Shinjuku Station take the Shonan-Shinjuku Line to Yokohama Station. From Narita Airport take either the Narita Express Yokohama service or the slower Rapid service. From Haneda, take a Keihin-Kyuko Line train or a bus to YCAT. From the shinkansen stop at Shin-Yokohama take the Yokohama subway to Yokohama Station, Kannai or Sakuragicho.
Within Yokohama the Yokohama Municipal Subway has two lines: the Blue Line and Green Line.
Both Kawasaki and Kamakura are within easy reach of the Japanese capital by train.
Bus
Yokohama and Hakone have numerous limousine highway buses connecting them to other parts of the country.
All the themes of the city