IC Smartcards in Japan
A prepaid IC smartcard is the the most convenient way to ride public transport in Japan and pay for things in participating stores by simply swiping. Popular IC cards include Suica and Pasmo in Tokyo, manaca in Chubu and ICOCA in Kansai.
Pre-Paid IC Cards
An IC card, or smartcard, is a rechargeable plastic prepaid card used in Japan to pay train, subway, bus and monorail fares, and for e-payment at convenience and other stores, vending machines, station coinlockers, parking lots, and more.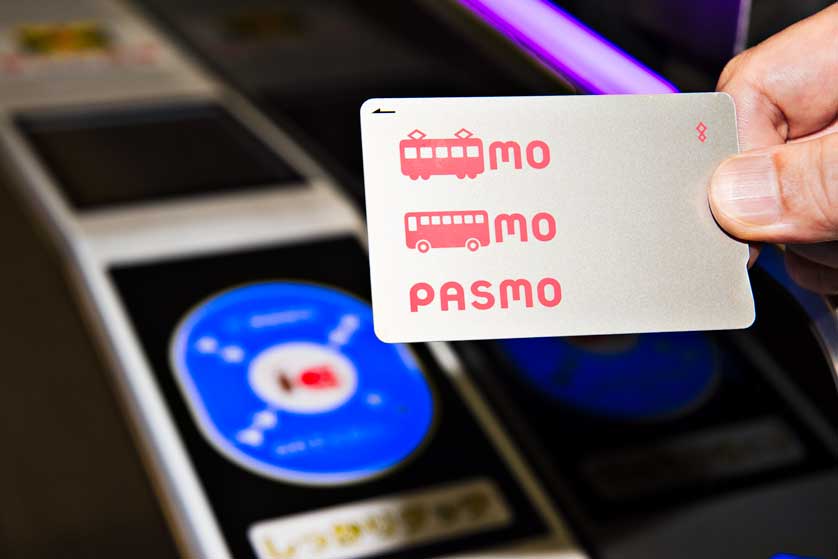 Pasmo card being swiped at ticket gate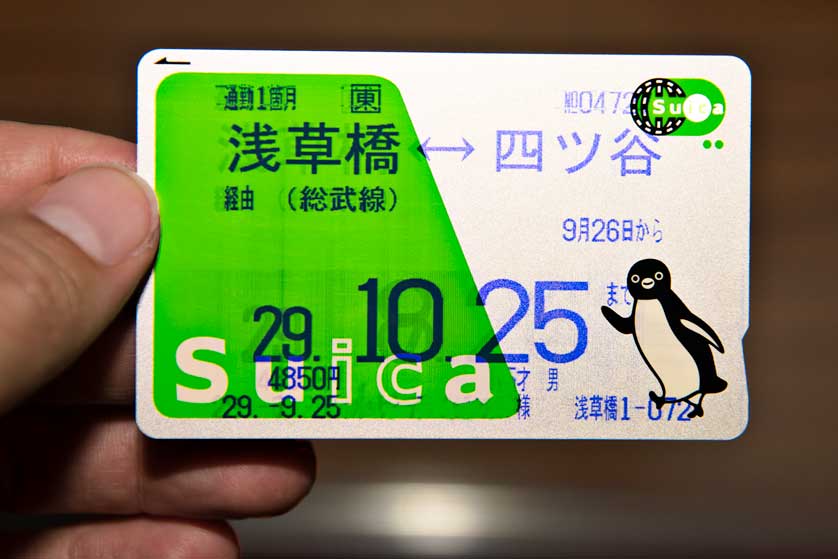 Registered Suica commuter pass, for between Asakusabsashi and Yotsuya stations in Tokyo.
An IC card, if registered, can also be used as a monthly pass for a specified route, and can even be used to ride the Tokaido-Sanyo Shinkansen. Purchasing an IC card requires a 500 yen deposit, which is refundable. The amount of money on an IC card at any one time is referred to as the stored fare.
Most IC cards are contactless, so can be kept in a pouch or holder and passed lightly over the reader to effect payment.
IC Cards in Japan
IC transport cards made their appearance in Japan from around the start of the 21st century, the first adopter being the Skyrail Midorizaka Line monorail on the outskirts of Hiroshima, in 1998. JR East's Suica card followed in 2001, then the the next year, the 8-station Saitama Railway Line was the first to adopt the Passnet card, which in 2007 became the Pasmo.
The next few years saw the appearance all over Japan of more than 20 different IC transport cards.
In 2013, the IC card system was substantially integrated, and most IC cards can now be used interchangeably, with some limitations.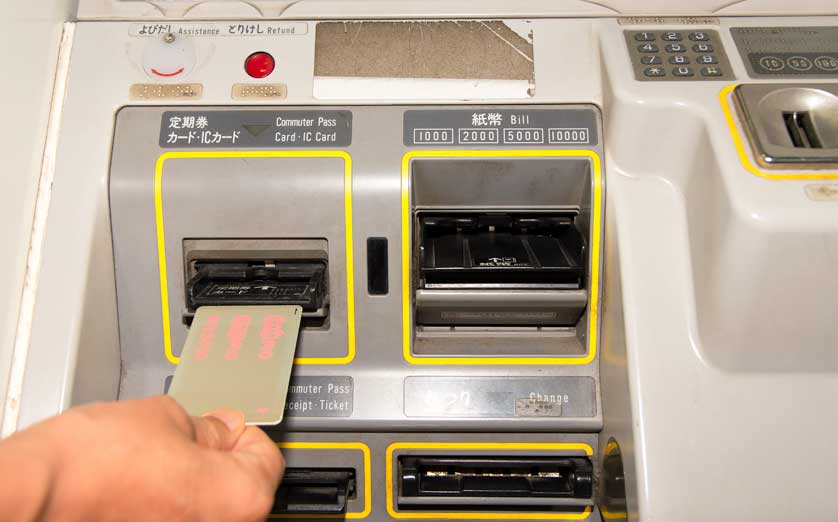 Using an IC card at a ticket vending/card recharging machine (insert)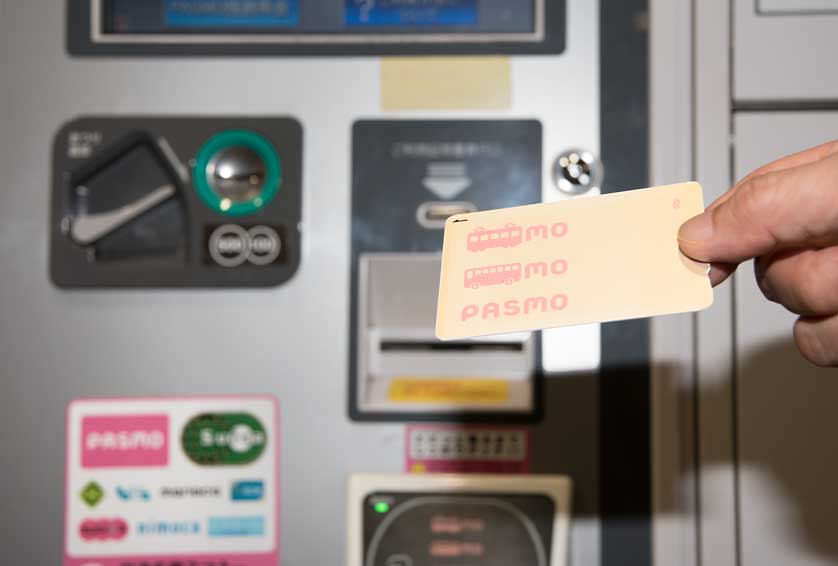 Using an IC card at a station rental locker (swipe where little green light shows)
Interchangeability Limitations
Which kind of IC card you purchase in Japan depends on which part of Japan you purchase it in. A specific type of IC card is purchasable only within a particular area; however, if that card is one of the 10 main IC cards in Japan, it can be used wherever any of the others is issued. But in most cases, this does not cover journeys across different areas.
Crossing Different IC Card Areas
Suica and Pasmo are fully integrated but, in the case of other cards, if you board a train in one IC card area and get off in another, you have to show the card to the station staff at the destination ticket gate before exiting (so they know which station you boarded at), pay your fare in cash and get a receipt. Your IC is now unusable until you get back to the area it was issued in, because it lacks an electronic signature verifying that the trip was completed and paid for. So, when back in the area where your IC card was issued, you must show the receipt to a station attendant, who will manually add data to your card showing that you properly completed and paid for the journey in question, making your card usable again.
Three IC Card Choices
Whatever brand of IC card you buy, you have the following three choices:- blank, you simply purchase and start using.- named (registered), with your name, gender, date of birth and telephone number, and the protection of being able to stop the card if it is lost or stolen, and of having it reissued without losing the stored fare.-
commuter pass, a named card that can be used as a monthly pass, enjoying the discount afforded by a monthly pass. Even while using an IC card as a monthly pass, you can still use it for travel outside the section of line covered by the pass, and recharge it as normal. A commuter pass IC card can be can be recharged on a monthly basis as a commuter pass, or, if no longer needed as a commuter pass, used as normal card with no problem.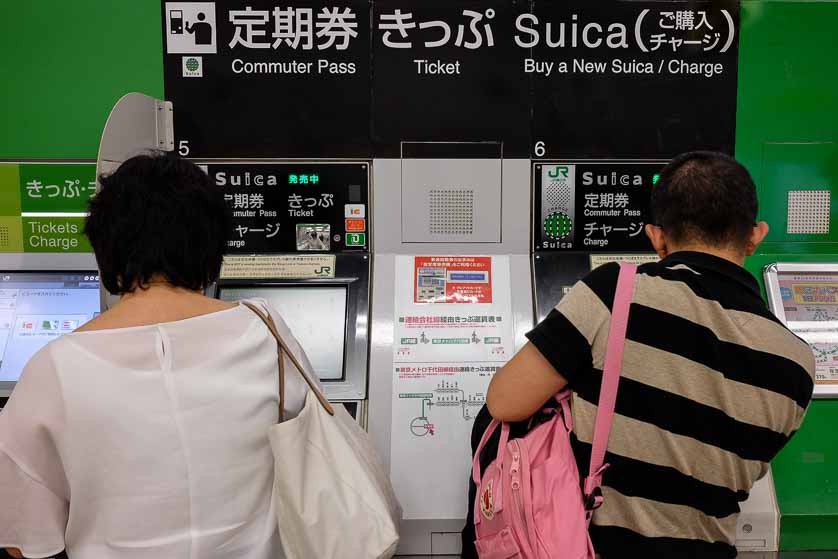 Buying and recharging IC smartcards at station ticket machines
Purchasing and Charging IC Cards
An IC card costs 500 yen to issue, refundable when you have finished with the card and returned it. IC cards can be recharged at any station ticket machine that bears the IC card symbol, or when getting on or off a bus.
At a station ticket machine, press the "Charge" button, insert the card, select the amount of the top-up, then insert banknotes. If you want a receipt, press the "Receipt" button before inserting money.
Registered Pasmo and Suica cards can be auto-charged (the official term being quick charged), but this requires registering the IC card to a specific (railway company-recommended) Japanese credit card. The auto-charge function works only within the area where the card was issued.
Mobile Phone Apps
Suica and Pasmo have apps for smartphones that allow the user to do away with the plastic card and simply swipe a smartphone instead. Train reservations can also be made via the app. However, not all models of mobile phone and smartphone have the required chip inside. The only Apple products that have it are the iPhone 7, iPhone 7 Plus, iPhone 8, iPhone 8 Plus, iPhone X, and Apple Watch Series 2 or later. The Suica app links to Apple Pay, so the card can be recharged using only your smartphone.
Lost Cards
Registering an IC card to your name saves you from loss if the card malfunctions or is lost, because an electronic record remains of the stored fare. Also, the card can be locked by contacting the IC card's issuing company. However, lost cards can be reissued only in the area they were issued.
Each card has its own dictinctive theme and mascot.
The 10 Interchangeable IC Cards
There are 10 major IC prepaid cards currently used in Japan, and since 2013 they have all been interchangeable with each other. The type of card you purchase depends on where you purchase it, and can be used in any area where the following 10 cards are issued.
Suica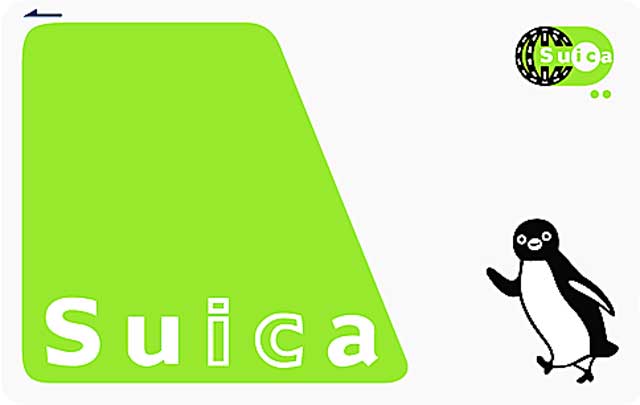 Suica card
Suica is issued by JR East for the Tokyo metropolitan region, for Niigata and for Sendai. Suica can be used not only on JR East lines in the Tokyo metropolitan area, but for subways, buses and the Tokyo Monorail, which runs between Haneda Airport and Tokyo. "Suica" is an acronym for "Super Urban Intelligent CArd" and the card's green color relates to suika meaning "watermelon" in Japanese.
To enter a ticket gate in a Suica area, your Suica card must have at least the amount of the starting fare. In non-Suica areas, you can enter even with 0 yen on your card, but you must recharge it at the destination station before exiting the ticket gate.
Suica is the most advanced of the IC cards in Japan, can be managed online (requiring a special FeliCa Port/PaSoRi USB-attached card reader), and is also available as a smartphone app (usable with phones that have a compatible chip in them).
The Suica mascot is a penguin, and there are more cute Suica goods available, featuring the mascot, than any other of the main cards.
For shopping, the Suica can be used in all convenience stores for cash-free payment, and at many drug stores and other retailers. Suica has a Suica Point Club by which points can be collected per amount spent at participating stores and businesses.
Pasmo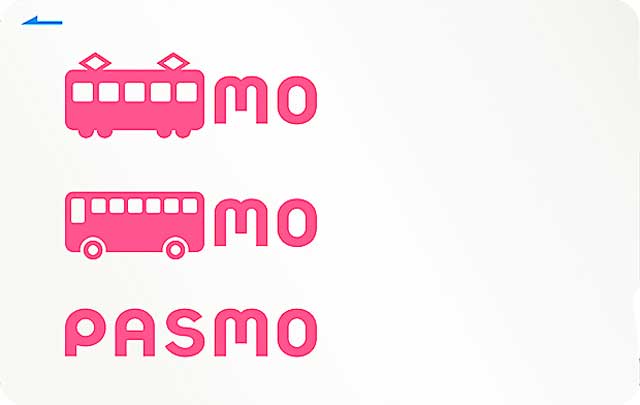 Pasmo card
Pasmo is also a Tokyo metropolitan region IC card, but is issued by non-JR railway, subway and bus operators. Pasmo functions and features are almost identical to those of Suica, and Pasmo-related questions or problems can be addressed at any station where Suica is used.
Pasmo is identified by its cute, retro-looking rose-colored robot - that also appears in any of eight other colors. The Pasmo robot has big gentle black eyes, pincers for hands, and wheeled feet.
To enter a ticket gate in a Pasmo area, your IC card must have at least the amount of the starting fare.
Icoca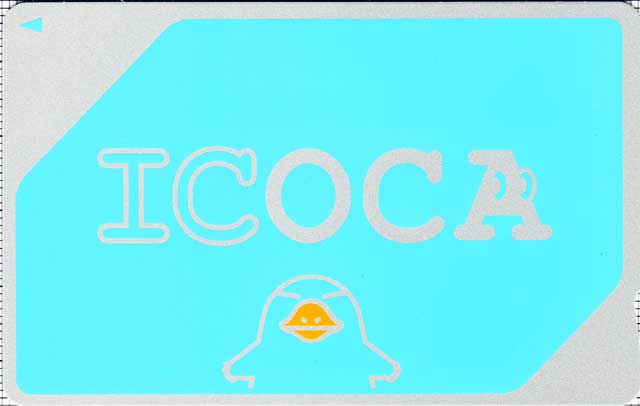 Icoca card
Icoca is issued by JR West in the Osaka metropolitan region, Kyoto, Kobe, Okayama, and Hiroshima. The Icoca can be used throughout this whole area, but only for rides that are 200 km or less in length.
Showing a non-Japanese passport entitles the purchaser of an Icoca card to a substantial fare discount for the Haruka express train serving Kansai International Airport, in a package called Icoca & Haruka.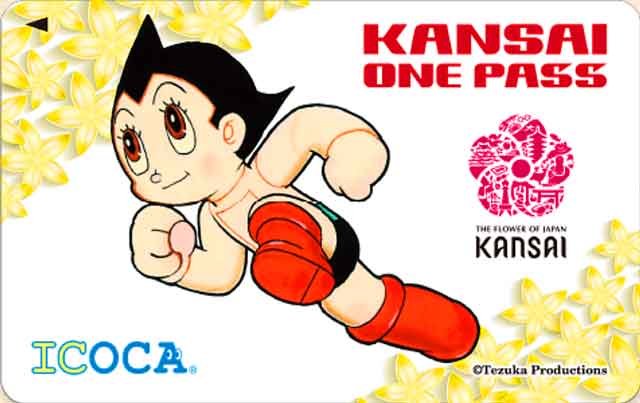 Kansai One Pass card
The Kansai One Pass is a special Icoca, also for foreign passport holders only, that has the bonus of special deals and discounts at numerous sightseeing spots and tourist attractions throughout the Kansai area.
To enter a ticket gate in an Icoca area, your IC card must have at least 1 yen on it. "Icoca" (ee-koh-ka is casual way of saying "Let's go!" in Japanese.
PiTaPa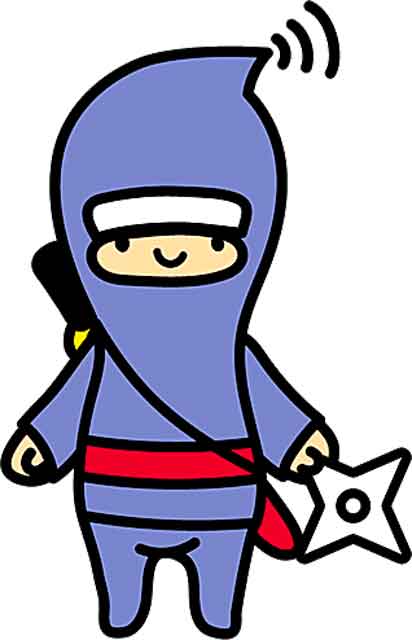 Pitamaru, the PiTaPa ninja mascot
PiTaPa can is primarily a postpaid card (within its issuing area, with a prepaid function for outside of it) that is linked to the user's bank account, so not particularly oriented to travelers from overseas. Its issuing area is Osaka, Kyoto, Nara, Nagoya - and a line in Shizuoka. The PiTaPa mascot is a little mauve ninja with a red belt, katana slung over back and shuriken in hand, called Pitamaru. PiTaPa is operated by the same company that sells the Kansai Thru Pass, available only to foreign tourists. To enter a ticket gate in a PiTaPa card area, your IC card must have at least 10 yen on it.
Toica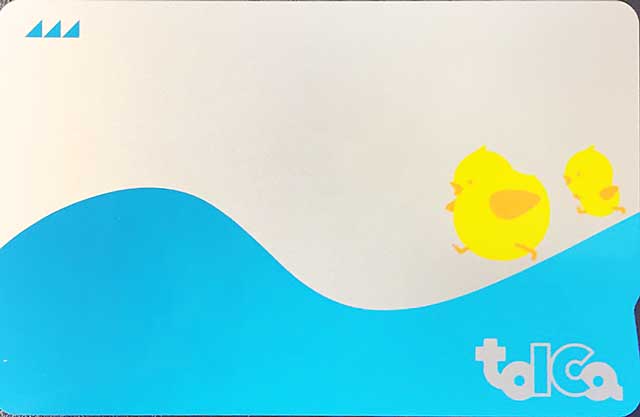 Toica card
The Toica card is issued by JR Central (Central Japan Railway Company), and features two yellow chicks. The Toica first started in Nagoya, but its area now covers Shizuoka and stretches from as far east as the Izu Peninsula to as far west as parts of Gifu and Mie prefectures. Initial purchase of a Toica card costs 2,000 yen, 500 yen of which is the deposit. You can enter a ticket gate in a Toica card area with even 0 yen on your IC card, but must top it up before exiting at your destination.
Manaca
Manaca card
Manaca is, like Toica, also based in Nagoya, and is for use on non-JR trains and buses. Manaca features a yellow smily face. You can enter a ticket gate in a Manaca card area with even 0 yen on your IC card, but must top it up before exiting at your destination.
Kitaca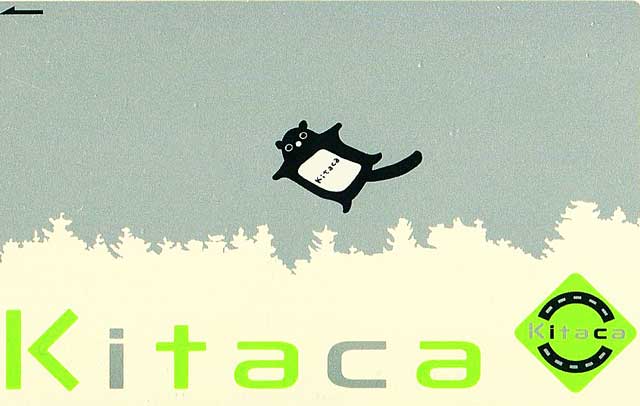 Kitaca card
Kitaca is issued by JR Hokkaido and its mascot is a black and white bear. "Kita" means "north" in Japanese. The Kitaca area is the Sapporo metropolitan area and enables travel on trains, subways, buses and a tram.
To enter a ticket gate in a Kitaca card area, your IC card must have at least the amount of the starting fare.
Sugoca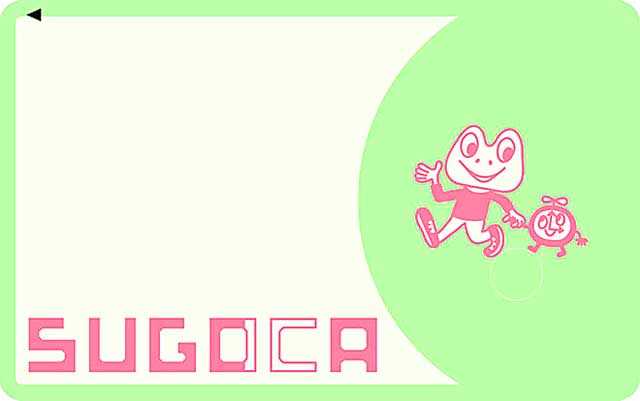 Sugoca card
Sugoka is issued by JR Kyushu. Sugoka is Fukuoka dialect for "Great!". The Sugoka card features a cartoon frog with a little red clock companion, both unimaginatively named "Frog Boy" (Kaeru-kun) and "Clock Boy" (Tokei-kun), who come with an extended family of no less than 8 different members. Sugoka covers all JR transport services for much of Kyushu. To enter a ticket gate in a Sugoca card area, your IC card must have at least 10 yen on it.
Nimoca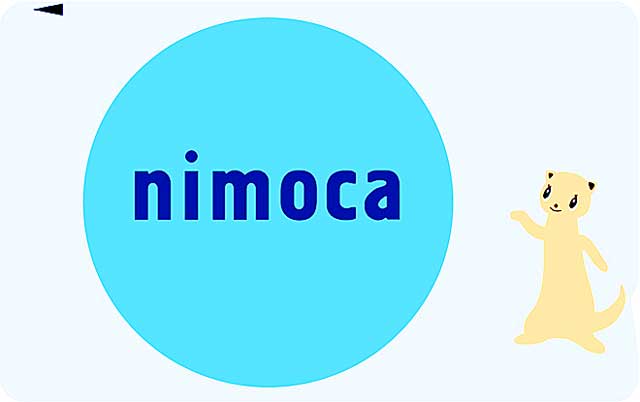 Nimoca card
Nimoca is the non-JR IC card for Kyushu, covering Nishitetsu lines in the Fukuoka metropolitan district, and certain other lines throughout Kyushu, and even municipal transport up the other end of Japan in Hakodate, Hokkaido. The Nimoca card features a yellow cartoon ferret. To enter a ticket gate in a Nimoca card area, your IC card must have at least 10 yen on it.
Hayakaken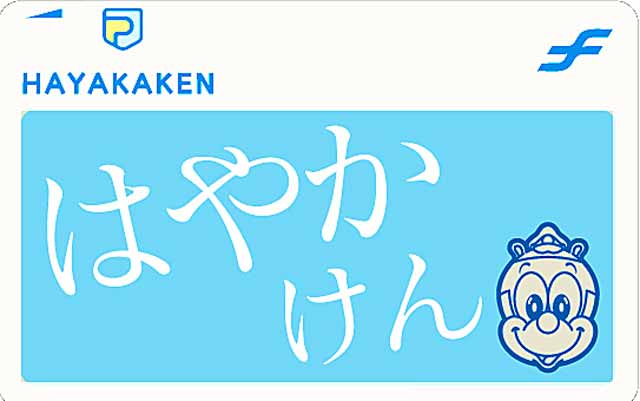 Hayakaken card
Hayakaken is card issued by the Fukuoka Municipal Transport Authority for use on the municipal subway and buses. It features a dandy cartoon bear, with a railway uniform cap, called Chikamaru. To enter a ticket gate in a Hayakaken card area, your IC card must have at least 10 yen on it.
SmartEX - Use IC Card for Shinkansen
SmartEX is an internet service whereby up to six seats at any one time can be booked up to a month ahead on the Tokaido-Sanyo Shinkansen. Payment is by credit card pre-registered to the site. The named IC card registered to the SmartEX site is used to board the train. Turn up at the station on the day, swipe your IC card at the ticket wicket, take the coupon that gets automatically issued (with car and seat information on it), and board the bullet train. Tickets paid for this way are 200 yen cheaper than buying a paper ticket at a station ticket machine or counter.
Local IC Cards
There are several other minor cards around Japan that are either not usable outside the area they are issued in, or are only limitedly so.
Many of these minor cards have "mileage" capabilities, whereby accumulated points can be used for fare discounts.
Book Hotel & Hostel Accommodation in Japan
All the themes of the city