Can I ride the Nozomi & Mizuho Shinkansen with the Japan Rail Pass?

The Shinkansen bullet train is hailed as one of the most premium and efficient means of rail travel in the entire world, making it a popular choice for visitors to Japan who are engaging in travel between different destinations throughout the country.
In conjunction with these high-speed trains, many travelers often opt to buy the Japan Rail Pass, a specialized travel pass that allows unlimited access to many different transportation services, including both local train and cross-country Shinkansen bullet trains, conveniently and all at one price.
Riding the Nozomi & Mizuho Shinkansen 
Of the most efficient and fast of these Shinkansen bullet trains is that of the Nozomi and Mizuho bullet trains that traverse between Tokyo and Hakata and a number of destinations in between, such as Yokohama, Osaka, Kyoto, Hiroshima, and more. This makes this set of Shinkansen bullet trains especially convenient for those traveling on the "Golden Route," an itinerary that incorporates train travel between Tokyo, Kyoto, and Hiroshima. However, many pass-holder ask if these specialized bullet trains are able to be ridden with the Japan Rail Pass. 
The short answer is that YES, the Nozomi and Mizuho CAN be ridden with the Japan Rail Pass. However, there is an additional charge to ride these high-speed bullet trains that differ by the distance being traveled. 
The Nozomi & Mizuho Shinkansen with the Japan Rail Pass
While the trains aren't 100% included with the new Japan Rail Pass price, this added flexibility will certainly serve as a plus for many travelers to Japan, especially if it's their first time. 
The additional fees for the most common routes are displayed below:
Tokyo > Kyoto: 4960 yen
Tokyo > Shin Osaka: 4960 yen
Tokyo > Hiroshima: 6500 yen
Tokyo > Hakata: 8140 yen
Shin-Osaka > Hiroshima: 4,170 yen
Shin-Osaka > Hakata: 4,960 yen
Hakata > Kagoshima-Chuo:  4,500 yen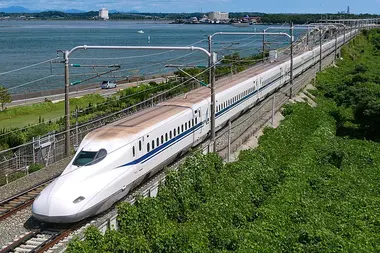 Benefits of the Nozomi & Mizuho Shinkansen bullet trains for your next trip to Japan
With the Japan Rail Pass, JR's vast network of trains and other public transportation will be an essential part of your travels. Being some of the fastest and most convenient Shinkansen bullet trains available to travelers, riding the Nozomi and Mizuho Shinkansen bullet trains presents riders with a great option for seeing some of the Japan's most essential destinations. For first-time travelers, these will be great trains for getting to each destination on their itineraries and seeing how fast and accommodating Japan's Shinkansen can be. 
Of course, with their still being an additional fee needed to board the trains, travelers ought to not feel obligated to take them throughout their entire trip, but if such fits into a given itinerary or becomes more time-effective, these trains will be very much worth considering. 
All the themes of the city