Suizen-ji Garden, Joju-en
水前寺成趣園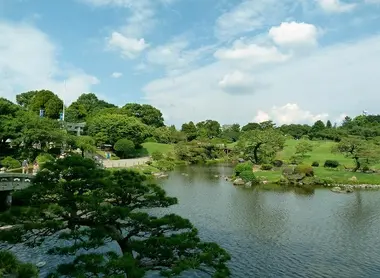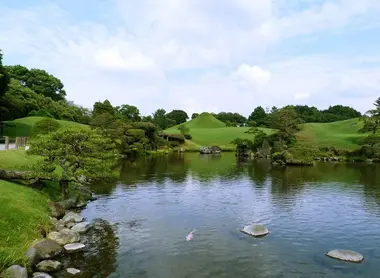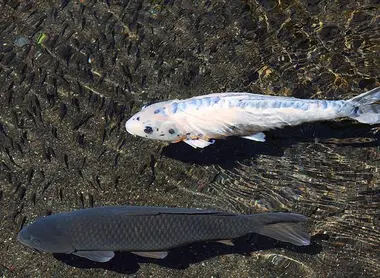 Kanto to Kyushu
Away from the city of Kumamoto, the Suizen-ji garden Joju-en transports visitors to another place and another time, that of the Tokaido Road that once connected Edo and Kyoto via Lake Biwa and Mount Fuji.
The history of Suizen-ji dates back to 1636, when Tadatoshi Hosokawa, who then ruled the region, decided to build, a tea house and a temple not too far from the castle - the Suizen-ji - now disappeared.
Eight years later the garden really took shape thanks to his grandson, Tsunatoshi Hosokawa, who who built the garden around the temple into its current form. 
The pavilion there today, however, is not the original but a 1912 reconstruction. It was made from a Kyoto Imperial Palace building, on the occasion of the appointment of the garden as a "historic site of scenic beauty."
Miniature world
The garden is set around a large pond, which reproduces Lake Biwa, spreading at the foot of a small hill representing the perfect triangle of Mount Fuji. These are two of the 53 stages of the Tokaido Road that a walk around the pond wishes to represent. This technique is known as tsukiyama, a reproduction of a known landscape.
The aesthetics of the garden also borrows from the shakkei technique of integrating the boundaries of the garden into the surrounding landscape to give it infinite dimensions. In the past the garden was integrated to the five peaks of Mount Aso, but sadly it is no longer possible to observe today because of urbanization.
On the left, after the entry of the garden, the Izumi sanctuary is now found, where they honor the members of the Hosokawa family. Also at the entrance there is a chōzuya, a shinto water ablution pavilion for a ceremonial purification before entering.
Rock Water
The pond water - spring water that comes directly from Mount Aso - is particularly clear, and Tadatoshi Hosokawa would have chosen this location for its purity.
Today we can observe koi carp with flamboyant colors, other species of smaller fish, as well as turtles, always on the lookout for little tidbits thrown in by visitors.
All the themes of the city