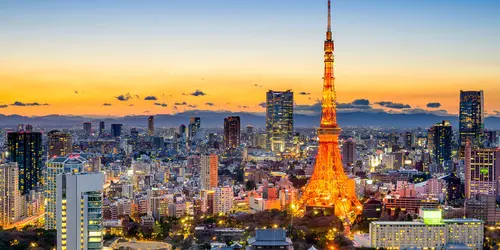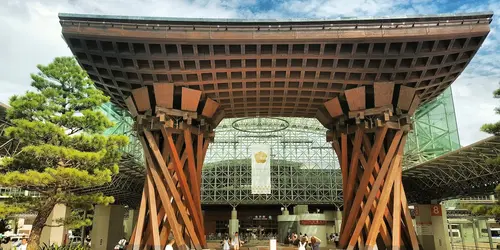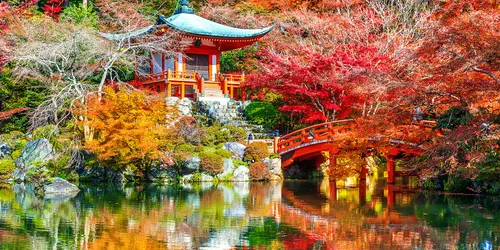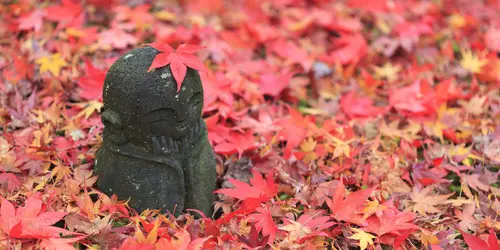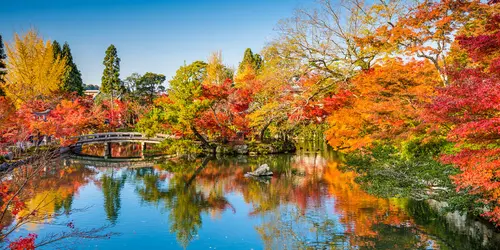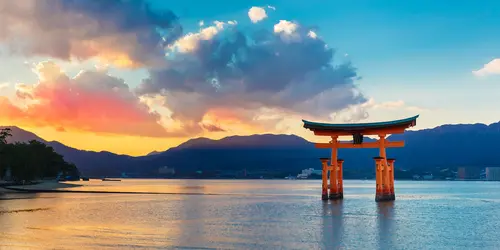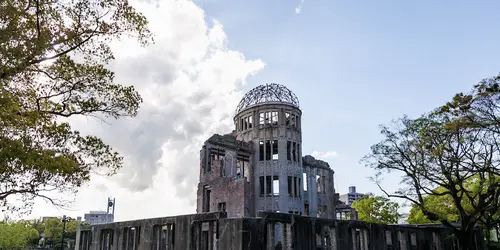 Okaeri Japan Extended
Duration :

14 days

Locations :

Tokyo, Kyoto, Nara, Kanazawa, Hiroshima, Miyajima, Tokyo
Did you miss Japan? Okaeri literally means "welcome back" in Japanese. After more than two years of border closure, the reopening of the borders was long overdue!
Our tour in Japan special reopening of the borders, to discover or rediscover Japan in 14 days in private stay from 1 person!
Tokyo, Kyoto, Hiroshima and Kanazawa: a 2 weeks itinerary which will definitely seduce you. The electric district of Akihabara, a visit to the geisha district in Kyoto, a ride on the ultra-fast Shinkansen or the Hiroshima peace memorial: the perfect ingredients for an unmissable and unforgettable trip.
Icing on the cake: you will be accompanied by a private guide every day of your trip and above all you will be able to visit Japan before anyone else! 
---
14-day itinerary (Tokyo -> Tokyo loop)
Tokyo (4 days)
Kyoto (5 days including 1 day in Nara)
Hiroshima (2 days including 1 day in Miyajima)
Kanazawa (2 days)
Tokyo (1 day)
The first and last day are reserved for your arrival and departure from Japan (and for the last bit of souvenir shopping!).
Please find below the itinerary details.
You like this tour but you would like it to be shorter? Then do not hesitate to discover our other tour Okaeri Japan Essential - Private tour : Tokyo - Kyoto - Kanazawa
WARNING : The tour departure and end dates presented on this page relate to your stay in Japan. On departure, you will have to leave your home country on the day before. The return flight is on the same day due to the time difference. For further details, refer to "More about your trip".
---
Why this trip to Japan ?
Supervision by a bilingual English-speaking guide every day, a specialist in Japanese culture
Private stay in Japan: enjoy the best of Japan especially for you, without the constraints of a group
Discover or rediscover Japan for the first time since the pandemic before anyone else
Settle in the heart of Tokyo in your 3* hotel chosen for its comfort and location
Travel by Shinkansen to Kyoto and your 3* hotel combining Japanese and Western style.
Visit the ancient imperial capital and go on a day trip to Nara
Stay in a traditional house in Kanazawa, on the Sea of Japan
Enjoy the history of Hiroshima through its castle and peace monuments
On the last day, a shuttle will take you from your accommodation to the airport
Recommendations available in your travel diary
Benefit unlimited internet access thanks to your pocket Wi-Fi
If necessary, contact our Japanese bilingual English-speaking assistance 24/7
Benefit from the expertise of Japan Experience, European leading travel agency in Japan.
---
Some constraints however, concerning COVID-19:
A PCR test done 72h to 48h before departure is necessary to board at your departure airport. This test must be negative. In case of positive PCR, the insurance included in the tour refunds 90% of the tour price.
No test upon arrival in Japan
For more information concerning specific measures to your country, please refer to the website of the embassy.
Before your trip:
During the trip :
Wearing a mask is mandatory indoors and in some crowded places outdoors
If you feel unwell, please communicate your health condition to the guide
A guide will accompany you at all times of the day
Need to be reachable by phone or WhatsApp at any time of the day by the guide or by the Japan Experience assistance

NB: Remember to charge your pocket WiFi every day in order to have constant access to the Internet.
Itinerary
Day 1 : Wake up in Tokyo 東京

Arrival at Tokyo airport (Narita or Haneda).
Welcome to Japan! Yokoso 日本へようこそ!

Reception at the exit from Customs in English by our airport assistant, who will give you all your travel documents.

Accompanied transfer from the airport to your hotel (see details).

Check-in at OMO3 Tokyo Akasaka by Hoshino Resorts or equivalent 3* hotel (rooms available from 3pm).

Night in Tokyo.

Day 2 : First steps in the capital

Breakfast at the hotel.

Departure around 9am, accompanied tour of Tokyo (example of sites to visit with your private guide):

- Ginza, the chic district of Tokyo;

- Tsukiji, the small outdoor food market;

- Hamarikyu, the Japanese garden between the buildings of Tokyo;

- Asakusa, traditional district, and its Buddhist temple Senso-ji, place of pilgrimage.

Night in Tokyo.

Day 3 : The effervescent metropolis

Breakfast at the hotel.

Continue to visit Tokyo with your guide (example of sites to visit):

- Tokyo Skytree;

- Ueno: the must-see of Tokyo with its park full of cherry trees and its lotus pond;

- Harajuku: the avant-garde district;

- Meiji Jingu, the imperial sanctuary;

- Takeshita-Dori: the most famous street in Japan;

- Omotesando: the Champs-Élysées of Tokyo;

- Shibuya and its unavoidable crossroad.

Night in Tokyo.

Day 4 : Between tradition and modernity

Breakfast at the hotel.

Example of possible visits in the capital:

- Tokyo City Museum (Edo Tokyo Museum);

- Shinjuku Gyoen (park);

- Akihabara: the electronic and manga district;

- Yanaka and/or Shimokitazawa vintage neighborhoods;

- Miraikan and Gundam robot in Odaiba.

Night in Tokyo.

Day 5 : On the way to the old capital

Breakfast at the hotel.

Meet at Tokyo Station to board one of the fastest trains in the world: the Shinkansen! Travel by Shinkansen to Kyoto (direct, about 2h40). In order to see Mount Fuji, sit on the right side for a great view. 

Settle in the center of the old capital at the Rakuro Share Hotel or equivalent 3* (rooms available from 3pm).

You have 4 days to visit Kyoto with your private guide.

Example of visits: Start in the afternoon with its historical district, the Gion district and let the stories of the most emblematic places be told: 

- Kiyomizu-Dera, the great water temple;

- Sannen-zaka & Ninnen-zaka historical alleys;

- Kodai-ji, the maple and bamboo temple of Kyot.

Night in Kyoto.

Day 6 : Traditions in Kyoto

Breakfast at the hotel.

Example of possible visits:

- Kinkaku-ji (Golden Pavilion) and Ginkaku-ji (Silver Pavilion);

- The bewitching path of philosophy;

- Visit the fabulous Fushimi Inari Shrine - usually crowded with foreign tourists - to see an incredible sunset;

- Stroll in the Pontocho district.

Night in Kyoto.

Day 7 : Kyoto and its bamboo grove

Breakfast at the hotel

Example of possible visits:

Walking tour of the Arashiyama district:

- Togetsukyo Bridge;

- the UNESCO Tenryuji Zen Temple, its bamboo grove and its famous Zen garden, the Sogenchi;

- Rakushisha, former home of the poet Mukai Kyorai, one of the most famous disciples of the haiku master Matsuo Basho;

- Gioji Buddhist temple, wrapped in moss and dedicated to the courtesan Gio, famous for her great beauty...

Night in Kyoto.

Day 8 : Nara, the first capital

Breakfast at the hotel in Kyoto.

Visit of Nara, the first fixed capital of Japan in the 8th century.

- The Kasuga Taisha shinto shrine and its thousands of lanterns;

- The Todaiji, its large bronze Buddha and the imposing Nan-Daimon gate;

- Kofukuji temple and its beautiful pagoda.

Night in Kyoto.

Day 9 : Hiroshima, city of history

Breakfast at the hotel

In the morning you will take the Shinkansen to Hiroshima (3 hours):

Settle in this historic city at the Intergate Hotel or equivalent 3*.

In the early afternoon start sightseeing with your guide:

- Hiroshima Peace Memorial Park and Museum;

- The peace monuments (The Dome, the memorial of the young Sadako Sasaki, one of the many victims of radiation);

- The famous Hiroshima Castle;

Night in Hiroshima

 

Day 10 : The Sacred Island

Breakfast at the hotel

Ferry to Miyajima, the sacred island of Shinto.

Example of possible visits with the guide: 

- Visit of Itsukushima-jinja shrine and its big gate (ootorii)*;

- Folklore museum (Egami house);

- Senjôkaku shinto temple and pagoda;

- Shopping street for your last purchases.

*The ootorii is under construction until an undetermined date.

Night in Hiroshima

 

Day 11 : In the footsteps of the samurais

Breakfast at the hotel

Direction Kanazawa by Shinkansen and express train (5h). 

Installation in your Kenroku house or equivalent.

Example of visits for the day:

- Nagamachi samurai district and the former residence of Nomura, once rulers of the fiefdom;

- Higashiyama, one of the three geisha districts of the city.

Night in Kanazawa

 

Day 12 : Kanazawa, the little pearl of Ishikawa

Continue your visit of Kanazawa (example of visits): 

- Kenroku-en, the beautiful Japanese garden of Kanazawa;

- The museum of contemporary art and its outdoor gallery;

- Omicho, the fish market of the Sea of Japan.

Night in Kanazawa.

 

Day 13 : Return to Tokyo

In the morning, return to Tokyo by train and shinkansen (1 change, 4h) and settle in your hotel OMO3 Tokyo Akasaka by Hoshino Resorts or equivalent 3*.

Night in Tokyo.

 

 

Day 14 : Sayonara - see you next time

Transfer to Haneda or Narita airport (included and accompanied).

Flight back to home country.

Do not hesitate to extend your trip by one or more days in Tokyo, we will be able to advise you.

 
Included in your self-guided tour

Accommodation

- 4 nights in a 3* hotel in the heart of Tokyo

- 4 nights in a 3* hotel in the historical capital of Kyoto

- 2 nights in a 3* hotel in Hiroshima

- 2 nights in a traditional house in Kanazawa

- 1 night in a 3* hotel in Tokyo

The basic rate includes a twin room for two people.

Transportation

- Airport transfers <> Tokyo

- Prepaid public transport card

- Japan Rail Pass for 14 days

Experiences and meals

- Airport welcome

- Guided tour during all 14 days of the trip and guide's expenses

- Breakfasts in Tokyo, Kyoto and Hiroshima
Additional services

- Unlimited Wi-Fi access with pocket Wi-Fi

- Complete e-travel diary sent 20 days before your departure

- 24/7 telephone assistance in English and bilingual Japanese

- Japan Experience Protect insurance, providing pre-departure cancellation insurance and on-site assistance. COVID protection included. Valid for residents of the world outside Japan.

Not included in the price of your trip

- The flights home country <> Japan

- Personal expenses including meals (some breakfasts are included)

- Public transportation when your transportation passes are exhausted (see details)

- Everything that is not included in the "included in your tour" section
Your tour:
The tour guide can modify the programme according to the day's constraints.
The prices displayed on this page may vary according to the exchange rate of the Japanese ¥.
Unfortunately, this tour is not accessible to people with reduced mobility.
Pets are not allowed
Your travel documents will be given to you as follows: 
Travel book sent by mail 3 weeks before departure.
Airport transfer tickets and all other documents (including Japan Rail Pass voucher, pocket WiFi...) will be given to you by our airport assistant at your arrival.
This programme is subject to change due to circumstances such as weather conditions or any other case of force majeure. The order of visits may also be modified. Please note that due to the current circumstances, any information mentioned is subject to change or modification.
---
Your accommodation:
Room size: in Japan, a densely populated country where everything is compact, 3-star luxury hotels are of very good quality but the rooms are often quite narrow (12 to 20m2/129 sq ft to 215 sq ft) depending on the hotel. Please note the size of the single room, between 10 and 16m2 (107sq ft and 172 sq ft). For more comfort, you can choose our luxury 4* accommodation upgrade option.
Double room : Rooms for two people in western hotels have 2 single beds (twin rooms) by default, which can usually be joined together.
Single room : People traveling alone and wishing to book a single room must pay a supplement at the time of booking. This supplement can be waived, on request, if a twin room is shared with another participant. The single room supplement is compulsory for orders with an odd number of participants.
Names of the hotels : The names given on the site are for information only. In the event of unavailability, an establishment of equivalent standing will be scheduled. Hotels, corresponding to local standards, are given as an indication and may be changed on site for hotels of a similar category.
House in Kanazawa: Enjoy an unforgettable experience by staying in a traditional house in Kanazawa. All the houses have been renovated and have at least one Japanese room with tatami mats and futons for sleeping, as well as all the necessary modern comforts. Location: each house has been chosen for the quality of its location (transportation, shops, temples...) and to facilitate your stay. They are located in downtown Kanazawa.
For the accommodation

Equipment:

 Fridge
Stove
Microwave oven
Washing machine
Coffee maker
Air conditioning
Heating
Beds and/or futons
Vacuum cleaner
WiFi
Sheets, towels, dish towels
Consumables (dishwashing liquid, soap, etc.)

The accommodation is equipped with 4 beds, either single (sometimes double) or futon.
Capacity: maximum 4 people
---
Your transport:
Flights are not included in this tour. Do not hesitate to contact us if you would like to include flights in your order: Flights in economy class with stopovers or direct flights, eco-premium or business air upgrades, provincial departures or abroad: we will be able to advise you.
The departure and end dates of the tour presented on this page concern your stay in Japan. You will arrive in Japan via Tokyo (Narita or Haneda airports) and will leave from Tokyo. At the departure, you will have to leave your place of departure the day before and land at the latest at 6:30 pm to join your accommodation in all serenity with your guide. On the other hand, the return trip is done the same day due to the time difference. Do not hesitate to contact us for any uncertainty or need for precision on the choice of international flights.
Airport Transfers: The shared limousine bus leaves from the airport and stops in front of or near your hotel. Our airport assistant in Tokyo will drive you to the platform to pick up the airport transfer and then accompany you to your hotel.
Included in your tour are a ¥1500 pre-loaded transportation prepaid card (Suica or Pasmo brand) and a 7-day Japan Rail Pass. 

Please note: When the ¥1,500 of the prepaid transport card expires, or if the line you are taking is not covered by your Japan Rail Pass, you will have to recharge your prepaid transport card (at the machines of all stations and subway stations).

If a person participating in the tour is a Japanese national and resident in Japan, or a foreigner but with tax residence in Japan (including students), then he/she cannot benefit from the price displayed because he/she is unfortunately not eligible for the Japan Rail Pass. Do not hesitate to contact us to get the price of the tour without a Japan Rail Pass. This person will have to buy the train tickets for the tour directly in Japan. If this person is a Japanese citizen but not a resident of Japan, then he/she can benefit from the Japan Rail Pass under certain conditions (see https://www.japan-experience.com/frequently-asked-questions).
---
Your meals:
During the afternoon, you can discuss with your guide which restaurant to book for the evening. On the other hand, it is necessary to respect the reservation time with punctuality.
---
Your additional services:
A pocket WiFi is included in your tour. It allows unlimited and high speed internet access. Your pocket WiFi is available from the assistant at the airport, as well as all the other documents necessary for your stay.
It is delivered with a small booklet to make your device work (don't panic: simple operation) and a pre-paid envelope to return your device at the end of your stay. Your pocket WiFi will naturally work until the last day of your trip in Japan.
A maximum of 5 devices (phone, tablet, computer) can be connected to a pocket WiFi.
One pocket WiFi is provided for a tour order of 1 to 5 people. For an order of 6 people or more, a second WiFi pocket will be added automatically and at no extra cost to your reservation.
---
Covid measures:
Please refer to the website of your embassy or contact them directly to get information about the specific measures concerning your country.
Our commitments as Japan Experience, Europe No. 1 travel in Japan
The guarantee of the first tour operator specialized exclusively in Japan for 40 years
A wide range of products to let you Experience Japan from the inside
Competitive prices thanks to a single team in UK, Europe, USA and Japan, with no intermediaries
Assistance available in Japan throughout your trip
A specialized team is available 7 days a week by phone or email
The best advice thanks to the 3,500 articles available on our website