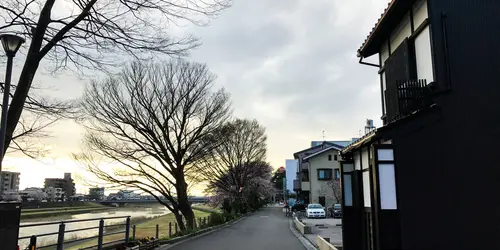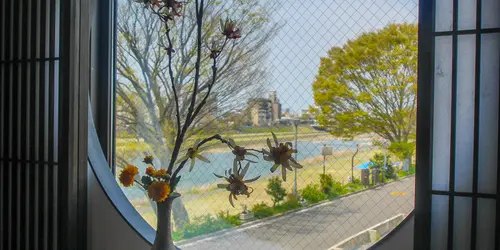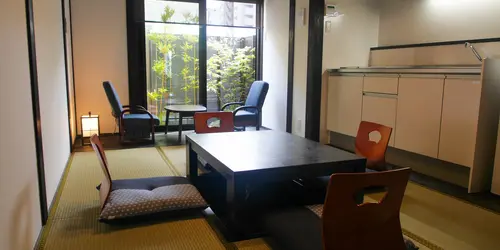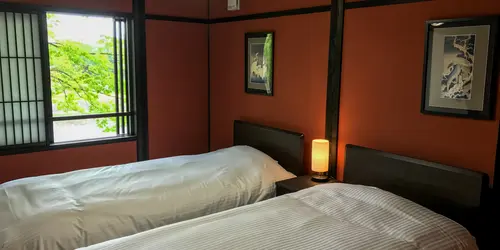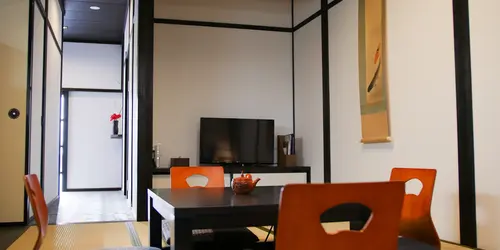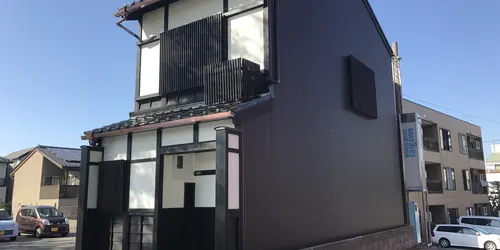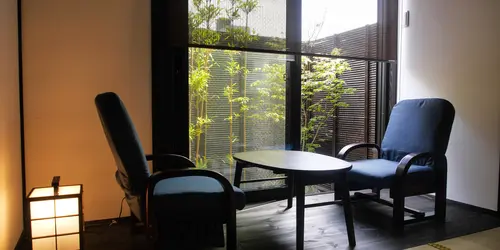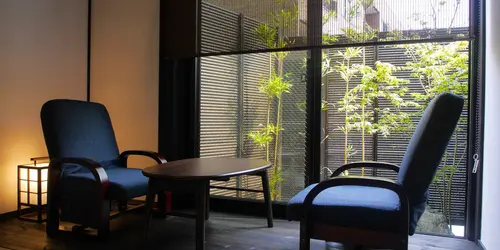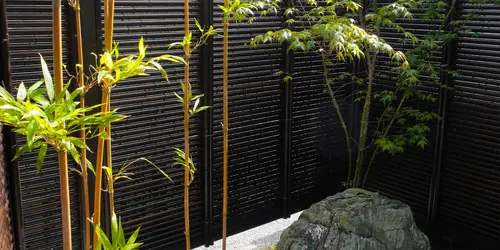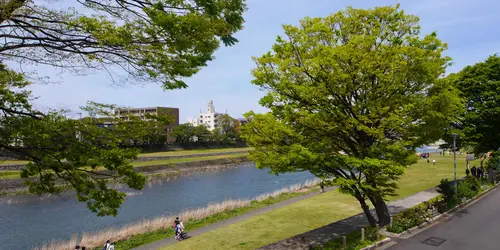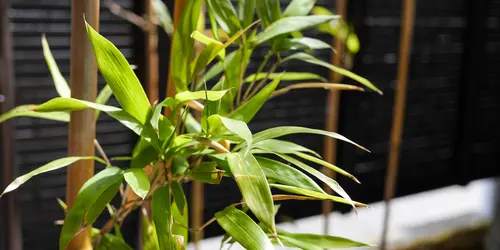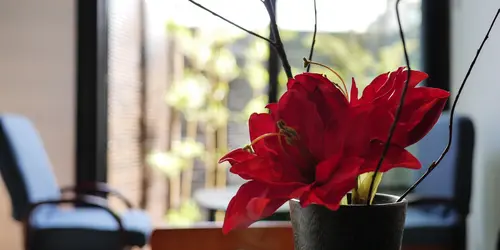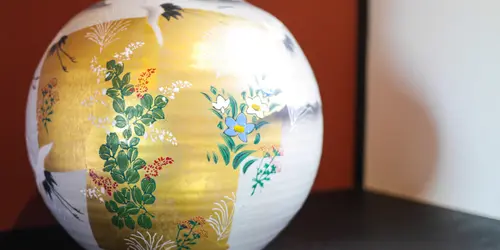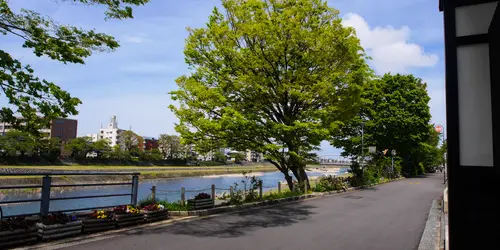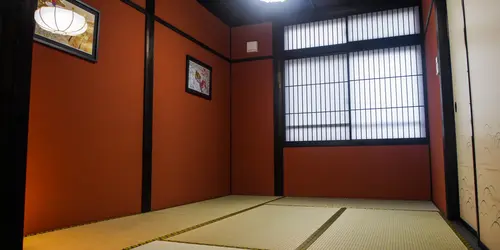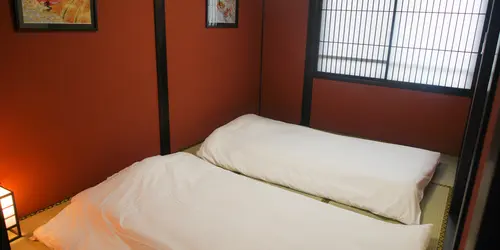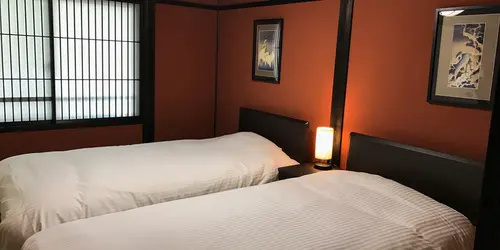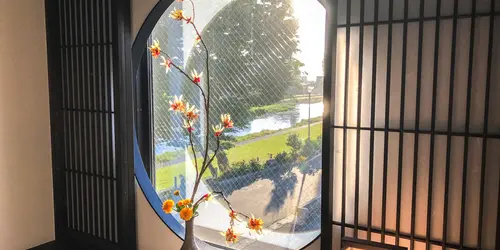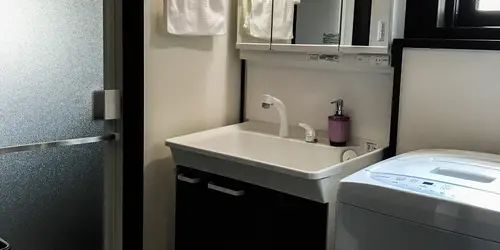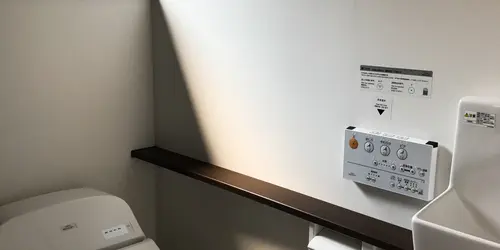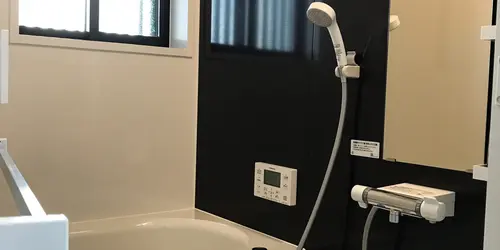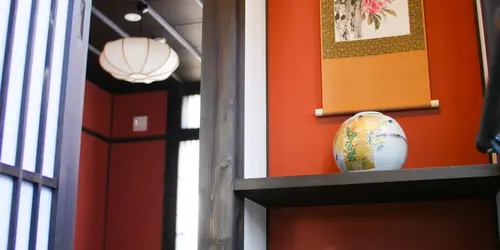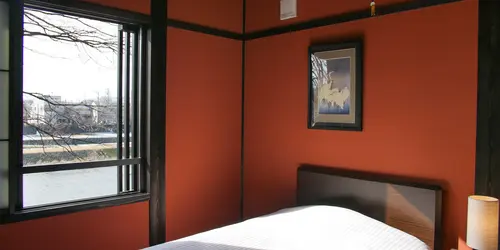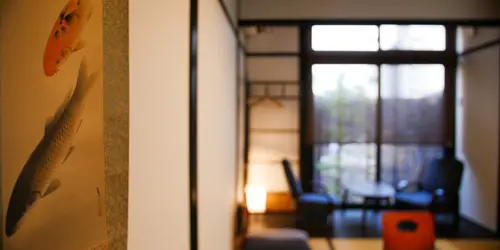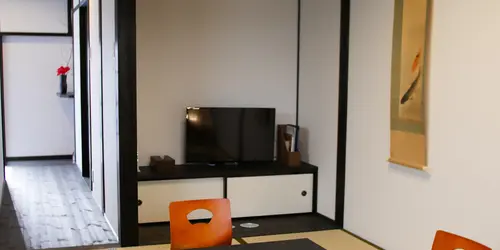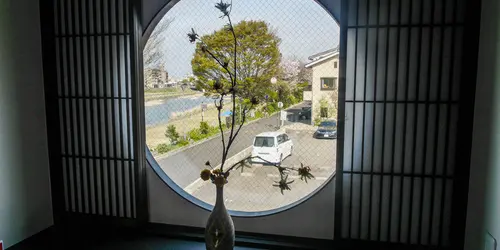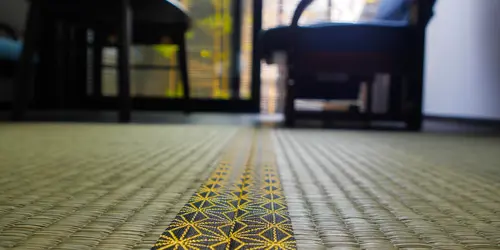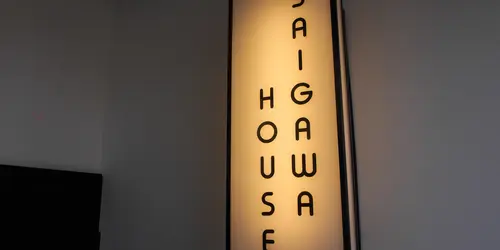 Saigawa
Saigawa house is a two story machiya that sits right on the Saigawa river, one of two beautiful rivers running through Kanazawa. The house gets a lot of natural light and has stunning views of the Saigawa river from the second floor. In the spring, the river side is lined with blooming cherry blossom trees.
Description of the house
The ground floor of Saigawa house has a comfortable main living / dining room, large kitchen coutner, small private garden and a large bath area with a washing machine and dryer as well. The kitchen table is Japanese style with a heated sunken space so your legs can feel at ease. The mixture throughout the house of the tatami mats, dark wood and white walls gives the house a luxurious feel.
Upstairs, there is a tastefully done circular window at the top of the stairs that looks out onto the river. There are two bedrooms, one with western beds and one with traditional futons.
The neighborhood
Around the house not only can you relax by the river, but the house is located just minutes from downtown and the famous samurai district. Shopping, nightlife, the Nomura samurai house, and the ninja temple are all about a 5 to 10 minute walk away. As for the restaurants, this area has almost anything you could want, from delicious sushi, tasty ramen, and enough Izakayas, bars and karaoke joints to have a good time any night of the week.
Plans and equipments
Equipment
Bathtub
Kitchen
Fridge
Washing Machine
Dryer
Coffee Machine
Toaster
Table Ware
Kitchen Ustensil
Microwave
Electric Kettle
TV
Garden
---
Floor plan
---
Location of the house
Katamachi
Katamachi is the main district of downtown Kanazawa. While you have all the conveniences of the big city like restaurants, shopping and live music, you are just a couple minutes away from the famous samurai district, the ninja temple, the 21st century museum of contemporary art, and the beautiful Saigawa River. Walk, take a bus, or rent a bike and easily get to all of the sights in Kanazawa like the famous Kenroku-en garden, Omicho fish market, and Higashi Chaya tea district. The food in Kanazawa is to die for, and there is no other place to get a better look at the selection of dishes than in Katamachi.
Pluses: Convenient for eating, shopping and people watching. Very close to Naga-machi samurai distict. 20 minute walk to Kenroku-en garden
Minuses: Not as traditional as other neighborhoods.
Shops: Marue mini supermarket - Ceramic galleries and traditional umbrella store - Many different kinds of restaurants and cafes - Daiwa and other department stores - Daily Yamazaki convenience store
Transports: Buses from Kata-machi stop take you anywhere in the city. Many taxis available.
Restaurants: Bottega di Takamazzo, Italian - Zu-san, Tempura - Kappou Takeshi, Traditional Japanese - La Nene Goose, French - 8-40 Banchi, Japanese BBQ
Attractions: Nagamachi Samurai District - Ninja Temple - Saigawa river - Downtown Kanazawa - 21st Century Museum of Contemporary Art
In the area
License number
: 第15015号
---
Frequently asked questions