Kunisaki Peninsula
Kunisaki Peninsula 国東
The Kunisaki Peninsula in Oita Prefecture, protrudes out into the sea north of Beppu in north eastern Kyushu. Kunisaki is known for its stone-carved Buddha images scattered around the peninsula, many of them near Usuki and a number of ancient temples and shrines, some of them associated with yamabushi - wandering, mountain priests and ascetics.
Usa Shrine
The original Usa-jingu (Tel: 0978 37 0001) dates back over 1,000 years, to the year 725, and is dedicated to Hachiman - the god of war. The Usa Shrine is the oldest Hachiman shrine in Japan.
Hachiman is the deified Emperor Ojin, a legendary Emperor of Japan. Hachiman shrines have now spread throughout Japan from this first shrine in Kyushu. The present shrine buildings date from the mid-nineteenth century.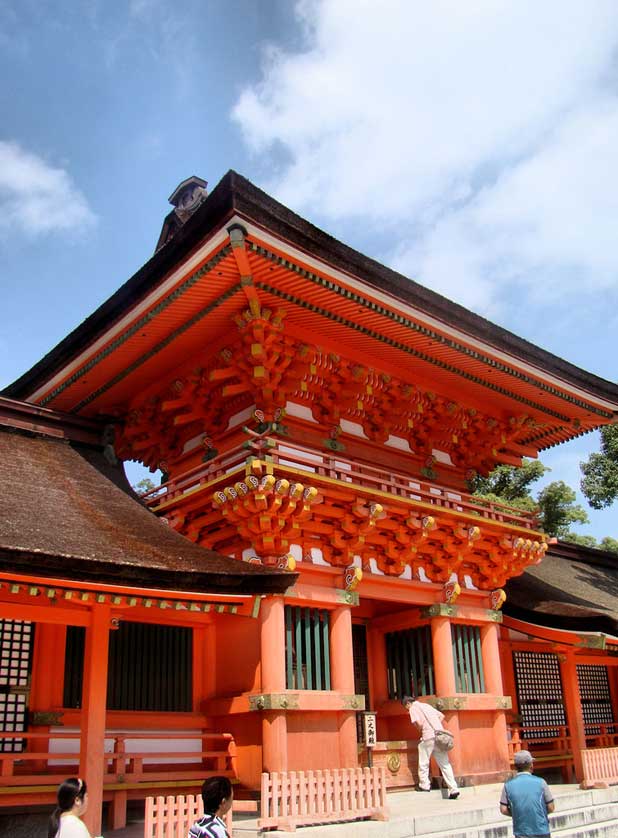 Nanchuromon Gate, Usa Jingu Shrine, Kunisaki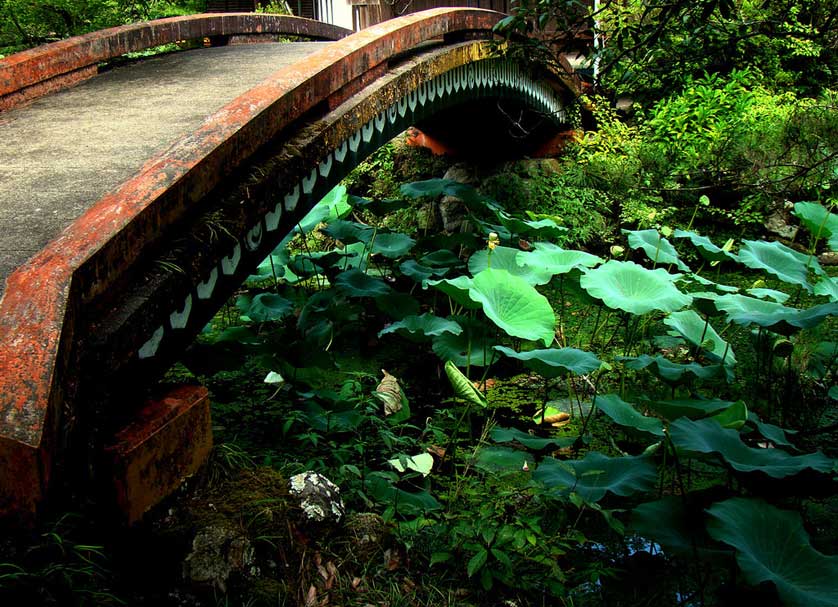 Usa Shrine, Kunisaki Peninsula, Oita, Japan
Bungo Takeda
If Kunisaki has a main town it is Bungo Takeda (aka Bungo Taketa), another of those places in Japan with the sobriquet "Little Kyoto". With its ruined Oka Castle, buke-yashiki samurai houses and the 11th century Fukiji Temple, Bungo Takeda makes for a pleasant base to explore the Kunisaki Peninsula.
Bungotakeda is also renowned for its Showa Machi, a recreation of a typical town in Japan's Showa Era. It is the setting for many Japanese period movies and television dramas.
Old-time bus in Showa Machi, Bungo Takeda
Fuki-ji Temple (Tel: 0978 26 3189; admission 200 yen), in Tashibu Fuki, Bungotakada, dates from the Heian Period (794-1192) and is the oldest wooden temple in Kyushu and one of the oldest wooden structures in Japan. The original temple dates back to 718 A.D. The main hall (a National Treasure) contains a seated image of the Buddha (a National Important Cultural Property).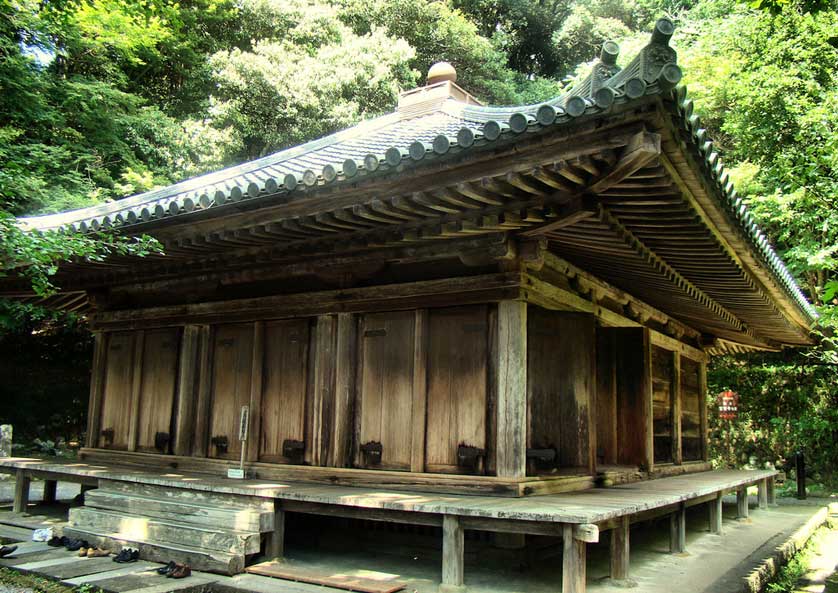 The Buddha Hall of Fukiji Temple, Bungo Takeda
Kitsuki
Kitsuki, is one of the many towns in Japan that label themselves "Little Kyoto" due to the amount of cultural heritage sites that still remain. Kitsuki is home to what is claimed to be the smallest castle in Japan, and a large samurai district and merchant district. Kitsuki Castle stands on a hill overlooking the town and Morie Bay and is a reconstruction (1970) of the original 14th century fortress, built by Kitsuki Yorinao.
Kitsuki's two samurai districts are somewhat similar to those in Hagi in Yamaguchi Prefecture. As in Hagi, a number of former samurai residences are open to the public including the Isoya Residence, Sano Residence, Nomi Residence and Ohara Residence. An Historical Museum sums up the history of the town and displays a range of historical artifacts including a festival float from the local Tenjin Matsuri. The Hitotsumatsu Residence is the former home of Sadayoshi Hitotsumatsu (1875-1973), a Show-era politician, minister and lawyer, now open to the public. The mansion was the height of technology in its day, when it was completed in 1929.
Komyo-in is an interesting temple to visit in Kitsuki.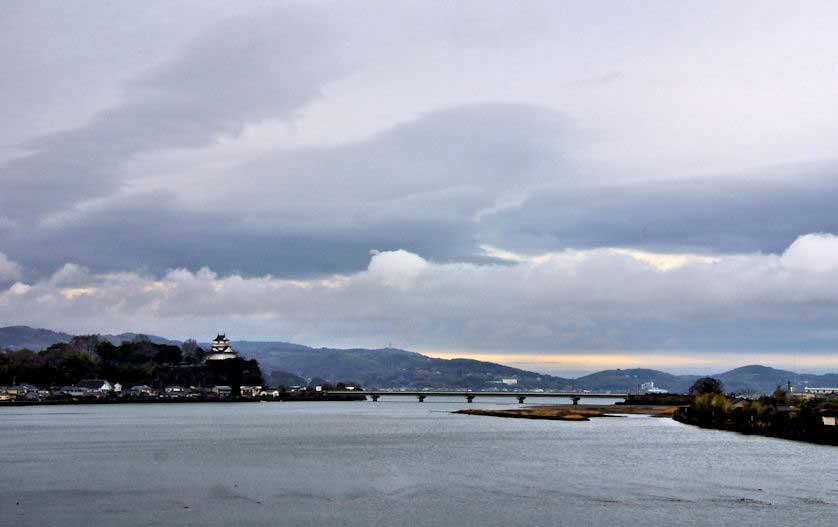 View of Kitsuki, Kunisaki Peninsula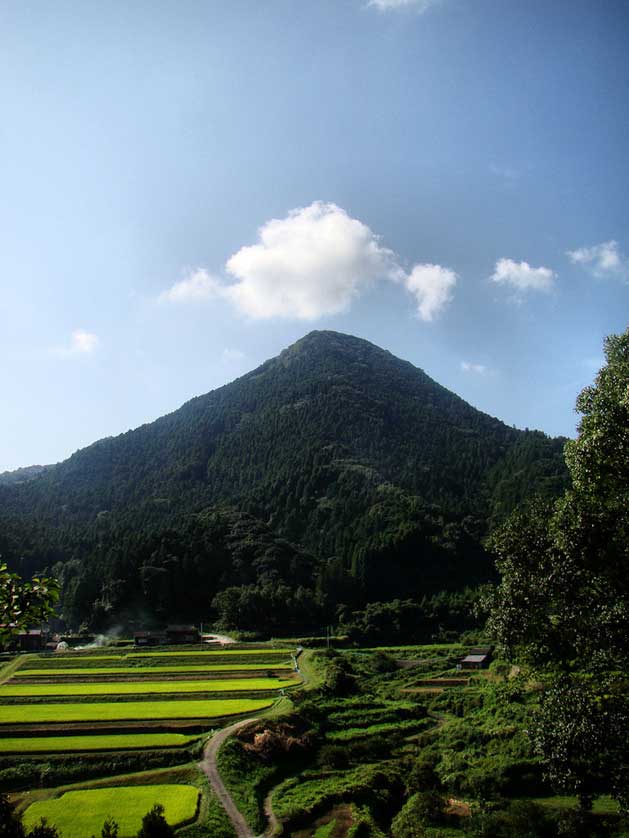 Mt. Futago, Kunisaki, Oita Prefecture
Futago-ji Temple
Futago-ji ("Twins Temple") (Tel: 0978 65 0253; admission 200 yen) is located in the center of the Kunisaki Peninsula near to the top of the 721m Futago-san mountain. The temple is dedicated to Fudo Myo-o and is known for the beauty of the surrounding foliage in autumn. futago meaning "twins" in English also sees the temple receive visits from families with twins. Visitors can follow the path through the temple to the top of Futago-san.
YouTube Video Guide to Futago Temple
Nearby is Taizo-ji Temple (Tel: 0978 26 2070; admission 200 yen), which is known for its uneven and roughly-hewn stone steps. 2km from here are the Kumano Magaibutsu, two 8th century Buddhist figures carved into a cliff. One is 6m in height, the other 8m, making them the largest such carvings in the country.
Other temples in Kunisaki include Iwatoji Temple with some fine wooden statues, Monjusenji Temple and Sempukuji Temple.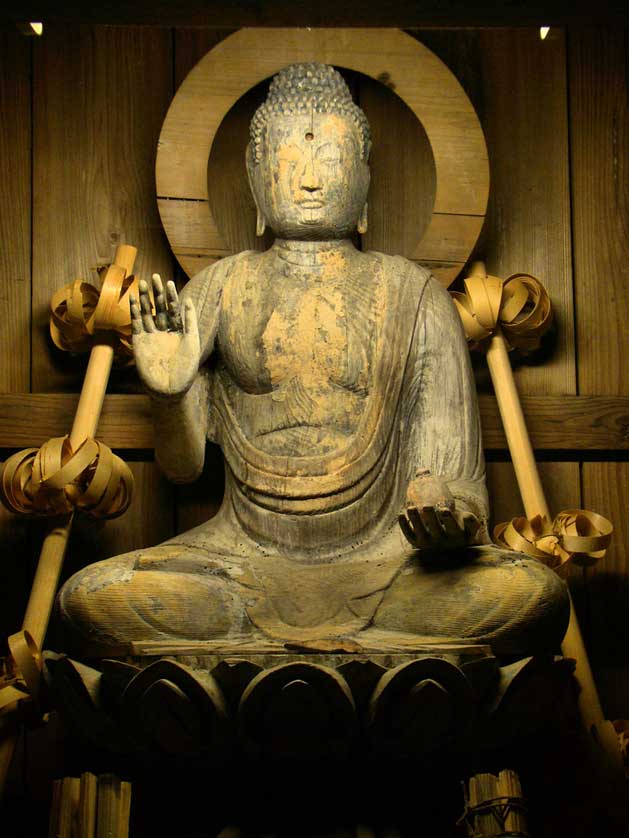 Buddha in Iwatoji Temple, Kunisaki Peninsula
Kunisaki Festivals
An interesting festival takes place in the small village of Ota in October. The Shirahige Tahara Doburoku Matsuri is dedicated to sampling doburoku the early fermented mash of the sake brewing process.
Himeshima, off the coast of Kunisaki, is home to the Kitsune matsuri (Fox Dance festival). This traditional Obon festival, in honor of the ancestors, takes place annually from August 14-17. During the festival, the usually tranquil and picturesque island is crowded with visitors.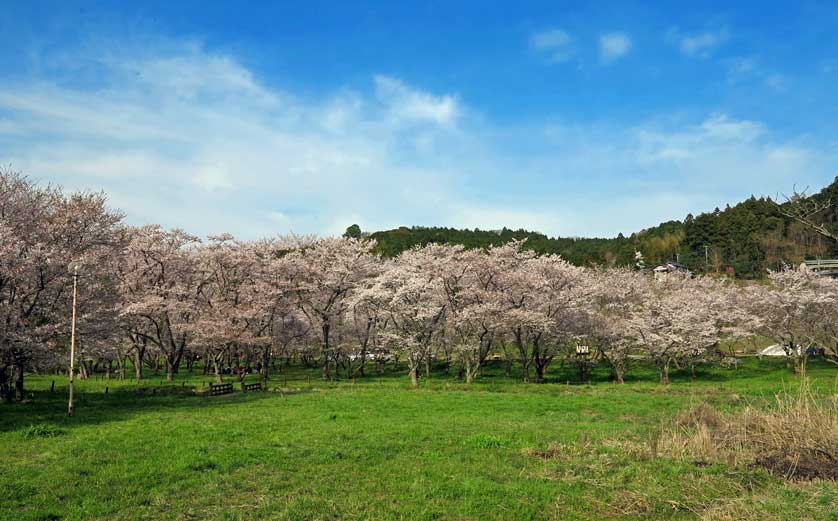 Cherry Blossom, Kunisaki
Access To Oita/Beppu/Eastern Kyushu
Ferry
Ferry to Kobe (13 hours 30 mins) or Osaka (13 hours).
Kansai Kisen Ferry Reservations:
Osaka (tel 06-6572-5181), Matsuyama (tel 089-967-7180), Beppu (tel 0977-22-2181)
Daily, 7030 yen.
Regular ferry services run between between Oita and Kansai via Matsuyama. Overnight ferries also available. Cars and bicycles carried.
Diamond Ferry
Kobe - Oita: 13 hours 30 mins
www.diamond-ferry.co.jp (Japanese only, online reservations)
Kansai Kisen
Osaka - Beppu: 13 hours 10 mins (stopping service), 11 hours 30 mins (direct)
www.kanki.co.jp (Japanese only, online reservations)
Trains
Train to Fukuoka/Hakata 2.5 hours, 5750 yen. Connects with the Shinkansen bullet train for Kobe, Osaka, Kyoto, Nagoya (3 hours), Yokohama and Tokyo.
From Fukuoka (Hakata Station): 2 hours (Ltd. Express Sonic). If you are coming from the east such as Osaka, Nagoya or Tokyo change at Kokura Station for the Sonic.
From Kokura: 1 hour 20 mins (Ltd. Express Sonic)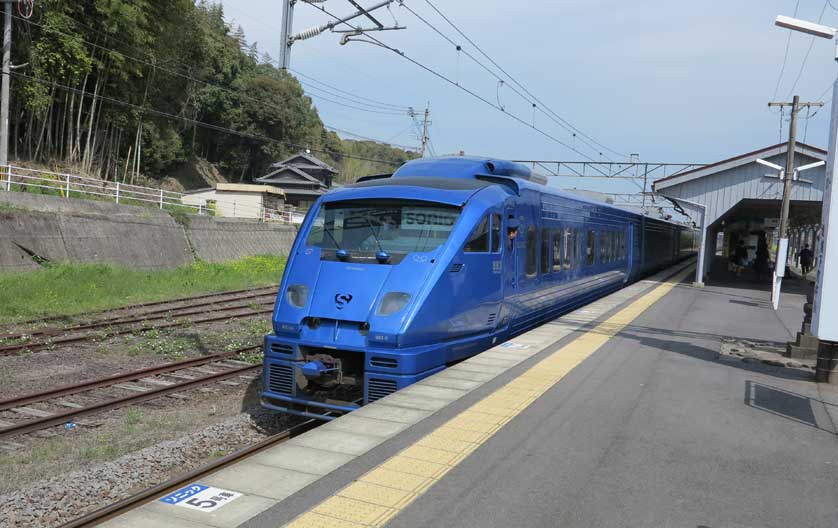 Sonic Express at Kitsuki Station, Kunisaki
Air
There are air connections to Tokyo, Osaka, Nagoya, Kagoshima, Seoul and Okinawa.
Oita to Oita airport by hovercraft (25 minutes; 2,980 yen).
Regular buses run to and from Oita Airport from Oita Station, the Tokiwa Department Store in Beppu and the bus station in Yufuin.
Internet Access
Media Cafe Popeye
outside Oita Station
24 hour, membership fee 500yen, 250yen for 30 mins then 90yen for 15 mins
NTT Oita branch, Funai-cho 3-9-11, Oita.
tel 0975-38-8383, free.
9:00 - 16:00 Closed on Sat. Sun. Hols.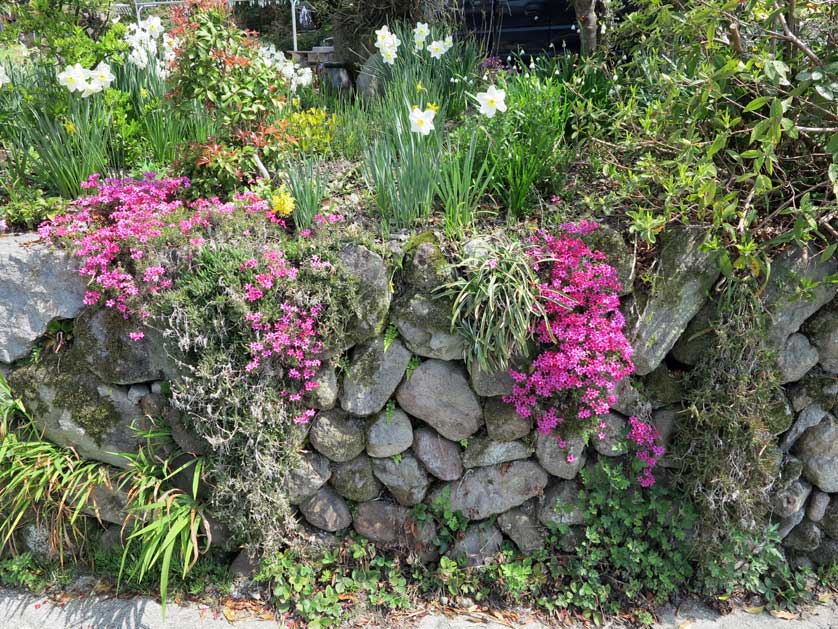 Rural village stone wall and flowers, Kunisaki
Related Articles
Book Accommodation in Beppu/Oita Here
Kunisaki Peninsula: read a guide to the historic Kunisaki Peninsula in Kyushu near Oita, known for its stone-carved Buddha images.
All the themes of the city