Usa Guide Kyushu
Usa: read a guide to Usa in Oita Prefecture, Kyushu famous for Usa Jingu, Dairaku-ji Temple and the ancient Naramoto Magaibutsu Buddhist carvings.
Usa Guide, Oita, Kyushu 宇佐
Jake Davies
Usa, pronounced oosah, is a city of about 50,000 people in the north of Oita Prefecture close to the Kunisaki Peninsula of northern Kyushu. There is not really a city center as Usa is an administrative city made up of small towns and rural areas. Most recently the towns of Innai and Ajimu were added to Usa.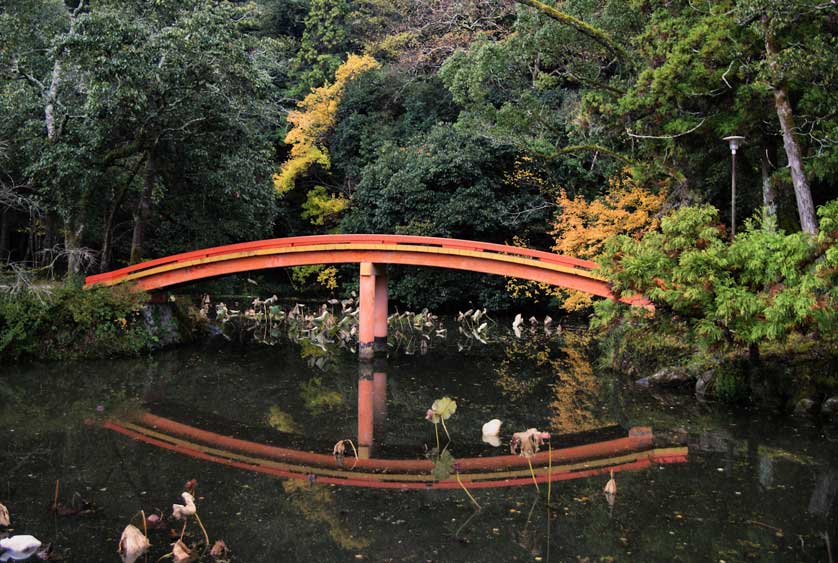 Usa Hachimangu Shrine Lotus Pond, Oita Prefecture, Kyushu
Usa Shrine
Usa is most famous for Usa Jingu, a major Shinto shrine that is the head of 80,000 other Hachiman shrines throughout the country. Usa Jingu was a major religious and political center in ancient times.
Most visitors simply go straight along the main thoroughfare to the main shrine, however there are some things to see along the way. Usa Shrine seems to be set in a massive park, but until the modern period all this land was filled with Buddhist buildings, as this was, like many shrines, a shrine temple complex.
In the mid 19th century the new Meiji government forcibly separated Buddhism and Shinto and many temples and Buddhist artifacts were destroyed. Usa Jingu was a huge complex with at least 5 tall pagodas. When all these buildings were dismantled it left the park we see now. There is a large lotus pond with numerous bridges, small islands, and small shrines set among the trees. Winding paths throughout offer a very pleasant break in any season of the year.
Evidence of the shrine's Buddhist past can be found in the shrine's Treasure House. Essentially a museum, the collection on display is not huge, but very well presented and includes statuary and paintings.
Usa Jingu2859 Minami Usa, Usa-shi, Oita 872 0102Tel: 0978 37 0001The treasure house is open from 9 am to 4 pm. Entrance 300 yen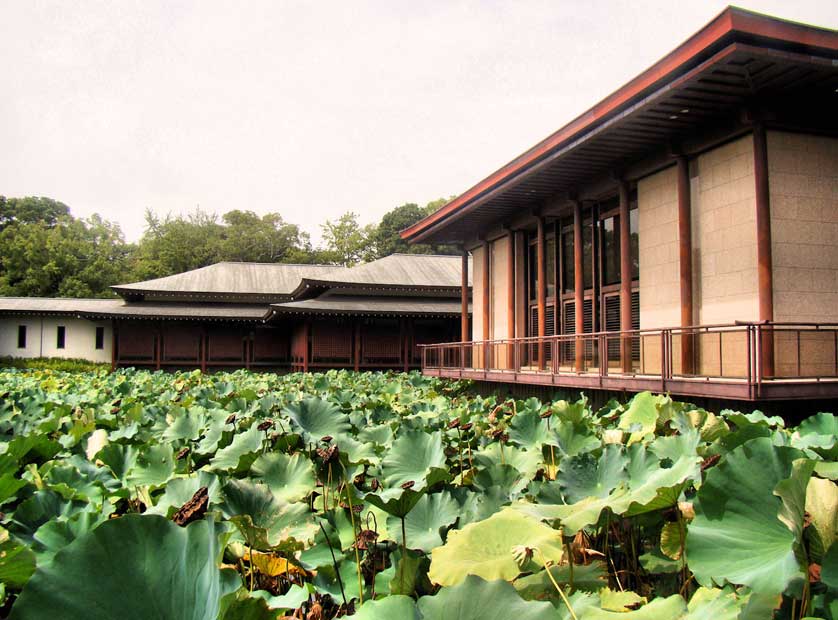 Usa Hachimangu Shrine Treasure House, Oita Prefecture, Kyushu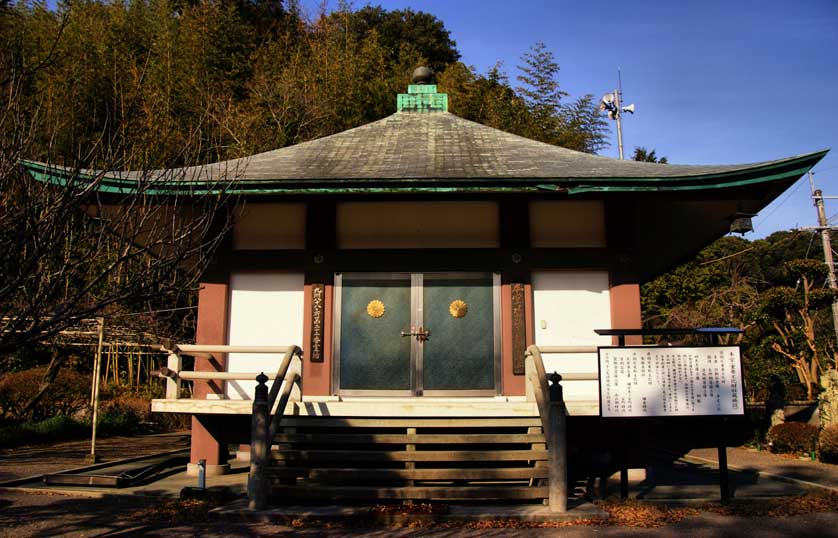 Dairaku-ji Treasure House, Oita, Japan
Dairaku-ji Temple
Some more of the statues that were salvaged from the destruction of the temples at Usa Jingu can be found at Dairaku-ji, a small but pleasant temple just off the main road directly north of Usa Jingu.
Dairaku-ji Temple was founded by a head priest of Usa Jingu in the 14th century. The treasure house is locked, but asking at the office will get it opened and you can see a collection of statues and artifacts, may of which are Registered Treasures, the most important being a late Heian Period statue of the Miroku Buddha. Miroku-ji was the first temple to be established within the grounds of Usa Jingu.
Dairaku-ji2077 Minamiusa, Usa, Oita 872-0103Tel: 0978 37 0356Hours: 9 am to 5 pm. 300 yen to enter the main hall.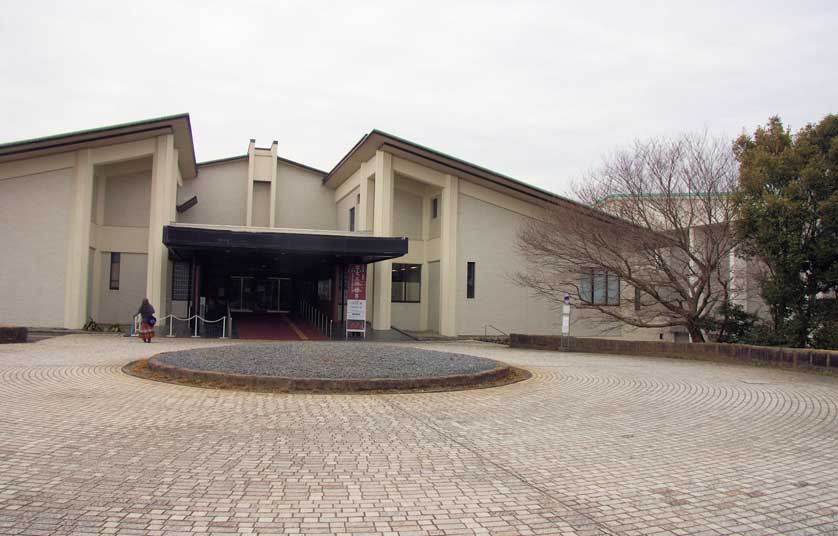 Oita Prefectural History Museum
Oita Prefectural History Museum
Oita Prefectural History Museum is located a few kilometers north of Usa Jingu and is a surprisingly large and well laid out museum. The displays focus on the north of Oita including the history of Usa Jingu and the nearby Kunisaki Peninsula.
The time span ranges from prehistory up to the early Modern period and there is some English in the explanations. There are reduced-scale replicas of such things as Fuki-ji, the oldest wooden building in Kyushu, and the Magaibutsu, the largest cliff carvings in Japan, both on the nearby Kunisaki Peninsula. There are also displays on Folk Art such as the plaster reliefs (kote-e) in nearby Ajimu and a particularly fine display of masks.
Near the Oita Prefectural History Museum are a series of ancient burial mounds.
Oita Prefectural History MuseumTakamori Kyozuka, Usa, Oita 871-0050Tel: 0978 27 2100Hours: Open 9 am-5 pm. Closed Mondays. 310 yen.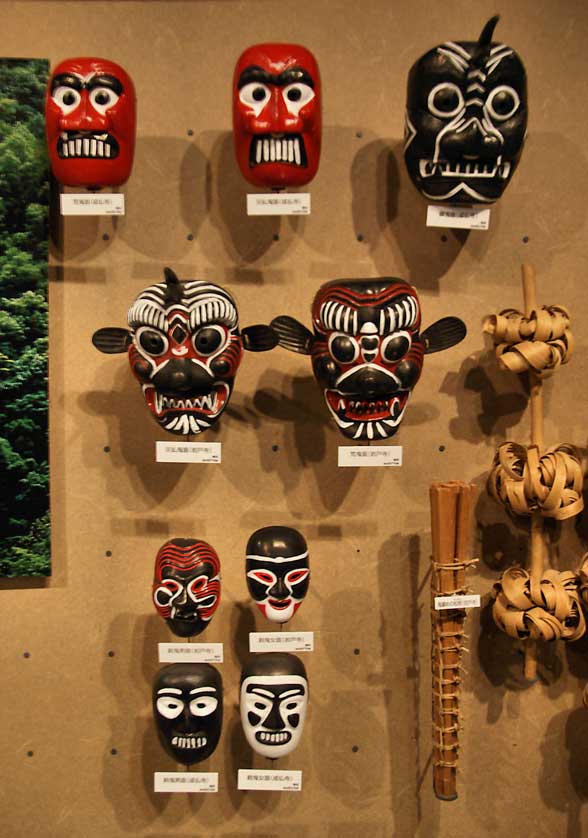 Masks on display at Oita Prefectural History Museum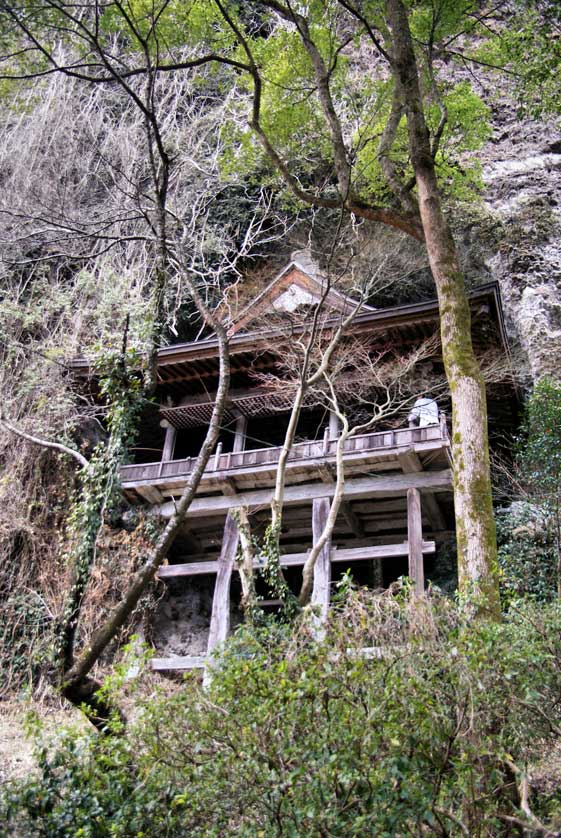 Takasu Kannon-do, Ajimu, Oita Prefecture
Ajimu Area
Takasu Kannon-do
South of Usa proper is the town of Ajimu. If you saw the kote-e in the Prefectural Museum and are heading down to Ajimu to see more of them in situ there are a few other sites of interest in the area. On the main road, Route 387, on the opposite bank of the river is Takasu Kannon-do.
Takasu Kannon-do is a small Buddhist building on stilts built into the cliff face. To get to it there is a new suspension bridge built for it as in the old days you needed to wade the river. It is possible to climb up and go in the building, though a few years ago it was rather rickety so possibly is not too safe now. On January 4th each year an Oni-e is held here. Oni-e are fire festivals and there are numerous in the area, though this one is somewhat unusual in that the local men carry the large flaming torches across the river on foot.
Yamamoto, Usa-shi, Oita 879 0467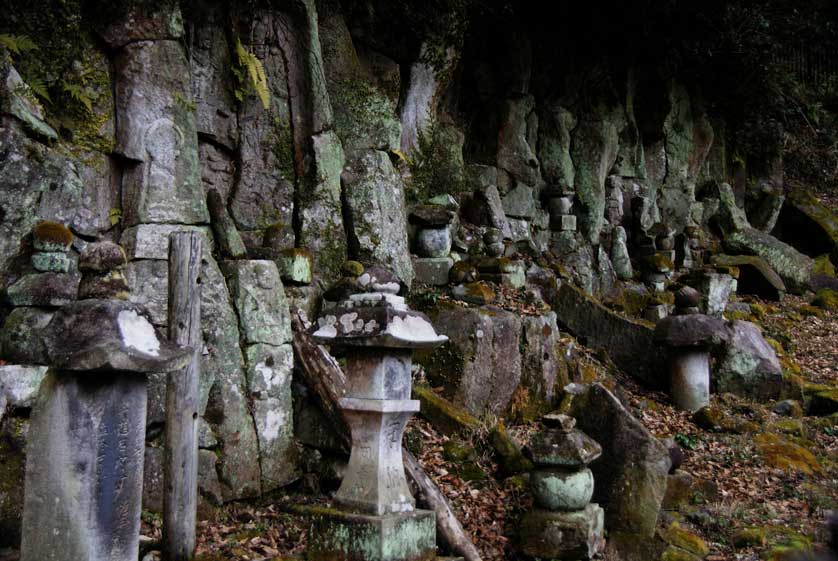 Naramoto Magaibutsu, Ajimu, Oita, Kyushu
Naramoto Magaibutsu
Magaibutsu are Buddhist carvings directly into rocks or cliffs rather than stand-alone statues. They can be found at many places in Japan, but the vast majority of them are found here in Oita Prefecture, and the nearby Kunisaki Peninsula is home to the largest.
At Naramoto there are no particularly outstanding carvings, just a very large number of them, 45 in total spread out along 40 meters of a cliff face. As well as numerous Buddhas there are a variety of other Buddhist deities and a mandala. It is believed they were carved in the late 14th and early 15th centuries.
Naramoto, Ajimu-machi, Usa-shi, Oita 872 0701
Heaven & Hell at Keishoji
Depictions of hell and the torments awaiting the unfortunate there as well as of the paradise awaiting the faithful in the Pure Land were common tools used by Buddhist priests during the Edo Period.
Usually this took the form of paintings, but in the grounds of what used to be Keisho-ji temple a monk created a three dimensional "experience" built into some hand dug caves. A complete article on Heaven & Hell at Keisho-ji can be found here.
Ajimu Higashiera, Usa-shi, Oita 872 0702
Ajimu is also known for its suppon turtle farms and the beautiful Higashi Shiiya waterfall.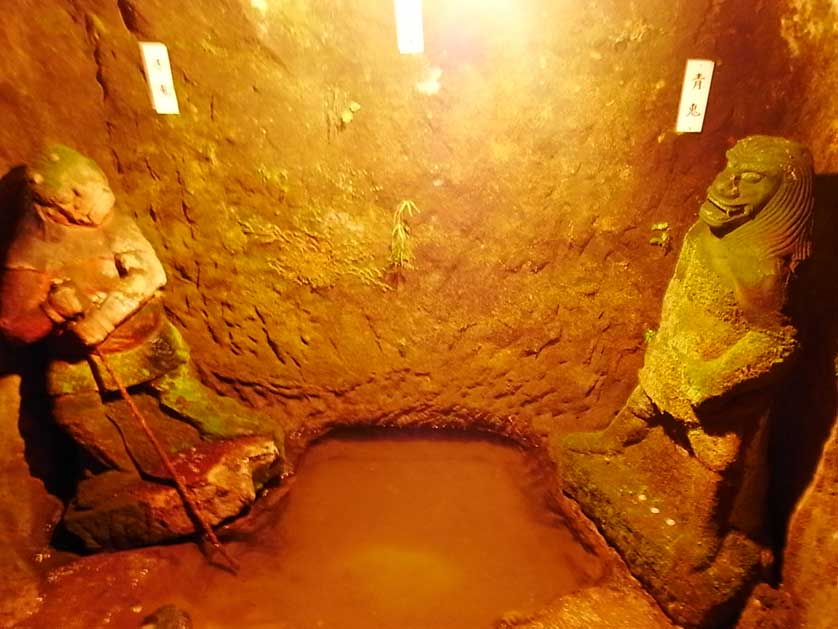 Blood Pond, Heaven & Hell Cave, Ajimu, Oita Prefecture
Access To Ajimu & Usa
All these sites in Ajimu are free to enter and are open during daylight hours. It is possible to reach Ajimu by bus from Usa and also Nakatsu, but very inconvenient. Renting a car is the best option.
Usa is located on the main Nippo Line, 70 minutes from Hakata Station in Fukuoka, 30 minutes from Beppu, and 4 hours from Osaka via Kokura.
There are numerous accommodation options near Usa Station and Usa Jingu as well as in nearby Bungo Takada.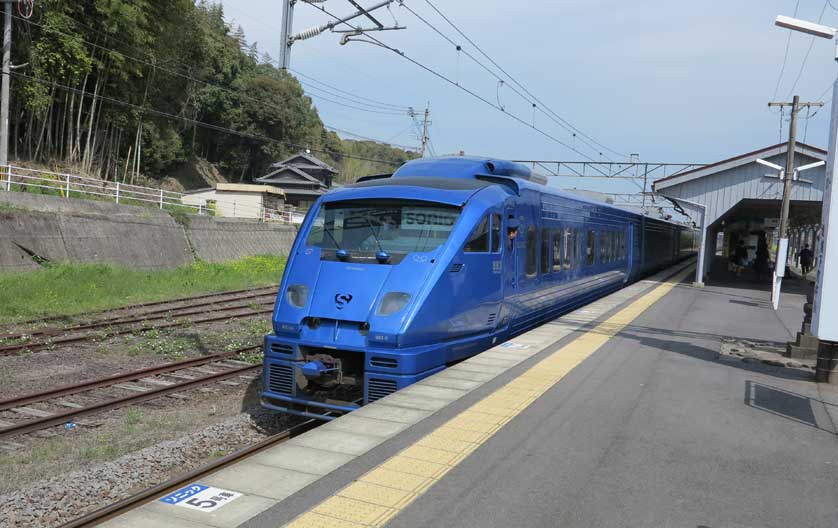 Sonic Express at Kitsuki Station, Kunisaki
Book Accommodation in Beppu/Oita Here
All the themes of the city