Fukuoka Architecture
Modern Architecture in Fukuoka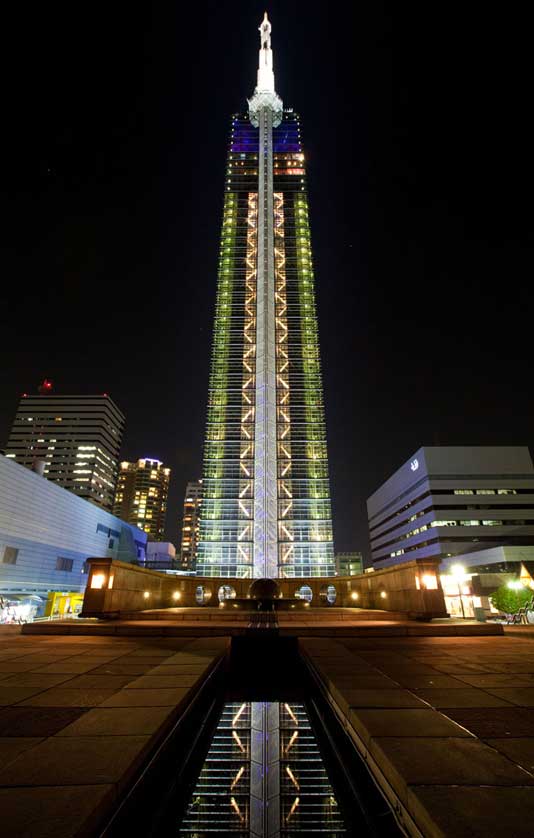 Fukuoka Tower
Fukuoka City in northern Kyushu is gaining an international reputation for its contemporary architecture.
Many of the most renowned architects in the world, Japanese and non-Japanese, including Rem Koolhas, Kazuo Shinohara, Cesar Pelli, Arata Isozaki, Jon Jerde, Emilio Ambasz, Michael Graves, Aldo Rossi, have designed shopping malls, hotels, banks, and an assortment of public buildings as well as housing complexes.
Perhaps the most well-recognized landmark of Fukuoka is the 234 meters high New Fukuoka Tower, the tallest seaside observation tower in Japan. The "old" Fukuoka Tower, a much more modest affair at 103 meters, was renamed the Hakata Port Tower.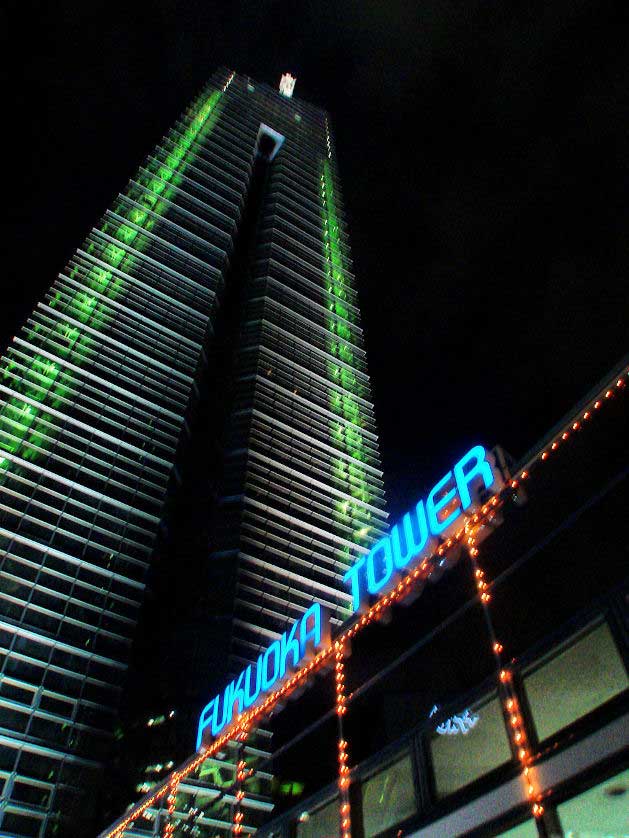 Fukuoka Tower is one of the city's iconic modern buildings
Fukuoka Tower
The New Fukuoka Tower was built in 1989 and designed by the Nikken Sekkei company, who also designed the Kobe Port Tower.
The tower has an unusual triangular cross-section and is covered in mirrored glass. At 123 meters is an observation deck with panoramic views over Fukuoka.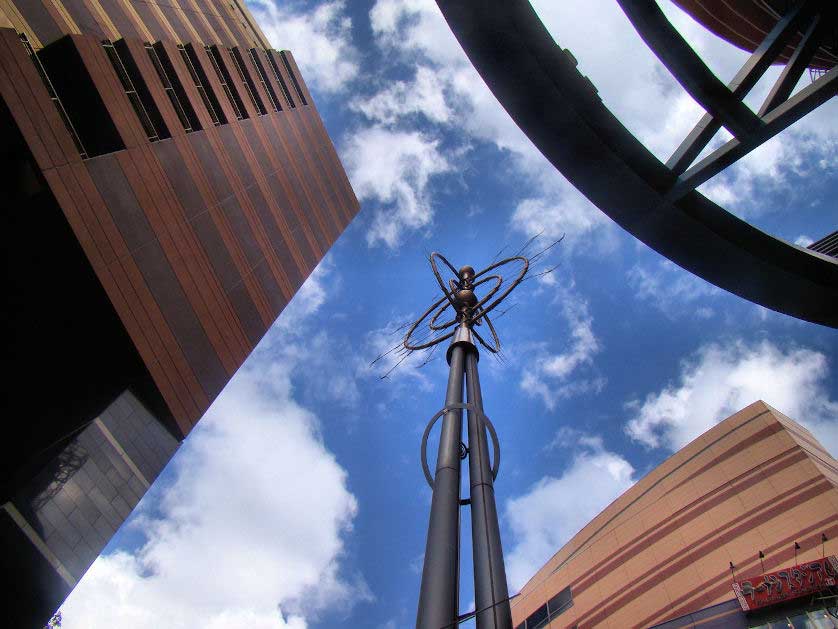 Fukuoka Tower, Fukuoka city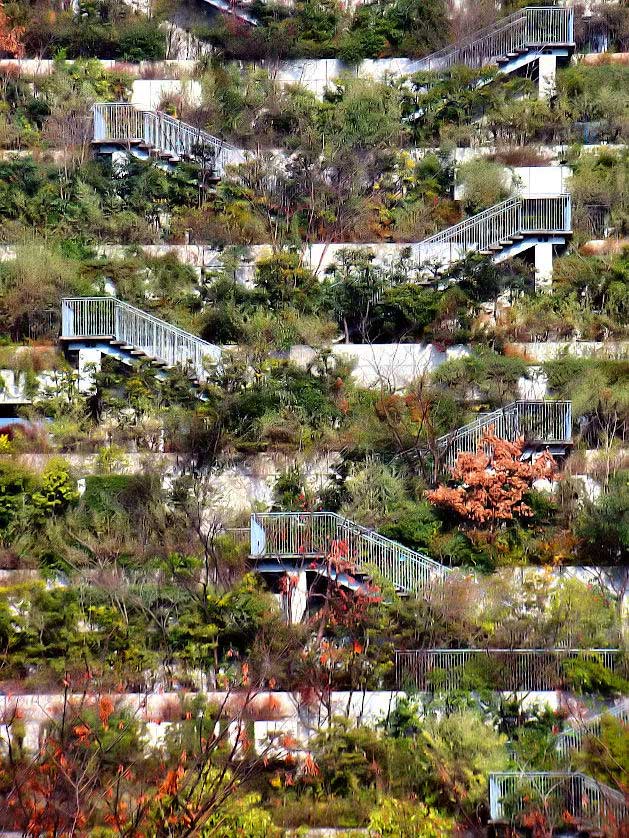 ACROS Building, Fukuoka
ACROS
ACROS Fukuoka, designed by Emilio Ambasz, looks from the back and sides like any other steel and glass office building, but from the south side it seems as if the park in front of it, one of the few green spaces in downtown Fukuoka, has grown up and over the building.
The stepped terraces climb 60 meters and are planted with more than 75,000 plants. Stairs zig-zag up to the top from where great views over the city can be had.
ACROS stands for Asian Crossroad Over the Sea and the building is home to an International Convention Center and a Symphony Hall.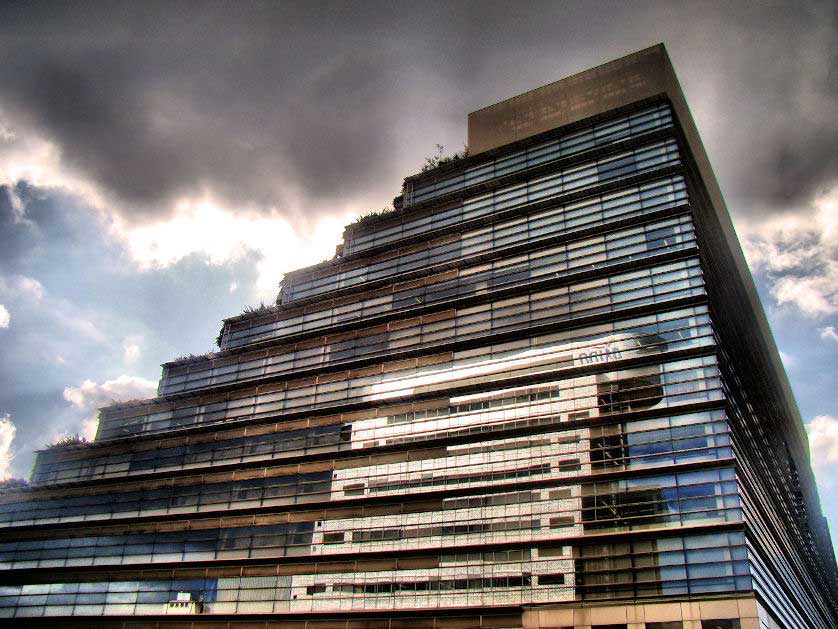 ACROS Building, Fukuoka
Canal City
Canal City is a cathedral of consumption par excellence. The complex in Hakata houses luxury hotels, an entertainment complex with cinemas, restaurants, and more than 250 retail establishments, (but not a single place to buy a camera battery!)
The inspiration for American Jon Jerde's design is the red rock canyon country of the southwest U.S.
Access from Nakasu-Kawabata subway station or a ten-minute walk from Hakata Station.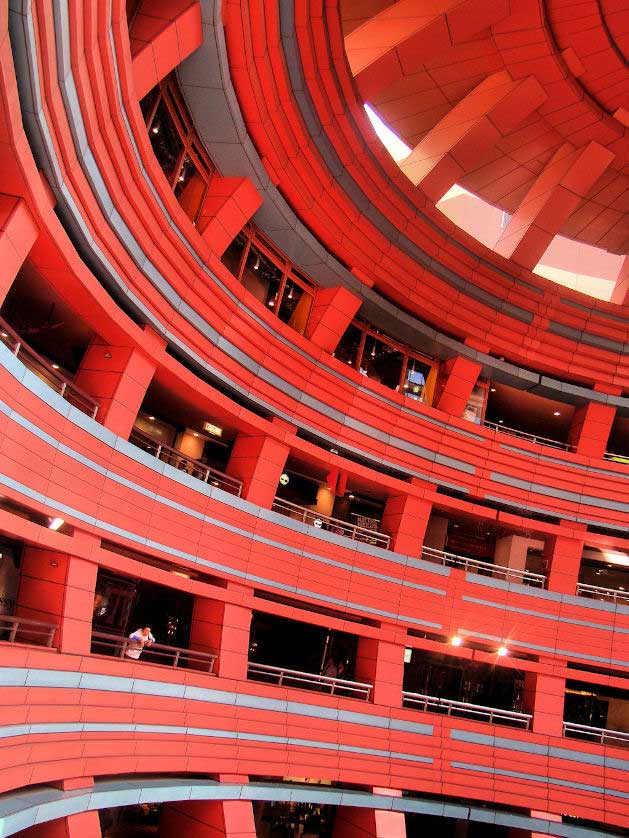 Canal City, Fukuoka, Kyushu, Japan
Images by Jake Davies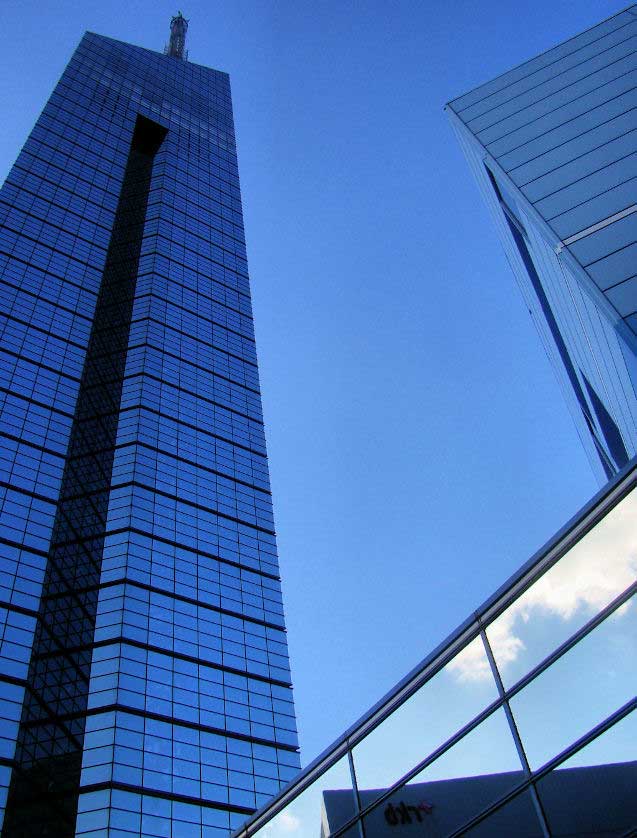 Fukuoka Architecture's architecture is some of the most cutting-edge in Japan
Access
Air
Fukuoka Airport.
Regular buses run to and from Fukuoka Airport to Hakata Station and Tenjin (15 mins). The Fukuoka Airport subway station is only 5 mins from Hakata Station and 11 mins from Tenjin. There are domestic flights to most destinations including 50 flights daily to Tokyo (1 hour 45 minutes). International destinations include Australia, New Zealand, Thailand, China, Korea and the USA.
Trains
Hakata station is the main train station with Shinkansen connections to Osaka, Kyoto and Tokyo and from March 2011 to Kumamoto and Kagoshima to the south.
Bus
There are long distance buses to several destinations including Osaka, Nagoya and Tokyo departing from the Kotsu bus station near Hakata Station and the Tenjin bus center.
Ferries
There are regular ferry and hydrofoil services between Hakata and Busan in Korea. See our Japan travel section for further details. There are also ferry services from Kita-Kyushu (Kokura) to Osaka, Kobe, Matsuyama in Shikoku and Tokyo.
Internet Access
Cybac Internet Cafes
24-hours branches in Tenjin, Nishin & Nishi-dori.
Book Accommodation in Fukuoka Here
Fukuoka architecture: Fukuoka in Kyushu, southern Japan, has an international reputation for its contemporary architecture.
All the themes of the city