Kokura Guide
Kokura 小倉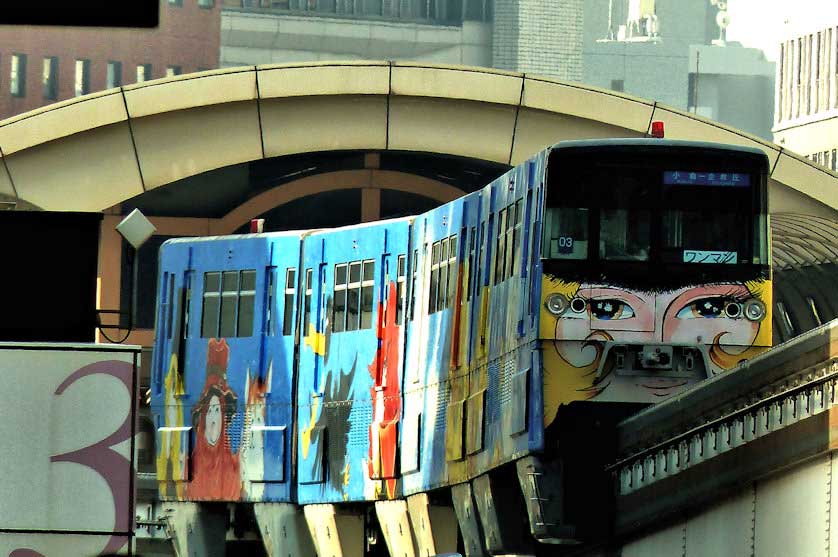 Monorail leaving Kokura Station
Things to see and do in Kokura
Though the industrial legacy of Kokura is still dominant along the waterfront, modern Kokura has reinvented itself as the commercial, entertainment, and transportation center of Kitakyushu in Fukuoka Prefecture, northern Kyushu.
The most important areas for visitors to Kokura are around Kokura Station and Kokura Castle and the Riverwalk Complex about a ten minute walk away, where the riverside has been redeveloped with new bridges, pedestrian walkways, and new restaurants and shops.
Kokura Castle, the only castle left standing in Fukuoka Prefecture, was first built in 1602 by Hosokawa Tadaoki and completed six years later. Kokura Castle was destroyed by fire in 1837, with parts of it rebuilt by 1839.
Kokura Castle was damaged again in the violent times leading up to the Meiji Restoration in 1868, this time in fighting between the pro-imperial forces of the Choshu clan and the Tokugawa-allied Kokura clan in 1865.
Kokura Castle's donjon (keep) was rebuilt in 1959 and the castle buildings completely restored in 1991. The original Kokura Castle looked quite different to its modern reconstruction, with the design and details of the main keep being originally of a much simpler style. The design was changed to make the reconstruction more visually appealing.
Overshadowing Kokura Castle is the large Riverwalk Kitakyushu, a shopping and entertainment complex with a multiplex cinema, a food court, the Kitakyushu Performing Arts Center (Tel: 093 562 2655) and a branch of the main Kitakyushu Municipal Museum of Art (Tel: 093 882 7777). The Riverwalk Kitakyushu design was undertaken by the same Jon Jerde-led architectural team who built the similar multi-use Canal City in Fukuoka.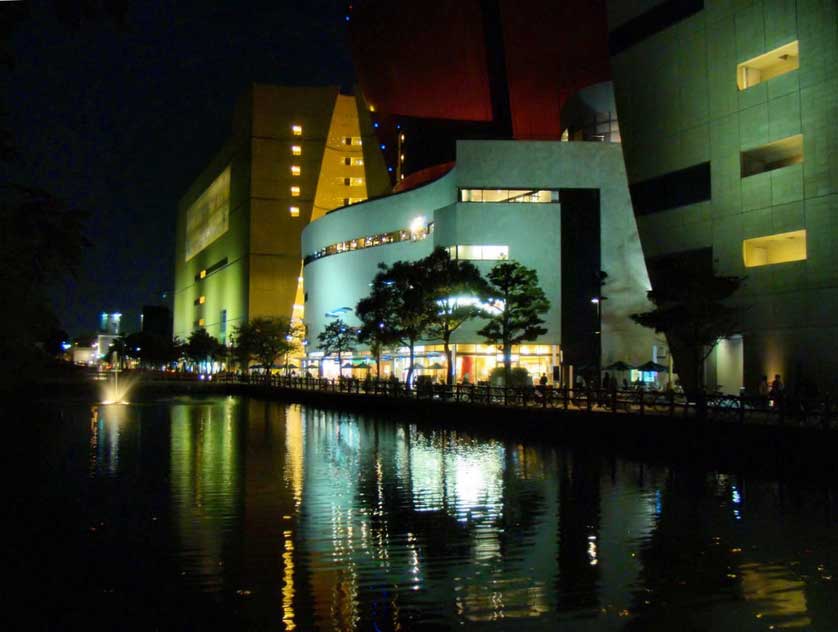 The Riverwalk Kitakyushu in Kokura by Jon Jerde
There is only one shrine or temple of any note in Kokura, the Yasaka Shrine at the main entrance to the castle. Originally established in the 9th century, Kokura's Yasaka Shrine is a branch of the famous Yasaka Jinja in Gion in Kyoto and its Gion Matsuri held in July is considered one of the top three Gion matsuri in Japan.
The images of a falcon at the shrine relate to a legend concerning Hosokawa Tadaoki, the lord of Kokura Domain in the early 17th century. He came upon the shrine while out hunting and when trying to peer inside a falcon flew out and damaged his eyes. Fearing it was divine punishment he reconstructed the shrine much larger and grander in nearby Imoji to ask for forgiveness. The shrine was relocated to the castle in 1934.
Literary figures with a connection to Kokura include Seicho Matsumoto and Mori Ogai, who was based here in 1899 for a few years. His house, in Kita Ward about 10 minutes walk from Kokura Station, is open to the public. The Matsumoto Seicho Memorial Museum (Tel: 093 582 2761) is dedicated to the life and works of the native Kitakyushu mystery writer. Matsumoto's thrillers available in English translation include Inspector Imanishi Investigates and The Voice.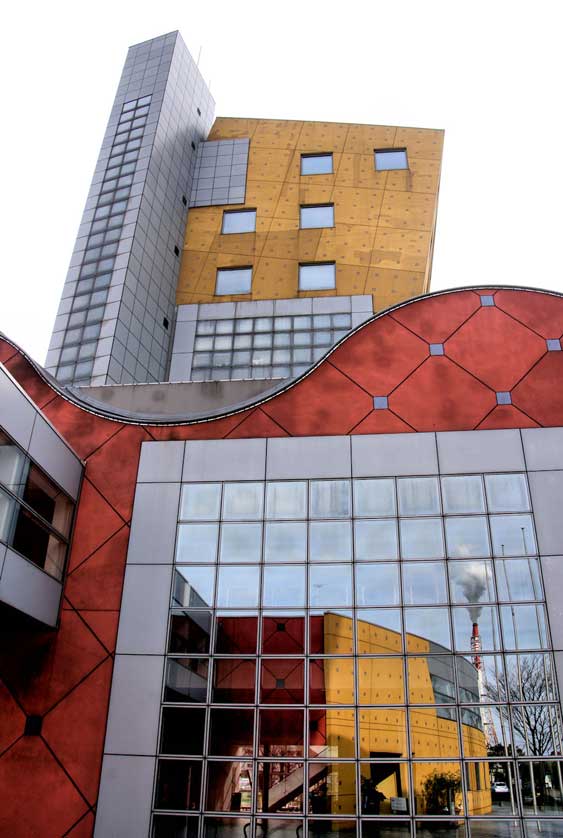 Kitakyushu International Conference Center designed by Isozaki Arata, Kokura, Kitakyushu, Kyushu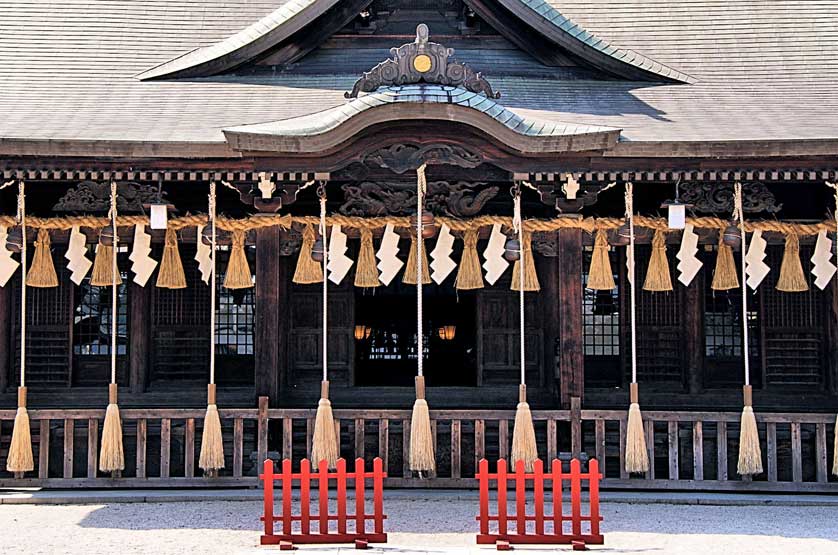 Kokura's Yasaka Jinja, Kitakyushu, Kyushu
Kokura Architecture
For those with an interest in modern architecture, the Riverwalk Complex designed by Jerde is an obvious choice, but Kokura is also home to a couple of buildings by world-renowned architect Arata Isozaki, a Kyushu native who studied under Kenzo Tange.
His Kitakyushu Central Library is shaped like a giant, elongated, pipe U-bend, and can be found about 10 minutes south of Kokura Castle. About 5 minutes walk to the north east of Kokura Station is his Kitakyushu International Conference Center, easily recognizable by multicolored, skewed, geometric forms.
Space World in nearby Yahata is easy to visit from Kokura and there are a number of interesting museums nearby. Space World is just ten minutes from Kokura Station on the JR Kagoshima Line. (Space World alas has now closed).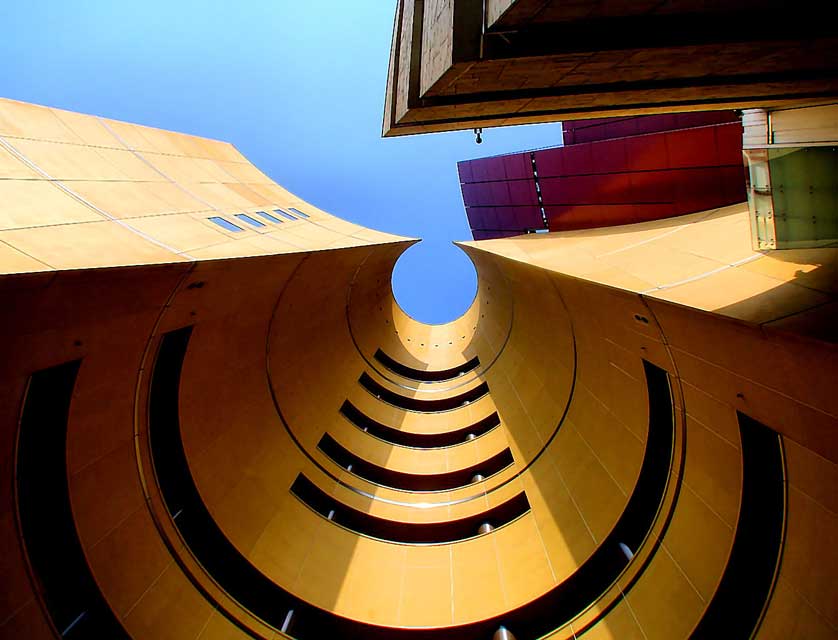 Riverwalk Kitakyushu, Kokura, Kitakyushu, Kyushu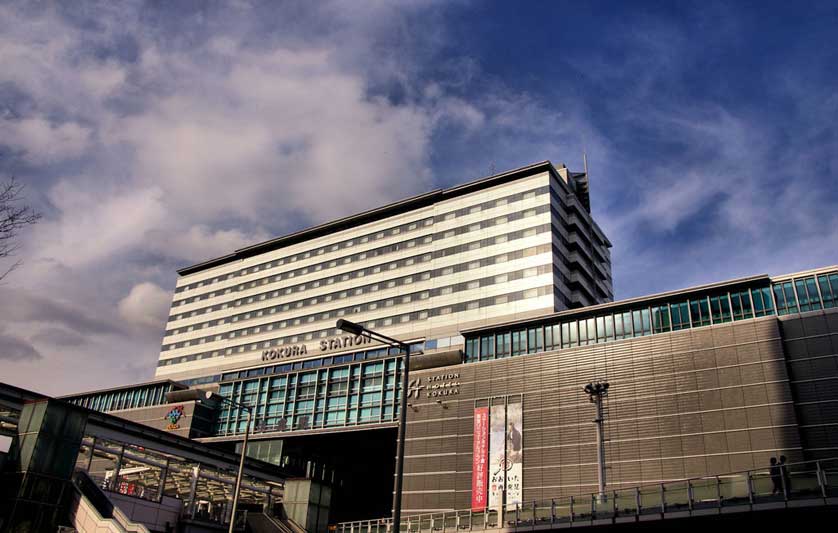 Kokura Station building, Kitakyushu, Kyushu
Shopping & Dining in Kokura
For shopping and eating Kokura is well served. Amu Plaza, part of Kokura Station building, has 6 floors of shops and a floor of eateries. Across from the station is an Isetan department store. To the east of Kokura Station is Cha-Cha Town, easily recognizable by the red ferris wheel on its roof. As well as shops there is a ten screen cineplex and an event plaza with events on most days.
To the north east of Kokura Station are two sites for more specialized shopping, both accessible by covered walkways from the station. LaForet Harajuku Kokura, as the name suggests, focuses on the latest in youth fashions and fads and also has eateries and an event hall.
A little further is the Asia-Pacific Import Mart, known locally as AIM, and includes two floors of shops and eateries. The Riverwalk Complex has many types of retail establishments as well as a cineplex and a theater. There are plenty of eateries including styles of gyoza and ramen from all over Japan. Across the river is the Izutsuya Department store and nearby is the Tanga Ichiba Market, a traditional covered market known as the kitchen of Kitakyushu. The 120 stalls/shops are stocked with all kinds of fresh fish, meats, vegetables and fruits.
The main Tourist Information Center for Kitakyushu is located within the concourse at Kokura Station.
Kokura Access - Getting To Kokura
Air
Kitakyushu Airport is a new airport built on an an artificial island and is unusual in that it operates 24 hours a day. Several airlines run scheduled flights to and from Tokyo Haneda Airport, but Fukuoka Airport is less than 30 minutes away by train and has flights from many more domestic and international airports.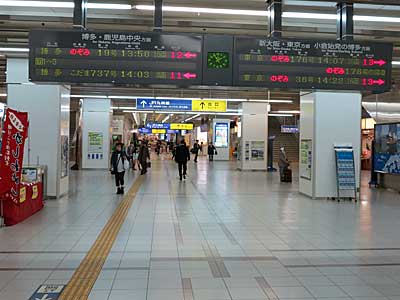 Kokura Station concourse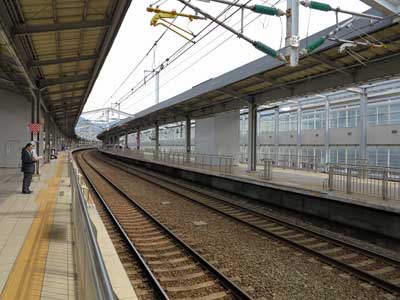 Kokura Station shinkansen platform
Train
Kokura Station is the first station of the Sanyo Shinkansen in Kyushu and all trains stop here. It takes less than 5 hours from Tokyo, 3 hours from Nagoya, and a little over 2 hours from Osaka. The newly opened Kyushu Shinkansen connects to Kumamoto in less than an hour and Kagoshima in just over 100 minutes. From Kokura take the Sonic Limited express to Kunisaki, Oita & Beppu.
The Sanyo Line runs a fast shuttle to and from Shimonoseki. The Kagoshima Line and the Nippo Line connect to all areas of Kyushu. Within Kitakyushu the Monorail runs about 9km from Kokura Station to Kokura Minami. The historic, waterfront Mojiko (Moji Port) The fare is 270 yen and the service is regular. area is 12 minutes from Kokura Station on the Kagoshima Line.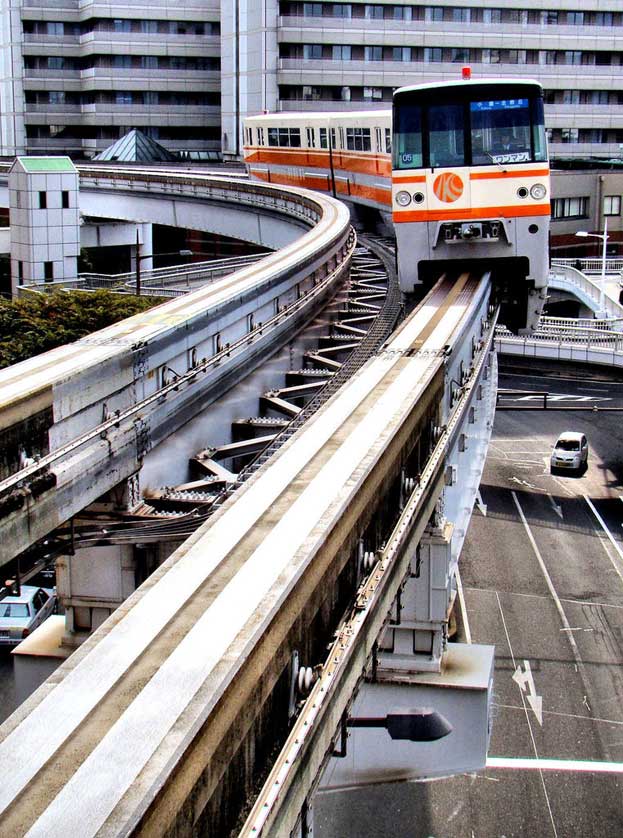 Kokura monorail, Kitakyushu, Kyushu
Ferry
Kitakyushu is served by several long distance domestic car ferries. A daily ferry from Tokyo stops at Tokushima on Shikoku, There are several ferries from Osaka and one from Kobe, and a direct ferry from Matsuyama on Shikoku. There are also small passenger ferries across the narrow straits to Shimonoseki and also to some smaller nearby islands. There is a high-speed speed ferry to Ulsan in Korea.
Fukuoka Resources
Book Accommodation in Fukuoka
Kokura guide: read a travel guide to Kokura in Kitakyushu in Fukuoka Prefecture reinventing itself as a post-industrial city.
All the themes of the city