Hirado Castle
Hirado Castle: read a guide to Hirado Castle overlooking the picturesque bay in Hirado, Kyushu.
Hirado Castle 平戸城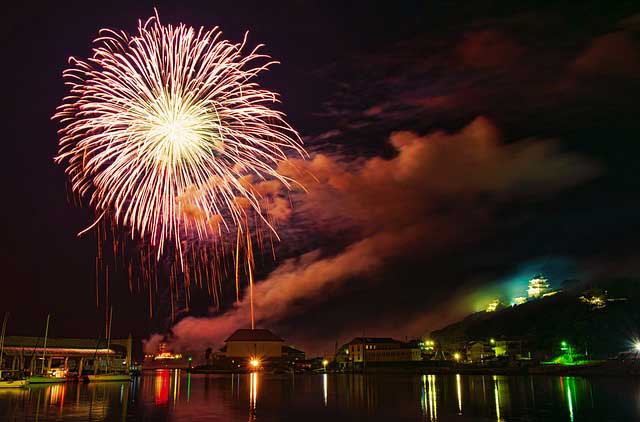 Summer fireworks festival in Hirado with the castle illuminated
Hirado Castle, situated on a rounded hill, overlooks the beautiful and historic harbor town of Hirado on Hirado Island off the north west coast of Kyushu, south of Fukuoka.
Hirado Castle History
The castle, known as Hinotake Castle, was first built in 1599 by Matsuura Shigenobu, a retainer of Hideyoshi Toyotomi, who had fought in Korea with Hideyoshi's armies.
Hirado Castle burnt down in 1613 and was rebuilt between 1704 and 1718 and was now known as Kameoka Castle.
The rebuilding of the castle was part of Japan's coastal defences to ensure the policy of sakoku or national seclusion and was partly influenced by the theories of military strategist Yamaga Soko (1622-1685).
After the Meiji Restoration of 1868 the Hirado Castle keep was pulled down leaving only the stone walls, and the wooden Tamon-yagura tower and Kitakoguchi-mon gate as originals.
The present Hirado Castle is a ferro-concrete structure built in 1960. The views from the top of the keep are spectacular as you look out to sea past Kurokoshima Island in Hirado Bay.
The castle grounds are now Kameoka Park and contain Kameoka Shrine and a statue of Nakayama Aiko, the grandmother of the Meiji Emperor.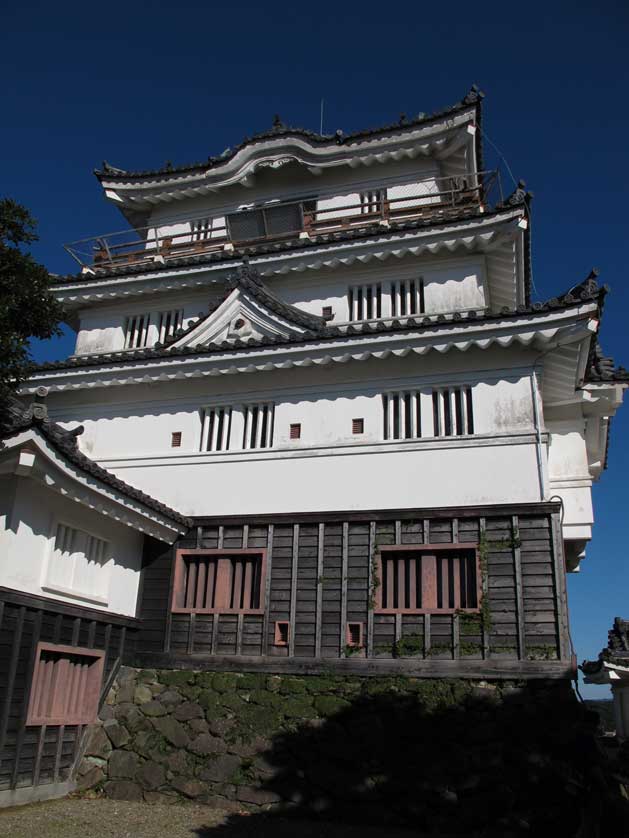 The original Hirado Castle was first constructed in 1599 by Matsuura Shigenobu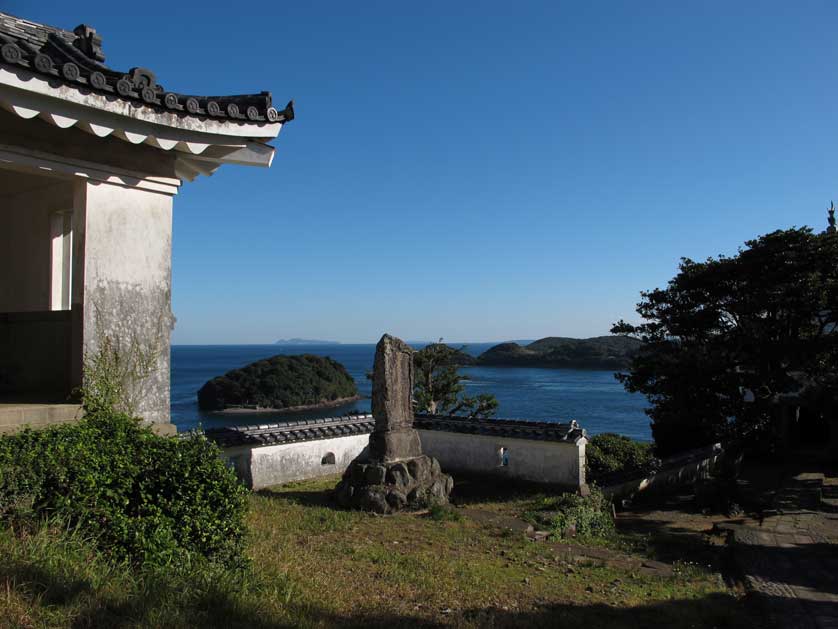 There are superb views out to sea from Hirado Castle
Hirado Castle has exhibits on show from the Matsuura clan including the armor of Hiromu Matsuura, the Kanto-no-Tachi sword, which supposedly dates from the Asuka period (538-710) and some interesting pieces from the Dutch traders who were on the island in the early 17th century, such as Delftware, the characteristic blue and white Dutch ceramics and stoneware gin bottles.
Hirado CastleTel: 0950 22 2201Admission: 500 yen
Hours: 9 am-5 pm.
Hirado Castle Access - how to get to Hirado
Hirado Castle is a short walk from the harbor on the road to Hirado Ohashi, which is national highway 383. Nearby Karatsu Castle could also be visited in the same day.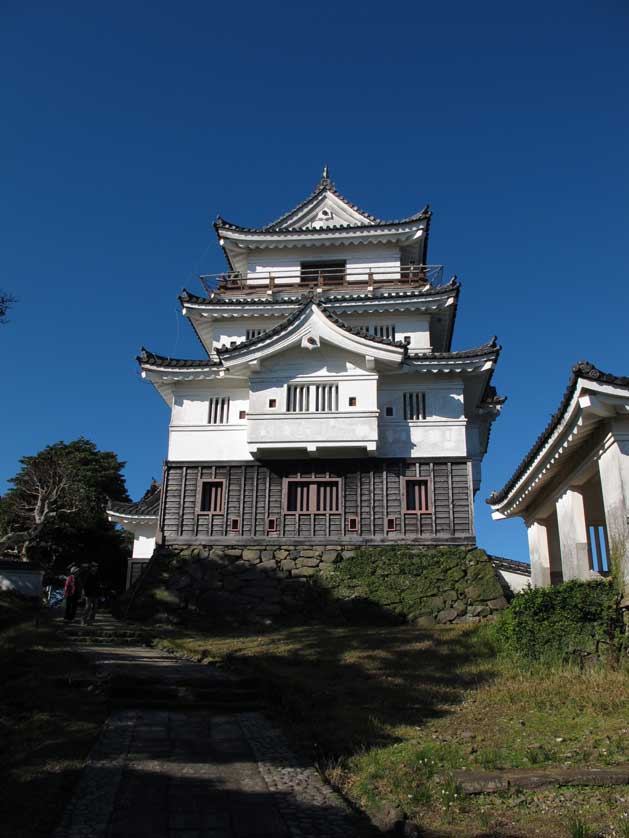 Hirado Castle on a cloudless day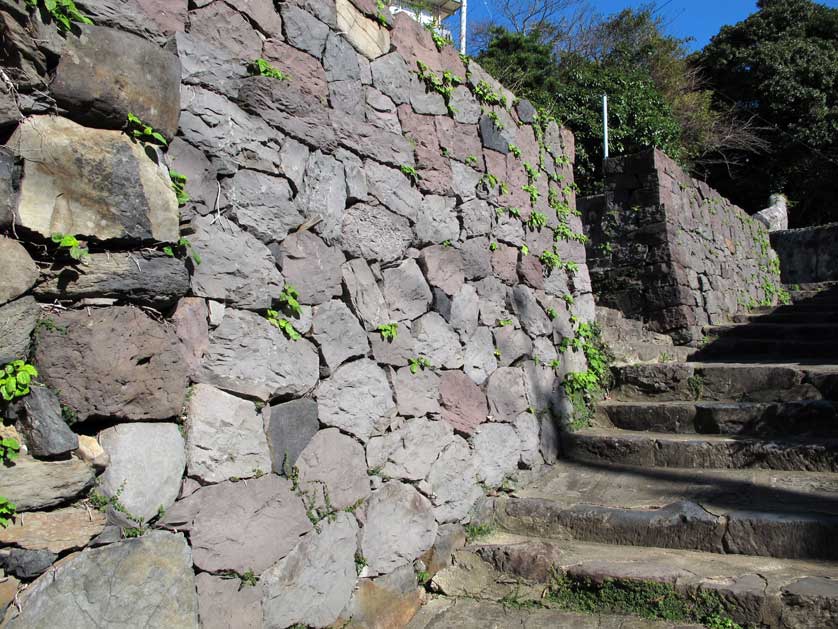 Stone walls and stone stairs at Hirado Castle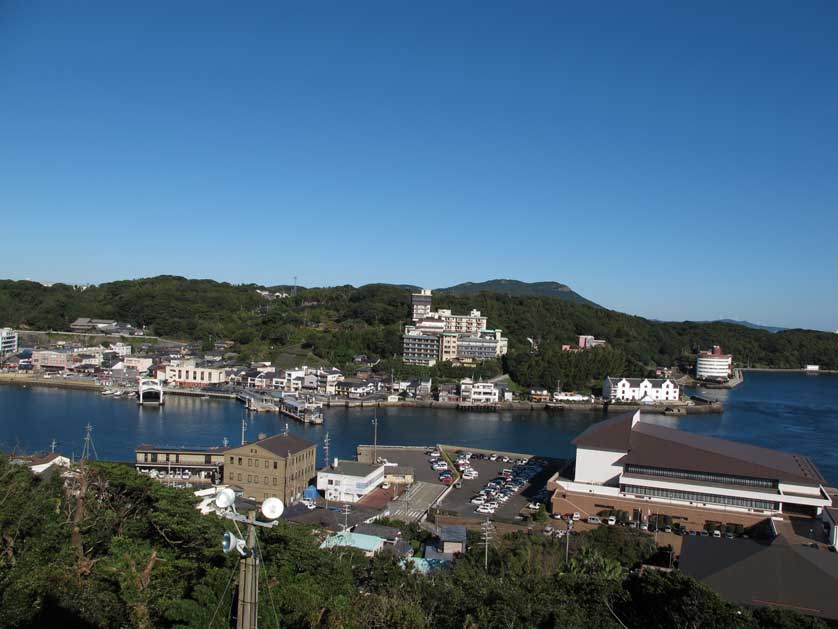 View from Hirado Castle keep on a cloudless day
Book Hotel Accommodation in Nagasaki
All the themes of the city