Nokonoshima
能古島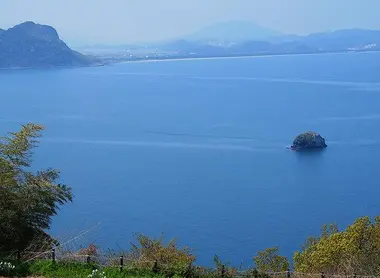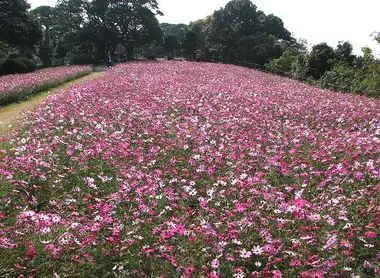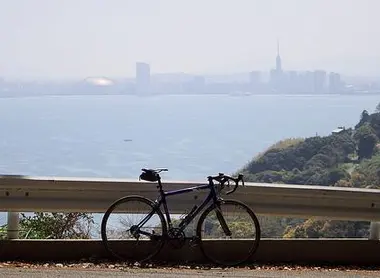 Belle île en fleurs
Imaginez :le rose des cerisiers en fleur et le jaune des champs de colza au printemps, lefuchsia des bougainvilliers en été, le rose-rouge des cosmos en automne, descamélias et des narcisses pour égayer l'hiver. Un véritable tourbillon multicolore balaiel'île de Nokonoshima au fil des saisons.
Nokoshima, just 10 minutes by ferry from Fukuoka on the island of Kyushu, enchants visitors not only with its vegetation but also the spectacular views across the cityscape of Fukuoka and surrounding islands.
Something for everyone
While some small temples and some ruins, including those of seventeenth century pottery kilns, and the small Nokonoshima Museum provide some cultural interest on the island, the main attraction is undoubtably Nokonoshima Island Park, in the north of the island. Its vast fields of flowers that bloom throughout the year, its popular breathtaking views, so often captured by photographers, as well as various other activities easily justify a visit to Nokonoshima. Children will enjoy the outdoor playground or the mini zoo, while those a little older will want to try the mini-golf or pottery workshops. Of course, the park has plenty of restaurants and souvenir shops too!
Besides the park, the Bayside Beach, north east of the island, is also worth visiting. From June to September, water activities are offered.
Awaken your senses
Nokonoshima can be visited by car (there is a road on the east side), bus, bike, and of course on foot. Various hiking trails allow you to take scenic walks through the island. You can rent bikes at the tourist office located in the Noko market, next to the ferry terminal. The market sells local produce such as cider or Nonokonoshima udon (noodles), and different kinds of seasonal oranges. The accommodations and restaurants are also found close to the ferry terminal. Visit Nokonoshima for a trip that's as visually beautiful as it is delicious!
---
Address, timetable & access
All the themes of the city