Japan Toy Museum Himeji
Japan Toy Museum, in Himeji, Hyogo, exhibits a massive collection of over 90,000 toys including both traditional and modern toys from Japan and overseas.
Japan Toy Museum, Himeji 日本玩具博物館
The Japan Toy Museum, situated a little way out of town, in Himeji, Hyogo Prefecture has a massive collection of over 90,000 items and is well worth a visit. This is especially the case if you have any interest in toys, particularly wooden toys.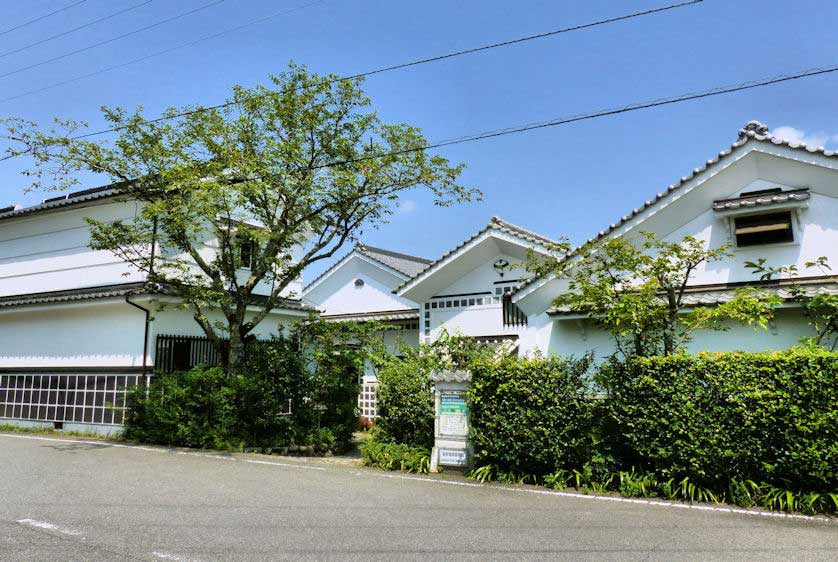 Japan Toy Museum housed in traditional, white-walled storehouses near Himeji City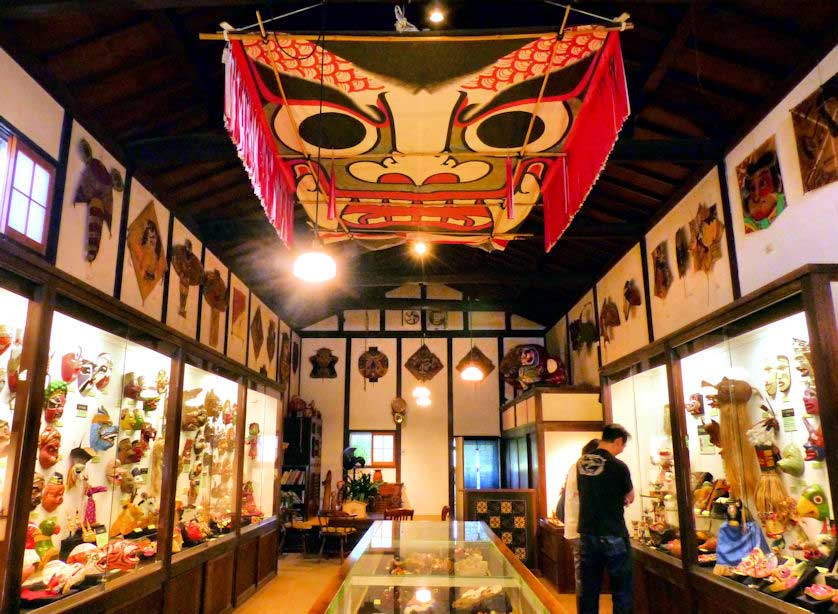 Giant kite with a demon's face dominates the first gallery of the Japan Toy Museum in Himeji
Exhibits
Housed in a group of five historic storehouses and a traditional house, the Japan Toy Museum displays Japanese toys both historical and modern, as well as toys from around the world. Throughout the year different exhibitions take place in several of the galleries.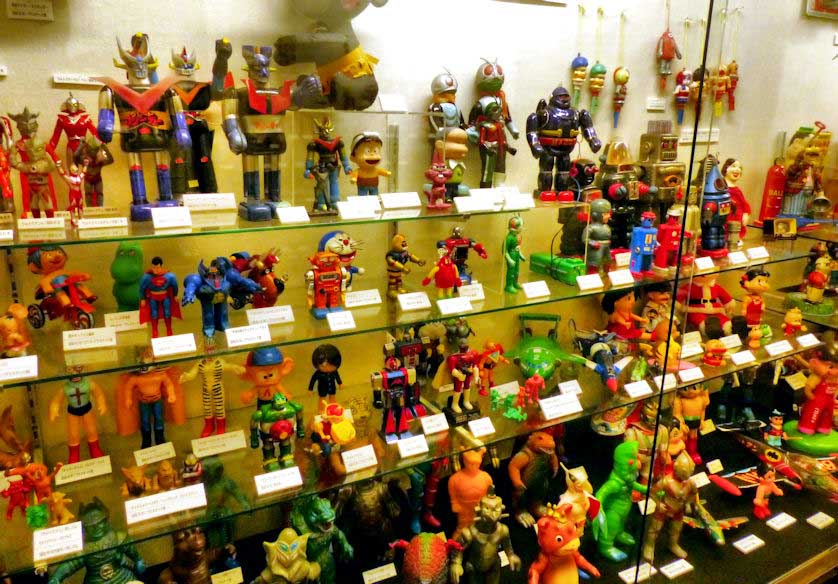 Modern Japanese toys from the postwar era are also on display at the Japanese Toy Museum near Himeji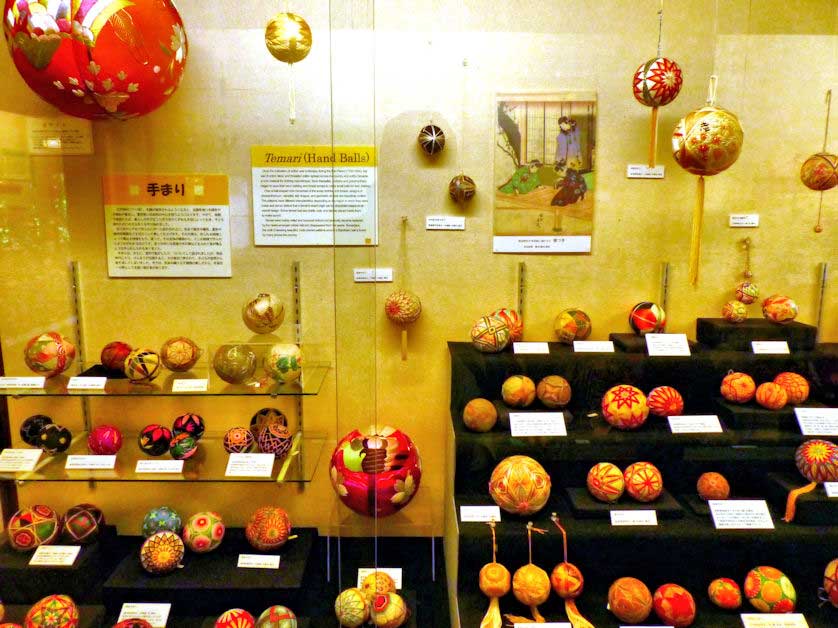 Temari balls introduced into Japan from China in the 7th Century

Festivals
Seasonal exhibitions usually include toys associated with the New Year, like kites, kendama and spinning tops etc, toys associated with festivals, and so on.
In the spring a big exhibitions of Hina Dolls with over 300 sets dating from as far back as the 17th Century is put on to celebrate Girls' Day on March 3rd. An annual exhibition showing Christmas toys from around the world is usually also very popular.
The permanent exhibition is arranged thematically, for instance toys that would be handmade by kids out of easily available natural materials like straw, shells and bamboo, such as taketombo. As well, there are modern toys based on characters from TV shows, and so on.
There are sections devoted to toys for boys, and some on girls toys, with dolls featuring heavily. Japan is known for its wide variety of dolls with wide variations across the regions, like dolls made out of paper, Hakata Dolls for Fukuoka and the well known wooden kokeshi dolls.
There are also examples of karakuri ningyo, the Japanese mechanical dolls. Dolls from other countries are on display as well, including national costumed dolls. Masks are another item that have great variation within Japan and also non-Japanese examples are shown.
At several points around the museum are designated play areas where kids, or adults, can play with a selection of the toys.
Most of the individual items on display have information in Japanese, but each section has an overview in English so it is easy to figure out what is what.
The museum also has a shop selling a wide variety of traditional Japanese toys.
Hours
Open 10 am to 5 pm, closed on Wednesdays, or the next day if a Wednesday is a National Holiday. The museum is also open over the New Year.
Admission
Entry is 600 yen for adults, 400 yen for High School and Junior High School students, 200 yen for kids over 4 years of age.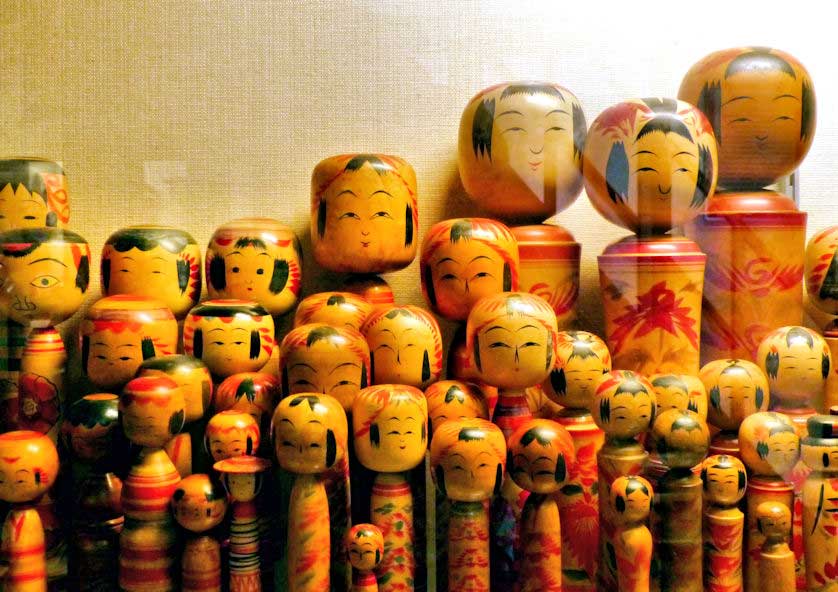 Highly stylized Kokeshi dolls made of wood

Access
Japan Toy Museum (japan-toy-museum.org)671-3 Koderacho NakaninoHimeji-shiHyogo 679-2143Tel: 0792 32 4388
Though the museum is a little inconvenient to reach, it is literally packed with exhibits and well worth the effort needed to get there, especially if you have kids with you.
It is a 15 minute walk (1.2 km; 240 yen) east of JR Koro Station, 18 minutes by train from Himeji Station on the Bantan Line.
Himeji is an easy day-trip from Osaka, Kobe, Kyoto or Hiroshima.
Himeji is a stop on the Tokaido/Sanyo Shinkansen Line and is 3 hours 20 minutes by bullet-train from Tokyo.Visitors can also take a shinkaisoku JR express from Kyoto (90 mins), Osaka (1 hour) or Kobe (40 mins).
Related
Hotels in Himeji
All the themes of the city