Fukuyama Castle
Fukuyama Castle: read a guide to Fukuyama Castle, a mainly reconstructed castle in Hiroshima Prefecture, western Japan.
Fukuyama Castle 副山城
Fukuyama Castle, in Hiroshima Prefecture, was one of the great castles of the Edo Period (1603-1867). Alternatively known as Hisamatsu Castle or Iyo Castle, it boasted 10 gates and 23 towers (yagura).
History of Fukuyama Castle
Construction began in 1619 and it was completed in 1622. The first daimyo of the domain was Mizuno Katsunari, a cousin of Tokugawa Ieyasu and therefore a fudai daimyo, a hereditary vassal of the Tokugawa, and the domain was surrounded by tozama daimyo, those daimyo who submitted to the Tokugawa only after having been defeated at the Battle of Sekigahara in 1600.
The reason to make the castle so large was to both impress and intimidate the tozama daimyo. To this end the Tokugawa supplied a lot of the funds for the construction as well as donating many buildings from Fushimi Castle in Kyoto, which were dismantled and reassembled in Fukuyama.
In 1710 the domain was transferred to the Abe Clan and they ruled until the dissolution of the domains in the early Meiji Period (1868-1912). The penultimate daimyo was Abe Masahiro, the senior minister in the shogunal government who met with Commodore Perry and then signed treaties with the U.S. and other western nations.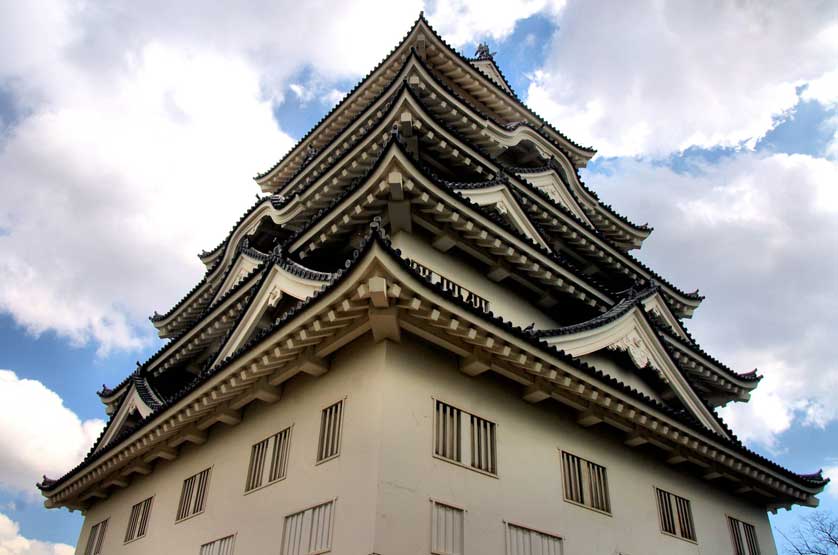 A view of the reconstructed keep of Fukuyama Castle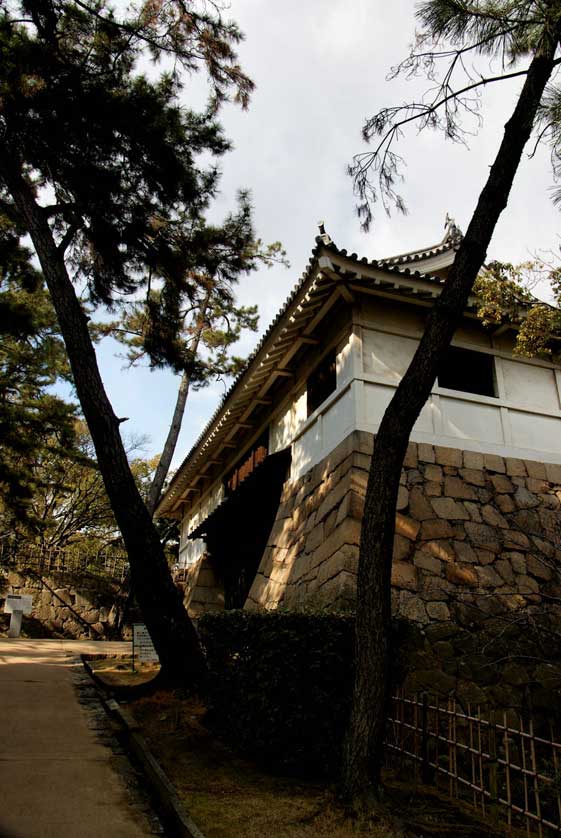 The Sujigane entrance gate of Fukuyama Castle
There is a large shrine to Abe Masahiro in the castle grounds. The castle survived the destruction that befell many castles in early Meiji when close to 2,000 of them were destroyed by government edict, but most of the buildings including the donjon (keep) could not survive the bombings of late World War II that destroyed 80% of Fukuyama City.
Two structures that did survive, the Fushimi Yagura and the Sujigane Gate, are both now listed as Important Cultural Properties. Several buildings including the keep were reconstructed out of concrete in 1966 and now houses a museum. The grounds of Fukuyama Castle are now a huge park with several museums. Entrance to the park is free and is a very popular spot for both cherry blossom and fall color viewing.
Fukuyama Castle MuseumAdmission: 200 yenHours: Open 9:30 am to 5 pm. Closed Mondays
1-8 Marunouchi, Fukuyama-city, Hiroshima Prefecture 720-0061Tel: 084 922 2117Google map of Fukuyama Castle
Fukuyama Castle Access
Fukuyama Castle is a 5 minute walk from JR Fukuyama Station. Some of the best views of the castle can be had from the Shinkansen platforms.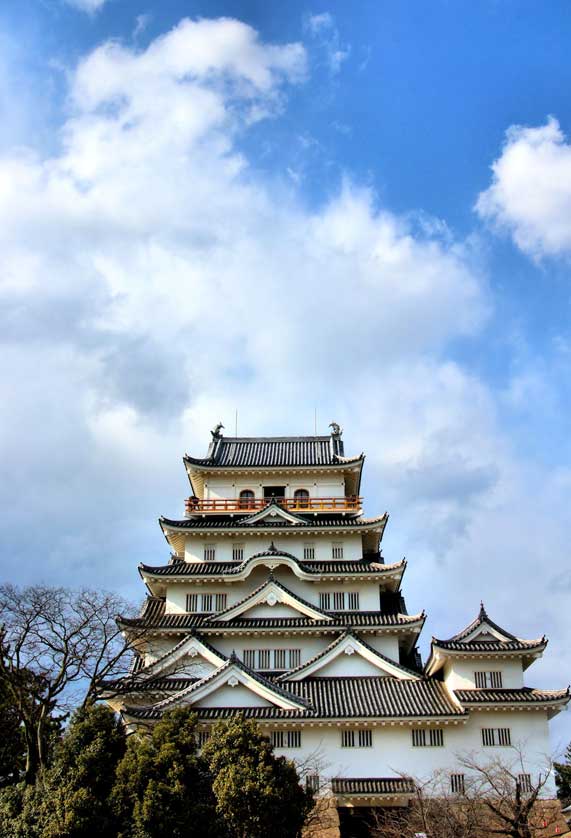 Fukuyama Castle originally dates from 1622 but most of what you see today is a modern reconstruction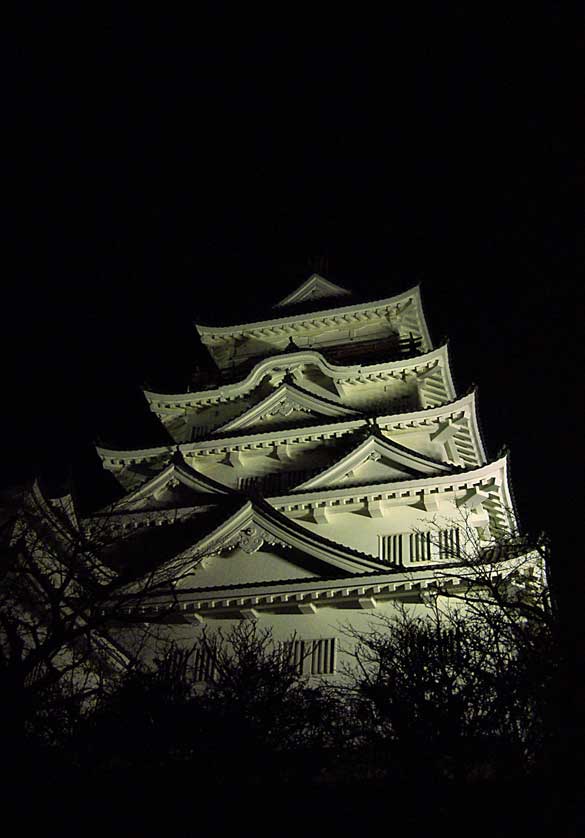 Fukuyama Castle illuminated at night
Text + images Jake Davies
Book Hotel Accommodation in Japan Near Fukuyama Castle
All the themes of the city