Takachiho Guide Miyazaki
Takachiho Miyazaki Prefecture 高千穂
Takachiho in Miyazaki Prefecture, Kyushu, not far from Mount Aso, is known for the beauty of its river gorge and its associations with the Amaterasu legend of Japan's mythical foundation.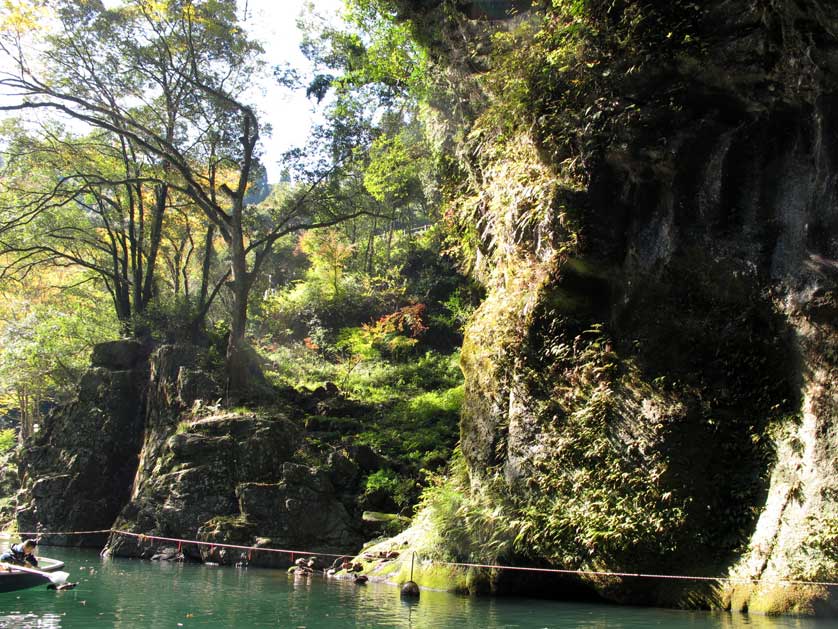 Takachiho Gorge, Miyazaki Prefecture, Kyushu
Takachiho Gorge
The spectacular Takachiho Gorge was formed over 100,000 years ago after volcanic eruptions in the Aso area and now the clear Gokase River flows through sheer rock walls, with numerous waterfalls and incredible colors in autumn as the leaves change. The natural environment here is one of the most beautiful in the country.
There is a riverside path leading along the banks of the river towards Takachiho Shrine or hire a rather expensive rowing boat (500 yen per person) to get a closer look of the wooded cliffs and sparkling waterfalls.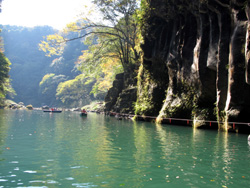 Takachiho Gorge, Miyazaki Prefecture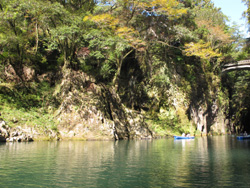 Takachiho Gorge, Miyazaki Prefecture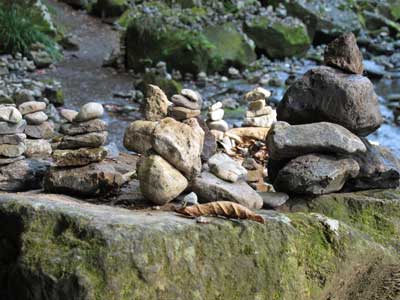 Amano Iwato-Jinja, Takachiho, Miyazaki Prefecture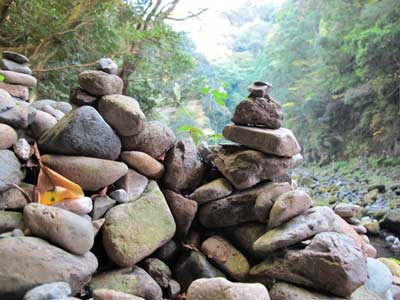 Amano Iwato-Jinja, Takachiho, Miyazaki Prefecture
Takachiho Shrines
Although Takachiho maybe not rival Mecca as a site of pilgrimage, its associations with the legendary activities and often comic antics of such Japanese gods and goddesses as Amaterasu, Tajikarao, Ameno-Uzume and Izanagi and Izanami, make for a steady stream of tourists visiting the holy places.
Takachiho Jinja (Takachiho Shrine), a short walk from the town's main street, is the venue for nightly performances of Yokagura dances (Tel: 0982 73 2413; 500 yen) throughout the year from 8-9pm. The shrine is set amidst towering, ancient cryptomeria pine trees and is a wonderfully atmospheric place.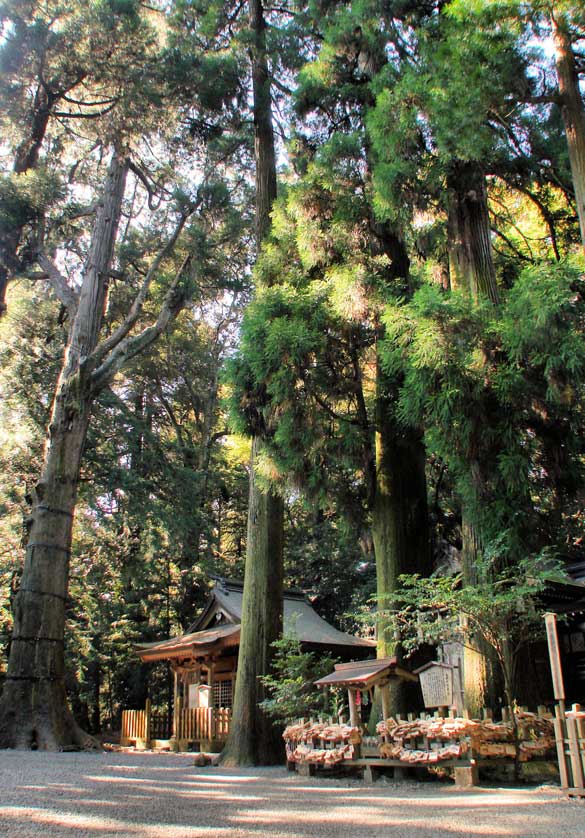 Huge Japanese cryptomeria (cypress) trees are a feature of Takachiho Shrine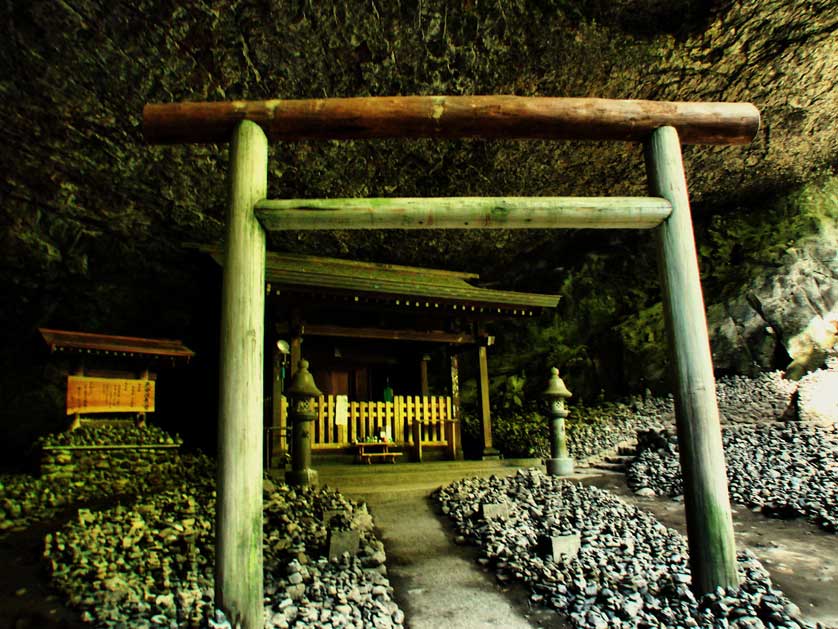 Amano Iwato-Jinja Torii Gate, Takachiho, Miyazaki Prefecture
Amano Iwato-Jinja is famous for its Amano Yasugawara cave where Japanese mythology has it that the sun goddess Amaterasu hid until found by Tajikarao, who removed a huge rock blocking the entrance, for Amaterasu to then be enticed out by a bawdy dance by Ameno-Uzume. Read more about Amano Iwato-Jinja
Back nearer the center of Takachiho, Aratate Shrine (Tel: 0982 72 2368) is another evocative shrine, said to have been built with the surrounding forest trees for the marriage of Sarutahiko, the local guardian god and Ameno-Uzume. Legend has it that Sarutahiko was smitten after watching Ameno-Uzume's dance to lure Amaterasu from her cave.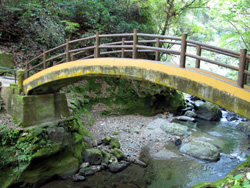 Amano Iwato-Jinja, Takachiho, Miyazaki Prefecture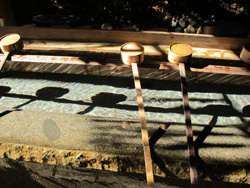 Amano Iwato-Jinja, Takachiho, Miyazaki Prefecture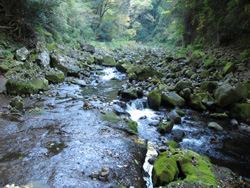 Takachiho, Miyazaki Prefecture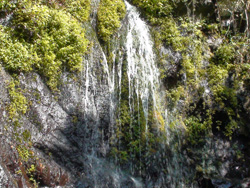 Takachiho, Miyazaki Prefecture
A short distance from Aratate Shrine is the large Kushifuru Jinja, which dates from 1694 and is the entry point for trails into the mountain for bird-watching. The shrine has some intricate wood-carving on the main hall.
Futagami Jinja (Tel: 0982 73 1213), south west of Takachiho Gorge, dates from the late 9th century and is dedicated to Izanagi and Izanami, a celestial couple, who according to myth, created the islands of Japan and were known for their marital bliss - before a bitter falling out when Izanagi attempted to rescue his wife from Yomi (the land of death).
Takachiho's other attractions include a number of onsen, chief among them Takachiho Onsen (Tel: 0982 72 7777; 400 yen; closed Thursdays), a small fresh water aquarium (Tel: 0982 72 2269; 200 yen) on the bridge near the gorge with over 100 species of fish from Japan and as far away as Africa and Brazil.
The Tourist Information Center (Tel: 0982 72 1213) is near the bus station in town.
Takachiho Yokagura
If you are staying in Takachiho overnight in one of its many hotels, minshuku or ryokan, try to catch one of the nightly performances of Yokagura (夜神楽) at Takachiho Shrine.
Performances are held every evening throughout the year and begin at 8pm. They usually consist of four brief excerpts from the cycle and altogether the event lasts about an hour. Yokagura is a repertoire of 33 ancient dances believed to have originated from the dance Ameno-Uzume performed to lure Amaterasu from her hide-out in the cave. In the winter season from mid-November to mid-February, the full 33 dances are performed about 20 times in homes throughout the town and last throughout the night. The dances are performed to please the gods, thank them for a good harvest and to pray for the following year's harvest.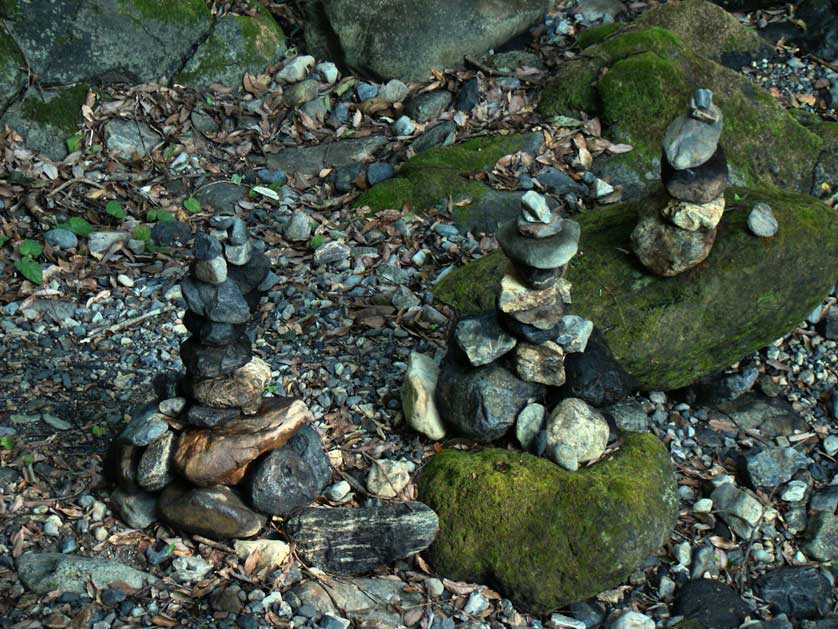 Amano Iwato-Jinja, Takachiho, Miyazaki Prefecture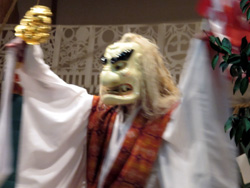 Kagura, Takachiho, Miyazaki Prefecture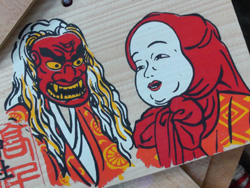 Kagura, Takachiho, Miyazaki Prefecture
Takachiho Accommodation
Places to stay in Takachiho include the Ryokan Yamatoya, the Hotel Shikimi, the Imakuni Ryokan, the Ryokan Shinsen and Kokumin Syukusya Hotel Takachiho. See here for a complete listing of places to stay in Takachiho.
Takachiho Yokagura Video
Access - how to get to Takachiho
Air
Kumamoto Airport is the nearest airport and has direct flights to Tokyo, Osaka, Nagoya (Komaki & Chubu), Kobe, Naha (Okinawa) and Amakusa. Kumamoto Airport is about 50 minutes from downtown Kumamoto by regular bus.
Rail
The Takachiho-Nobeoka Line is unfortunately no longer in service after a typhoon in 2005 washed away two bridges of what was once one of Japan's most spectacular railways. Now it is only possible to ride a toy train a few kilometers from Takachiho Station to experience the wonderful views of the surrounding countryside.
Bus
Express buses go to Kumamoto (nearly 3 hours), Nobeoka (90 mins) and Takamori (1 hour), which is on the Minami-Aso railway line.
Getting Around
Bicycles can be hired from Shinwa Rental Bicycles at the old station for rather expensive prices or join a tour bus beginning at Miyako bus station.
Takachiho Video
Takachiho Map
Takachiho: read a guide to the beautiful gorge of Takachiho in Miyazaki Prefecture, Kyushu famous for its connections with ancient Japanese myth.
All the themes of the city